Seattle Tech Jobs: Your Guide to Work in a Booming Tech Scene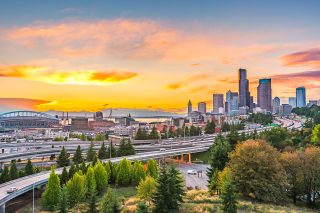 If you want to work in the tech industry, head to Seattle. With nearly 11 percent of its workforce employed in tech, Seattle's tech job market is one of the strongest in North America,  second only to San Francisco. You can build a great career in Seattle's tech industry, but you've got to know your stuff and become known by others who are already doing the work. Luckily, there are lots of great networking opportunities focused on tech careers in Seattle. Read on to learn about Seattle's tech history, get a sense of local tech's big names, up-and-comers, and trendsetters, and get a list of great Seattle tech networking events.
A History Lesson in Seattle Tech
Seattle's tech scene took flight 40 years ago with the arrival of high-tech monolith Microsoft. Founders Bill Gates and Paul Allen moved the company headquarters from Albuquerque, New Mexico to their hometown Seattle in 1979. A guiding pioneer in Seattle tech, Microsoft began developing what is now known as cloud computing in the mid-1990s. Building on their extensive experience of making computers work together to solve problems, Microsoft veterans built out the cloud for future tech giant Amazon. In the process, they made cloud computing more accessible across the board.
Today, Seattle's tech scene is defined by Microsoft and Amazon's big-name recognition and reputation for innovation. It's no surprise that Seattle has transformed into an epicenter for technology companies of all shapes and sizes. "It's like Detroit used to be for car companies," Bill Hilf, now the CEO of Vulcan Inc., told the New York Times in an article about Seattle's tech boom. "The galactic players are here, and they are creating lots of little companies."
Seattle tech jobs continue to drive the local economy, with an additional 9,300 positions added in King County between October 2017 and 2018. And the city's role in the tech sphere is only expanding. Seattle is brimming with companies on the cutting-edge of technology development, with diverse focuses ranging from cybersecurity to healthcare. It's an exciting time for tech professionals to hone their skills and apply their expertise in this dynamic industry.
Key Players in Seattle Tech: Global Giants, Surging Startups, and Top Trendsetters
Global Giants
Of course, Amazon and Microsoft are the highest-profile tech companies in Seattle. But other big players also call the Emerald City home. Real estate database companies Redfin and Zillow are based in Seattle. Tableau, an interactive data visualization software company, and Smartsheet, a collaboration and work management application, are also based here. If you're ready to get to work for a global tech giant, learn how to break into Seattle's corporate job market.
Surging Startups
Major tech companies attract talent to Seattle from around the world. This global clout combined with a world-class computer science program at the University of Washington has helped fuel Seattle's innovative and vibrant startup scene. The Puget Sound region is home to an expansive network of incubators and accelerators, along with active and committed venture capitalists. Whether you're interested in entertaining Fido with an interactive toy, helping voice apps navigate language complexities, or ensuring underwater robots stay charged wirelessly, there's a space for you in Seattle's exhilarating startup scene.
 Top Trendsetters
Outside of its large global companies and startup environment, Seattle is home to a galaxy of growth-stage companies working to solve problems with cutting-edge technology. Trendsetting Seattle tech companies are addressing issues across an impressive array of industries, such as cybersecurity, gaming, cannabis, business operations, and the Internet of Things. These up-and-coming Seattle-based companies are poised to make great advances in the months and years to come. 
Seattle Tech Events to Build Your Professional Network
If you're trying to get started in Seattle's tech scene, it important to get involved in networking groups. Networking helps you form new connections, enhance your professional network, and learn what hiring companies are looking for. Luckily, you can find a tech-focused networking event happening almost daily in Seattle. Here's a list of some of the most prominent Seattle tech networking organizations to get you started:
GeekWire
Did you know that along with covering technology news, GeekWire hosts signature tech events? Each year, thousands of industry professionals participate in events such as Sounders Day and the GeekWire Summit. By taking part in GeekWire events, you can learn and do business while building connections and having fun. GeekWire also maintains a community calendar featuring meetups, conferences, startup events, and more geeky gatherings in the Northwest. 
Get Connected:

Discover upcoming events on Geekwire's

event page.
New Tech Seattle
Want to chat with a variety of people about careers in tech in Seattle? At New Tech Seattle's monthly happy hour, you can make many new tech connections in one night and learn from the industry's best. Happy hours offer the opportunity to explore innovative, creative, and inspirational new technology in a neighborhood block party environment. If you're outside of the downtown Seattle area, New Tech Northwest has you covered with similar networking groups for people living in Tacoma and east-side communities.
Startup Seattle
Seattle is bustling with entrepreneurial activity and the startup spirit. Powered by the City of Seattle's Office of Economic Development, Startup Seattle will help you navigate the city's sea of startup resources and connections. The online platform offers up-to-date information about Seattle jobs, events, and other startup resources. Startup Seattle also strives to measure the impact of tech startups, to improve diversity and inclusion in tech, and to expand opportunities in the field.
Techstars Startup Week 
Each fall, Techstars hosts two event series: Startup Week and Startup Weekend, which offer encompass over 150 free events that celebrate Seattle's startup community. The event is hosted by Techstars, a global network of entrepreneurs that hosts more startup support events in over 700 cities and 150 countries worldwide. Techstars also curates a local Startup Digest that will keep you up-to-date on local tech events and happenings.
Washington Technology Industry Association
With more than 1,000 member companies, Washington Technology Industry Association (WTIA) is the largest statewide association of technology companies and executives in the nation. Through WTIA, you can access connections, resources, and advocacy. From happy hours to tech crawls, WTIA offers a variety of events for technology professionals in Washington.
Get Connected: Learn more about WTIA events or consider becoming a member.