How To Land a Job at Amazon, Boeing, or Microsoft in Seattle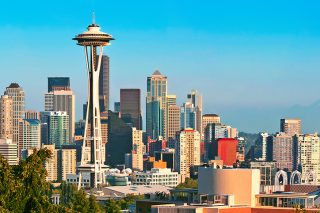 Amazon, Boeing, and Microsoft are all Fortune 100 companies with incredibly impactful global footprints. They are also three of Seattle's largest and most recognized employers.
Landing a job at any of these high-profile global corporations means competing with thousands of applicants from all over the world. And as an extra challenge, many of their open positions are not listed on job boards. These companies don't need to do a lot of job advertising or candidate outreach, because qualified applicants come to them.
So if you want to get hired at Amazon, Boeing, or Microsoft, where do you start? Here are some strategic tips to get you ready to compete for these highly coveted jobs.
How To Break Into Seattle's Corporate Job Market
Before you begin, it's necessary to lay a strong foundation for your candidacy by conducting some research, networking, and leveraging online platforms and recruiters. We recommend starting your search by following these four steps.
1. Conduct extensive research.
Do some foundational research on the Seattle job market to start. Especially if you're new to the area. Find out the types of jobs available, and conduct salary research to see what your skills and experience are worth in the local market. Once you have some basic research on your industry, start researching available roles. The strategic alignment of your background, skills, and experience is the key to landing any job. If you are struggling to find job openings that align with your experience, don't forget to use your transferable skills.
When you have identified a role that you feel passionate about, take a look at the company's culture. Make sure their values, work style, and brand personality match authentically with the kind of company you want to represent. You should be prepared to demonstrate how your professional goals align with the organization's goals.
Now that you've discovered a great position with a brand you admire, finish up your preliminary research by identifying your accomplishments that align with the needs of the job, and prep quantitative results that you can share in your application and interviews.
2. Get your foot in the door.
Whether or not the "Seattle freeze" is real, getting your foot in the door at a new company is not easy. That's especially true for large organizations like Amazon, Microsoft, Boeing, and other big players. Candidates who have an inside connection to the company have a major advantage. The hidden job market means that many Seattle companies hire from a trusted pool of talent that they have already vetted through colleagues and internal employees.
In order to set yourself apart from the competitive Seattle job market, you must become known to the right people. Set up informational interviews. Attend networking events in your industry to connect with current employees at your target company. Connect with these people, get to know the type of candidates they seek, and the types of problems they are trying to solve. Once you've made a strong connection, let these people know when you've applied for a job. And ask for a referral. You can even ask your connections if you can mention their name in your cover letter. Example: "I heard about this position from David, your product marketing director."
3. Leverage LinkedIn.
Internal recruiters at large corporations often use LinkedIn as a first point of connection when searching for talented people with the skills they're looking for. If you want to get recruited, keep your LinkedIn profile polished and up-to-date. Join relevant groups and contribute to group discussions. Seek out connections at these companies and maintain your professional relationships. Ask for introductions and referrals. Then, return the favor!
And don't just lurk on Linkedin. Post regular updates to your profile. Add to your skill set and accomplishments. Make sure to highlight projects or career development experiences that showcase your continual learning on the job. Add keywords and phrases to your profile that match job openings you find interesting. In short, be active.
4. Find a recruitment program.
The beauty about working for a large company is the support structures they've built for finding and retaining talent. These programs can help you find your job fit. Here are some examples from Seattle's big three:
Microsoft has a suite of inclusive hiring programs, designed to provide opportunities to candidates with disabilities, and they are dedicated to hiring diverse candidates.
Boeing has an engineering internship program, and a business internship program that allow you to get access to Boeing site tours, attend networking events and develop connections with mentors. Boeing says "The intern experience goes beyond your assigned job." so you'll get to work on team projects and potentially take on additional responsibilities.
Amazon has developed several programs to recruit people from parts of the labor market that are currently being underserved. These initiatives include programs like university recruitment and military recruitment.
Now that you've got some info about job search strategy, it's time to focus on how to fit in at your target company. By using specific strategies, you'll have a better chance at landing a job at Amazon, Boeing, or Microsoft.
How To Land A Job at Amazon
Ensure your culture fit for a successful Amazon career
If you want to work at Amazon, you should start by reading their company motto: "Work hard. Have fun. Make history." This motto sums up the Amazon work culture, so make sure it aligns with your work personality. You have to be a problem solver, a go-getter, and someone who knows how to celebrate their achievements and embrace challenging situations. As one Amazon employee told Fast Company, "If a candidate enjoys an environment where they solve problems and own projects, they will thrive in roles I hire for at Amazon." Amazon is a fast-paced environment that strategically looks for candidates who can handle the rapid pace of work, and who can resourcefully find solutions.
Curate compelling career stories
Amazon has 14 leadership principles. Curiosity, frugality, and "customer obsession" are just a few of the values that they look for in their new hires. In order to set yourself apart from other candidates, use these principles to frame your career story. Draft several examples of your career story that support each principle. In a fast-paced work environment like Amazon, "speed matters," so be sure to include examples of how you have taken calculated risks and solved major issues in previous positions.
How To Land A Job at Boeing
Lead with your innovation
Boeing looks for candidates that go the extra mile, ask questions, and who are passionate about their career. As an innovator in the aerospace industry, Boeing hires innovative candidates that strive to go above and beyond in their commitment to advancement. Identify your achievements with key examples of your ingenuity and creativity.
Additionally, you need to show your interest in the company's deep history in the Pacific Northwest. While the company moved its headquarters out of Washington in 2001, nearly half of its total workforce is still based here. That makes Boeing the largest single employer in the state! Read up on Boeing's presence in Washington state. Your knowledge of and respect for Boeing's work will give you an advantage when applying to work at Boeing.
Optimize your resume with keywords
To break into a career with Boeing or any other employer that hires at scale, it's essential to optimize your applications for Applicant Tracking Systems or ATS. Examine the job description for keywords, and include those same keywords in your resume. If your resume doesn't mention important keywords and qualifications from the job posting, the ATS will instantly remove you as a viable candidate for the position. Instead, take the time to customize your resume for each position. Implementing keywords when relevant is essential to competing with the thousands of other resumes that Boeing receives for each job opening.
How To Land A Job at Microsoft
Be curious, and go beyond what's required
Successful candidates at Microsoft "don't stop at understanding the position they're interviewing for." If you want to get hired, you should conduct comprehensive research to form an in-depth understanding of Microsoft's operations as a business. Then, you should discover how your desired role fits into the bigger picture. Microsoft is specifically looking for candidates who have a broader vision, who can clearly articulate their career goals, and who can explain where they see themselves moving and growing their career within the company structure.
You should also be ahead of the curve on trends in the tech industry. Take the time to assess Microsoft's strengths, weaknesses, opportunities, and threats in the specific area where you're applying. That way you'll be prepared to deliver solutions from the application through the interview process.
Demonstrate your problem-solving skills
When you walk into an interview with Microsoft, the first thing you should know is they are going to ask you questions related to the professional connections you have grown and maintained with former bosses and coworkers. They are interested in learning how you work with others and how you foster professional relationships. According to their careers website, Microsoft looks specifically for candidates with a "strong desire to learn, intelligence, a passion for technology, a willingness to work hard, rock solid skills, an entrepreneurial spirit, and a desire to be the best."
Also, to determine if you're the right fit for their company culture, Microsoft recruiters are interested in learning how you approach and solve problems. So be prepared to show your work. You should put together several examples that demonstrate clearly how you solved a large-scale problem in a work project, in a team environment, or an unforeseen challenge. Explain in detail how you found a solution and worked to solve the problem effectively and efficiently. Microsoft values clear communication, so working through your thought process and problem-solving skills ahead of time will help with your confidence!
Landing a job at one of these companies is certainly competitive. But you can give yourself the best chance by networking strategically, getting to know the organizational culture and needs, and being prepared to tell stories that demonstrate how your skills are the best fit for the position, the team, and the company.