3 Career Lessons Learned from 65 Conversations, with Polina Selyutin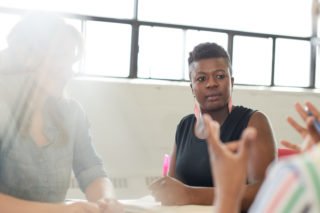 We can all learn from the success of those around us. On this episode of Find Your Dream Job, our guest Polina Selyutin shares common themes she has heard in dozens of conversations with successful women who love their careers. From having an abundance mindset to approaching networking with the goal of creating real connections, these lessons will resonate for anyone feeling stuck or discouraged in the job search.
About Our Guest: Polina Selyutin
Polina Selyutin is the cofounder and host of the podcast, I Want Her Job, with Brianne Perleberg. Previously Polina worked in operations and business consulting for tech companies in San Francisco's Bay Area.
Resources in this Episode:
New Tool: Ageism in hiring is real. But do you know what's protected and what's prohibited under the Age Discrimination in Employment Act? Take the Age Discrimination Quiz from the AARP.
Listener Question: When talking to recruiters, listener Brenda Michel says she gets asked about where else she's applying and interviewing. Should she show her cards to every recruiter who reaches out? Jessica shares advice, plus another resource from an insider: Working with a Recruiter to Get a Job: A Beginner's Guide 
More from Polina Selyutin:

Polina is launching a new podcast on relocating to new cities. Check out New Roots.
Polina's favorite books for job searching and building a career:
Polina's favorite career podcasts:
Transcript
Find Your Dream Job, Episode 137:
3 Lessons Learned from 65 Career Conversations, with Polina Selyutin
Airdate: May 2, 2018
Mac Prichard:
Hi, this is Mac of Mac's List. Find Your Dream Job is presented by Mac's List, an online community where you can find free resources for your job search plus online courses and books that help you advance your career. My latest book is called Land Your Dream Job Anywhere. It's a reference guide for your career that covers all aspects of the job search, including expert advice in every chapter. You can get the first chapter for free by visiting macslist.org/anywhere.
This is Find Your Dream Job; the podcast that helps you get hired, have the career you want, and make a difference in life. I'm Mac Prichard, your host and publisher of Mac's List.
I'm joined by my co-hosts, Becky Thomas and Jessica Black, from the Mac's List team.
This week, we're talking about three lessons learned, by one expert, from 65 career conversations.
We all know people who have great jobs and we often wonder, how did they get that gig? Our guest expert this week is Polina Selyutin. She's interviewed 65 successful women for the podcast I Want Her Job.
Polina says everybody's career story is unique. But she's also learned three lessons from these conversations that can benefit every job seeker. Polina and I talk later in the show.
We all know that age discrimination in hiring is against the law. Becky has found an online quiz from AARP and using this resource can help you understand what employers can and cannot do when hiring older workers. Becky tells us more in a moment.
You post your resume on a job board. Later you get a call from a recruiter who tells you about several open positions. Then the recruiter asks, "Where else have you interviewed?" What should you say? That's our question of the week. It comes from listener Brenda Michel in Portland, Oregon. Jessica shares her advice shortly.
As always, let's start our show by checking in with the Mac's List team.
Every week Becky is out there, looking around the Internet, exploring nooks and crannies for websites, books, and tools you can use in your job search and your career. Becky, what have you uncovered for our listeners this week?
Becky Thomas:
Age discrimination is a hot topic in the job search world. The question of ageism in hiring is really a big one, and it's growing, as people continue working longer, as they age, this is including the huge baby boomer population. Those folks working well into their sixties, even their seventies. If you're a professional over even your mid-40's or 50's or so, you're probably thinking about how your age plays a role in your career. I think that the employers haven't caught up with the fact that there are more older workers in the job market. A lot of times there's still stereotyping of older workers from the hiring manager side. This idea of ageism is real, it's on people's minds as they're changing jobs, as they age, and all that stuff. If you are in that age group, you probably have noticed that you're being treated differently or you maybe suspect that you're being discriminated against, and it's maybe a reason why you're not getting job offers. You may think about it and be like you're suspecting but it's really hard to know and to prove age discrimination. It's important for everybody, but especially folks who are older, in their careers, more experienced. You want to have a good solid understanding of what age discrimination is and how you can be protected and if you are being discriminated against, what you can actually do about it. There is the Age Discrimination in Employment Act, and that is the actual law that protects workers from age discrimination, specifically around age, for people over forty.
Today I want to share a resource that was actually published on the AARP website. I think the AARP is known for retired people, but they actually have a lot of resources for professionals after 50 and beyond, so you don't have to be retired to use this resource. It's an Age Discrimination quiz and it asks you a series of questions about age discrimination, including behaviors that are protected and prohibited by the Age Discrimination and Employment Act, and what you should actually do if you experience discrimination.
It's a fairly short quiz, but the questions were really interesting and I think would be helpful for any older professional who's in the job market. Information is really power in these situations, and when you know what's legal and what's not, you can prepare to handle issues that do come up in your job search and your career. It's not just in the hiring process; this act protects professionals in all stages of life, whether they're working full-time and they're getting passed over for opportunities or whatever it might be. It's good to know for anyone over the age of 50. I didn't actually know the answer to several of the questions on the quiz; there were like six or eight questions. I got three or four wrong.
I wanted to give you guys a quick test, if you wanted to try it?
Mac Prichard:
Okay.
Becky Thomas:
One of the questions from the quiz was, "The Age Discrimination and Employees Act protects employees from age discrimination starting at what age?
Jessica Black:
Well, it's multiple choice.
Becky Thomas:
It is multiple choice.
Jessica Black:
It's 60, 55, and 40, or all ages.
Becky Thomas:
Yes.
Mac Prichard:
I'm inclined to say all ages.
Jessica Black:
That's what I said. It's wrong.
Mac Prichard:
Forty?
Jessica Black:
It is forty.
Mac Prichard:
Yeah, so it's definitely aimed at older workers.
Becky Thomas:
Yep, it doesn't protect younger workers, so that's an interesting thing to know, too.
Mac Prichard:
It is, because we've had guests on the show, I'm thinking of Kayla Buell, who talked about how  millennials have to combat stereotypes about people in their twenties and they have to overcome that when they're hiring. That is a form of age discrimination just as older workers, and boomers in particular, have to struggle with that too.
Becky Thomas:
Yeah, but millennials aren't currently protected under this act; it's just people forty or over.
Jessica Black:
Yeah, that's interesting. I completely answered all ages as well. I thought it was maybe one of those trick multiple questions.
Becky Thomas:
For sure. But yeah, I just thought it would be interesting if you're beginning to learn more about this, if you're in that age group where you're thinking, "Maybe this is something I need to learn more about. I might already be discriminated against."
Jessica Black:
Yeah, it's valuable information that I think a lot of people don't know about.
Becky Thomas:
Yeah.
Jessica Black:
Yeah, I don't. I'm not forty yet but it's still good to know.
Mac Prichard:
Yeah it's a popular topic on our website, too. I know, Becky, we have a special section aimed just at older workers. We have articles and podcasts about how to do a job search when you're a mature worker. I'm glad you brought this quiz to the show.
Becky Thomas:
Yeah, thanks.
Mac Prichard:
Good.  Well, thank you, Becky, and if you've got a suggestion for Becky, please write to her. We'd love to use your idea on the show. Becky's address is info@macslist.org.
Now let's turn to you, our listeners, and Jessica is here to answer one of your questions. Jessica, digging down and deep into the  Mac's List mailbag, what do you have for us this week?
Jessica Black:
This week we have a question from Brenda Michel, of Portland, Oregon. She says in her email,
"I have my resume posted on a number of sites including CareerBuilder, Monster, Indeed, LinkedIn, etc. I do get calls from recruiters, often located far away from Oregon, who tell me that they have a job that I seem qualified to fill. Typically, in the course of the conversation, they ask me if I'm interviewing and if so, where, with whom, in what industry, and for what position. I always get an uncomfortable feeling. It seems as if they are trying to find out more information than just if I have a job in the frying pan, so to speak. If you have any insights or advice, I'd be so grateful."
This is a really interesting question. I really liked this question because I think it's understandable to be really uncertain about this process. It's unfamiliar for so many people. I think people, you know, you put your resume on a website and think that those employers are going to contact you directly but there are recruiters out there that are also looking to fill positions. I think that the idea of working with a recruiter is still so unknown for a lot of people as well because I definitely haven't had a lot of experience with that. I've never worked with a recruiter directly.
But we have a really great article on the Mac's List website that we just had posted a little while ago from our friends at Boly:Welch, a local staffing agency here in Portland, and the article is by Abby Pfeiffer who is a recruiter with Boly:Welch. She dispels a lot of the unknowns about working with recruiters which I think is really valuable.  I wanted to use a couple of the things that she said because this was going to be part of my answer anyway but she uses some really concrete information and it's coming from a recruiter so it's that much more valuable.
One of the things to know and that not many people know is recruiters work with companies that are filling open positions and are always looking for the perfect candidate for those roles. They do also work with job seekers, but are working to fill very specific jobs. Oftentimes recruiters don't have access to the full gamut of all the jobs that are available, especially not in a given city or something like that. There's just no way that they can know all of the positions and so they're working with a portfolio, if you will, of specific jobs that they're looking to fill and working directly with organizations to fill those jobs.
They want to find qualified candidates for those jobs. They're going to be looking for people who have posted their resumes, things like that, online. If your qualifications and your skills come up as looking like something that could be relevant, that's when they'll come and contact you.
Likely, and this is not Abby's words, this is where my advice comes through, likely when they are connecting with you, they're going to be asking you these types of questions about where else you're applying, what industry you're looking for, things like that to gauge: Number one, how serious you are about the job search, if the position that the recruiter is trying to fill is actually going to be a good fit for you.
They're just trying to get more information, not to weed you out, but to just make sure before they move forward with giving you more information about the role, that it would be relevant for you.
I wanted to let Brenda know that I do think that it's probably an uncomfortable feeling because it's not very common for a recruiter to contact you and you're expecting more of the employers who are directly looking for those positions to be reaching out.
I think that being communicative about what you are looking to do and communicating with that recruiter. When they contact you, knowing already what your goals are, and knowing how to communicate what you're looking for, is going to give you a huge leg up. You're going to be more prepared to answer those questions.
I also want to let you know that it's okay to, if you feel uncomfortable, to say, "Hey, thank you for reaching out. I don't feel comfortable having this conversation." Though I want to reiterate that they are looking for your best interests and so being communicative will only help you and help them be able to advocate for you if you are the right candidate.
Don't hesitate to steer the conversation, even asking for a meeting or a call to talk about the positions. If you're getting these questions from the recruiter, you can take a step back and say, "Hey, do you mind if I talk to you about this later? Would you give me an idea of what information you're looking to get from me?" That sort of thing so that you are fully armed with all the information you might need and so that you aren't in this position of feeling very uncomfortable. You have enough information to feel a sense of control over the conversation as well. Because as we've talked about with…I don't want to say regular hiring because this is still regular hiring, but with employer to employee conversations, it is a two-way street. You have just as much control in deciding how this conversation is going to happen. You're not at the whim of what the recruiter is saying and asking. You get to ask your questions as well and steer the conversation to get the information that you need to also be successful.
I just wanted to say those couple of things. Do you, Becky or Mac, have anything to add about any of that, of what you would do in that situation?
Becky Thomas:
Yeah, I think that your advice is spot on, that the recruiter is just trying to get as much information as they can so they can serve you and their client, the employer, as best they can.
The only thing that I would add is maybe for Brenda to think about her approach. She said that she's posting her resume on all these different sites and she's getting contacted by recruiters. She mentioned that a lot of them were for jobs far away and I'm not sure if she wants jobs that are far away. She didn't say that in her question.
Jessica Black:
I doubt it. She seemed like that was part of the uncomfortable feeling that she was getting.
Becky Thomas:
She wasn't interested in that.
Jessica Black:
Right.
Becky Thomas:
I think the best way to work with a recruiter is to develop a relationship with somebody who gets to know you, and gets to know your career goals, and what you're looking for. That includes things like geographically. If you don't want jobs outside of Oregon, I would change your approach and contact some local recruiters that are well-respected and known.
Jessica Black:
Take a proactive approach.
Becky Thomas:
Be a little more proactive to find a recruiter who can be a little bit more of a partner and actually advocate for you and find you local jobs.
Jessica Black:
So you're not just waiting for someone to contact you, you're taking the first step.
Becky Thomas:
A lot of those recruiter contacts can be spammy where they are sending you jobs that aren't actually what you're looking for, and it's a waste of time. Your advice on that specific question is totally right but I think she should also rethink the way that she's approaching it.
Jessica Black:
Absolutely. Yeah, that's great advice. What do you think, Mac?
Mac Prichard:
I think that you're absolutely right, Jessica, about the importance of taking charge. To Becky's point about narrowing your search, when we post our resumes on big national boards, often recruiters who have subscriptions to those sites are reviewing those resumes and they're looking for candidates.
One reason why a recruiter may ask that question, "Where else have you applied", is because they may be competing with other recruiters who are bringing those candidates forward to the same company.
Jessica Black:
Oh, interesting.
Mac Prichard:
The reason they ask is, they want to find out if…They'll know if multiple recruiters have been hired by a company and so they want to have that information. Now whether you choose to share that, Brenda, is up to you.
Jessica Black:
Right. You don't have to.
Mac Prichard:
You don't have to, but one way you could manage it, if you want, is to say, "Well, tell me what company you're working for and I'll confirm whether I've applied there or not."
Jessica Black:
Oh, that's a good method.
Mac Prichard:
That allows Brenda or anyone who's contacted to control the information that they want to share.
Jessica Black:
That's great. I just want to reiterate that it doesn't have to be an uncomfortable feeling that you get. If you ever feel uncomfortable, you can always say, "Hey, I don't feel comfortable giving you the information", or, "I'm not interested at this time." Whatever it is, you don't have to share information you're not comfortable giving.
Mac Prichard:
Just say no. Yeah, but if the recruiter wants to confirm, or share that they're working for company x and you've applied there. I can understand why the recruiter would want to know that question; it gives him or her insights into how best to present you.
Jessica Black:
Yes, it's information gathering that the recruiters are doing. I think that we are all very suspicious of everyone right now, of data breaches, and things like that. Giving personal information to people who you're not sure what their intentions are and things like that. But most of the time, people have your best interests at heart, and again, just control the information that you're giving and the scenarios and situations that you are in.
That's my feedback and thank you, guys, for yours. That was great.
Mac Prichard:
Great. Thank you, Jessica, and thank you, Brenda for that terrific question. If you've got a question for Jessica, she'd love to hear from you. You can call our listener line. That number is area-code 716-JOB-TALK , or post your question on our Facebook page, or send Jessica an email. Her address is info@macslist.org.
If we use your question on the show, we'll send you a copy of our book, Land Your Dream Job Anywhere.
We'll be back in just a moment. When we return, I'll talk with this week's guest expert, Polina Selyutin, about 3 lessons she's learned from 65 career conversations.
We live in a digital world and what we do online can make all the difference in a job search. Consider this: In a recent survey 98 percent of recruiters said they use LinkedIn, Facebook, and Twitter to find candidates. If you're not on these platforms, you're invisible to employers.
Yes, social media can be overwhelming. Especially for baby boomers like me. That's why I built my free online course, How to Wow and Woo Employers Online. In three lessons, we show you how to make the most of social media in your job search.
You'll learn: what matters most to employers who check you out online, how to create and manage social profiles that attract the attention of hiring managers, and how to use your social accounts to grow and serve your professional network.
To sign up for this FREE course, visit macslist.org/wow.
Now, let's get back to the show!
Now let's turn to this week's guest expert, Polina Selyutin.
Polina Selyutin is the cofounder and host of the podcast, I Want Her Job. Previously, she worked in operations and business consulting for tech companies in San Francisco's Bay Area.
Polina joins us today from Marin County, California.
Polina, thanks for coming on the show.
Polina Selyutin:
Oh, I'm delighted to be here. I love your podcast.
Mac Prichard:
Well thanks, I love yours too and it was a big reason why I wanted to have you on the show because you've talked to, when we spoke, sixty-five women about their careers. I know that number's gone up since our first conversation. I know you've learned so much about what these women did to be successful not only in their jobs, but in their careers. I'm really excited about the conversation we're going to have about the lessons and the themes that you see keep popping up again, and again, and again.
Polina Selyutin:
Great. I'm excited to be talking to you. It's a change for me to be answering the questions. Yeah, I thought about it and it came down to three themes that I keep hearing over and over again. They're around networking, a mindset around building a career, and a job search philosophy.
Mac Prichard:
That sounds terrific. Let's explore each of those, but before we jump into them, Polina, how do you choose the women that you interview because you have so many choices and the people that you have have such terrific backgrounds?
Polina Selyutin:
That's a good question. I think that I just follow my curiosity. I try to include people in jobs where I think the industries are growing. Somebody might hear this and think, "I want her job", and it's actually a possibility to get that job.
If it's not a growing industry, then I think it's somebody who's done something that's really unique, that's brave, that I think we could learn from hearing their story. I look for a good story and I look for a career path that I think is growing.
Mac Prichard:
The occupations really vary, don't they? You've talked to dozens of women now and I don't think you've had the same job pop up twice, have you?
Polina Selyutin:
We actually do themes, so I've done a theme on Impact Investing; that's an area I'm really passionate about. We've done social impact careers, a digital health series. We're going to try to focus on more, "Tell me more", three or four interviews on an industry. Yeah, if you look at all sixty, they kind of look all over the place, but if people are looking for a theme I definitely think there's value to hearing from three to four different people in the same industry. Then you can hear the different ways they got in that role, you hear their different backgrounds, and I think you'll feel more empowered that there's a way for you to get in, versus just one person.
Mac Prichard:
One of the reasons I brought up the variety of occupations is because, as you mentioned a moment ago, there are these common themes that keep coming up again and again in these conversations. Why don't we turn to those? I think you said the first one was networking?
Polina Selyutin:
Yeah, networking. Everyone has an opinion on networking but the themes that I keep hearing from the ladies I've interviewed is, one of the big things is around a give, give, get mindset. For example, Rachel Hofstetter was an amazing guest, and she has this mantra of give, give, get. Judy Robinett was another guest on the show and she wrote, How To Be A Power Connector. In that book she also discusses this giving approach where you go with the philosophy of not give and take, but really giving. Being really generous like give, give, get.
When you meet people for networking, it's not immediately what they can do for you but it's looking at what you can do for them. The other things that I learned from Judy, and hearing about how people network, is to really build a diverse network. We naturally gravitate towards people like us but research and studies show that it's actually the people at the edge of your network, the ones that are loose connections, that are more like to bring some kind of professional lead or career development.
I think that being really mindful and intentional of reaching out to people that are outside of the network that you feel comfortable with, people just like you.
Mac Prichard:
Don't limit yourself to events just in your field, but if you've got hobbies or interests or involvement in groups outside your profession, those might be good sources for job leads as well, aren't they?
Polina Selyutin:
Yeah, look out for people who are in different industries that seem really different, and also when you are at a networking event, try to connect with people on a deeper level. Try to figure out their families, their values, what they care about, versus very superficial stuff because the deeper the connection you build with someone and you're able to find shared values, the stronger that connection will be. Also from Judy's book, after you meet someone, ask if they have ideas or suggestions for someone else that you can talk to. That way you're always coming away with other people you can talk to. Obviously, before you ask them who else to talk to, you should share a little bit about what you're hoping for and the specifics so that they'll know who else you can talk to.
Mac Prichard:
I know that when many of our listeners and people in general hear the word networking they have an unpleasant feeling. It's something most people just aren't built naturally to do. Besides the tips that you mentioned, were there other suggestions you've gotten from the people you've interviewed about how to do networking well? Particularly for people who just might be uncomfortable with it.
Polina Selyutin:
Yeah. What I loved was going places alone, because when you're alone you're going to have to try to talk to someone, so I love that idea. Going to places where you're already interested in that topic, whether it's a museum, a meet up, a talk, a conference. If you're already interested in that, it's going to be much easier for you to strike up a conversation with somebody when you are alone. Just start talking don't think about it. Don't think of it as transactional, that's the other part of the give, give, get. Try to think of it as getting to know someone, and just meeting new people and having a goal where you're going to try to go to one event a month, or meet one new person a month to get yourself out there.
Mac Prichard:
That's the how of networking, Polina. I'm curious, did your guests talk about the why? What is the benefit of doing this? How did it help them get the jobs they have, or achieve the career success they enjoy?
Polina Selyutin:
I think the why is what I mentioned. The more people and possibilities that you encounter that are outside of what you know to be possible, the more you'll think outside of your box. I think it's just expanding the possibilities of the types of careers, the different paths that everyone has to those careers that are possible. Just expanding your horizon is the why.
Then I just remembered that I recently interviewed Cindy Thomas who networked her way into a venture capital role. She's an associate in a venture capital firm and she did fifty-two LinkedIn coffee dates. She bought LinkedIn premium to reach out to people for informational interviews and she did fifty-two of these. Not everyone said yes, but the people who did, she made great connections, and learned about so many different career paths. Obviously not everyone has the personality to go do that on LinkedIn, but I think it's an example that you don't have to be bound by traditional ways of meeting people.
Mac Prichard:
Yeah. I love that idea but I'm kind of a networking nerd. Let's turn to your second thing. Tell us about that.
Polina Selyutin:
Sure. A lot of it is like mindset, like what kind of mindset do you bring in when you're building a professional life and career. I thought about two quotes. I really like Cheryl Strayed, and she has this book Brave, and it has a lot of quotes. There's two that I think are really good mindsets when you're building a career.
One of them was, "Believing in abundance versus scarcity." The second one was, "To be more generous, ten times more magnanimous than you believe yourself capable of being and your life will be better for it." I think that if you believe in abundance, you'll be more confident in searching and exploring that there's a job for you.
Then the second quote, I see it as women who, when they are generous with their time, with themselves, great things come to them. Many of the ladies I've interviewed have this mentality of being generous. Vicky Saunders, for example, the incredibly impressive founder of SheEO. She leads her entire business model and personal life on a philosophy of radical generosity. I think that you start this approach on when you start to think about how you're making decisions, and you tip your mind, so like if you're on the fence about being generous or not, you start going towards that overly generous model, I think that it'll lead to good things.
Another mindset that I've heard from guests over and over again is to take on challenges that scare you. Step above what makes you comfortable and don't be afraid of what you don't know, ask questions. Don't be afraid to fail, as long as you're learning. One really impressive guest that I had, Kimberly Cassidy, VIP of Talent For Cornerstone On Demand. She comes to my mind because she took on a really intensive operations role, and on the show she shared that she has had more failures than successes. She was okay with that as long as she was willing to take chances and keep on learning. She was okay with incorrect action as opposed to no action. I was really impressed with that philosophy.
Mac Prichard:
That's a great story because I think that a lot of people believe that if they take risk and they fail, that's it, the doors will close and paths that might have once been opened are no longer available to them. That was not what you heard from your guests, was it?
Polina Selyutin:
No, and in fact when she looks at her overall career, she's had more successes because she's willing to try more. Those couple of fails, in the bigger picture, they're not that important.
Mac Prichard:
I loved the story of the quotes you shared about the importance of abundance, having that abundance mindset, of being generous because I think that many people think that networking is a tit for tat; it's got to be transactional. Certainly that hasn't been my experience with the people I've seen who have had successful careers and it sounds like that's the same for you.
Polina Selyutin:
Yeah, exactly. It doesn't have to be a huge challenge. Start small, pick an idea, volunteer somewhere, send a note if you're already at a job to be on a project or take on a project. Start small, start with baby steps. Yeah, just getting out of your comfort zone.
Mac Prichard:
Great. Well, let's turn to your third theme. Tell us more about that, Polina.
Polina Selyutin:
Okay, the third theme, a job search mindset. There's this book called Designing Your Life, written by two Stanford professors. I thought it was really great in figuring out how you think about looking during a job search. They talk about these dysfunctional beliefs that people have: your degree determines your career, you have to make the right choice then execute on it. It shows you that those are dysfunctional beliefs and helps you reframe your thinking. It reminds us that eighty percent of people don't have a passion or that they're passionate about too many things. They talk in the book about how to narrow your possibilities to five. We all have an infinite number of possibilities so we get stuck in, "What should I do?" Just narrow it down and start exploring is and thinking like a designer.
I think that that was a really useful approach in what I've seen a woman I've interviewed try. "Okay," they think, "I could do a hundred things but I don't have time for that so I'm going to pick four and I'm just going to start trying them and see which one works."
Then the other part of the book was about how do you know which one is working, so this is a quote from the book, "Your level of energy and engagement is your clue that you're moving in the right direction." Your enthusiasm for what you're doing will be your guide to whether or not you keep going on this idea or you turn to one of the other three or four that you decided that you're going to try. I think that helps, it's a way of thinking like a designer that adds a structure to what you should do next.
Mac Prichard:
I think the point about having that short list is so important because, I'm sure you have this experience too, when you talk to people about their careers or a search and you ask them what you want to do and sometimes the answer is, "I'm keeping all my options open." But you didn't hear that from your guests, did you?
Polina Selyutin:
No.
Mac Prichard:
They had that short list and I would imagine from your interviews, you could pick up on their energy as well.
Polina Selyutin:
Exactly. Then for the actual job search, I think your webinar on the hidden job market is so critical. I think that you have to use your network and try to get in front of a hiring manager. Be really creative in how you do it, but I think that's going to make the whole difference in trying to get in front of a hiring manager.
For people who are interested in startups, the StartUp Land book by Jeff Bussgang, I thought was really interesting because a lot of people think, "I don't have the technical skills, I can't work for a startup." But in reality, startups need marketing, sales, operations, finance, and for people who think they might be a little on the older side for startups, that fifteen to twenty years is really valuable in certain finance or operations roles. I think that is really encouraging for people who do want to work for a tech startup.
Mac Prichard:
Great. Well excellent advice, I appreciate you sharing those highlights from your interviews. Tell us what's next for you, Polina.
Polina Selyutin:
I'm going to keep doing I Want Her Job. I hope that people will check out iwantherjob.com and subscribe to the show. I'm also starting a new one called New Roots. It's a show for helping people explore cities if they're moving or travelling. To dive into what it's like to actually live in a city, to help people find new places, new communities, and new roots.
Mac Prichard:
Well, terrific. I know that you shared with Becky and me a list of some of the books you mentioned as well as some of your favorite career podcasts. Polina, thanks for being on the show today.
Polina Selyutin:
Thank you.
Mac Prichard:
Take care.
Alright, we're back in the Mac's List studio with Becky and Jessica. What are some of your reactions to my conversation with Polina?
Jessica Black:
Well, that was so great. I loved her energy and she had so many great anecdotes and stories.
Mac Prichard:
I loved her stories.
Jessica Black:
The themes that she talked about, networking…I don't know what the next topic was.
Mac Prichard:
Mindset.
Becky Thomas:
Generosity.
Jessica Black:
I was going to say generosity because that's thing that I pulled out from it. Then the job search mindset type thing. But yeah, I loved all of it. The things that she's pulled out from the people that she's talked to and what they've done, and various quotes and things from books. It was just fantastic the whole way through. I could have listened to her talk a lot longer. I know she has a lot more to contribute, always developing more in her podcast.
Specifically, I loved her note about the generosity component. That if you give it will always come back to you. Even if you think that you're giving too much or being too generous, it will always be a good thing. I think that's a really good reminder for everyone of, in our space of wanting to find our own balance of how much we give versus our own selfcare and things like that. Even if you're feeling like you don't have the time for it or whatever, being generous is always going to be a benefit for you.
Becky Thomas:
Mhmm, and there are ways to be generous without losing that ability to care for yourself too. I think what she was talking about was connection and reaching out and creating relationships with people. I think at least for me, that type of thing, it feeds your soul a little bit. You have more to give when you have a community of people around you who support your career. There's so much more, you can be supported to give out more because you have a community supporting you. It's like a wonderful cycle. There's no limit to success. Just because someone else has success doesn't mean they're taking it away from you. We can all learn from each other and support each other. It was very inspiring, it was like, "Yay."
Mac Prichard:
It was inspiring.
Becky Thomas:
It's not all competition or cut throat. We can all support each other like a high tide, Bousal ships, or whatever that phrase is. It's good, I like it.
Jessica Black:
Yeah, I agree. The focus on networking not being transactional but connections based. What you were saying of, you can find those meaningful connections through networking and it doesn't have to be just small talk. I know we talk about that too, about networking, but it's always good to hear it more often.
Mac Prichard:
Yeah, and I love the connection between these themes and that it's based on what she learned talking to women who are successful doing what they do.
Becky Thomas:
Yeah, they've gotten to a point of success, so you know that that kind of thing works.
Mac Prichard:
Yeah, generosity works and it makes a difference.
Jessica Black:
It's great. Yeah, it was very inspirational. I agree, Becky.
Mac Prichard:
Cool, well thank you both, and thank you, Polina, for joining us this week and sharing what you've learned from those conversations and keep them going. I enjoy the show a lot and I look forward to hearing her future interviews.
Jessica Black:
Yeah.
Becky Thomas:
Yeah, we'll be listening.
Mac Prichard:
Good, and thank you, our listeners, for downloading today's episode of Find Your Dream Job.
Make sure recruiters and employers know what you have to offer. Put your best foot forward online today. Get  my free online course, How to Wow and Woo Employers Online. Go to macslist.org/wow.
Join us next Wednesday when our special guest will be Jim Stroud. He'll tell us the three things you must do to find a job faster.
Until next time, thanks for letting us help you find your dream job!