Volunteer Smarter: A Strategic Approach to Volunteering That Helps You Find a Job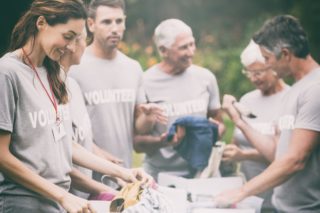 According to one LinkedIn survey, 41% of employers said they consider volunteer experience to be as valuable as paid work experience. Also, 20% of hiring managers surveyed said they had made a hiring decision based on a candidate's volunteer experience.
Volunteering can impress future employers, help you make new connections, and give you a way to help your community outside of work. In addition to giving back, volunteering has many benefits for you personally: it can grow your network, let you test drive a new career, showcase your abilities, teach you marketable skills, demonstrate your passion, and fill employment gaps in your resume.
But finding the best place and assignment to match your interests, skills, and availability is the hard part. Here are a few ways to find valuable volunteer opportunities that will be a good fit for you and can help you land a new job.
Find your passion.
Know what you have to offer in terms of the specific skills that nonprofits are seeking. Although it can seem counterintuitive, it also helps to think strategically about what the volunteer experience can do for your career, not just the organization you are helping. Sign up for something that will help you achieve the result you want from the opportunity.
Be realistic about your schedule and availability.
If the volunteer gig is going to be too time-consuming, require too much of a commute, or isn't aligned with your schedule, you're going to be at risk of burning out and not fulfilling your volunteer obligations. You need to assess what you can commit to, given your work, location, and other activities.
Check your alumni network.
Reach out to your alumni association to see what opportunities they have available or can connect you with. Alumni networks often know about local opportunities in your area that won't show up on volunteer websites or larger, national organizations.
Attend volunteer fairs.
These events are held all over the country and are often free and open to the public. Since they aggregate a large number of nonprofits all in one place, they are an efficient way to shop for volunteer opportunities.
Investigate local volunteer matchmakers.
Big cities usually have some sort of connector for local volunteer opportunities. Typically, you can filter through prospective volunteering assignments based on the particular cause, what you're good at, and the time commitment involved. If you're in the Portland area, start with Hands On Greater Portland. 
Network with fellow volunteers.
Look for places that let you informally interview before committing. Having a conversation with others who are already doing what you want to be doing can give you a sense of the group's mission and needs so you can see whether it would be a match for your skills and interests, and also whether you think you might enjoy working alongside them. Plus, you'll be getting to know new people who can be advocates for your career, so don't be afraid to tell people about your career goals. 
Check the following websites for local volunteer opportunities: