Applying Strategically for New Positions: Fiona Gwozdz's Job Search Story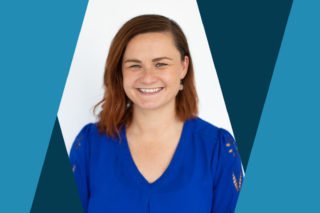 Fiona Gwozdz searched the job market for three months and relied on a variety of resources throughout her job search. Her journey to this new job included a combination of networking events, LinkedIn outreach, and informational interviews. Fiona also implemented an additional, more creative strategy. She crafted an elevator pitch to share her career story effectively and interviewed potential employers throughout the hiring process. By applying for jobs strategically and not superficially, Fiona landed her dream job at an international PR & marketing firm.
What do you do for a career? Who do you work for?
I recently landed my dream job at Edelman PR, an international communications marketing firm that leverages creative communication strategies, new technologies and absolutely stellar storytelling to help our clients grow and succeed.
As a senior account executive, I work to help develop and implement those strategies in a holistic way, with team members from digital, creative and traditional communications focus areas. I'm lucky to be working with clients across the spectrum and on a variety of projects- no day is the same and that helps fuel creativity and collaboration, ultimately giving our clients better results.
How long did it take you to find this job?
I was actively job hunting for about 3 months before I started working at Edelman.

How did you find your job? What resources did you use? What tool or tactic helped the most?
I am fortunate to have a super supportive family. My mom sent me a copy of Mac's "Land Your Dream Job in Portland (And Beyond)" book and I literally used it every step of the way. It is truly on-point. It gave me the assurance I needed to get out there and start networking both to open doors and make connections, and also as a way to build my confidence.
Through networking meetups, LinkedIn messaging and informational interviews over coffee, I was able to get clear on what my own elevator pitch was, what I wanted to do and how the skills I've garnered over the course of my career could be leveraged or transferred in new ways. With that refreshed confidence, I was able to apply strategically for roles I was truly interested in and learned to interview my potential employers as much as they interviewed me until I found the right fit!
What was the most difficult part of your job search? How did you overcome this challenge?
For me, reaching out to new contacts or going places (often alone!) that were outside of my comfort zone but where I knew I would meet people working on things and for companies where I wanted to be working was initially very challenging. Sometimes I felt truly out of place, so I would be very intentional about each event I went to and would set mini goals for myself like "score ONE informational interview before you leave this meetup" or "get one new LinkedIn contact at this happy hour" and that both made me ambitious and feel like I was accomplishing things that were leading towards a successful job hunt.  
What is the single best piece of advice you would offer other job-seekers?
Network. Network. Network. People are happy to support you as you strive for success. Learn from them. Take them for coffee and treat each meet-up like a mini interview. Showcase your curiosity about them and their work and share your own skills.
More than anything else though, believe in yourself. That's actually #1: Know your worth and own it.
Why do you love your job?
I work with amazing, talented and thoughtful people. Both my clients and my colleagues are inspiring on the daily and together we work to support and amplify  the cutting-edge work of some awesome companies. I like to call it communications marketing with a heart, and I'm really proud of the work we do.