Join Portland's Tech Community: 15 Local Networking Opportunities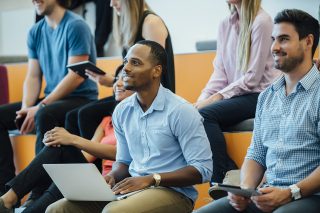 Portland's tech industry is robust, and there are more opportunities than ever for professionals to connect with others in the local tech community. However, it can be hard to know where to get started. Whether you're a seasoned tech industry pro or looking at tech as a new career path, Portland has opportunities for you to network and meet new people who can help grow your career. Here's a list of networking opportunities in Portland to help you get involved in the tech sector. Check them out! They're all great ways to make new connections, attend more local events, and build a better network in Portland tech.
Technology Association of Oregon
The Technology Association of Oregon is a recognized leader in promoting and supporting the tech industry in Oregon. TAO supports entrepreneurs, creates connections within the tech community, and promotes the sharing of knowledge and expertise. There are several ways to get involved, from becoming a member, to exploring volunteer opportunities, to attending some of their many great events. Their annual Tech Tours are an opportunity to get inside some of Oregon's top tech offices with open house style events that typically happen every fall. You can also sign up to receive their online guide to the Oregon and Southwest Washington tech industry, Techlandia.
PDX Women in Tech
PDX Women in Tech is a nonprofit organization that celebrates and empowers individuals who identify as women, non-binary, and those who are underrepresented in the tech industry. PDX Women in Tech nurtures leadership and talent through community- and skill-building events, mentorship, and by providing access to tech jobs and opportunities. They're also a powerful and growing community, driving improvements in local tech workplaces with data from real workers in their State of the Community report. 
Silicon Florist
If you're looking for an expert voice from deep within Portland's tech industry, look no further than the Silicon Florist. For over a decade, founder, national speaker, and author Rick Turoczy has covered tech news in Portland's startup and broader tech community through the Silicon Florist website, email newsletter, and social media channels. He offers insider perspectives on local tech industry news and if you sign up for a weekly newsletter, you'll not only learn about what's happening in tech nationally and locally but you'll also hear about the best networking events to attend. 
Calagator
Calagator is a treasure trove of networking events for tech professionals in Portland. Started over ten years ago with the intention of establishing one unified calendar for the tech community, Calagator is a flexible and easy-to-use way to stay on top of events in tech. Anyone can import, create, and edit events. Calagator offers an in-depth view of Portland's networking scene, from the biggest, nationally-advertised conferences to the intimate, niche gatherings at coffee shops.
TechTown
TechTown originated over five years ago in an effort to showcase Portland as a place where tech companies and professionals could thrive. It has since grown into a dynamic collaboration offering support to individuals from all backgrounds to develop their tech careers in the region. It provides a list of local companies that are hiring, and hosts events that, in their words, "help cultivate a diverse, homegrown talent pipeline and inclusive work environment."
NewTech PDX
NewTech PDX is a vibrant community with more than 7,000 members. Hundreds of people gather on the third Monday of every month to experience and celebrate some of the latest technologies developed right here in Portland. Not only can you enjoy amazing product demos, you'll get to meet lots of tech professionals over great local food and drinks. Sign up for the next one or even better, volunteer!
PortlandTech.org
A project developed by WorkSource Oregon, PortlandTech.org started off as a resource to publicize the many work opportunities in Portland's tech industry. The site now offers a number of valuable resources for networking in tech, such as an incredibly detailed and specific list of jobs filtered by skill-set, language, and preferred system as well as positions from intern to management level. In addition, they maintain a calendar for community tech events, including includes trainings available in the area, as well as prep help for coding interviews and more.  
PDX Startups
PDX Startups is a "crowdsourced resource platform connecting and supporting Portland's growing startup ecosystem." The website hosts a comprehensive directory of locally connected startup organizations, plus a database of investors. If you're in the startup world, make sure you've got a presence here. And if you're looking to get involved with startups in Portland, it's a great resource to get oriented. You'll also find other resources for startup folks linked here, including the PDX Startup Slack channel and Silicon Florist's Startup Switchboard.
2023 Nonprofit Technology Conference
The Nonprofit Technology Conference (NTC) draws over 2,000 nonprofit professionals from all over the world to Portland every year. Organized by the Portland-based Nonprofit Technology Enterprise Network, an invaluable resource in its own right, NTC boasts over 100 sessions exhibiting the most innovative technologies and strategies as well as networking events every night, it's a dynamic place to collaborate with other nonprofit tech professionals passionate about creating change through technology.
TechfestNW
A global tech conference in the northwest, TechfestNW is an exciting gathering of startups and tech professionals from all over the world. A combination of speakers, workshops, parties, a demo floor full of the latest gadgets, and crowd favorite PitchfestNW, TechfestNW has something for everyone. 
Portland Tech Meetups
The international networking hub Meetup operates on the philosophy that "Getting together with real people in real life makes powerful things happen." Find other real people in the Portland tech community on Portland Tech Meetups. If you're an avid bitcoin enthusiast, a web designer hoping to break into the industry, or anywhere in between, you'll probably find a group perfect for you. It's as easy as signing up.
ChickTech
ChickTech is a national organization with a mission to empower, increase, and retain women in the tech industry. You'll find a broad range of networking and mentoring opportunities from their intergenerational tech-centered events. Events range from social happy hours to soft-skill and technical workshops to their annual ACT-W Conference. You can find out about their latest Portland-based events by following them on Meetup.
Women Who Code
Women Who Code is an international nonprofit organization that "envisions a world where women are proportionally represented as technical leaders, executives, founders, VCs, board members, and software engineers." With a membership of over 167,000 tech professionals, Women Who Code offers skills training, fosters community, and develops role models to inspire women to pursue their tech careers. Join the Portland chapter to get access to coding resources, leadership opportunities, and scholarships.
Networking for tech professionals in Portland has never been easier. It's just about finding the right fit for you. Choose one or more communities to get plugged into and start building a robust network that will support your aspirations in this exciting, growing field. And let us know if there's an event or organization that we should add to this list! You can always email me at mac@macslist.org. Happy networking!