Podcast: Create Your Own North Star: Jenny Mack-Christensen's Job Search Success Story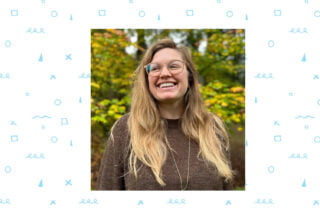 Job loss can be a great opportunity to examine whether you're in the right field. On this bonus episode of Find Your Dream Job, Jenny Mack-Christensen tells how she used the time between jobs to affirm that she wanted to stay in marketing. She used informational interviews to explore other career fields, but Jenny says she ultimately decided to level up in her current field rather than make a switch. Learn more about Jenny's career history below in this installment of our Success Stories series. 
---
Transcript
Find Your Dream Job, Bonus Episode 64:
Create Your Own North Star: Jenny Mack-Christensen's Job Search Success Story
Airdate: May 1, 2023
Mac Prichard:
This is Find Your Dream Job, the podcast that helps you get hired, have the career you want, and make a difference in life.
I'm your host, Mac Prichard. I'm also the founder of Mac's List. It's a job board in the Pacific Northwest that helps you find a fulfilling career.
One of the best ways to get good at job hunting is to talk to people who do it well.
That's why once a month, I interview a Mac's List reader who found a job they love.
Our guest today is Jenny Mack-Christensen. She's the digital marketing manager at Dr. Martens. It's an iconic footwear and clothing brand that sells to consumers in more than 60 countries.
Jenny Mack-Christensenn believes in the power of optimism. After losing her job during the first year of the COVID-19 pandemic, Jenny practiced daily self-affirmations that helped her stay positive.
In a story you can find on the Mac's List website, Jenny also encourages job seekers to be clear about what they want and ask their network for help.
Why do you love your job, Jenny?
Jenny Mack-Christensen:
I suppose I love my job, well, I love my current job, but also any job that I've stayed at to help grow my experience. I've always loved the people that I work with. I am just so inspired, and I feel like I am motivated whenever folks are truly passionate about what they do, and they bring skills to the table that I can learn from. But, yeah, I just feel that I've lucked out in my career experience, and I've gotten to work with some of the best people. Some folks have become lifelong friends, but lifelong connections for sure.
And my current job, I just really love the team that I have. My manager is also really great and inspiring. She allows me to work with loads of autonomy, which is my preferred working method. Well, no micro-management, which I really appreciate.
And something else that I love about my current job; there's a hybrid approach to both in-office and remote work. I think at this stage of my career, having a family and trying to balance my career goals, I'm really looking for a place that allows me the freedom to put my personal life first when I need to, and I find that a hybrid working model allows me to balance that work-life. So, yeah, but I really do appreciate all of the people that I work with, and I think that the work-life balance stems from having just such a great team at Dr. Martens.
Mac Prichard:
How about your job search, Jenny? Was it difficult to find an opportunity like the one you have now that offers that work-life balance and the possibility of working in a hybrid situation?
Jenny Mack-Christensen:
I think that the timing was on my side since I was looking for a new role during the pandemic, and lots of companies were still working from a remote-first environment. But I just knew that that was a priority for me, so I didn't really consider in-office positions, and when interviewing, I made sure to ask, quite frankly, what those expectations looked like.
And I have a feeling that this may have been a more difficult approach pre-pandemic, whenever this wasn't as widespread of a benefit that jobs offered. But now that it's a little bit more standard, I wasn't intimidated to even ask the question and get clarity on what those in-office expectations were. But yes, that was an important part in my job search.
Mac Prichard:
Like a lot of people, you lost your last position during the pandemic. It happened to many. How did you handle this loss, Jenny, and stay positive during your search?
Jenny Mack-Christensen:
I really looked at this as an opportunity, and I took a step back to determine if marketing was still what I wanted to pursue or if I wanted to trial another career path. So, I took the opportunity to, kind of, well, ask myself some pretty deep questions that allowed for me to just get honest about what my goals were, where I wanted to wind up. And that led me on two different paths as far as my job search goes, but I wound up with a pretty definitive decision that I really do enjoy the marketing path that I created for myself, and I wanted to double down on it.
But overall, I may have been questioning whether or not marketing was for me. I think that I was experiencing some burn-out in a couple of previous positions, and if I didn't have this opportunity to have a fair amount of time to look for a new job, I'm not sure; I may still be questioning whether or not this career path was for me. So, overall a really great opportunity. However, yes, it was hard to stay positive sometimes because I really didn't know where I was going to wind up and when I would get a job offer that I couldn't say no to. And the not knowing was pretty difficult sometimes, but I did try to stay optimistic.
And that's where those affirmations kind of helped my job search. So, I really wanted to make sure that I believed in the value that I bring to any team. So I could continue believing in myself and that I am worth a really good job. And that's what I was going to find at the end of this.
Mac Prichard:
You mentioned exploring two different career paths, and in your article for us, Jenny, you also talked about the importance of having clarity about what you wanted to do. So, one of the paths you explored was marketing. What was the other one? And what did you do during your search that helped you decide that, indeed, you would continue to work in marketing?
Jenny Mack-Christensen:
Yeah, the other path that I was interested in, well, I just love being involved in the formation of company culture, and so it was HR-related. I'm pretty passionate about employee engagement, and I just believe that when investing in your employees, they are going to then, in turn, invest back into the company. And so, I just thought, well, since that is a company that I want to find is one that invests in its employees, maybe I should explore this employee engagement path a bit because then I could probably find a company worthy of my time that's already set up to invest in their employees in that way.
In order to better understand if this was a fit for me, I identified different brands and companies that seemingly had good employee engagement and not a lot of high turnover, and I reached out to folks on the HR team via LinkedIn for the most part to request some informational interviews. And that's how I just started getting more information on what that field actually looks like, how my marketing skills might actually cross over, and how I could then format my resumes and cover letters so that I could start applying to various employee engagement-related positions.
But, so I was actually interviewing for both types of positions, and what drew me back to marketing, or what I was feeling pretty positive about my marketing path, was being able to speak about- I just have the experience that created a sense of confidence in all of the conversations I was having, and I think that what I learned about myself is that I wanted to have more of a- I didn't want to restart my career. I guess I wanted to make sure the next job I had was a higher level with higher pay, and marketing was a really great way for me to just kind of double down on that career path and move forward in that.
But through the interview process, I grew even more confident in what I did know and the experience I was bringing to the table, and I think that just the confidence is what, well, just reinforced my love for marketing and my reason for sticking it out.
Mac Prichard:
It's interesting that exploring that alternate path, it sounds like, Jenny, informed your ultimate decision and gave you even more confidence that came true in those interviews and helped you secure the position you have today. Am I reading that right?
Jenny Mack-Christensen:
Yeah, I believe so. There was just an ease about the marketing-related interviews that I had. And I think that's also why I was offered the position at Dr. Martens, and I then found out it was also because I was a great fit for the team, which is awesome because I do value working with like-minded people. And since people are so motivating to my career path and wanting to do well in my job, I think that was a really great fit.
But, yeah, there was- I think my confidence was super helpful, and it did stem from real experience. I am also not afraid to let people know when I don't know something, and I'm not afraid to ask questions. I think I'd rather be a little more forthright about the areas where I would need to grow a bit so that, ultimately, I know if I am a right fit for a position. I wouldn't want to lead anybody on about what I don't know. But, yeah, I think confidence was super helpful in the interview process for my marketing-related job interviews.
Mac Prichard:
You've talked a lot about how networking helped you explore that idea of perhaps working in employee engagement, as well as landing the marketing job you have today. How else did networking help you during your job search, Jenny?
Jenny Mack-Christensen:
Yeah, so thankfully, I, at least, through LinkedIn, was able to see if I had any connections that were connected to any other folks that I, well, one wanted an informational interview from, or if I was applying for a job, I could see if I knew anybody who knew somebody who worked for the brand or the team that I was applying for.
And that greatly helped me, at least with the Dr. Martens position. I submitted my application. I came across the job listing on LinkedIn, I submitted my application, and then when I was doing a little bit more digging, I realized that one of my connections that I had made from the local B-corp community, she had recently left the B-corp company she was in to take a recruiting role at Dr. Martens. And so, I had a little friendly- I attached a friendly note and reached out to her in an effort to both reconnect and say congrats on her new gig, but also to just inform her that I had also applied for a role that she was recruiting for.
So, I will say that networking has been huge for me in my career. I think that it's allowed for me to feel a little more comfortable knowing whether or not a new job would be right for me. Namely, because I can ask some honest questions that maybe I wouldn't ask the hiring manager about to folks in my network that I already had a previous relationship established, so that was super helpful with the Dr. Martens interview.
Actually, the recruiter who I was connected with previously, she was my first interview, which made the whole process for Dr. Martens feel super relaxing for me, which not many people can say they're relaxed during a job interview process. But that's the way it worked out for me, at least.
Mac Prichard:
Well, terrific. Well, finally, Jenny, what's your number one job-hunting tip?
Jenny Mack-Christensen:
My number one tip, honestly, just don't be afraid to reach out to folks at your dream company or dream brand with a job title or a description that you're either interested in or wanting to learn more from. I think that informational interviews is a really great stepping stone in networking and creating contacts that exist outside of the existing network that you have. So, don't be afraid to knock on doors and ask questions. You never know where that connection may lead you.
Mac Prichard:
Well, thank you for sharing your story, Jenny. To learn more about Jenny Mack-Christensenn's job search, visit macslist.org/stories.
And check out the Mac's List website for dozens of other success stories.
On the second Friday of every month, we add a new interview with a Mac's List reader who has found a dream job. Again, go to macslist.org/stories.
In the meantime, thank you for listening to today's bonus episode of Find Your Dream Job.
This show is produced by Mac's List.
Susan Thornton-Hough schedules our guests and writes our newsletter. Lisa Kislingbury Anderson manages our social media.
Our sound engineer is Matt Fiorillo. Ryan Morrison at Podfly Productions edits the show. Dawn Mole creates our transcripts. And our music is by Freddy Trujillo.
This is Mac Prichard. See you next week.