How to Create Your Own Job Online, with Sean Ogle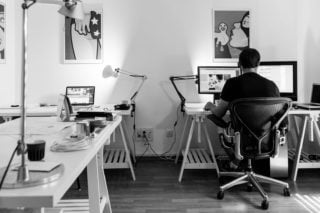 Do you want to work at home?  Thanks to the internet, jobs that used to require you to sit in an office can now be done online.  Our guest this week, Sean Ogle, teaches people to a make a living by creating their own online jobs.
Remote work opportunities can offer flexible or part-time schedules. And that can be important for people who need time for family or other interests.
But how do you get started? You can look for employers who hire online workers. Or you can create your own job.  Whether you're an online freelancer or a corporate worker looking for a more flexible work arrangement, Sean's tips will help you ideate, start and grow a profitable online business.
This Week's Guest
In 2009 Sean Ogle's life sucked. So he quit his job, moved to Thailand, built a business, and started living life the way he'd always wanted. Location Rebel documents the journey and teaches you how to do the same thing.
Resources from this Episode
Transcript
Mac Prichard:
This is Find Your Dream Job, the podcast that helps you get hired, have the career you want and make a difference in life. I'm Mac Prichard, your host and publisher of Mac's List. I'm joined by my co-host Ben Forstag, managing director of Mac's List, and Jenna Forstrom, our community manager.
This week we're talking about how you can create your own job online. Our show is brought to you by our book Land Your Dream Job in Portland and Beyond. To learn more about the new 2016 edition, visit macslist.org/book. You can also order the book at any of more than 600 Barnes and Noble stores across the country.
Do you want to work at home? Thanks to the Internet, jobs that used to require you to sit in an office can now be done online. These gigs can offer flexible or part-time schedules and that can be important for people who need time for family or other interests, but how do you get started?
You can look for employers who hire online workers or you can create your own job. Our guest expert this week, Sean Ogle, teaches people how to make a living online. Sean works with freelance writers, but the principles he shares apply to other occupations too. If you are not ready to strike out on your own, Ben has a list of websites to help you find employers who hire people to work remotely and Jenna has our first audio question. It's from a listener who wonders how to use job titles on a resume.
Now, Jenna, Ben, let me ask you two. Have you ever created a job for yourself or worked remotely?
Ben Forstag:
I worked for a while as a freelancer, doing work for other folks and working from home. That was okay. It's definitely my second choice of work. I prefer the steady 9 to 5. In terms of working remotely, I have to be honest. I find working remotely very difficult because it's really hard for me to separate family obligations and work obligations.
I'll also be honest, I've got a six month old and a two-year-old at home so coming to work a lot of times feels like a break for me. It's the vacation.
Mac Prichard:
Okay, how about you Jenna?
Jenna Forstrom:
I own a business, a side project with a friend of mine and it's definitely not a massive moneymaker, so I'm not quitting my day job yet, Mac, so don't worry.
Mac Prichard:
Hang on, Jenna. Mac's List started as a side project, so the future may be bright for you.
Jenna Forstrom:
Yeah, so in like 11 years, maybe I'll give my two-weeks notice. During times where I've been freelancing like Ben, I've worked from home and I've really enjoyed it. I get to snuggle with my dog and get a lot of work done at the same time. I feel like it's productive on both fronts. I can get how you can get conflicted between giving time and attention to your child, so if my dog gets needy, I just put him out in the backyard. I don't think really you can do that with a six month old.
Mac Prichard:
For me, I created a job for myself a number of times, most obviously by starting my public relations company, Prichard Communications and Mac's List. I also have worked on political campaigns as a volunteer and have come in to find a role and ended up running fairly significant fundraising operations in addition to a day job.
I like that entrepreneurial part of careers. I enjoy it. Working remotely, we do that here at Mac's List and on Fridays we all work from our homes and I kind of miss the contact with the team so it's a big part of my week, but I do get a lot done on Fridays as well. I will say about working remotely, when I started my career in the 1980s, I had a job that took me to Central America and this was in pre-Internet time and now when you go on a business trip, people expect you to answer your emails, be available all the time.
In the early and mid-1980s when I would go overseas, phone calls were prohibitively expensive. There was no email so people didn't expect to hear from you for three weeks. I would buy these enormous paperback novels that I'd always meant to read and never had time to do so and I'd read them on the plane. Now I'm on the plane answering email, so it's a different world.
All right. Well, let's move on. Every week Ben Forstag is out there searching the Internet looking for tools you can use in your job search. He finds blogs, podcasts, websites and other tools. Ben, what have you uncovered this week?
Ben Forstag:
This week I want to talk about a blog post I found called "The 25 best sites for finding remote work." The interest in remote work is certainly increasing and I think it's pretty clear why. In spite of my own reservations about it, I think people are really looking for flexibility both in terms of location and their schedule. In fact, Mac's List, the job board we run, recently added a remote working tab there so employers with remote jobs can post on our site.
The site I'm going to talk about here lists job boards and other resources for finding remote work. This comes from skillcrush.com, which is actually a site for learning online code and web design, but I think a lot of the resources they talk about here are applicable to just about any career set that you're looking for.
There are an array of websites dedicated to remote work opportunities and remote work specific job boards. We already talked about Flexjobs.com in a previous podcast, but there are some other job boards out there focusing specifically on flex working.
Sites for remote tech jobs–tech is certainly an industry where remote work is I think increasingly the norm for programmers and so forth. Sites for finding freelancing contract work, so this is if you are doing your own thing as an entrepreneur, how you find those new gigs as a contractor, and other job boards like Idealist and the Muse, which have a lot of remote job opportunities.
The one warning I'd have about this is that the last two sites they include as remote opportunities are actually multilevel marketing opportunities. This is like, I don't want to say any company names, but you pay to join the organization and you try to sell a product to other folks and then they try to sell it to other folks and on down the line.
I know some people do really well with multilevel marketing, but most people don't. So that's just my personal warning out there for folks. I don't think that's a real viable way to make a reliable living personally. Other than those two sites, I think this is a great resource for folks who are looking for remote work opportunities.
Mac Prichard:
Great. Well, thanks Ben. As with any employer whether it's online or bricks and mortar operation, you should always do your homework and your research and see if this is an organization that you want to work for and where you think you can make a difference.
If you have a suggestion for Ben, please write him. You can reach him at his email address. It's info@macslist.org.
Now let's turn to you, our listeners, and Jenna is here, our community manager to answer one of your questions. Jenna, what have you heard from our listeners this week?
Jenna Forstrom:
We actually have a audio quote from Teresa Peltier and her question is, "Do you think it's appropriate to change the job title on your resume?" We're going to play that now.
Teresa Peltier:
I have a question about changing your title on a resume. I am in a very specific role and the title was given to me for a very specific reason. It's great for internal buy-in for the work that I do, but now as I try to use that title on a resume to outside employers, it's kind of weird sounding and they don't immediately understand it. I'm looking to change it just slightly to something more generic and more easy to read that an employer would immediately get. Do you think it's appropriate to change a job title on a resume?
Jenna Forstrom:
That's a great question. Thank you so much for recording yourself. That's super cool. Teresa, thanks for sending that over. I think if you're applying for new jobs, you should definitely keep your original title and then in the job description or using the job description, tailor your cover letter and your resume bullet points to stuff that falls under that.
Even though an employer might not see how the two titles are connected or resembling the stuff, the supporting evidence and documentation will work out well. I also think if an HR hiring company is calling to confirm your employment or ask for feedback and it says that you have a different role, that could cause some confusion and then that questions your honesty and trust. I would just keep it the way it is, but I don't know, Mac, Ben, do you have another opinion?
Ben Forstag:
I'm going to actually throw out the counterpoint there which is I think people get turned off by overly esoteric language and when it comes to a cover letter or a resume, you really want it to smack people in the face with the simplicity of it and make it abundantly clear what you are doing. I think if you've got a really kind of crazy title, that's really super industry-specific but no one else knows what you're talking about, that's a liability there.
I would simplify it down to something that most people can understand and then later on in the process, if they start calling up your existing employer or previous employer, you can say, "My job title was actually director of client experience for interactive solutions," or whatever it is but go in and simplify it. I think on your resume, you don't necessarily need to say, "This is my formal title." You can say, "This is really what I was doing. These were the activities and the projects that I accomplished."
Mac Prichard:
I think honesty is the key here and so there are titles that just don't translate well outside of an organization. I think about government, for example. Your formal job title might be "program specialist 4" and if you put that on a resume, it doesn't tell the reader what you did exactly. It could be that you were a program manager or community manager or communications director.
I think if you use a functional definition that is accurate and matches with the roles of responsibility in your position description, that is perfectly acceptable. The key here though to your point, Jenna, is you've got to be honest. If you mislead the reader, it's going to harm your credibility and you're not going to get very far in the job search process.
Jenna Forstrom:
Awesome. Thank you and thank you, Teresa for sending in your audio clip.
Mac Prichard:
Thank you, Jenna and thank you, Teresa. If you have a question for Jenna, please email her. Her address is jenna@macslist.org.
Now the segments with Ben and Jenna are sponsored by the 2016 edition of Land Your Dream Job in Portland and Beyond. We've made our book even better. We've added new content and now we're offering in the format you told us you wanted. For the first time ever, you can read Land Your Dream Job in Portland and Beyond as a paperback or you can download it onto your Kindle, Nook or your iPad.
Whatever the format, our book gives you the tools and tips you need to get meaningful work that makes a difference. See for yourself. For more information visit macslist.org/book. Now let's turn to this week's guest expert, Sean Ogle.
A former financial analyst, six years ago Sean Ogle quit his job. He moved to Thailand and he learned how to build a business online. Now through sites like Location180 and Location Rebel, he helps other people learn the skills necessary to build businesses of their own, businesses that they can run from anywhere in the world.
Thank you for coming to the Mac's List studio, Sean.
Sean Ogle:
Oh, it's my pleasure. Thank you for having me.
Mac Prichard:
I appreciate you making the trek downtown. Our audience is made up of job seekers and people who are thinking about managing their careers. Why should people think about creating their own job rather than responding to job ads?
Sean Ogle:
Well, I went through a very traditional path in life. I got a finance degree from Oregon State University. I went into a jobs portfolio analyst and very quickly I realized that it wasn't giving me the freedom and the flexibility, and frankly the money that I was hoping for. Granted, I started the job right at the peak of the market back in 2007. Everything collapsed in 2009 and I ended up leaving towards the end of 2009, but what I found is that there's alternative ways of doing things that can you provide a better lifestyle or potentially provide more meaningful work that people just don't necessarily think about very often.
Mac Prichard:
People do think about starting their own job, but you didn't think about a bricks and mortar operation. You didn't go look at office spaces or start recruiting people in the community to come in to a place from 9 to 5 or maybe 8 to 6.
Sean Ogle:
Right.
Mac Prichard:
You instead looked at building a business online. Why did you take that route, Sean?
Sean Ogle:
Well, it didn't even start at first as me wanting to build a business. It was kind of me going through my quarter life crisis, so I left my job in finance. I ended up moving to Thailand and really just wanted to have an adventure, but the reason I went to Thailand was a guy found my blog Location180 and he said, "I'm looking to bring an American guy out as an intern. I'll pay you 800 bucks a month. I'll teach you how to do online marketing. You help me grow my business. You can have an adventure and grow your website in the process."
What I ended up doing was I learned how to do search engine optimization so I learned how to get businesses and websites to rank higher in Google. What I found was there was a huge market for that. I didn't even necessarily go into the trip of, with the mindset of wanting to build a business. It was like, "Hey, I'm going to go have an adventure. I'll come back and I'll get a real job," but what I found was, I learned these skills that were universally applicable regardless of what type of work you're doing.
So I came back. I moved back to Portland later that year and built a freelance business and so now that's what I've been doing is teaching people the same process I went through to learn the skills and build a business and helping them apply it to their own lives.
Mac Prichard:
What common challenges do you see people face when they start to go down the same path that you did when they decide, "Okay, I want to build an online business"?
Sean Ogle:
Yeah, I think there's a few of them. One is picking a starting point. There's so much information out there and for so many people, it's so daunting. They get flooded with information and different ideas and different strategies and so they can't pinpoint down, "Okay, this is how I should start," because there's another 10 different people out there that are saying, "That's not the way to start. You should do it like this."
I think finding the time is huge for a lot of people. They think it's going to be something that's going to take 60, 70, 80 hours a week which it can and you can put that much time into but it doesn't really have to be that overwhelming in terms of time. I think a lot of it is consistency. It's something you need to put the time into day in and day out, so even people that decide they're going to do it often times within even a matter of days or weeks, they're not putting in the consistent effort they need to be successful. I think those are some the biggest roadblocks that I see.
Mac Prichard:
Okay. Set realistic expectations, then the amount of time you're going to have to put into it, but be consistent. Show up regularly. Know that it's going to take some time.
Let's talk more about time, Sean. What kind of timeline should someone expect to have in mind to go from having an idea to starting a business to actually be employed full-time by it?
Sean Ogle:
I think that 12 months is a good number to start with. It's obviously not going to be something that happens overnight. I have people that I've met through my website or joined my program that end up having a lot of success within their first month. Some people, it takes 3 to 6 months and some people, it takes longer. A lot of it depends on how devoted you are to learning the skills that you need, how much time and effort you're able to put into it every week and a lot of it is a little bit of luck.
For some people, they can do the exact same things as one person and it takes them two months. Someone else can do those exact same things and it takes them six months. It kind of depends on just who you meet and the opportunities that you find.
Mac Prichard:
Now, you focus on freelance writing, search engine optimization and online marketing. What are some other occupations that lend themselves to these kinds of online businesses?
Sean Ogle:
Just about anything you can do, any typical marketing activities can be done on a freelance or remote basis, so freelance writing, freelance editing, search engine optimization, social media management, social media marketing deal, you name it, copywriting, all of those can be done on a freelance basis.
Mac Prichard:
We've talked about having clear expectations, setting a timeline, the occupations that are possible. Take us through a typical process. I know you're in the business of teaching people how to do this and I know you talk to other coaches and consultants as well. What are some common steps that people need to go through once they've made the commitment to starting an online business?
Sean Ogle:
Yes, I think so many people think it's this big daunting process. They're like, "I have no idea how to do it," but what I try and teach people is, essentially it's a three-step process. The first step is learning the skills you need to be successful online. Regardless of what you want to do online, there's certain skills that are just going to be beneficial to know, similar to the ones we just mentioned: copywriting, SEO writing, WordPress for business, social media for business, things like that.
If you can get to an intermediate level with any of those skills, step one, B would be to build a website in order to use that as your training ground to learn those skills. It's great to read a book, but if you don't have a way to actually start applying them in the real world, then it's going to be really difficult to make any real traction. Learn the right skills, set up a website to do that.
The second step is picking one of those skills that you excel at or you feel like you're interested in and freelancing it. This is where you can build up your income. You can build up your confidence and essentially start making a little bit of money online that can then propel you into step number three which is applying it to the business you really get excited about.
Not everyone is really interested in freelance writing, but I treat it like it's a bridge business. It's not necessarily the end result but it's something that can help you transition from either not having a job or having just been laid off or if you're in a job and you're trying to transition to something else, one of these freelance businesses can help you make that transition.
The third step would then to apply it to, maybe it's a hobby or a passion you get really excited about, maybe it's e-commerce, professional blogging, app development, those are all things that people have gotten into later on. That's the three-step process that I try and teach because I've seen it consistently work over and over and it's really not as daunting as some people might think it is.
Mac Prichard:
Let's talk more about that because I can imagine a listener saying, "Wow, that's a lot."
Sean Ogle:
Yeah.
Mac Prichard:
"Yeah, I enjoy writing, but I've never done website. I think I know what WordPress is. I'm not sure how to find clients." Would you reflect back not only in your own experience, but on the people that you've worked with, how do they break that down into a manageable process? What do you see people do?
Sean Ogle:
Yeah, so much of it is the technology aspects scares everyone. Setting up a website, that sounds so difficult and hard, but these days it's, literally you can install WordPress with one click on a hosting account. That's what I tell people to do first is buy a domain name, get hosting account, install WordPress.
If you're paralyzed with fear, you're like, "I have no idea what to do," do those things and for the average person even if you're completely technologically illiterate, it'll take you an hour or two to do that. That's a good starting point because then it's like, "Okay, I took an action. I've got something that I know I can start working on and start building these skills. I've got that training ground."
Even if you have no idea what you might write about or what content you're going to put on the website, start with that because that's going to allow you to more easily move in the next steps.
Mac Prichard:
Okay. There are a lot of online resources out there, coaches and books and courses. What's your recommendation to people about how to find out or evaluate what might be the best match for them if they're considering working with a coach or purchasing an online course that will teach them these kinds of skills?
Sean Ogle:
There's a variety of different ways to look at it. Like I said, there's so much information out there that it can be tough to decipher what's real or what's not or what's best for you. What I would tell most people is go to locationrebel.com. That's the site that I put together to help people figure out what's right for them.
Also just, Google is your friend. If you have questions, start doing the research and you're going to get conflicting information, but you're at least going to have that information and you can kind of decide for yourself what feels right or what doesn't. There's so many people, so many legitimate people that are teaching others how to do this, a lot it comes down to "Who do you resonate with?" It's personality based.
There's tons of people that can teach you the same general skills, but who's the one that you like their sense of humor or the one that seems the most knowledgeable or the one that you can relate to the most? Finding someone that you can trust and then basically taking their advice and ignoring everything else I think is the right way to go.
Mac Prichard:
Okay, good. So, do your homework, do your research, shop around and look for the vendor, the bulk of the course that feels like the best fit.
Sean Ogle:
Yeah.
Mac Prichard:
Terrific. What are some mistakes that you see people make when they start down this road?
Sean Ogle:
I kind of talk about this three-step process, the first being learning the skills and then freelancing and applying it to your own projects. Everybody … Not everybody. Most people want to start at step number three. They read The 4-Hour Work Week or a book like that, the idea of passive income and making money while you sleep and that's the dream everybody has. That's what I think it's got … That's what working online and online entrepreneurship, it has that stigma that it is this whole passive income thing.
I try and kind of break that down for people and say, "Hey, we can worry about later on. Eventually you will get there but you need to start with the essentials first," because all of those types of businesses whether it's affiliate marketing, or online product creation, they're difficult. You really have to have a strong Internet marketing and online marketing background and the average person just doesn't have that. They haven't needed it.
That's why I recommend starting with learning the skills first, doing freelancing because especially freelance writing because anyone with a high school degree or a college degree is going to be a fairly competent writer. There's so many different types of writing work out there, so from super-high and copywriting to really basic called SEO writing. I think that's one of the biggest things I make, or the biggest mistakes I see is just having the wrong approach going into it, having the wrong mindset and not starting with the basics.
Mac Prichard:
Good. Okay, what else would you like to add, Sean?
Sean Ogle:
I think the most important thing is to just remember it's not as hard as it seems. It's so daunting and even if you have no experience doing online work, even if you've been for the last six months looking for a job and having considered doing something on your own, I think that it's important to keep in mind that people been doing freelance work for decades, freelance writing, graphic design, search engine optimization, online ads, whatever and you don't have to necessarily be an expert.
It's like I don't have to be Jimi Hendrix to teach someone how to play guitar. You just have to be a relative expert. You have to be an expert relative to the person that you're teaching or teaching or working with. If you're a writer, if you're pretty good writer, you can then go and get writing work even if you're not a Pulitzer Prize winner. I think that a lot of people go with the mindset, "I have to be perfect. I have to be a total expert in these fields to be able to do work," and the reality is that just isn't true.
If you can get over that hump and say, "You know what? I'm going to start taking that first step. I'm going to buy my domain. I'm going to install WordPress. I'm going to get a hosting account and I'm going to setup what could become my businesses website and start learning these skills," I think if you can take those first steps then most people are going to find it's like, "Oh, this is actually much more attainable and a little bit less scary than I initially imagined."
Mac Prichard:
Great. Well, that's great advice and a great spot to stop at. Now, tell us what's next for you, Sean.
Sean Ogle:
I've got all sorts of things going on. I've got seanogle.com, location180 which is my blog. That's where you can get all the free information. Been doing that for 7 years and I've got Location Rebel which is my product and my community where I teach people that really want to dig into this stuff. We're actually going to be combining them this summer, so putting the two together so people aren't getting lost going from domain to domain and making it a lot easier to get the information they are looking for. That's the big thing that I'm working on.
Mac Prichard:
Good. We'll be sure to include links to all of those sites in the show notes and people can learn more about Sean at locationrebel.com.
Sean, thanks for coming in to the studio today.
Sean Ogle:
It's my pleasure. Thanks for having me.
Mac Prichard:
Take care.
All right. We're back in the Mac's List studio with Jenna and Ben. Tell me, you two, what were some of the key points you heard Sean make?
Ben Forstag:
There are two points that I really liked. One is his point about that it's hard but it's not as hard as you believe in your mind. I think that's true for a lot of things but also it runs against this narrative that you often hear about like entrepreneurs who are working 120 hours a week and they never see their family and they're on the road 300 days a year. Certainly there are some folks like that but the idea of building your business online is the counterpoint to that. I think Sean astutely pointed out that you don't need to throw your entire life into building that business, that you can do it as the 40 hour a week job.
The other point that he made that I really like–and this is another example of getting out of your own head—was you don't need to be the world's biggest expert to market yourself as a freelancer or a contractor. If you've got writing skills that are relatively better than everyone else, that's good. That's good enough. That will get you work. You don't need to be a Pulitzer Prize winner or the next Hemingway to get a freelance writing gig, for example. I think that's important. That's something I struggle with sometimes, thinking about my skills versus others.
Mac Prichard:
For me, one thing I really identified with was his point about just getting started and taking a step and then another step and a third step. Sometimes projects can seem overwhelming whether they're in the office work or whether it's starting your own business or getting the next paper done.
Ben Forstag:
Or starting a podcast.
Mac Prichard:
Yeah, or our online course for the fall, but if you break it into parts, you can make it happen. How about you, Jenna? What were your impressions?
Jenna Forstrom:
I really enjoyed his talk about technology over fear and just like that wading into the water and how you can Google everything. I think that's so true. Sean inspired me to start my beer blog way back in the day because he was getting free rounds of golf for a side project of his called Breaking 80 and while he loves golf and I could care less about golf, … That's a whole nother talk. I was like, "What can I do that I can talk about?" I love beer and I love talking about beer, so I was like, "Oh, I'll start a blog," and just that idea of just starting and then maintaining that process was really helpful and just definitely super inspirational.
I also liked his point about seeking mentors, and I think we talk a lot about that when it comes to informational's or finding your dream job. Find someone who's doing what you want to do and go out and get coffee with them. That's so true for the online community too. Find someone who inspires you, reach out to them and grow and learn or buy their products or whatever it is, but just that idea of spend time with people you want to be like and not so much people you currently are like.
Mac Prichard:
Jenna, are you telling me you started your beer blog mostly as an attempt to get free beer?
Jenna Forstrom:
100%. I'm totally transparent about that. It's worked out well.
Mac Prichard:
I'm waiting for the Ben Forstag baseball blog.
Jenna Forstrom:
Yeah, Ben.
Mac Prichard:
He'll get baseball tickets.
Ben Forstag:
Tickets or get that major-league invite to spring training. Yeah.
Jenna Forstrom:
Or throwing a ball for the pitch.
Ben Forstag:
Oh, yeah. Yeah.
Jenna Forstrom:
That would be cool.
Ben Forstag:
That first pitch, that would be cool.
Mac Prichard:
Moral of the story, if you have an interest, pursue it and break it into steps and ask for help. Well, thank you, Jenna and thank you, Ben. Thank you all, our listeners, for joining us.
If you like what you hear on the show, please help us by leaving a review and rating at iTunes. This helps others discover our show and also lets us know how we can better serve your job needs.
One of the reviews we received recently is from a listener who uses the iTunes handle "Melanie B" and she writes:
"A seriously excellent podcast. I've had the privilege of attending Mac's List events in the past and chatting with Mac and the Mac's List team in person and I can't convey just how helpful their information is to a young professional. Find Your Dream Job is such a valuable resource and delivers insightful, applicable tips that listeners can put to use right away."
Thank you, Melanie B. We're blushing a little bit in the studio here, but we're glad the show was helpful to you and thanks to the scores of other listeners who have left a review. Please take a moment and leave your own comment and rating. Just go to www.macslist.org/iTunes.
Thank you for listening. We'll be back next Wednesday with more tools and tips you can use to find your dream job.