Cover Letter Openers: How To Draw Employers In From The First Sentence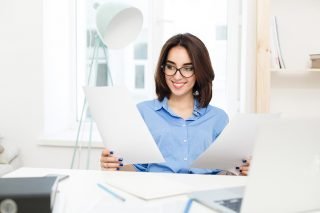 The opening line to your cover letter can make or break your job application. Employers are often reading through hundreds of cover letters. Your first sentence needs to make an impact, showcase your unique perspective, and compel the hiring manager to ask you to come in for a job interview. Let's break down the components of effective lines to use in your cover letter, including examples of opening lines that will draw employers in from the first sentence.
Use the hiring manager's name
Let's start with your greeting. Nothing says old-school cover letter like: "To Whom This May Concern." Do not use this outdated practice. Address your letter to an individual at the organization. This quick change instantly makes it more personal and will instantly set you apart as a candidate who pays attention to detail. Sometimes the hiring manager's name isn't listed so you may need to do some research on the company's website or LinkedIn, but it is definitely worth your time. If you come up empty, consider emailing them and asking outright who the hiring manager is—your initiative will shine through.
If you put in all that effort and still can't find the hiring manager's name, try an informal greeting. I've seen people use "Dear Hiring Manager," or even a simple "Hello" in the right situation.
Showcase your knowledge of the company's challenges.
Take some time to research why the company is hiring and showcase your fit for their needs in your opening paragraph. Are they creating a new position or is this the third time they are hiring for the role in the last year? Discovering an employer's pain points is critical because it shows you have taken the time to learn about them and are ready to bring solutions. Employers also want to know how you think you will grow and benefit from working with them, so ensure you are specific about why you think you are a great fit for the organization.
Example:

"When I heard that your organization was looking to build its sales program from the ground up, I knew this would be a great fit for my skills and significant experience in collaboration and innovative problem solving."
Highlight how your experience informs your approach.
Don't regurgitate information from your resume or discuss your experience without context. So you have worked in customer service for five years? Saying that in your cover letter doesn't give the hiring manager the information they need. Instead speak to the specific, unique skills you built during your time there. Explain what set you apart and helped you contribute. Highlight key aspects of your experience and how they are transferable to this specific job. This is especially important if you are looking to make a career change and need to show how your unique perspective gives you a better approach to the role.
Example:

"After 10 years working in event planning, being resourceful and solving unexpected problems are part of my daily routine."
Spotlight your achievements.
A cover letter opener that merely tells an employer how excited you are to be applying will likely not set you apart. Instead, weave your unique accomplishments into your opener. Provide concrete, measurable proof of your achievements from previous positions to prove you have got the goods to match your enthusiasm. And, let's face it, numbers talk—discussing your proven results won't impress like a concrete statistic will. An employer wants to know you're worth taking a risk on and nothing will make them feel more comfortable than some solid figures.
Example:

"As marketing manager, I boosted our organic traffic by 30%, increased social engagement by 50%, and spearheaded the redesign of our website for a better user experience."
Name drop a valuable connection.
Your cover letter is the perfect place to name drop. In fact, it's encouraged. People hire individuals they know—or that someone they trust knows. A referral tells the hiring manager someone working at their company knows you and can attest to your skill set. So if you heard about the position from a trusted employee at the prospective company, it's essential to mention your connection. But, like most things, go the extra mile—don't drop a name and leave it there. Show an employer you have more to offer than knowing someone in their organization. Use it to pivot to their pain point and demonstrate how you're ready to bring solutions.
Example:

"Mac Prichard informed me of your company's rapid growth and need for a skilled event management professional and encouraged me to apply for the position of event coordinator."
Show your personality
At the end of the day, you're writing to a human. Offering an employer a glimpse into your sense of humor is an effective way to stand out. It also tells them what kind of person they'll be working with, and if you'll make a good fit with the company culture. Proving you're more than a name on a piece of paper will make you memorable.
Example:

"I live and breathe social media. Some may call me obsessed, but when it comes to understanding what drives traffic, increases engagement, and converts real customers from social, I'm your expert."
Use keywords
I can't overemphasize the importance of using relevant keywords in your cover letter. Yes, you need to tailor your cover letter to each individual position you apply for. While that can become tedious, it pays off. As more companies hire using Applicant Tracking Systems, incorporating specific words from the job description cover letter may be the only reason you get past the first automated screening. Plus, starting your letter by directly addressing an employer and repeating their needs shows you're not just randomly spraying applications into the ether, but you're interested in solving this specific company's problem.