Discovering Common Goals In Your Network: Ally Rumpakis's Job Search Success Story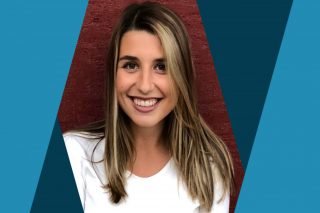 Ally Rumpakis started her job search by narrowing down her focus to determine what kind of marketing positions she wanted to go after. After attending networking events, connecting with recruiters, and reaching out to friends and family, Ally discovered her current position through her sorority network. Learn more about Ally's month long job search, how she stayed patient despite rejection, and why she recommends finding people in your network with common goals and interests in this Success Story.
What do you do for a career? Who do you work for?
I am a Community Manager contracted with Tillamook. My day to day work involves supporting our social media channels and overseeing total engagement. I love being able to interact with Tillamook fans and learn what they love most about our brand!
How long did it take you to find this job?
It was about a month after I quit my previous job that I was presented with the opportunity to work with Tillamook, and then another month after that when I started the role.
How did you find your job? What resources did you use? What tool or tactic helped the most?
I initially found out about the position through a sorority sister from college. I'm an active member of our Alumnae Chapter here in Portland, and she reached out to our board to ask if we could get the word out to members across the Portland area. I was the chapter's communication contact at the time, and immediately replied with my interest in the position. She was able to set up me up with an interview and I was offered the job shortly after!
Before I was offered the position, I was constantly scouring job boards, including Mac's List, and applied for marketing/social media positions I came across that I thought would be a good fit. I reached out to family and friends to expand my network, and by doing so, was connected with a recruiter who kept an eye out for jobs in the Portland area that she thought would fit my career criteria. I attended an industry-relevant Mac's List event, participated in career-related online seminars through my alma mater (Oregon State), and attended other networking and career building events through university alumni networks (for example the Oregon State Design Network).
By expanding my tight knit network just a little further, I was able to gain some valuable insight into the Portland job market, and meet new people who had common connections/interests.
What was the most difficult part of your job search? How did you overcome this challenge?
The most difficult part of my job search was learning to narrow down what I was looking for. I've joked with friends and family that finding a job in marketing is a blessing and a curse – the blessing is that there are so many options, and the curse is that there are SO many options. It was hard for me to pinpoint what kind of marketing I wanted to work in.
The other difficult part of my search was learning to be patient, and realizing that some companies won't acknowledge your application. It's hard in the moment to wait for the right opportunity to come along, but you have to keep a positive attitude and know that somehow, everything works out the way it's meant to.
What is the single best piece of advice you would offer other job-seekers?
Utilize the networks you already have, and be active in them! I'm not a fantastic networker, so I like to be in areas where there's already common ground, and then branch out from there. I stay active in my sorority alumnae chapter as well as Oregon State Alumni groups and events, and have met so many wonderful people through them. I've personally found that when there is that common denominator, people are even more willing to help you in your job search. From there you can expand your network, and already have a reference/person in your corner.
Additionally, don't be afraid to use your friends and family as a sounding board. You'd be surprised that sometimes they may know you better than you know yourself.
Why do you love your job?
The people I work with are wonderful and they truly love what they do. The work environment is collaborative, fun, and energetic. Everyone here shares a sense of community and a genuine connection to the brand. It's exciting to work for a brand that I love and grew up with here in the PNW, and now get to share that with people from all over!