Your Guide to the Top Career Podcasts of 2023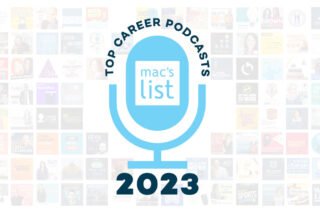 More than three years after COVID-19 hit, many people are rethinking their relationship with work and exploring different career paths. Career podcasts continue to play a significant role in helping individuals navigate their careers and achieve their professional goals.
After launching Find Your Dream Job in 2015, I decided we all needed a better way to find great career podcasts. In 2017, I created my inaugural Top Career Podcasts Guide, a single source for the best shows dedicated to helping professionals look for work and grow their careers.
We're returning with our sixth annual guide, highlighting the best shows that help people with job searching and career development.
Here are a few themes in this year's guide:
Equity, Diversity and Inclusion: Representation and racial equity continue to be crucial in the workplace. I'm pleased to share that 62 percent of this year's featured podcast hosts are women, and 40 percent are BIPOC (Black, Indigenous, or People of Color).
An Emphasis on Soft Skills: With the changing nature of work and the increasing importance of soft skills such as communication, empathy, and adaptability, career podcasts are focusing more on these skills and how to develop them.
Remote and Hybrid Work: With remote and hybrid work becoming more prevalent, career podcasts are addressing the unique challenges and opportunities that come with this new way of working and the ongoing digital transformation of the workplace.
While we're always sad to see some of our longtime career podcast friends have moved on from hosting their shows, we're grateful for the work they have shared over the years, and we're excited to discover new shows. Thirty-eight percent of this year's shows are being featured for the first time.
I hope this guide will introduce you to some fantastic new podcasts to help you take the next steps in your career. You can follow the hashtag #CareerPodcast to see new shows and episodes as they come out in the coming months.
If you would like to nominate a show for the 2024 guide, please email me at mac@macslist.org. You can also fill out this Career Podcast Nomination Form.
Thank you and happy listening!
Mac Prichard
Founder and CEO, Mac's List
Host, Find Your Dream Job
Download the 2023 Top Career Podcast Guide!
By completing this form, you'll be added to our weekly Find Your Dream Job podcast newsletter, with other valuable resources for your job search.
Don't worry, you can unsubscribe at any time! 
Meet the Top Career Podcasts of 2023
Returning to work after months or years away can be brutal. Thanks to 3,2,1 iRelaunch, help is at hand. With great job-hunting advice and inspiration, the podcast will help you smooth the path back into employment.
Get your declassified career hacks in one spot every week with the 5 minute Career Hack Podcast. No fluff – all action to move your career and compensation when and how fast you want.
The work advice you need, from women who've been there. Every week, join the co-founders and co-CEOs of theSkimm, Carly Zakin and Danielle Weisberg, as they help you get what you want out of your career by talking to the smartest leaders they know. 
Hosted by:

Dan Miller

Website:

48days.com

Episode Length: 40 minutes
Frequency: Weekly
Years in the guide: 6
National career authority Dan Miller inspires listeners to earn a living doing what they love. Offering a wealth of creative thinking and empowerment, the podcast gives listeners a comprehensive plan to move from unemployment or job dissatisfaction into the career of their dreams.
Welcome to A Wild New Work. You'll learn about the seasons, how the natural world "works," and what it can all mean for you and your career. Hosted by Megan Leatherman, a career coach, mother, and teacher in the Pacific Northwest.
Hosted by:

Tony Lee

Website:  

shrm.org

Episode Length: 20 minutes
Frequency: Irregular
Years in the guide: 2
Every episode, Tony Lee, vice president and head of content at the Society for Human Resource Management, talks with thought leaders and tastemakers to bring you an insider's perspective on all things work.
The Art of Speaking Up is a podcast that empowers professional women to achieve their wildest career goals by helping them strengthen their voices and find their inner power. The show aims to motivate, entertain, and remind working women that no matter what they might be struggling with, anything is possible for them in their careers.
With actionable steps grounded in Wall Street Journal reporting, As We Work gives practical advice to help you improve your work life. Hear compelling conversations with everyday people, experts, and Wall Street Journal reporters as we focus on the workplace topics that are top of mind and offer tips and tricks for handling the thorniest of situations.
If you are an ambitious woman who wants to dominate your career, then the Beyond Barriers podcast is for you. Discover why traditional career strategies are outdated, what skills are growing in demand, and how to stand up and stand out in the workplace.
Entrepreneur Michael Gardon is on a mission to help people break work and get intentional about their career journey. In 2018 work wasn't working for Mike, so he decided to break work and design a better work-life. Now, he helps people do the same.
Every Wednesday, Brown Ambition helps you unapologetically build wealth by saving, investing and making smart career choices — on your own terms.
Most leadership lessons, advice, and coaching flooding the market place are not speaking to Women of Color. Join Dee C. Marshall and Mita Mallick as they break down the challenges women of color face in the workplace.
Welcome to the Career 101 Podcast, hosted by Porschia Parker-Griffin. This is a place for ambitious professionals and seasoned executives who want to get an edge in their careers. Here, we discuss everything you were never taught or told about career growth, development, and change.
Join career bitches Ann and Marcelle for an irreverent romp through their insanely interesting lives as professional writers and career experts at Career Valet. They cut through the workplace bullshit and give it to you straight.
Week after week, host Janine Esbrand brings you career change tips, strategies, and inspirational stories that can help you to get unstuck and transition into work that you love.
Hosted by:  

Rikke Hansen

Website:

rikke.me

Episode Length: 35 minutes
Frequency: Irregular
Years in the guide: First
The Career Change Podcast will show you how to change careers or figure out what business to start when you are a smart (but stuck) person in your mid-30s to your mid-50s.
In this podcast, Emily Wong talks about tools for achieving career success, inspirational stories about overcoming career and life challenges, and how we can recalibrate our perspective to better enjoy the journey forward.
Career and leadership development expert Marie Zimenoff shares the inside scoop on hiring trends, explaining how to earn a promotion and exploring what hiring managers are saying across various industries.
A weekly career advice podcast focused on women, work, and all the answers to your questions so you can be more fulfilled, healthy, and successful at work.
Hosted by:  

Mark Allred

Episode Length: 35 minutes
Frequency: Irregular
Years in the guide: 2
Building the career you want is no longer about climbing the ladder of success. Technology and the speed of information have made it more like climbing a rock wall. Career pros and experts offer advice that will help you be proactive, be intentional, and keep moving forward.
The Career Relaunch® podcast helps you navigate the dynamics and emotions of a major career transition. Each episode features candid, honest interviews with professionals from all walks of life who have left their old careers behind to do work they find more fulfilling and meaningful.
Welcome to Career Revamp hosted by Alicia Perkins. This show was created to inspire professionals to take control of their careers and stop settling. It's time to revamp the way you think about your career and start setting your own terms.
Welcome to Career Revisionist with Dr. Grace Lee, dedicated to doers, dreamers, and realists who want more success and satisfaction in their life. This podcast is about answering one question: How can you build a fulfilling career where it's all about doing work you love and growing your income without sacrificing your values?
Going back to work after a career break doesn't have to be stressful. This podcast is all about helping you land flexible, meaningful, paid work you love.
Imagine the impact we could have on society if everyone loved what they did. That's what Career Slay is all about: interviewing people who love their jobs and asking them how they got there and what they've learned along the way. We're here to slay the fear people have in their career.
In Career Talk With OG, Oscar Garcia empowers you so opportunities come to you. You'll get relevant, practical and actionable career tips and strategies. You'll also hear from industry professionals sharing their career journey. Oscar offers episodes in Spanish.
Welcome to the Career Therapy Podcast, where we explore the intersection of work and well-being. Join your host, Coach Marty, as he interviews mental health experts, coaches, and industry insiders to bring you practical insights and tips that will help you build a meaningful, rewarding, and sustainable career.
Discover what it would be like to actually enjoy going to work every day. Imagine if you felt completely fulfilled with your job. If you are looking to up-level in your career, Lorraine Rise can help you get there.
This show is designed to help you land your dream job and be the best professional you can be in your career. Hear motivational advice from industry leaders, resume experts, and job seekers to help guide you through your career.
Careers & Coffee is a short weekly chat about all things careers. Dan and Liz respond to job seeker questions and work to get answers to common questions and explore career paths, right here in Eastern Iowa.
CareerTALKS provides relevant and actionable advice to help professionals grow in their career and life. Join Orlando Haynes as he interviews industry thought leaders, coaches, entrepreneurs, and corporate professionals ready to share their story and advice.
Providing career advice in easy actionable steps for frustrated professionals. Helping you overcome career challenges so you can stop feeling confused and defeated and start feeling focused and confident in order to excel in your career.
If the prospect of yet another five days at work gives you a sinking feeling on a Sunday evening, the Change Work Life podcast is for you. Host Jeremy Cline explores the changes you can make to enjoy a better working life, whether these changes are small alterations to day-to-day routines, major career shifts, or something in between.
Welcome to The ClariTEA Podcast, where you'll not only get the insight to help you transition your career, but we'll have raw, unfiltered conversations about equity and access in corporate America. 
The Color Your Dreams Podcast is for women of color and allies who are running a business or creating a career. Are you ready to align and purposefully pivot your business or career, while collectively creating a sustainable and equitable future?
The Colors of Her Success Podcast helps prepare 20-something women of color for their seat at the table. Every other week, your host Mia Williams has candid conversations with high-powered and influential women of color to capture their advice, life lessons, and expertise that will help you on your journey to success.
Host Gregory Heller has conversations with University of Washington and Foster School faculty, staff, alumni, executives, current MBA candidates and other experts relating to career development, planning, and resilience. If you're navigating a career change, pursuing your MBA, or looking to develop a resilient mindset to help you with your job search, this podcast may be for you.
Cool Careers with Sha Lee Hornsby is a platform to highlight career journeys from industry professionals. These digital testimonies allow our viewers to learn about the peaks, valleys, and pitfalls within careers, allowing us a chance to learn and grow.
Are your co-workers driving you crazy? Does your boss suck? Mary Abbajay and Chris DeSantis are here to podcast you to workplace (and social) success. Each week we'll meet you at the watercooler and respond to your most outrageous workplace questions, comments, and concerns.
A daily dose of ass-kicking for those on the job hunt or interested in advancing their careers. Subscribe to the daily email version and get access to additional tools and resources for job hunters.
Don Hutcheson interviews individuals from every career category and profession as they share their real-world experiences and insights—what worked, what didn't, and why—and any advice they can offer to jump-start your life and take your career to the next level.
Dr. CK Bray shares the latest research findings in the areas of business, personal excellence and achievement, resilience and thriving, career, learning, leadership, change, and health.
Discover the power of developing the grit, resilience, and courage to thrive in a complex and changing market. Featuring interviews with top leaders and change-makers, this podcast provides actionable advice on leadership development, burnout prevention, and change management.
Austin Belcak brings you quick, highly actionable strategies to help you land a job you love without traditional experience and without applying online.
Early Career Moves is a BIPOC-focused career strategy podcast that empowers listeners to make their next career move with confidence and joy. Each week Priscilla Esquivel Bulcha drops guest and solo episodes brimming with BIPOC-friendly career knowledge.
This weekly podcast covers all things career management, including job search strategies, interviewing tips, networking tools, maximizing LinkedIn, salary negotiations, and managing your mindset around your career.
Have you ever wondered why only a few people get past the final round interview and land the job offer? Join us in the ring as our host, AJ Eckstein, speaks with recruiters to learn the secrets why certain applicants get "knocked out" and others are still standing after the final round.
Every week, Mac Prichard talks to a career expert about how to get a great job and develop a purposeful career. Get job search tips and actionable advice to help you find work that matters.
Hosted by:

Lori Cole

Website:  

ihire.com

Episode Length: 25 minutes
Frequency: Several times a month
Years in the guide: First
Of all the career choices available to a job seeker, how does someone find their uniquely perfect fit? Lori Cole sets out to learn how people from all walks of life discovered their calling, and shares what it looks like when your passions align with your job.
Kathy Caprino helps listeners access the courage they need to honor their true passions, talents, and values in life and work and leverage them for more success and happiness.
Remote job search tips and career advice from FlexJobs. FlexJobs is a job board highlighting only the best remote, hybrid, and flexible schedule jobs ranging from entry-level to executive, freelance to full-time, and local to global.
Kay Kirkman will help you navigate the unique career challenges that surface at midlife. Drawing from her personal experience and guest experts, Kay provides inspiration, motivation, and practical tips to help you find work that truly lights you up.
Hosted by:  

Andrew Seaman

Episode Length: 20 minutes
Frequency: Weekly
Years in the guide: First
Get Hired helps people live better lives by teaching them how to find work that aligns with their interests, values, and needs. Join a community that you can listen to, lean on, learn from, and share with throughout your career.
Get ready to level up your job interviewing game! Tune in to this informative podcast for the ultimate insider tips on how to land your dream job. From nailing the toughest interview questions to tackling your weaknesses, host Lena Sernoff dishes out exclusive knowledge.
Want to do work you love? This is the show that provides the inspiration, tools, and roadmaps to move from where you are to work that matters to you and uniquely fits your strengths and talents.
Soft skills are increasingly valuable for your career and your projects. In each episode, host Yadi Caro delves into different soft skills, featuring experts and people in highly technical fields who have used soft skills to succeed.
LinkedIn's Jessi Hempel explores the changing nature of work, and how that work is changing us. What does work mean to us? Should we love what we do? How can we switch it up? 
Her Next Career Move is the podcast igniting a movement to flood the workforce with dope women of color ready to claim it all. Through deep reflection, expert advice, and unfiltered storytelling, our host Dr. Jasmine Escalera will inspire and motivate you to take action toward owning your career.
The HigherEdJobs Podcast is dedicated to helping higher education professionals find fulfillment in their careers and be the change agents that higher education needs in today's world. Join hosts Andrew Hibel and Kelly Cherwin, along with guest experts, as they examine job search strategies and break down the latest news and trends in higher education.
Sonal Bahl holds conversations with a range of people from different walks of life who have had extraordinary success in finding their dream jobs or reinventing their careers.
If your job requires substantial thinking and collaboration, this podcast will help you flourish at work. Each week, Pete Mockaitis interviews thought leaders and results getters to discover specific, actionable insights that boost work performance.
Have you ever looked at different women's careers and thought, "how'd she do that?" This encouraging and fun podcast is answering that question in each episode while speaking to women who have created inspiring lives and careers.
Hosted by:  

Beverly Jones

Website:  

woub.org

Episode Length: 35 minutes
Frequency: Every other week
Years in the guide: 5
Beverly hosts informal conversations with established professionals about everything it takes to create a resilient and rewarding career. Her guests go beyond the research and get personal as they talk about their interesting and often surprising professional paths.
Renata Bernarde hosts a 5-star rated show listened to in over 50 countries while teaching the Job Hunting Made Simple program, where she helps coaching professionals on the steps and framework to make career advancement simpler and less stressful.
Matthew Sorensen brings you interview preparation, insider insight, questions and answers, best strategies, and more.
Based on insights into who is really getting the job (plus exactly how they do it), this podcast is a new and simple approach to job interview preparation.
Do you know that there are thousands of possible careers awaiting you out there? You will be astonished by the number of jobs you would have never thought existed. Laura Leoncini's conversations will give you inspiration when you are undecided on your career path, and the courage to change if you feel stuck.
Join America's Career Coach, Ken Coleman, as he delivers practical advice to help you discover the role you were born to play—and map out a plan to get there. Ken is here to help answer your questions about career, passion, and talent so you can maximize your potential. 
If you are launching your career or ready for your next career move, this podcast will empower you to pave your path and take the action steps to get you where you need to be.
Maggie Mistal helps you understand the elements of your ideal career, leverage the most effective job search tools, and craft a career strategy by laying out the short and long-term steps required to make your ideal career a reality.
Entrepreneurs start businesses to have freedom and flexibility, but often get the opposite. The Meaning Movement gives entrepreneurs insights to recalibrate their work-life balance so they have energy and motivation to keep going.
Alongside deep explorations into high-growth career paths and industries, this podcast reveals roads less traveled and careers that improve the world. If you are seeking inspiration, you can hear weekly conversations with those who have followed a calling or taken a career leap.
Join John Neral and his guests as they share their stories, strategies, and tips to help you create whatever is next so you can find a job you love or love the job you have.
Host Dr. Carol Parker Walsh is on a mission to empower professional women at midlife to tear up the rule book, take control of their careers, and get the life they want. This podcast takes a fresh and unconventional approach to career growth and development.
Are you an underpaid or undervalued HR professional seeking to get unstuck? The Morning Mindset Podcast hosted by Kisha Hicks serves as a tool to help you shift your mindset so that you can advance your HR career and earn more money. Tune in weekly to learn how you can make your next move!
Negotiation isn't just a skill, it's a life philosophy. Changing your mindset in this way will help you to find creative ways to use negotiation to improve your quality of life and build stronger relationships both at work and at home. This show will help you to find confidence in conflict and negotiate anything.
Hosted by:

Kate Davis

Episode Length: 35 minutes
Frequency: Weekly
Years in the guide: First
Fast Company deputy editor Kate Davis takes listeners on a journey through the changing landscape of our work lives and explains what we need to build the future we want.
Hosted by Jeff Altman, AKA: "The Big Game Hunter." This show provides daily advice that will help you find work much more easily. After all, the skills needed to find a job are different than the skills needed to do a job.
NoDegree interviews successful people without college degrees to figure out what made them successful. Learn how they got into their respective fields and listen to the advice they have so you can follow in their path.
Hosted by:

Bob Gerst

Website:

bobgerst.com

Episode Length: 35 minutes
Frequency: Irregular
Years in the guide: 2
This podcast provides tips and techniques for everyone from students to people in between jobs to those who own a personal business and people transitioning into retirement. Each episode offers a different perspective on these changes in life.
What's next for your career and creative projects? Embrace fear, insecurity, imperfection, and intuition as the superpowers they are while pivoting.
Empowering, inspiring, motivating interviews with leaders who demonstrate ownership of their careers. Join Simone Morris as she explores career stories to leave you with actionable advice for your career.
Seasoned HR and recruiting consultants Liz and Kat help you navigate your career and get through your work day. Go beyond the employee manual for some real job talk!
This podcast will help if you're looking for a job, feeling stuck in your career, looking to change your perspective, or just rediscovering your why. Harsha brings his passion for neuroscience and psychology and their interaction with career and personal development.
This is a podcast for those of us in the second half of life. Marc Miller interviews career experts and provides proven strategies on how to repurpose your careers for the 21st century.
Virginia Franco brings you interviews with career industry experts and regular folks who tested the job search waters and succeeded. She'll give you strategies to tell your career story.
This podcast hopes to inform, enlighten, and inspire you when it comes to careers. The podcast shares tips and resources, and talks with professionals on all topics surrounding careers.
Squiggly Careers is a weekly podcast that will help you take control of your career development. Hosted by Amazing If founders Sarah Ellis and Helen Tupper, the podcast covers all things work: from how to manage stress and overcome your confidence gremlins to micro-aggressions and discovering your strengths.
Join Kathy Oneto, founder of Sustainable Ambition, for conversations with experts, authors, and friends on what it means to live with sustainable ambition. Learn concepts, tips, and tools to craft a fulfilling career, on your terms, while still being ambitious and avoiding burnout.
At Time4Coffee, the professionals in the jobs that matter most to you always have time to grab coffee 24/7 to help you figure out how to convert your college degree into a career track you'll love.
Being a Black woman is hard, especially in corporate America. There are too many hurdles thrown at us as we try to climb the ladder of success. The Trill MBA Show is here to help you fight these battles by giving you the strategies that work.
This podcast is for unemployed, underemployed, and underappreciated job seekers who are looking for employment. Mark Anthony Dyson brings you relatable and relevant voices to help bring you modern job search tactics.
Each week, the hosts serve the job seeker community with motivation, education, and inspiration by interviewing today's top thought leaders on a range of topics, including job search strategy, networking, mindset, entrepreneurship, personal branding, LinkedIn, resumes, interviewing, employee benefits, and more.
Women face gender discrimination throughout our careers. It doesn't have to derail our ambitions — but how do we prepare to deal with it? Harvard Business Review staffers Amy Bernstein and Amy Gallo interview experts on gender, tell stories about their own experiences, and give lots of practical advice to help you succeed in spite of the obstacles.
Womxn Who challenge the status quo. Womxn Who ask for what they want. Womxn Who hold the door open for other womxn. We're sharing the incredible stories of womxn in advertising, marketing, and media – covering everything from caffeine to careers, with a whole lot of charisma.
Tammy Gooler Loeb shares real-life stories of people who made their way to more meaningful, purposeful, and enjoyable paths in their work, second-act careers, or other activities.
A thought-provoking conversation where we will give a different perspective and insight into the workplace. The aim is to empower you to create a different path to success for yourself, your team, and your organization.
Ever wondered how you can love your job and build a great career? Learn how with Your Bravo Career, a podcast about why your career matters, how you can enjoy what you are doing each day at work and how to build a great career along the way.
Jane Jackson's mission is to make career guidance and advice accessible to all who want support. Gain job search tips and listen to interviews with professionals and entrepreneurs who have made successful transitions into exciting new directions.
In this bi-monthly episodic series, host Brad W. Minton serves as the GPS to Gen Z students and young adults ready to find their fit and make their mark on the world through their careers. He helps aspiring professionals develop a stronger career identity and navigate the sometimes complicated journey of career development.
The 2023 Top Career Podcast Guide and creative assets were designed by Maria Guerriero of Germinate Creative. Lisa Kislingbury Anderson oversaw the guide's copywriting, project management, and promotion.