What Comes First: The Move or the Job?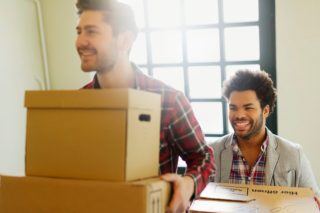 It's no secret that people move around the country (and, increasingly, around the world) to find better work and advance their careers. In fact, the US Census bureau estimates that nearly seven million people relocate each year in search of employment. Almost half of those people move more than 500 miles to find a new job.
The prospect of finding work in a new town–especially before you've moved–can be daunting, For many job seekers, this feels like a "chicken or the egg" dilemma: should they should find a job before moving, or take leap of faith and look for a job after relocating.
Ultimately, there's no single right answer for this dilemma. What's right for you will depend on your finances, flexibility, and comfort level. In general, it's easier to find a job in a new city if you're already there. But for many people, it's not possible to move without having a steady income already lined up.
If you're thinking about a big move in the near future but don't have an offer on the table, here are some practical tips for how to proceed with your job search.
Start Applying Today
Again, your odds of getting a job offer are better if you've already moved., But that doesn't mean you should delay your job search! Start looking at local job boards and apply for positions that interest you.
Most employers are looking for the best candidate for the job. If you are that person, living out of state won't deter them. Just know that if you do get an offer, you may have to make a relocate quickly. And, unfortunately, you can't necessarily expect the employer to compensate you for moving costs.
Prove Your Intent to Relocate
In your cover letter clearly articulate your commitment to relocating to your new town–even if you don't get the job for which you are applying. You want to present your move as a done-deal—a fait accompli. This will position you as a serious candidate, as opposed to someone who applied to a distant job on a whim.
Offer to do a Skype Interview
You should also offer to do a first round interview via Skype, Facetime, or the employers' preferred videoconferencing software. This allows the employer to get to know you and explore your qualifications, without incurring significant costs.
Be Prepared to Fly Out
If you get the interview, it is also possible that you might have to fly out  for an in-person meeting. Don't expect the employer to pay for this expense – those days are (mostly) gone, unless they are actively recruiting you.
Build Your Network
You can start building a local network in your new town by scheduling a few in-person visits and organizing meetings and informational interviews in advance. Follow up with those that you missed via a phone call or Skype meeting once you're back home.
Moving and finding a job in a new city in any state isn't easy, but it is doable. Plenty of people successfully moved from one place to another and you can do it, too. Put together a plan today that fits your budget, your lifestyle, and your career.