← Older posts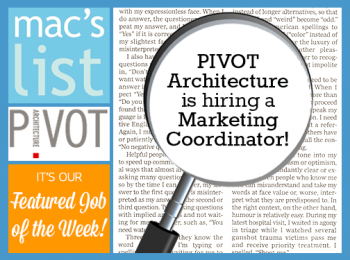 The featured job this week is the Marketing Coordinator position at PIVOT Architecture! PIVOT is a 32-person architecture firm based in Eugene that is dedicated to bringing inspired designs to life for its clients.
Established in 1956, PIVOT offers long-term career potential, stability and an opportunity to make a meaningful contribution to the firm's ongoing success.
PIVOT is now looking for a Marketing Coordinator with a creative attitude that is symbiotic to its own.
← Older posts