A Numbers Game & A Network: Drake MacFarlane's Job Search Story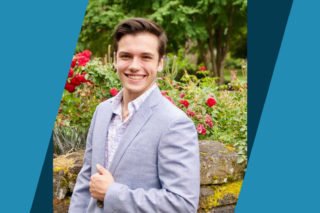 What's the best way to land a great job out of college? For Drake MacFarlane, it took more than one thing. He sent out lots of applications, but he made sure his documents were tailored for the job at hand. He also relied on his network, making sure to check in with his connections regularly. In the end, it took him less than three months to land a great gig. Here's Drake's job search story in his own words. 
What do you do for a career? Who do you work for?
I am the new fraud analyst in Columbia Sportswear's eCommerce department. I build statistical models to predict cyber fraud risk and make financial projections incorporating those results. Additionally, I do data analysis and reporting on eCommerce key performance indicators (KPIs). In other words, I stare at numbers all day—and like it! Since I'm bilingual, I also work with the French-speaking customer service representatives in the department.
How long did it take you to find this job?
It took me about ten weeks after graduating from Lewis & Clark College.
How did you find your job? What resources did you use? What tool or tactic helped the most?
My job search was two-pronged: plenty of applying for jobs found on Glassdoor and Indeed, as well as a series of informational interviews with contacts I had made. Although I found my current role from a posting on Indeed, most of my potential job opportunities came from contacting those in my network.
What was the most difficult part of your job search? How did you overcome this challenge?
The hardest part was facing rejection after making it through several rounds of interviews. It's certainly disheartening and has happened to me a few times. I overcame this challenge by pounding the pavement. After each rejection, I'd send out at least three job applications and contact someone in my network. Rolling with the punches helped immensely and kept me on track, in addition to copious amounts of caffeine from coffee shops around town.
What is the single best piece of advice you would offer other job-seekers?
Job searching is a numbers game in the end. Although some strategies are more optimal than others in finding a job, it is simply about getting as many tailored and effective resumes out there as possible. I advise against spamming every company's HR inbox with cookie-cutter resumes–but you should set a quota goal for each day and hit it. Whether that means you send three customized resumes out a day or to have two informational interviews a week, what matters is that you keep racking up those numbers. Eventually something will bite.
Why do you love your job?
First, I get to actually put to good use all the math classes I've taken over the years. I am afforded the opportunity to solve difficult problems through mathematical models I build with a 'fail-fast' mindset. If something works, great. If not, I scrap it and do something new. In addition, I'm able to put my mind to not just answering financial questions, but also towards predicting and deterring the actions of fraudsters and hackers. Finally, I'm lucky enough to have supportive colleagues and a great mentor within my department. The Columbia corporate culture is supportive towards personal career growth and collaborative success.