Podcast: Equity Through Education: Joseph Hernandez's Job Search Success Story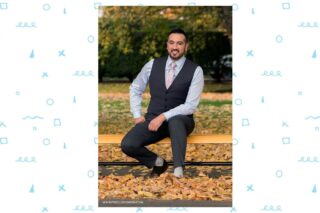 We all know that networking is a crucial piece of the job seeker's puzzle. However, networking alone won't get you a great job. You have to be strategic in who you're talking to and where you spend your time. On this bonus episode of Find Your Dream Job, Joseph Hernandez shares how strategic networking got him noticed by a recruiter and ultimately led to a job he loves. Joseph also explains how to share your personal values in a way that builds relationships with others, and how to find mentors to help you along the way. Learn more about Joseph's career history below in this installment of our Success Stories series.
Transcript
Find Your Dream Job, Bonus Episode 43
Equity Through Education: Joseph Hernandez's Job Search Success Story
Airdate: August 2, 2021
Mac Prichard:
This is Find Your Dream Job, the podcast that helps you get hired, have the career you want, and make a difference in life.
I'm your host, Mac Prichard. I'm also the founder of Mac's List. It's a job board in the Pacific Northwest that helps you find a fulfilling career.
One of the best ways to get good at job hunting is to talk to people who do it well.
That's why once a month, I interview a Mac's List reader who found a job they love.
Our guest today is Joseph Hernandez. He's the chief human resources officer at the Northwest Regional Education Service District.
Joseph Hernandez believes in the power of networking. And LinkedIn is one of the tools he uses to build relationships with others.
In a story you can find on the Mac's List website, Joseph says a LinkedIn connection with an executive recruiter led to the job he has today.
Well, Joseph, why do you love your job?
Joseph Hernandez:
I definitely love my job because I feel that in my role, I'm able to make a difference and bring positive impacts to the students and families that we serve and also our staff. I feel that I really align with our values in regard to equity. Equity is one of my core passions, and outside of my work, I volunteer in many regards pertaining to equity work. So I'm also the Vice President of the NAACP in Clark County, and being able to align my personal core values with my work, and also with my outside endeavors, is really a great collaboration.
I also love our mission, vision, and values. Our vision is to serve every student and to make sure that they are educated, equipped, and inspired to achieve their full potential, and also enrich our surrounding communities.
I also really love our values of student success, equity, partnership, and innovative service. These are all things that align with my top strengths.
Mac Prichard:
Well, congratulations, it sounds very gratifying.
Let's talk about your job search, Joseph. Now, a recruiter called you. How did that happen?
Joseph Hernandez:
So I am very fortunate to have been connected via LinkedIn to Workplace Change, and this is a very wonderful organization. It's a culturally progressive human resource firm that wants to see measurable changes in our workplaces. Serilda Summers-McGee is the current founder and CEO. She's been a wonderful stakeholder in helping me navigate this opportunity that came about for Northwest Regional ESD. And additionally, she has really inspired me because I've been very fortunate to continue to work with her on other endeavors, such as working on HR transformative practices that build out ways that other surrounding districts can have an equity lens in their HR work.
Mac Prichard:
You've worked in the HR field for a long time, so you've done your share of recruitment over the years. What was it like being recruited for a job?
Joseph Hernandez:
It was a really nice feeling to have somebody reach out to me directly in regards to this opportunity. When Workplace Change reached out to me in order to gauge my interest, I was really taken aback because I felt like, as a person of color, sometimes we doubt our abilities to move into such a large role such as a chief Human Resources officer. And I feel that being able to connect with Serilda and being able to understand what the role entailed was really, really wonderful.
Additionally, I liked the aspect that it was within the education sector, and I understand that education is limitless. And it was really nice to see that there was a position that was available that really aligned with my personal values, with my perspective, and views in regards to education and equity.
Mac Prichard:
What steps did you take.. because you weren't expecting the call, what steps did you take, Joseph, to make sure this was the right fit for you?
Joseph Hernandez:
That is a great question. I think it's really important to research the organization, to understand overall what the mission, vision, and values are, but also to feel a connection in the process. For myself, it was really important to see diversity on the interview panel. That brought a sense of ease to me, and it really showcased that they were being serious about their commitment to diversify their workforce.
Additionally, Northwest Regional Education Service District is committed to being an anti-racist organization, and understanding more in regards to that element, it really drew me to the opportunity, and I felt that I could make a big impact in regards to the staff, the families that we serve, and additionally, the students.
I'm a first-generation student, and so for me, it's really important to be able to use my story to empower others.
Mac Prichard:
In working with Serilda and the other recruiters on her team, how did you approach that? You talked about doing your homework to determine if this was a good fit for you; as you went through the process, what other steps did you take as a candidate?
Joseph Hernandez:
I would say, as a candidate, for myself, just being aware of the interview process and understanding what elements it entails is really important and crucial, and being able to connect with mentors to gauge best practices, to ask questions in regards to what they found to be helpful for themselves.
One of the things that came about, in regards to a piece of advice that I received, was to remind myself not to be my own barrier. To continue to persevere even when I needed that little extra encouragement.
I think when it boils down to it—just understanding that we all have a voice and a perspective to share and bring to the table, and we all have the power to make a difference.
Mac Prichard:
Often people, when they're looking for work, they can be their own worse enemies. They think about, instead of their strengths, perhaps, the concerns that an employer might have about their candidacy. What's your best advice, Joseph, for overcoming those doubts and overcoming those barriers?
Joseph Hernandez:
I would say to really hone in on your personal values and to understand what makes you tick in regards to your personal values and connecting it to meaningful work.
Additionally, being able to think about it in a way like an elevator speech is given. So if you're able to share your top strengths, your values, and the reasons why you're passionate about certain areas, I think it makes all the difference. It makes you relatable, it makes you genuine, and it really connects you to your audience. So being aware of your audience in the interview process is also another key element.
Mac Prichard:
Again, you've been in the human resources field for some time now, and you've done your share of recruiting; were there any surprises for you as you were recruited, and as you went through this process as a candidate of being represented by a recruiter?
Joseph Hernandez:
Yes. It was a great experience to be represented by a recruiter and to work with Workplace Change; they really empowered me to move forward in the process. And it's very interesting because, as a male LatinX individual, I have not really heard of or met a CHRO or Chief Human Resource Officer that identifies in the same way that I do. So sometimes, there can be challenges and barriers in overcoming just that in itself. So even landing in my role, which I'm very fortunate to have done, I still find myself kind of like on a little island of not really seeing the representation across the board. So this is a huge thing for myself and for the people that I connect with because I feel like, through this pathway, I can show that success is possible. That there are pathways to leadership and that individuals from underrepresented groups can make it.
Mac Prichard:
In your article for our website, you encouraged readers to understand the power of networking. Why do you think networking is so important, Joseph?
Joseph Hernandez:
Networking is so critical in order to build those connections, and when we talk about networking, it really is facilitating and fostering relationships, and when you think about networking, it should be a win-win relationship. So you're getting knowledge and resources from your network. But also, what are you giving back? That is the question that you can ask, and if it feels right, then you should move forward with those networking opportunities.
I would say that in my experience, networking has been pivotal in my drive to success, and being able to connect with a diverse array of individuals has really helped me understand and navigate many different landscapes that were newer to me. By putting myself out there, I feel like I was able to make connections.
Mac Prichard:
Joseph, if you were recommending a listener take one networking step, what would be your number one networking tip during a job search?
Joseph Hernandez:
Number one networking tip would be to identify opportunities that you feel make a difference. In my experience, I've connected with the Say Hey events, and those events have really made a difference for me in connecting with other BIPOC individuals and being able to connect with others that come from, you know, many diverse backgrounds. It was really empowering to see that and to understand that we actually have a really robust network here in the Pacific Northwest that we can tap into and utilize in order to help with our career development endeavors.
Another piece to that, adding an extra layer, is mentorship. So being able to find and connect with a mentor makes a world of a difference as well. And I have been very fortunate in my life to have many wonderful mentors that have helped me along, that have been my cheerleaders and have helped me navigate unknowns.    
Mac Prichard:
I'm glad you brought up the Say Hey events for the benefit of listeners outside of Oregon; these are wonderful events that happen regularly in Portland, Oregon. They're sponsored by Partners For Diversity, and I've been to a number of them myself, and it's always exciting to see hundreds of people there from different communities across the city and the state.
And thanks to Joseph for mentioning the importance of mentors. Many job seekers struggle with identifying mentors. What's your best advice there? How do you recommend someone who is thinking about a job search or their career identify mentors and ask for help?
Joseph Hernandez:
I would say in regards to mentorship, being able to identify what it is that you would like to do in your career development endeavors and mapping that out similarly to a mind map where you lay out all of your goals. Understanding what values you have, what you would like to do in the future, and what your timelines are in being able to connect with others, to share those out so that you can really build relationships.     
And sometimes, you just need to ask somebody and say, "I'm navigating this landscape. I want to go into the field of Human Resources. What advice do you have for me? Do you know of any individuals who could mentor me?"
There are several programs that are able to connect individuals with mentors, but if you're doing it on your own, I would say just building up your network and being able to showcase foundationally what it is you would like to do with your own development, and see if there are some ways that you can make those connections with others, and hopefully discuss more directly why you would like to have a mentor.
Mac Prichard:
What difference did mentors make in helping you get the job you have today?
Joseph Hernandez:
I would say mentors were integral in my life from a very young age. And for myself, being a male LatinX individual and coming from a background that did not necessarily have all the unlimited possibilities that I now see that I've had because of my life trajectories, I think mentorship has been critical. It's really been needed because I have had support systems from a younger age through high school, through college, and these are all things that I navigated as a first. I was the first person in my family to graduate high school. I was the first person in my family to graduate from a four-year university, and I navigated all of those steps on my own but also with the help of mentors, and that's what gave me that extra push.
When I think about it, my mentors were close family friends, they were teachers, and more recently, I have had a mentor for the last nine years who has really taught me how to teach in a community college setting. So I've been teaching part-time for nine years, and understanding pedagogy around that was really, really interesting. And I was able to go through an internship program that paired me with a mentor, and he has been absolutely amazing to work with. And I'm still connected to him now after nine years.   
Mac Prichard:
It's been a great conversation, Joseph. Now tell us, what's your number one job hunting tip?
Joseph Hernandez:
I would say my number one job hunting tip is to put yourself out there and let people know what your passions are and to continue to believe in yourself. Sometimes we get stuck in a mindset where we think, "Maybe that job is too big for me." But you just never know, with the right networking, with the right mentorship, the right resources, how much you can achieve. I feel like it's so important to understand that in career development, there are unlimited possibilities. And pairing it with resources makes an even bigger impact.
Mac Prichard:
Well, Joseph, thanks for sharing your story. To learn more about Joseph Hernandez's job search, visit macslist.org/stories.
And check out the Mac's List website for dozens of other success stories.
On the second Friday of every month, we add a new interview with a Mac's List reader who has found a dream job. Again, go to macslist.org/stories.
In the meantime, thank you for listening to this bonus episode of Find Your Dream Job.