Deciding to Leave Your Dream Job Behind, with Ben Oh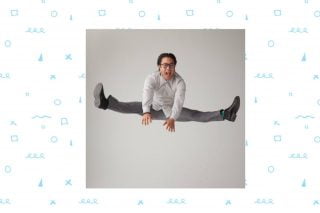 You pursued your dream job, got hired, and you've been there a few years. But, what if you feel the pull to pursue a new career direction? On this bonus episode of Find Your Dream Job, Ben Oh and I talk about deciding to leave a dream job behind. Ben shares how trusting his instincts and fighting unrealistic expectations led him to a job he loves. Ben also breaks down how he stayed confident that making a career change was the right decision. 
Transcript
Find Your Dream Job, Bonus Episode 25:
Deciding to Leave Your Dream Job Behind, with Ben Oh
Airdate: January 13, 2020
Mac Prichard:
This is Find Your Dream Job, the podcast that helps you get hired, have the career you want, and make a difference in life.
I'm your host, Mac Prichard. I'm also the founder of Mac's List. It's a job board in the Pacific Northwest that helps you find a fulfilling career.
One of the best ways to get good at job hunting is to talk to people who do it well. That's why, once a month, I interview a Mac's List reader who found a job they love.
Our guest today is Ben Oh. He's the vice president of marketing at Fully. It's a company that makes desk chairs and other tools to keep you moving, engaged, and loving how you feel at work.
Well, Ben, you're the vice president of marketing at Fully. Why do you love your job?
Ben Oh:
Well, I think I'd have to start from where I came from to really understand that journey. I was…I had thought that I had already reached my dream job prior to arriving at Fully.
Mac Prichard:
You had a great job before Fully. You have a great job now but tell us about where you came from.
Ben Oh:
Yeah, it was…I came from Wieden + Kennedy. They're an advertising agency, the best in the game, from my perspective, and you know I was…
Mac Prichard:
They have some amazing global clients, don't they?
Ben Oh:
They do.
Mac Prichard:
Yeah, can you share some of those?
Ben Oh:
They do, their clients include Nike, Coca-Cola, Target, P&G, KFC, Samsung, some huge global clients. I think as an athlete growing up, I was just enamored by the storytelling of the Nike brand, and you know, I was completely inspired that sports was going to be my life.
Mac Prichard:
Even as a student, was that a dream to work at Wieden + Kennedy?
Ben Oh:
It really was, I think. I ran college track but was very certain that my athletic career was going to end in college. And so I think from there I really set my sights on staying involved in the sports community, and what really paired up was my love for storytelling and narrative and from there, I really tried to pursue the start of my career in film and television.
I had grown up learning all the classics and watching all the classics with my parents, grew a love for just the art form, as well as just the craft of film making.
Mac Prichard:
Did you, from college, go straight to Wieden + Kennedy or were there some stops along the way?
Ben Oh:
There were a lot of steps along the way. While I had applied to Wieden + Kennedy, at the time, I really didn't understand what advertising was about. I had barely scratched the surface myself, in terms of understanding what the film and entertainment industry was about. So, I really, starting in college, when I'd come home in the summers, you know, just forced myself to do something and get involved somehow in the entertainment industry. It was fortunate that I was in LA and there was a lot of opportunity, but not for me.
I would show up at film sets, I would really try to wedge my way into an industry that was seemingly invite-only.
Mac Prichard:
How did you make the leap from Los Angeles to working at the Wieden + Kennedy company in Portland?
Ben Oh:
I had developed a lot of skills, technical skills, within the entertainment industry while I was working in film and television, specifically in post-production and, you know, where I saw my opportunity was where a lot of the traditional editors just did not want to learn digital, and so I think really seeing my opportunity there, there really wasn't anywhere to learn it. And so, I was just kind of on my own, through my own curiosity and finding people to teach me something in that regard. And I had developed some experience as well as an understanding the post-production process but I just knew my future was in Portland.
Mac Prichard:
Why was that, Ben? Because you grew up in California. What attracted you to Oregon?
Ben Oh:
Well, candidly, my wife's from here. We met in college and while I was going to school, before we even dated, she would talk about how magical a place Portland was. And I think when I connected the dots between Nike, their ad agency, Wieden + Kennedy, and Portland, my heart was just set on coming here. There wasn't a robust film industry, or entertainment industry, for that matter, to support it, but I felt like if I was ever going to make a big life change, it was going to be at that time when I really didn't have a lot of life obligations but just was really clear about what my life priorities were.
Mac Prichard:
How did you make that move? Because you're in the film industry in Los Angeles, you're learning skills that people who, it sounds like, had just been doing things a certain way and didn't want to master, so you got good at that, then you had this dream of working at Wieden and then moving to Oregon.
When did you come here and how did you make that happen?
Ben Oh:
Yeah, I still recall the day I left. My dad said I was making the dumbest mistake of my life and I almost took that as a challenge because I accepted that I wasn't going to be able to just continue down the path that I had started in LA. I really needed to come here and reinvent and I think, really, necessity drove needing to get work, and I quickly realized that I wasn't going to build my career making film up here in Portland. And so, I think what I tried to do from that perspective was understand the skills that I had developed were certainly applicable in a variety of ways, and what I recognized, here in Portland specifically, was there was just a lot of technical innovation at the time.
People tinkering around in their garages and developing things just for the sake of making something. And I happened to come across a Craigslist posting that was looking for a post-production coordinator, and while the title was clear, the expectation of what they needed was just all over the place. And I thought it looked interesting, and when I came to visit them, what I recognized was, they were a technology company looking to develop a new way of…a new medium altogether.
Mac Prichard:
You're new in town, you answer a Craigslist ad, you find a fascinating project, and I want to get to your job today, you're a vice president at Fully and I know…how long were you…to go from Wieden + Kennedy to there, after having achieved what you thought was your dream job. Quickly, Ben, how did you come to be at Wieden and why did you leave?
Ben Oh:
Sure, so, I had applied to Wieden + Kennedy over the course of 7 years.
Mac Prichard:
Multiple times.
Ben Oh:
Multiple times. Over and over and over again.
Mac Prichard:
Is that common? To get into an employer like that, to just have to keep being persistent?
Ben Oh:
Absolutely. Yeah, it's really, really critical that you don't take no for an answer, and sometimes that no comes as silence.
Mac Prichard:
Wieden did finally say yes.
Ben Oh:
Wieden finally said yes for the exact reason that those traditional editors didn't want to learn digital and the traditional advertisers didn't want to learn digital. And I think more so, the traditional companies were struggling to understand digital, and so I just happened to have the right set of skills, combination of skills, in a space that Wieden was very interested in experimenting around, to grow into this digital realm, this digital media. This was before Facebook.
Mac Prichard:
Okay.
Ben Oh:
Before Google.
Mac Prichard:
Yeah, I remember. It was more than 10 years ago but it was another era. Your curiosity and your appetite for learning paid off, you're at Wieden, they say yes and you're there for a number of years; why did you finally leave? And what was it about Fully that attracted you, and how did you find that job?
Ben Oh:
You know, that was a really personal, soul-searching mission that I went down, probably over the course of a year and a half. I had lost some people very, very close to me; my aunt who was the first of my family to immigrate here. She had lived a remarkably successful life, running an adoption agency. She had placed 5,000 children over the course of her life; 5,000 families that I still communicate with today.
I also lost my mother-in-law, who was just the biggest inspiration in my life. Lived the most successful life I've ever known, in developing community from the ground up, and it just made me question the bigger picture; kind of, what is this all laddering up to? What am I working towards?
I had been at Wieden + Kennedy for about 5 – 6 years at the time when I started asking this question and it just kept gnawing at me. I was just looking for the ways in which I could reinvent. I remember asking my wife, "Hey, how little money can I make and we still be okay?"
We had just had our second child and that was a very scary thing to even entertain. That I had built this great life for us and had landed a job that there was just so much competition around, and so, just getting to that place to ask permission to see how broadly I could explore was a big one. And I had explored everything, from just starting over in a completely different industry all the way to entrepreneurship and just starting my own thing, and also spoke to anyone who would take a meeting with me.
Mac Prichard:
In the end, you became the vice president of marketing at Fully, which is a furniture company here in the Pacific Northwest. You knew you wanted to work at a company that reflected your values; how did you hear about this opening?
Ben Oh:
Well, I think, in terms of how I started narrowing in on my options, nothing was making sense and I think, starting over was not going to be how I was going to add value to the world. I think it really came from, opportunistically, I was checking out at a local grocer's, "New Seasons" who happened to be a B Corp, and I was checking out, and there was a B Corp on their bag.
Mac Prichard:
B Corps are Benefit Corporations, part of a global movement of businesses for social good.
Ben Oh:
Right. I was completely unaware at the time until I had seen that B Corp logo and saw that slogan, "Business as a force for good." That's when it snapped into focus for me, that there is a role for business to play at this point in history, where there's so much tension about what's coming down the pike.
Mac Prichard:
What did you do next? You saw it, you discovered this community.
Ben Oh:
I discovered this community, I really dug deep into learning as much as I could about B. Corp., B. Lab, the whole movement and the genesis of it, and how it proliferated and grew. At the time, there were almost 2000 B. Corps. internationally, and I for sure knew that I also loved Portland. I did not want to leave Portland, and so I think at the time, while I had built my career in digital, I was eager to get back to a physical product, something that felt more tangible, and I think when I started looking at B. Corps. headquartered in Portland that made things…
Mac Prichard:
That was…it's a list but it's a fairly short list, isn't it?
Ben Oh:
It really helped narrow in who I needed to speak to.
Mac Prichard:
Okay, and so what did you do next?
Ben Oh:
Once I had that list, Ergo Depot was one of those companies.
Mac Prichard:
That's what Fully used to be called. Before they hired a marketing person like you.
Ben Oh:
Right, so Ergo Depot was the company that I had really struck some connection with somehow, through reading about them, learning about them, and their director of HR reached out and asked if I was interested in a marketing director role. And at first I told her, "Maybe."
At first, I told her, "I'm not sure." And I think I went into that meeting still concerned about, "How could I possibly leave Wieden + Kennedy? How could I possibly leave this job and this place that I absolutely love but just don't find my purpose in now?"
Mac Prichard:
You said yes, what made you decide to accept the offer?
Ben Oh:
It was going through that process of interviewing, and I think that they were…I was interviewing them as much as they were interviewing me, and I really wanted to understand, "Is this for real? Am I going to make this jump? Is what I'm reading on paper, can I feel that?" And so I think that really took some deep exploration, connecting with, not just with the leadership of the company, but the people I would be working with. Just to really feel confident in my own self that this was the right decision.
Mac Prichard:
As you reflect back on your job search, what's your number one tip for our listeners?
Ben Oh:
I would say that…I feel like I was ignoring my truth for a long time and I was fighting something because there was an expectation of me. I really wasn't listening to myself in terms of what my gut intuition was telling me to do, where I needed to go. Because it was the decision that was hard but I think that, looking back on it, I was already decided, and I think that was something that I think, I would have just trusted my instincts.
Mac Prichard:
Thank you for sharing your story, Ben.
You can learn more from other people like Ben who found a job they love by going to macslist.org/stories.
On the second Friday of every month, we add a new interview with a Mac's List reader who has found a dream job.
Again, go to macslist.org/stories.
Thank you for listening to today's bonus episode of Find Your Dream Job.