How Parents Can Help (or Hurt) a New Grad's Job Search, with Margaret Roberts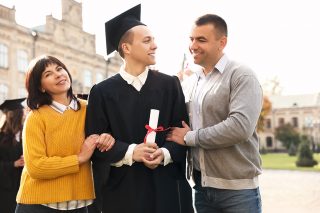 If you are the parent of a college student, you want to do everything in your power to help your son or daughter find a great job after graduation. However, the things we think are helpful could actually have a negative impact. Encouraging your child to visit their career services center and attend events such as career fairs are specific ways parents can help, says Find Your Dream Job guest Margaret Roberts. Margaret also says that parents need to take a step back and allow their child to follow their own interests, rather than burdening them with the expectation that they will follow a certain path.
About Our Guest:
Margaret Roberts supports individuals in achieving success throughout their career life cycle. She leads the Career Management Center at the Eberhardt School of Business at the University of the Pacific. She is also a freelance executive resume writer and is pursuing her EdD in Educational Leadership.
Resources in This Episode:
You can avoid the resume pitfalls we consistently see job seekers make with my resource:

Don't Make These 8 Killer Resume Mistakes

. In this guide, I'll show you how to avoid the most common errors and get employers to take a second look at your resume.
Transcript
Find Your Dream Job, Episode 226:
How Parents Can Help (or Hurt) a New Grad's Job Search, with Margaret Roberts
Airdate: January 15, 2020
Mac Prichard:
This is Find Your Dream Job, the podcast that helps you get hired, have the career you want, and make a difference in life.
I'm your host, Mac Prichard. I'm also the founder of Mac's List. It's a job board in the Pacific Northwest that helps you find a fulfilling career.
Every Wednesday, I talk to a different expert about the tools you need to find the work you want.
Parents can be a huge asset to children looking for work after college graduation. But they can hurt a new grad's job search, too.
Here to talk about this Margaret Roberts. She runs the Career Management Center at the Eberhardt School of Business at the University of the Pacific.
Margaret is also a freelance executive resume writer.
She joins us today from Elk Grove, California.
Well, Margaret, here's where I want to start, what's the biggest mistake you see parents make when trying to help a child get a job after graduation?
Margaret Roberts:
Well, that's a great question, Mac, and I would say, just to take a quick step back. Of course, as parents, we always want to see our kids succeed in school, life, career, and in every aspect of their life. And as parents, we cultivate life-skills that will really enable them to become independent on their own as they grow and develop. And we also may feel we know what's best and want to maybe encourage them to focus on a particular area of study or pursue a career path that we feel is going to be really great for them.
But I have to tell you, one of the most difficult conversations I have with students who I advise as a career coach in that college career center that I lead is when a student comes to me and is really wrestling with that conflict of what they want to pursue and what their interests and dreams are, versus where they feel their family is nudging them or encouraging them, or maybe is setting expectations about what they do. And whether those expectations are real or assumed, that perception of expectation is the reality for that individual.
What I really want to recommend that parents consider is taking a step back and thinking about what really is in the best interest of the individual. Is it to allow them to explore and define their interests and passions and purpose on their own, and help them with that process, and nudge them in the right direction to find the resources that are going to help them? And I think a lot of times, we find that we want to step in and try to do things for our kids, and I think that's where parents often can find themselves in a tug of war with their children.
Mac Prichard:
Let's talk about that, Margaret. How do you recommend a parent get started in doing that? Because as you say, parents want the best for their children and they have many clear ideas about how that might happen, but if they were to follow your advice, what might they do differently?
Margaret Roberts:
Well, I think it starts with…at what point are we having this conversation with our college student or graduate? If it's early in the college experience, really nudge that student to get involved with the campus career center early and often. I think that's one of the things that particularly, as a career professional that I talk about with my peers in the industry that we don't see enough of. We don't see enough students coming into our centers as freshmen and sophomores. We see them coming in, maybe in the junior year if they're starting to think about internships, but more often as they get really close to graduation or even after graduation and they come back.
Mac Prichard:
Do you recommend people come in first semester, freshman year and start having conversations?
Margaret Roberts:
Absolutely, I think that the earlier that students take advantage of that resource, the sooner they are able to begin to formulate clarity around, "What are the opportunities that are going to be available to me? How does that align with my own interests and goals?"
Mac Prichard:
What would you say to a student or a parent of a student who…the student might not even be clear about what they want to major in that freshman year? How are they going to have a clear idea of what they might want to do in 3.5 – 4 years?
Margaret Roberts:
That's a great question. So, every campus career center in America and probably beyond has resources and tools, career assessments and other types of directional tools that will help students match up their interests and their curiosities to either majors, or careers paths, or just help them become a little more self-aware of their strengths and interests. Things like the MBTI, the Strong Interest Inventory, there's even a website that I think anyone can access that doesn't need support from a campus career center that's called What Can I Do With My Major? So, there are a lot of great tools out there that are useful and accessible.
Mac Prichard:
Using the self-assessment tools in your freshman year, are not only going to help you plan out a job search after graduation, but it's going to help you figure out what your major might be as well.
Margaret Roberts:
Absolutely, and then I think that also, it's important to realize that as students on a campus get acquainted with and get to know the career professionals that are available to them, and likewise, those career professionals get to know that individual, we become better equipped in that role as their career advisor or career coach to help them make better and more relevant connections because we understand what their interests and goals are. If I don't know a student's future objectives, then I can throw a whole lot of ideas at them that won't make any sense for them.
Mac Prichard:
Margaret, how do you see parents successfully encourage their children to go to that career
center in that freshman or sophomore year? What do they do differently that other parents might want to copy?
Margaret Roberts:
Well, I think it's about asking the student what kinds of events and opportunities they see available on their campuses. In the college environment, we have a lot of tools at our disposal to promote these opportunities to students, whether it be through social media, direct email marketing, the old-fashioned flyers posted on bulletin boards, other mechanisms that we might be connecting to students on our campus, and parents may not have access to that information, so simply asking, "Hey, what kinds of events are happening on your campus that might help you answer these questions?"
Not directing the student about what they have to do or should do but just opening their eyes to, "There might be some really useful resources for you there."
Mac Prichard:
Like a good coach, ask questions, don't give directions or specific advice.
Margaret Roberts:
Correct, and you know, I think one of the things, again, that students realize maybe later in the game and even after they graduate, and feel a little regretful that they didn't take advantage of, are all of the amazing events that will be available to them. Whether that be workshops and skill-building programs that are offered by career centers, student organization, other groups on campus, that really cover a wide range of topics, from resume writing best practices, or how to develop and enhance a LinkedIn profile, to how to negotiate your salary. Other things that many schools offer all across all sorts of program levels, or mock interview programs.
I can't tell you how many of my students that I've worked with who have come into a mock interview and that's the very first professional interview that they've ever had.
Mac Prichard:
Well, I know there are many parents who are listening and they're aware of these great services and their frustration might be that they can't get their children to stop by your office.
You mentioned earlier, asking questions to help the students think about what they want to do; do you also recommend, Margaret, that parents get in touch with all the offices like yours and reach out directly to career services staff?
Margaret Roberts:
Well, you know, that's an interesting question and one that's a little bit of a dilemma, because on the campus side, we're restricted by Ferpa in terms of what we can share with anyone about an individual student that we're working with.
Mac Prichard:
Margaret, can we pause just for a second and tell our listeners what Ferpa means?
Margaret Roberts:
Yes, so I am not going to get the actual acronym 100% correct, but it is a privacy protection that we are bound by in terms of sharing direct individual information about a student enrolled in our programs with anyone else, without their permission.
Mac Prichard:
Great, got it. So, that's a law that you need to pay attention to. So, tell us more about how parents might get involved by working with you or if it makes sense for them to reach out to you directly.
Margaret Roberts:
I think that the best way that they can become involved is to ask if there are resources available to parents that are available electronically, or if there are newsletters that they might be able to have access to. They can even follow our social media sites, right? I particularly use a Facebook page to message information to the students that I support; there's no reason that a parent couldn't follow that type of resource.
Other schools use Instagram, Twitter, and any number of different resources including LinkedIn, so following those things and knowing what kinds of events are being messaged out to the campus audience might give them a clue and indication of when it might be appropriate to reach out and say, "Hey, I saw your campus is holding a career fair next week. Are you thinking about attending? Are you prepared? Do you have the right attire to go to that event? I'll send you some money so that you can get some business casual attire that's appropriate to wear."
Mac Prichard:
What expectations do you think a parent should have of a career services center, Margaret?
Margaret Roberts:
Great question, Mac. I think that the expectations are varied, so we have an obligation to provide equitable access to opportunities and to events, so students need to be able to have access to these things but what we can't do is, we can't apply to jobs for students, we can't go on interviews for students, we can't decide what opportunities are right for a student or another. So, there are those kinds of expectations but we also can be expected to provide the best service that we can to those students who come and seek out our resources.
Mac Prichard:
What would you say to a parent who might think, "Well, your job, you and your colleagues, Margaret, is to help my child get a job and so I'm expecting you to set up interviews, review resumes, check cover letters…" are those reasonable expectations?
Margaret Roberts:
I would say reasonable, yes, in that we have the knowledge and background and expertise to help those students make sure that they are presenting the best possible impression of themselves on paper through resumes and cover letters and other means, let's say a LinkedIn profile. But again, we don't have the capacity or ability to submit applications for individual students. Those steps are the actions that the student has to decide to take. We cannot decide for the student or an employer who should be granted an interview because those decisions need to be made at the appropriate stage by the appropriate parties. So again, there are some things that we can assist with and support and enable but the student has to take ownership.
Mac Prichard:
You're coaches, you're advisors, but it's the student who is in charge of her/his own job search.
Well, Margaret, I want to take a quick break.
When we come back, I want to talk more about the role of parents but I also want to explore internships because those are so important in anybody's career and I know you have strong feelings about that as well.
We'll be back in just a moment and when we return, we'll continue our conversation with Margaret Roberts about how parents can help (or hurt) a new grad's job search.
Whether you're a new college graduate or a senior executive, you need an error-free resume.
But the hiring managers who post on the Mac's List job board tell me that every day they see resumes with eight common mistakes.
Would you like to see that list of blunders?
Go to macslist.org/resumemistakes.
You'll get our new, free guide, Don't Make These 8 Killer Resume Mistakes.
And you'll see that it's easy to avoid making one of these fatal errors. If you know what to do.
See for yourself.
Go to macslist.org/resumemistakes.
Don't you want to know why an employer might put your next application in the circular file?
You could try calling a company after you hit the send button and got no response.
Or you could download our free guide, Don't Make These 8 Killer Resume Mistakes.
Learn how to avoid the resume errors that drive employees crazy.
Go to macslist.org/resumemistakes.
Now, let's get back to the show.
We're back in the Mac's List studio. I'm talking with Margaret Roberts.
She leads the Career Management Center at the Eberhardt School of Business at the University of the Pacific.
Margaret, before the break, we were talking about how parents can best work with offices like yours.
Other tips you want to share? Both dos and don'ts because I know parents who are listening, they want their children to thrive after college and they want to take advantage of…make the most of the opportunities that offices like yours offer.
Margaret Roberts:
Well, dos and don'ts, I think an important do and this so often overlooked; again, I mentioned there were a lot of opportunities to engage with companies through things like career fairs or mock interviews, so your student will have the chance to get face to face with professionals, so help make sure they're prepared for that.
Encourage them to buy the appropriate attire for those types of events, get a padfolio that they can bring with them to events where they present themselves professionally and bring resumes and gather information from different companies.
Offer to do a mock interview with your student. Ask them the kinds of questions that they're likely to be asked by a recruiter that gives them the practice that they need, or even help them with their elevator pitch. I think that's one thing that students find the most intimidating is, "How do I walk up to a recruiter or a hiring manager and introduce myself?"
Mac Prichard:
Do you find that students are open to working with their parents on these kinds of practical job search strategies and practices?
Margaret Roberts:
I think that's a very individual experience, so some yes, some no, but again, there are other ways that they can encourage them to practice these things. So, one thing I would recommend parents do is encourage their students to get involved with organizations on campus that are professionally focused. There are many student groups. Whether they be professional type fraternities for business, engineering, or other disciplines, sciences, or other types of career focus clubs, like a marketing club or a PR club or an HR club or an IT club. Find those groups that you align with professionally, and you'll find that you can then form peer relationships where you can also get support in developing and polishing these skills.
Mac Prichard:
Many national professional associations also have student chapters, don't they?
Margaret Roberts:
That's absolutely correct, yes.
Mac Prichard:
You mentioned before the break that one of the things you encourage parents to do is ask questions of students about opportunities on campus or services and offices like yours. Are there things you recommend parents don't do that you've seen aren't effective?
Margaret Roberts:
I think that one of the things that I've seen, and this is a little bit of a unique and sensitive area, but is coming to the campus and coming with a student to an event. Now, I know there are sometimes situations where maybe that's necessary. But by and large, I think that that creates a very uncomfortable situation for a student. S,o encourage them, reach out to, for instance, again, here's a good reason to reach out to the career center and ask for a counselor who might be able to assist a student who needs a little bit of extra care in helping them get comfortable in an event like that. But it becomes a little bit of an awkward and uncomfortable situation for the student, amongst their peers, in that kind of situation.
Mac Prichard:
Let's switch to internships. I know these are so invaluable in exploring both career options and building networks. When do you recommend, Margaret, that students do internships? Should they wait until senior year or should they try to do it even sooner?
Margaret Roberts:
That's a great question and I'm so glad you brought it up. I would say as soon as they are motivated and ready, start exploring and pursuing those opportunities, depending on an industry's norms might dictate when those internships are available. So, because I work in a business school, the accounting field is one that I know very well. Large accounting firms are starting to bring students in as interns much earlier in the process than five or ten years ago.
There are even internships available for students after the freshman year in that particular industry segment. There are also other companies out there that are starting to recruit interns earlier. So, I work with a Fortune100 insurance carrier who would be delighted to bring students in as interns after their sophomore year, and then invite them back for a second internship the summer between the junior and senior year.
It very much depends on the organizations but really there's not a too soon to do internships and I would say the only too late is if you've already graduated, it's kind of difficult to find internships because most of the employers view that experience as a recruiting tool for future talent, so it's hard to find internships when you've already graduated.
Mac Prichard:
Is there an ideal number of internships that you would recommend for a college student? A generation ago it was…most students might have one. Now, it's not uncommon for some students to have 2 or even 3 internships, is it?
Margaret Roberts:
That's correct and I would say that multiple experiences are what allow a student to test drive different aspects of the path that they might be interested in. Understanding, "Which of these paths is the best choice for me?" And I think another outcome that we don't talk about enough as it relates to internships is having that experience tell us that, "That's not where I want to be." And so, yes, an internship can be a direct pathway into a full-time offer, but it can also help us realize that that's not the direction that we want to go. And so either of those outcomes is useful, and so, again, 2, 3, I've had students do even more than that and find lots of different ways to gain valuable experience through that mechanism of the internship.
Mac Prichard:
How important is it, when you're considering an internship, to get paid? Is a non-paid internship just as valuable as one that might offer a stipend?
Margaret Roberts:
That's another great question which, there is varying views. I would say, if an opportunity for a paid internship exists, that would be the best situation. A stipend or getting credit for an internship next best, and a non-paid internship that doesn't have any incentive other than, again, allowing a student to test drive a career path or an industry and doesn't take away from other opportunities that they may have or need to earn a wage is worth considering if it's the only way to get access to those opportunities.
Mac Prichard:
Again, those opportunities, you touched on this a moment ago, how an internship can lead to a job offer; why is that so, Margaret? Why do people who have internships with companies get more offers than those who might be applying from the outside?
Margaret Roberts:
When a student has interned, it demonstrates a commitment to a career path. It demonstrates initiative. It gives them a little bit of a leg up, even if it's only a 2 or 3-month part-time exposure, that someone who has not had any exposure to that industry and looking at those 2 candidates side by side, the student with the internship just has a little bit more experience than someone who doesn't.
Mac Prichard:
How can parents help a student get an internship? What role should they play, if any?
Margaret Roberts:
Well, I think there's an opportunity for parents to look at their own professional network of relationships if they are in a professional career path themselves, and offer to open up their Rolodex, so to speak, using old school terminology, but open up those relationships to the student to potentially explore different avenues. Offering to set up an informational conversation with someone, or make an introduction to another individual that they might know professionally who could help that student understand the opportunities that might exist and maybe even lead to internship offers.
Mac Prichard:
I'm thinking of parents who might be listening to this show and wondering, "Well, what are the things my students, my children should be doing during their 4 years in college to position themselves for a successful job search after graduation?"
At the start of our interview, you mentioned that it's important for the students to come by the career center services office and perhaps even consider an internship in their freshman year.
Looking at each of those four years: freshmen, sophomore, junior, and senior, are there one or two key steps that you'd recommend every student take that a parent should keep in mind during each of those years, that will reassure them that the student is doing the right thing and moving along in a way that is going to keep them on track for a successful job search?
Margaret Roberts:
Sure, I would say in that freshman year, it's getting acquainted with the career center and the opportunities that it will afford them in terms of access to information, employers, events, etc.
It's also thinking about, "Well, if I haven't, prior to college, had much work experience, what about a campus job to give me that initial exposure to working, and put something on my resume that could help me land an internship in my second or third year."
It's getting involved in student organizations and exploring leadership positions in that organization because, let's be honest, employers are looking to hire future leaders. That's why they're recruiting from the college environment, so demonstrating, again, that initiative and building on those skills, and then it's the internship, and finally pursuing that entry-level career.
Mac Prichard:
Great, well, you mentioned earlier that parents could help with informational interviews. How do you see parents do that successfully?
Margaret Roberts:
I think it comes back to being willing to open up those relationships and asking their student, "What kinds of professionals might you be interested in getting acquainted with and learning from?"
And then making that introduction, and stepping back and let the student take it from there. Creating the opportunity but not trying to drive the bus.
Mac Prichard:
Okay, well, it's been a terrific conversation, Margaret.
Now, tell us, what's next for you?
Margaret Roberts:
Well, as you mentioned at the outset, in addition to my role at the School of Business, the Eberhart School, I also am a freelance executive resume writer. But I'm also pursuing a doctoral degree right now, so I'm putting my freelance work a little bit to the side while I continue to pursue a doctorate in education, and will, if all goes well, finish that in the 2021 time frame, and at that point I will more clearly define what is truly next for me with that terminal degree.
Mac Prichard:
Terrific, well, I know people can learn more about you and your work at the university by visiting your LinkedIn page.
Now, Margaret, you've had some great insights for us today, what's the one thing you want a listener to remember about how parents can help (or hurt) a new grad's job search?
Margaret Roberts:
Well, I think I'll focus on help, and that is just to encourage a student or new grad to really explore, be curious, and define what's the right path for them, and then do what we need to do to help them be successful in that.
Mac Prichard:
Avoiding simple resume mistakes is a skill everybody needs to learn, not just new college graduates.
Our new guide, Don't Make These 8 Killer Resume Mistakes, can help. It shows you the most common errors applicants make and how to fix them.
Get your free copy today. Go to macslist.org/resumemistakes.
On our next episode, our guest will be Elizabeth Gross. She's the owner of Job Search Divas.
Elizabeth and I will talk about how to stop underselling yourself in your job search.
Elizabeth has great tips about how to toot your own horn in your resume and job interviews. As well as how to talk about yourself when you negotiate salary and benefits.
I hope you'll join us.
Until then, thanks for letting us help you find your dream job.