How to Talk About Your COVID Career Gaps, with Esther Leonard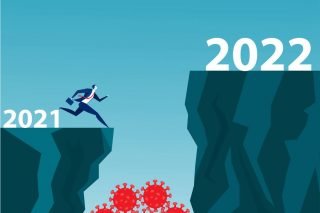 Gaps on a resume are no longer the red flag they used to be; the COVID pandemic has made gaps more common. But how do you talk about your gaps? Find Your Dream Job guest Esther Leonard says you have to be honest. Share (as much as you feel comfortable) about why you have the gap, but also any skills you built during your absence from the workforce. Esther advises continuing to network and build your confidence that you are the right person for the role you want. 
About Our Guest:
Esther Leonard is a career coach and talent recruitment professional. Esther also hosts Beyond Her Grind. It's a weekly podcast that gets into the root of what motivates women of color to want more in their careers.
Resources in This Episode:
Transcript
Find Your Dream Job, Episode 347:
How to Talk About Your COVID Career Gaps, ESther Leonard
Airdate: May 11, 2022
Mac Prichard:
This is Find Your Dream Job, the podcast that helps you get hired, have the career you want, and make a difference in life. 
I'm your host, Mac Prichard. I'm also the founder of Mac's List. It's a job board in the Pacific Northwest that helps you find a fulfilling career.
Every Wednesday, I talk to a different expert about the tools you need to get the work you want.
Find Your Dream Job is brought to you by TopResume. Top Resume has helped more than 400,000 professionals land more interviews and get hired faster. 
Get a free review of your resume today. 
Go to macslist.org/topresume. 
Because of the COVID-19 pandemic, you may be among the record number of people who have changed jobs. 
And before you made your switch, there may have been a period when you didn't work. 
Esther Leonard is here to discuss how to talk about your COVID-19 career gaps.
She's a career coach and a talent recruitment professional.  
Esther also hosts Beyond Her Grind. It's a weekly podcast that gets into the root of what motivates women of color to want more in their careers.
She joins us from Boston, Massachusetts.
Well, let's get started, Esther. How common has it been, during the pandemic, for people to experience a break in employment? 
Esther Leonard:
Oh, it's been very common. This is a common question I get asked, and people come in – clients, students, and they've either lost a job during the pandemic, or they've taken time off to take care of a sick family member, and it's quite common. In fact, employers know that it is common. 
So, candidate seekers shouldn't worry that they're alone because almost everyone has had some form of gap. 
Mac Prichard:
Well, let's talk about that gap. Are employers concerned about this? Because traditionally, career gaps have been red flags for some hiring managers. Has that changed because of the COVID-19 pandemic, Esther? 
Esther Leonard:
Yes, it's definitely changed because of the COVID-19 pandemic. More and more employers are, in a sense, becoming more empathetic towards those gaps because we went through a huge event in our lives, and they've been impacted as well. So seeing a gap on the resume isn't surprising. 
You're right. Traditionally, employers saw that as a red flag, but now it's a two-year, two years during this pandemic. People have been laid off for several months, and I think, now, it's shifted the culture into this understanding that people do take time for breaks. Not only because of COVID-19 but because of other issues. 
Mac Prichard:
So are you finding in your conversations with employers and candidates that it doesn't make a difference to hiring managers if you left your job voluntarily or because of a shutdown? They don't see a difference between the two sets of circumstances? 
Esther Leonard:
Yeah, I think traditionally, what people were worried about is if they were, like, fired for some type of something that they did on the job versus being laid off. I think being laid off is definitely understandable. 
But now, and we're seeing this more and more. I've seen this in my practice. I've seen this with alumni at BU as well, where people are taking career breaks, and I think the key thing, and we can definitely talk more about this, is being open with some of that and being transparent to a certain degree of the reason. You don't have to go into so much detail, but sharing that with employers. 
But employers are seeing this. This is super common, and we are in this great resignation phase, and so, you know, employers are looking for people, and they're seeing that people have taken some time off, and the pandemic has allowed them to, in some cases, because of a layoff. So definitely, I've seen it in my practice, and I've also definitely seen it shift with employers' perspectives. 
Mac Prichard:
Okay, well, let's talk about how to talk about these career breaks, and I know one of the steps you recommend with your clients is to own what you did. What do you mean by that, Esther? And why is it important? 
Esther Leonard:
Yeah, I think what's super common is people are so worried about the career gap, and mainly because of what you've mentioned. Traditionally, it's been looked at as a red flag on your resume, like something is wrong with the candidate because they missed a few months. And so this impacts the candidate's psyche, their confidence, and it can impact them in that job search process. 
So, many times I tell people, you know, think about this gap. What did you do during this time? That's super important, and one of the ways you can do that is really kind of start thinking about your accomplishments, and you can start off with accomplishments that you've had in your previous positions; just a reminder, just to boost yourself, boost your confidence. A reminder of all the awesome work you've done. 
But think about during this gap, did you take classes? Did you freelance? Did you do any form of consulting? Really think about what you did during that time, and this excitement and pride will translate as you start applying for jobs, and also as you start writing your resume as well, and maybe even networking and reaching out to employers. So, really owning what you did is super important, and that will shine through in your demeanor, in how you present yourself, and in your application documents. 
Mac Prichard:
I like your point about how reviewing your accomplishments can boost your confidence. As you make those lists, Esther, what are some recommendations you make to your clients about how to apply that knowledge? You touched on this I think when looking at it when updating your resume. But what are other steps listeners can take after they put those lists together and to use that information in their applications and interviews? 
Esther Leonard:
Yeah, there are a few steps they can take. So one, of course, is that resume piece. Right? So, you can shift your resume from a chronological resume to a functional resume. So, the chronological resume is basically – a reverse chronological is basically showing the work that you've done from your most recent position to some of your older positions.
But a functional resume focuses on the functions, skillsets that you have, or some of those transferable skills that you may be wanting to use in whatever jobs that you're applying for. So, for example, your resume, after you have your name and maybe a summary, you can simply put, you know if you're interested in recruitment. You can put all your recruitment experience, and you don't necessarily have to do it by date. So, that way, that can avoid any gaps on your resume. 
Another thing that some people recommend on your resume is to put the dates and not necessarily put the months, you know, sometimes if you have like short stints and you actually have a gap, that's an option some people do, and actually, you know, one of the things that I've seen as well, is if you've taken a class or if you volunteered during that time. Right? You can just put that on your resume. Even if it's just reverse chronological, you volunteered for six months, or a year, and put that on your resume. 
So, these are a few tweaks you can make to your resume to, sort of, you know, remove those gaps there. So, yeah. I think those are some key things that could be helpful, and again, that's why it's so important for you to really think about your accomplishments, really self-reflect on all the awesome work you've done, and that way, you can write that down and translate that to your resume. 
Mac Prichard:
You touched on this a moment ago, but I just want to explore this more. You said employers are more understanding about gaps because of the COVID-19 pandemic. What's your best advice, Esther, about talking about the gaps? Is there a danger if you don't acknowledge the gap or explain what you do, that an employer might make up an explanation on their own? 
Esther Leonard:
Yeah, so in some cases if, you know, you can't avoid the gap, I think it's important to share, depending on what stage of the interview you're at. I think it's important to share with your employer, whether this is via cover letter, via the interview process, if you make it to that stage, or in some cases, I was actually reading an article about some employers are open to your saying that you took a year off, and if you feel comfortable sharing you took a year off to take care of your family, and run the family's business. So, in some cases, that's something that, if you feel comfortable doing it, and you feel like your applying to companies that have a culture that's open to that, then that's something that you can do. 
But transparency is key. A while ago, there was a stat early on during the pandemic which mentioned that employers were sixty percent more likely to look at your resume if you explained your gap. So, that is, I think, shows that employers do appreciate, right, when you share a little bit about them. Now, again, sometimes these are very personal, you don't have to share all that information if you don't want to, but if you can share some context, then that might be helpful. 
Mac Prichard:
Well, terrific. Well, Esther, we're gonna take a quick break, and when we come back, Esther Leonard will continue to share her advice on how to talk about your COVID-19 career gaps. Stay with us. 
Do you keep putting off working on your resume?
Here's an easy way to get started.
Go to macslist.org/topresume.
TopResume will review your resume for free. 
Go to macslist.org/topresume.
In just two business days, you'll get feedback you can use to make your resume better right away. 
Or you can hire TopResume to do it for you. 
Go to maclist.org/topresume. 
Now, let's get back to the show.
We're back in the Mac's List studio. I'm talking with Esther Leonard. 
She's a career coach and a talent recruitment professional.  
Esther also hosts Beyond Her Grind. It's a weekly podcast that gets into the root of what motivates women of color to want more in their careers.
She joins us from Boston, Massachusetts.
Esther, before the break, we were talking about talking to employers about COVID-19 career gaps, and you were making some points about sharing information about what you were doing during the gaps. 
Do you have examples of, you know, how much you should say? Or is it just simply enough to give a short explanation and then pivot onto another topic? What do you see work when candidates are talking to employers about their COVID-19 career gaps? 
Esther Leonard:
Yeah, great question. I think, again, it really depends on the format of it. Right? In an interview, talking about your gap, you can really elaborate if you want and you feel comfortable with doing that. I think it depends on the situation. I actually just met with a client and they had mentioned something similar to this. Right? They felt comfortable sharing because someone had shared with them. So, if you feel comfortable sharing, go ahead and do that. 
Now, on a resume, what you could do is, for example, maybe you took some time during the gap to start a YouTube channel. So you can write that on your resume, and I would focus on something like that, focus on your transferable experience on that resume or on the cover letter. 
What did you learn during this time? Are you applying for marketing roles and you had to learn how to market this Youtube channel? Even if you're volunteering, there's a lot of transferable experience, even if you have children and you got more involved, you know, with virtual events that were happening, talk about that, and talk about that transferable experience in relation to whatever job that you're applying for. 
I think, also, in your cover letter, that's a great place where you can elaborate to a certain degree, but again, your resume, your cover letter, the purpose of it really isn't to explain your gaps, and I think people are stressed out about gaps so far. When you really need to think about, can you do the job? Like the employer wants to know, can you do the job? And so, the focus of your resume, the focus of your cover letter really needs to focus on that, and then a short explanation about that. 
So, basic answer is depends on the context. Right? Of the situation, or, you know, don't dwell. I don't think it's necessary for you to dwell too much because you need to dwell on your accomplishments, your skill sets, your strengths, what you can bring to the table. 
Mac Prichard:
I'm glad you brought that up because I think sometimes applicants do dwell on those gaps. Why, in your experience, Esther, do you find talking about your accomplishments, your experiences, and your skills, instead of explaining, focusing on a gap is more persuasive to an employer? Why does that make a difference with a hiring manager? 
Esther Leonard:
Yeah, because as an employer, the employer simply wants to know, can you do the job? So, I know sometimes the question comes up, oh why's the gap? And some of the reason I think for the worry about gaps is because I think candidates, and traditionally employers, are probably looking at gaps as, okay, are they gonna stay at this role long term? You know, that information, but really, an employer is looking at their job description, looking at the needs of their department, and looking for someone who can fill those needs. And so, an employer focusing on that makes sense, honestly. 
So, you just need to focus on what can you bring to the table? Whatever happened throughout your gap you can share, but also, instead of dwelling on the gap, you've had other experiences at other institutions, other companies, your volunteer, whatever it may be, that you can contribute to this new opportunity, and that's really what the employer cares about, and confidence. Right? 
Mac Prichard:
Talk more about confidence. You touched on that in the first segment, and the benefits of putting together an accomplishment list, and how that increases your confidence. It might seem like an obvious question, but why does increased confidence, particularly when you're coming through a period of employment gaps, help you as a candidate, and make you more appealing to an employer? 
Esther Leonard:
Yeah, confidence really helps you convey a sense of ownership of what you've done, convey to an employer that you can do the work. Also, confidence can show resiliency. Right? You had this gap, you've done this during this time, or this break, or whatever it may be. 
It conveys that you know your worth. Right? And that's super powerful in an employer's eyes. Right? Because that increases your chances of making it to other steps in the interview process, and or, you know, negotiating a higher salary. Right? 
So, confidence is super important because lack of that, particularly as we're talking about COVID-19 gaps, and that lack of confidence basically is stress over, oh no, I have a few months, or a year, and that translates into nervousness, that can translate into not really focusing on what you can contribute or just talking about what you lack verus what you have.  
Mac Prichard:
What other tips do you have for talking about COVID-19 career gaps? You mentioned putting together accomplishment lists, providing explanations to employers about the gaps, looking at a functional resume. What are other suggestions that you have your clients consider? 
Esther Leonard:
Yeah, another thing I usually share, or a piece of advice that I share is to network. Particularly if there's this gap and you need to pivot into a new industry or re-pivot back into your old industry. 
So, networking is super key. Eighty percent of jobs come through networking, and so there's a power in that as you're starting to build relationships with perspective employers, and so some of those conversations about your gap can come up. Right? In advance to you even applying for the role. 
So, networking is super important, and you can do that, of course, online via LinkedIn, or via other social media tools, or now, as we're transitioning back in person, doing stuff in person at networking events. 
So, I think that's another thing that's super important that people actually overlook, the power of networking, and sharing your story in that way, in preparation to applying for roles. 
Mac Prichard:
When you are networking with people during a job search, how transparent should you be about your COVID-19 career gaps, the time you might have been out of work? Is that something that you only address if it comes up, or should you provide a brief explanation upfront? 
Esther Leonard:
Yeah, in the networking piece, you know, networking can be very informal, so I think, really, it's up to you, and it's based on the situation. Feel free, I think, networking is a great opportunity to just share like, hey, I am ready to jump back in. I've had this gap, and during this gap, I've done x, y, z, and I'm ready to apply these new skill sets along with all of my other experience to this new position. I'd love to hear your advice. 
So the networking piece, to me, should, even though people get nervous about networking, it should actually be less nerve-racking because you're kinda in the driver's seat. Right? You're reaching out to people that you're interested in, you're reaching out to companies, learning about the culture, learning to see if they're open to your type of background. So, I think that you know, sharing that upfront I think is definitely a great strategy as you're networking. 
But again, depends on the context, it depends on how the conversation's flowing. In some cases, they may just ask, and you'll have to be ready to respond. 
Mac Prichard:
Finally, Esther, in your work with your clients, are they surprised to learn that employers are more understanding about career gaps after the COVID-19 pandemic? Is that news to many of the applicants that you work with?
Esther Leonard:
Yeah, it's definitely, I think, I don't know if the word would be surprised, but I feel, like, relieved, and just a reminder that, first of all, typically what I tell clients is, you're not alone. Right? There are so many people in your situation and employers have hired them. And so, just that reassurance that there's a common humanity in that experience, I think is super helpful for candidates in building their hope and motivation for their next move. So yeah, I would say they feel a little bit more relieved, and we're able to move forward and sort of talk about some action steps that they can take to address those gaps. 
Mac Prichard:
Well, it's been a terrific conversation, Esther. Now, tell us, what's next for you? 
Esther Leonard:
Yeah, so I started a new role at a start-up. So I'm a sourcer. I'm on the talent side, recruitment side, which is super exciting. So, I am settling into that role, so that's mainly my focus. I am also still coaching, providing career coaching for women of color, and so I do take clients. Super excited about continuing that. And then I would say, I'm hoping, I'm working on my Beyond Her Grind podcast, crossed fingers, I can have something out by the summer. I'm just settling into this new role.  
Mac Prichard:
Well, congratulations on your new role, and I look forward to new episodes of your show. It's a terrific podcast. I hope listeners will check it out. I know listeners can learn more about you by visiting your website, estherthecareercoach.com, and that you also invite people to connect with you on LinkedIn, and if they do so, I hope they'll mention that they heard you on the show. 
Now, Esther, given all the great advice you've shared today, what's the one thing you want a listener to remember about how to talk about your COVID-19 career gaps? 
Esther Leonard:
I think the number one thing I would want a listener to know is that their experience, their skill sets are valid, and they are enough for your next roles. So those accomplishments, those key skills that they have, like, those are really important, and that they should dwell on that, and not their gap. 
Mac Prichard:
Make sure you never miss an episode of Find Your Dream Job. 
Subscribe to our free podcast newsletter. 
You'll get information about our guests and transcripts of every show. 
Go to macslist.org/newsletters.
Again, that's macslist.org/newsletters
Next week, our guest will be Brenda Abdilla. . 
She's an executive and career coach. Brenda is also the author of Outsmarting Crazytown: A Business Novel About How Derailed Professionals Can Get Back on Track. 
You've sent in a job application. 
Or even had an interview. 
And there's no response at all. 
Join us next Wednesday when Brenda Abdilla and I talk about why you're not hearing back from employers and what you can do about it. 
Until next time, thanks for letting us help you find your dream job.
This show is produced by Mac's List. 
Susan Thornton-Hough schedules our guests and writes our newsletter. Lisa Kislingbury Anderson manages our social media.
Our sound engineer is Matt Fiorillo. Ryan Morrison at Podfly Productions edits the show. Dawn Mole creates our transcripts. And our music is by Freddy Trujillo.
This is Mac Prichard. See you next week.