What to Do When You Think You Bombed an Interview, with Pharoah Bolding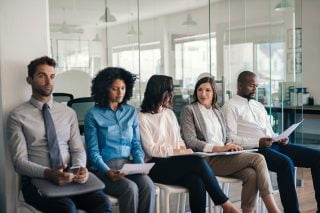 When you bomb a job interview, it feels terrible. Don't get discouraged, it's possible that it wasn't entirely your fault. Maybe you expected to speak one-on-one with the hiring manager and you walked into a panel of people asking you questions. Perhaps you were prepared to answer behavioral questions, but instead you received off-the-wall questions you did not anticipate. Find Your Dream Job guest Pharoah Bolding says it's perfectly fine for you to ask the hiring manager ahead of time what your interview format will be so that you can go into the conversation prepared. Pharoah also shares how to overcome pre-interview anxiety to ensure that you show your best self to the interviewer.
About Our Guest:
Pharoah Bolding is the human resources coordinator at Reed College. He's worked with everyone from the Portland Trail Blazers to nonprofit and technology employers. Pharoah's work focuses on equity, diversity, and inclusion, mitigating bias, building inclusive work cultures, ethical recruiting, and facilitating professional and personal development trainings and discussions across the city of Portland.
Resources in This Episode:
Transcript
Find Your Dream Job, Episode 207:
What to Do When You Think You Bombed an Interview, with Pharoah Bolding
Airdate: September 4, 2019
Mac Prichard:
This is Find Your Dream Job, the podcast that helps you get hired, have the career you want, and make a difference in life.
I'm Mac Prichard. I'm also the founder of Mac's List. It's a job board in the Pacific Northwest that helps people find fulfilling careers.
Every week, I interview a career expert about the tools you need to find the work you want.
Here's what we're going to talk about today: Have you ever left a job interview feeling you bombed it?
But maybe the problem was the employer, not you.
Joining me today to explain why this might be so and what you can do about it is Pharoah Bolding.
Pharoah is the human resources coordinator at Reed College.
He's worked with everyone from the Portland Trail Blazers to nonprofit and technology employers.
He joins us today in Mac's List studio in Portland, Oregon.
You've got a provocative perspective here, Pharoah. You say sometimes when people feel they've bombed an interview, the problem might be the employer.
Tell us more about that.
Pharoah Bolding:
Well, yeah, basically when you really think about some of the worst interviews you've ever had, yourself personally or even some of the worst interviews you've ever witnessed as an interviewer, as a part of an interview panel, if you really think about it, there are often things that are happening within an organization that can create a negative environment and can really just get you off on the wrong foot when you're trying to open up that recruitment and you're trying to bring people in for interviews. Just some little minor things that if you had the cognizance to catch them in real-time, could probably change the experience, not only for the organization but for the person who's coming in for the interview who's applying for your job.
Mac Prichard:
Okay, so give us some examples.
Pharoah Bolding:
One of the main examples I always catch, even when I'm looking at other people's job postings, are the warning signs of the way the job posting is worded. Like when you read a job posting and you see fit all over the place, the word "fit," did you see a little bit of a red flag?
Mac Prichard:
Now, why is that a red flag, Pharoah?
Pharoah Bolding:
It's a red flag because it represents that they already have some bias at play. They're already looking for a particular thing. If you see "fit" a lot, it means that they're going to be looking at your resume, your cover letter, everything you send them for very, very particular things that are feeding into either confirmation bias, somewhat of an implicit bias on, "Like me or like the previous person that was in this role."
When you see the word "professional," too, for example, because professional is, sure there's a broad, general definition for the word professional but professional varies by person. It's in the eye of the beholder. So, when you see a word like professional, it's what they're deeming as professional and you may not necessarily "fit" what they're saying when they're talking about they're looking for someone who's professional.
Mac Prichard:
Fit, professional, what are some other red flags?
Pharoah Bolding:
"Other duties as needed" is a huge red flag to me.
Mac Prichard:
Oh boy…
Pharoah Bolding:
Yeah.
Mac Prichard:
Now, I'm curious, tell me why that's a red flag for you.
Pharoah Bolding:
Well, because usually, for the vast majority of jobs, regardless of the sector, regardless of the job itself. More often than not, they can probably tell you what you're going to be doing in a job posting. You should be able to read a job posting and have a pretty good, general idea of what they're expecting of the person who will be in this job.
Mac Prichard:
Oh, so it signals uncertainty on the part of the employer about what they really want.
Pharoah Bolding:
Exactly. Uncertainty but also, you're probably going to do 18 other things too, that we're just not going to talk about and when you get here we're just going to throw 18 things on you. It's never a good thing going to a job thinking you're about to do these 4 tasks that the job posting talks about and then that, "Other duties as needed," is literally another job because sometimes it is legitimately like you're working 2 jobs.
They're hiring for one but it's coded to be two.
Mac Prichard:
These are phrases that I see regularly in job postings or hear in what people tell me they experience in job interviews, words like "cultural fit" or, "We're looking for a good organizational fit." They're pretty common, aren't they, Pharoah?
Pharoah Bolding:
They're very common and it's not necessarily a bad thing unto itself. Of course, you want to find people who can be a part of your organizational culture and thrive but often it's worded in a way and it's surrounded by context that lets you know that they're looking for a very particular kind of person and that anybody, even if the person isn't particularly qualified for the position, if they fit that bias, they're more than likely going to get that job over you.
Mac Prichard:
What do you do as an applicant when you see a job posting that has those phrases?
Pharoah Bolding:
Read it for context. Read it first on the cursory version of it, like, give it a cursory glance. Look it over, read it, see if it's vibing for you, see if it's a job that you want to apply to. Then, really read it, like, look at it. Look at the functions of the position, look at the experience they're looking for, like, really kind of read it for a minute because you're about to take some time to put in some real work in putting together your resume, your cover letter, any supplements that you need to throw in there to send to this employer and you want to kind of be sure that this is the right thing that you want to do.
Mac Prichard:
What can help someone make that decision because they're looking at a posting and they can do online research as well and perhaps talk to folks. What kind of information do you think might persuade someone to, in spite of those red flags, to go ahead and submit an application?
Pharoah Bolding:
If it's that dream job. If when you read it and then you read it again it still sounds like that dream job that you want to apply to, the kind of work you want to be doing, the kind of things you're looking to be immersed in. With that said it comes down to the research you were just talking about. Look up the organization; if the organization has a shaky reputation, it's something to keep in mind.
Mac Prichard:
Tell us about that, when you say a shaky reputation, tell us more about what you're thinking.
Pharoah Bolding:
If you Google an organization and there are a whole lot of reputable news articles out there about some really rough things that have happened in the last year in an organization, that might make you think for a second, like, "Do I want to dive into that?"
Looking at things like Glassdoor and other sites like that that offer information, that offer kind of reviews from people who've worked for those organizations. Now, mind you, you don't want to go for a super, super negative review because there's probably some bias from the person, even if there was a negative experience, you want to not use that as the litmus test but look at those ones that are like 3 out of 5 stars because that's usually where the trouble is.
Mac Prichard:
How do you read a review like that? What should you look for between the lines?
Pharoah Bolding:
I would say, if you're looking at an organization, and they have, say, 10 to 15 reviews, you want to look for some commonality. Look for those things that everyone is touching on in their reviews, even if they didn't give the place the worst review in the world. That person who gave them a 4.5, one of their cons can still be one of the same cons that the person who gave them a 1 or a 3 would have and if that con is a red flag for you, if it's something that you don't want to find yourself getting involved in or even something that you've had in your current or previous employers that you know is a no-go for you, it's kind of a symbol that maybe you shouldn't…maybe you want to think about considering maybe not rolling your dice on the position.
Mac Prichard:
Yeah, and when you say con, do you mean a negative point about the employer?
Pharoah Bolding:
Yeah, I mean a negative point, like, there's often…these sites will ask a person to, when they're doing a review, their pros, what they loved about working there and then their cons, what they disliked about working there and they kind of break the review up so that you can get a glance at the review. But also read the review because often, if people are…there's always going to be some bias involved in anything that we put out there. Our negative experience might not be the same as someone else's negative experience but making sure that when you're looking at those things that it feels real and human to you, like reading something and being like, "That really was a bad experience for that person." Instead of, "This is the worst place I've ever worked." Yada, yada.
Real things, like, "I was working here and it was great but then the workload starting getting really large and I wasn't able to take time off." Those things are real, legitimate red flags to find in someone's review.
Mac Prichard:
You look at the posting, perhaps it is your dream job and in spite of some warning signs you move ahead, and the reviews are okay or better than average. You go into an interview room, what kind of signals should you look for there?
Pharoah Bolding:
If you're brought in for an interview and you kind of don't know what the format and structure of the interview is but they're asking you to come in for an interview, that's usually a red flag. I, myself, have gone to interviews where I'm expecting to have a one-on-one interview with someone and I walk into a firing squad where it's a room of like, 6 people and it's a panel and they have their 8 questions that they're going to ask you and there's no human interaction involved at all. It's like, "We have 8 questions to ask you. We've got 45 minutes, we just need to get through this."
Mac Prichard:
Why do employers do that, Pharoah?
Pharoah Bolding:
Often, it's because they didn't really know what the interview was going to be; they miscommunicated with each other. Like, it sometimes comes down to the hiring committee for that position not exactly being on the same page or some people thinking it's going to be this and then others thinking it was going to be that. It's also, whoever's handling the communication, whoever's reaching out to candidates to ask them to come in for an interview. If they're just asking you to come in to interview but they're not giving you kind of an idea on the structure, what you're in for, any supplemental items that they might want you to bring, it's usually not a good sign that they're organizational organization. For lack of a better term.
Mac Prichard:
So, it could be an indication of mismanagement or a lack of clarity of roles among the people who are involved. Could it also be an experience, people just don't know any better?
Pharoah Bolding:
Oh most definitely. I've seen it very often that it's that they don't know better. It's usually like, "Well, this is the way we've always conducted interviews." Or "What's wrong with sitting you in front of 6 people and have them fire questions at you for the next 40 minutes?" They don't see the issue with it because often when organizations are doing this sort of thing and doing interviews, unless there's been some shakeups with the interview process and organization, it's usually the same old way they've always been doing it and if one HR person or if one person who works for the organization set up the litmus test and thought this would work, as far as the way interviews should be structured, then that's the way they're going to do it and they may not necessarily factor in human empathy and applicant empathy and making sure that an interview is structured in a way where an applicant feels like they can see themselves in your organization.
Mac Prichard:
Who succeeds in a process like that?
Pharoah Bolding:
People who can come up with canned responses very well because that's the other thing I guess I should mention is that if you go into an interview and the questions are very generic, very nonbehavioral, the kind of questions that are like, "What are your strengths and weaknesses?" Instead of really saying, "Okay, in this position you'll be doing blah, blah, blah. Tell us about a time where you've done blah, blah, blah and what did you learn from that?" That's more behavioral, that gets a better window into what you would bring into a role but just asking you what your strengths and weaknesses are, we all can come up with our easy task list of strengths and weaknesses to bring out in any situation.
Also, if they ask very personal questions. They want to know how many kids you have, like, "I just met you, so I don't know if we should be exchanging that information."
Mac Prichard:
Is that legal?
Pharoah Bolding:
It's technically not legal either because it feeds, once again, into a bias. If someone's asking you about your family life and things of that nature, it's really not appropriate for an interview and that means that they're using that information to possibly decide on what kind of candidate they want to bring forward which, once again, feeds into another bias. Like, if they don't want to hire someone who is a working parent, then they can use that as a bias against you. "Oh, you have kids? Okay, well, how many hours can you work then if you have kids? You'll have to take evenings off."
When the questions start verging into those realms you've really found yourself in a situation where bias has definitely come into play in a way that they've even put together the interview questions.
Mac Prichard:
Okay, I want to pause here. When we return, I want to talk more about this interview room and who succeeds and who fails and why it might be a good thing if you don't get the job. But I also want to talk about those instances where, and we've all been there, including me, where we personally bombed an interview and what we can do about it.
We'll be right back.
Nobody wants to screw up a job interview.
But here's one reason why it happens: You get surprised by an unexpected question. As you struggle to answer, you risk losing your confidence and the job itself.
But what if you knew that question before you met the hiring manager?
Then you could prepare and practice your answer, couldn't you?
And you'd show the kind of confidence that can help you land the job.
We have a guide at Mac's List that can help. It's called 100 Behavioral Interview Questions You Need to Know.
And it's free. Go to macslist.org/questions.
No, you can't predict every question an employer might ask. But you can be certain that you will get what are called behavioral interview questions.
These are designed to draw out your past experience in solving problems.
Here's a common example: "Tell me about a time when you disagreed with your boss and what did you do?"
Can you answer that question today? We can show you how.
Go to macslist.org/questions. It's free.
You'll not only get a list of the top behavioral interview questions.
You'll also learn a simple four-step process for answering these kinds of questions.
Don't bomb your next interview. Get your copy of 100 Behavioral Interview Questions You Need to Know.

Go to macslist.org/questions.
Now, let's get back to the show.
Welcome back to the Mac's List studio. I'm talking with Pharoah Bolding. He's a human resources coordinator at Reed College.
Now, Pharoah, before the break we were talking about bombing in an interview and the first case where it might be the…it's not us, it's the employer, and as you were describing what increasingly sounded to me, like a nightmare hiring process and who would succeed in that, who fails in that process? Who doesn't get a job offer, Pharoah?
Pharoah Bolding:
Introverted people do not thrive in those kinds of interviews. Behavioral questions work better for people who are somewhat introverted because introverted people, myself being an introvert, we're able to put together a story. We're able to talk about a moment because our brain works a little better at coming up with moments but we're not the canned response people. So, introverts tend not to be able to excel at those kinds of interviews.
People who face anxiety when they're in spaces where they feel like they're on the spot, and that's introverts or extroverts, they tend not to excel in those kinds of interviews because you're basically feeling like you're on the spot for the next 40 – 45 minutes, which isn't a great feeling so you're not bringing yourself. Your heart's fluttering, your anxiety's up, your pulse is quickening, and you're trying to search in your head for answers to questions and you're starting to second-guess yourself. That anxiety response.
People who have that anxiety when they're thrust into a situation they weren't expecting do not thrive in those interviews.
Mac Prichard:
That doesn't mean that they couldn't do a great job in the position. They just have different ways of getting energy and they manage stress in different ways, doesn't it?
Pharoah Bolding:
Exactly, those kinds of interviews are no indication of what a person can bring to the role and how they can excel in a role. Often, when you find yourself in one of those situations, and it lacks the applicant empathy, where people feel like they can give their best foot forward, they kick themselves because they feel like they failed but in many respects they set up a function and a system where, when you're going into it, you're not going to be able to excel and give your best self in the interview.
I found that behavioral interviewing that comes off as conversational and gives a person a moment to answer a question, and doesn't make it feel like it's a firing squad where we just need to get through these 8 questions, everyone seems to pretty much do well in those. Even people who like to try to rely on feeling like they have that response that they always have for these things, they tend to be a little more introspective and come out and answer questions in a little bit more of a real way, as well.
Making it a little bit more casual and controlled, yet behavioral, and keeping it on the position while also making sure that you're having a human connection…everyone can thrive in those kinds of interviews.
Mac Prichard:
Why don't employers create hiring processes, with postings and communications and interviews, that let applicants show their best self?
Pharoah Bolding:
Often it has nothing to do when the human part. It has to do with, "We need to fill this position." If you've had a position open for 60, 90 days, and it's a vital position in your organization, you just want to fill it. You're not trying to "impress," you're hoping that the organization that you run and what you offer and your name and your reputation is the thing that's going to have people want to work for you and you're just trying to fill the position. So, you're not really thinking about the impact it has on applicants when they're going through the process with you.
You're probably not looking at the way the process is flowing to make sure that people have communication. And once again, we're back to communication, and if you're coming into an interview, that means there was no communication when it's an interview that you had no idea that you were coming into with the way it's structured and the way it's set up and the kind of room you're going into. Often it has nothing to do with the human part; it has more to do with the, "We need to fill this position."
Mac Prichard:
You work in Human Resources, you have for a long time, I'm thinking about candidates who want to know what the interview format is going to be like, who's going to be in the room, and want that communication that will tell them what process to expect. What do you recommend people do in order to draw out that information? Is it appropriate to call the hiring manager and say, "I'm looking forward to my interview. Tell me, what's going to happen in that room and who's going to be there?"
Pharoah Bolding:
Oh yeah, for sure, if they contact you via email, respond back and ask, "Okay, do you need me to bring anything? What kind of format is our interview? Who's going to be a part of that interview?" It's perfectly fine to ask that. You're interviewing them as much as they're interviewing you and that's the kind of information that allows you to, A) Figure out what kind of a situation you're about to walk into if they don't want to give you information, or clear information on how they're setting things up but it also gives you the opportunity to come up with your own questions and start putting together your own questions. If they call you, ask them, "Great, I'd love to come in for an interview, let me know the times, dates. What kind of structure are we looking at? Is it a panel interview?"
You're fully within your rights as a person who's interested in getting you in a position to find out what you're walking into. You do not have to go in blindly and you can fully ask what you're about to do.
Mac Prichard:
What do you do if the manager says, "I'm sorry, our policy is not to disclose that information"?
Pharoah Bolding:
Then maybe you want to reconsider if you want to interview with them or not. I mean, if you want to, go for it but often, if they can't give you an idea of what kind of interview you're coming into, that's usually a big red flag because that means that they don't really know or they have something structured in such a way where they feel like this is a test to see how you'd react in a stressful situation. Those tests are horrible, those tests never make anyone feel good, no one ever reacts to those well, other than candidates who are able to remove their human empathy part while they're going through an interview and not show that, or people who are supremely gregarious, who don't have to make sure that they're connecting in that way, but for the vast majority of us, that's not a situation we want to find ourselves in. Where we have to prove ourselves in a pressure situation.
Mac Prichard:
And in your experience, working in Human Resources, is it a good predictor of success in a job?
Pharoah Bolding:
It is not at all. It is one of the worst predictors of someone's experience because the one thing we always seem to forget when we're trying to put together a test like that to see if someone can excel in it is that, that's not a real world, everyday job test. That's a "can I put you in a stressful situation" test. Which, no one wants to be in a stressful situation, no one's going to excel at that. Like a job shadowing kind of interview gives a person a better idea of kind of the day to day and whether it might get their anxiety up when they're seeing the fast pace of your work environment but just trying to throw somebody in a situation and see how they react, that never makes anybody feel good, no one's ever going to excel at that really well.
Mac Prichard:
Okay, well, I appreciate this description of how a process can go bad and because I think people can walk out of those rooms bewildered and thinking, "What went wrong there? It must have been me." But, clearly, often it is the way, a bad hiring process, isn't it Pharoah?
Pharoah Bolding:
Oh yes, often if you really sit down and you go back and that job you really wanted but didn't get it, often you can, if you're really reflective, you can see where you made a mistake but that same reflection also can show you that this just wasn't the position and organization for you. Often if you really look back, you can see those red flags from the beginning and those are things we like to kick ourselves over. "Oh, I should have saw that." But you know, sometimes, in the moment you don't see it. You have to kind of get into the habit of being a little more detail-oriented when looking at a job posting because something that looks like a dream job might legitimately be a dream job but it might be with the wrong organization for you.
Mac Prichard:
Okay, well, I want to talk about what people should do if, in fact, it's them. And again, we've all been there, including me, where an interview hasn't gone well. Why does that happen when it's not the employer but it's the candidate?
Pharoah Bolding:
It can happen for a myriad of different reasons. You could go into the interview or even apply for the position thinking that it was…having a picture in your head that it was something that it isn't. Thinking that it's more grandiose or it's a stepping stone job where I just want to get this admin. position because in 6 months, I want to go for this position. If you're going into a position thinking that, "What can I get out of it in a way where I can springboard into something and not stay here for like 90 days," you're automatically going to bomb because you're going into it for the wrong reasons and it's going to come out in the way you answer your questions and the way you interview.
I think it's also something where, often as candidates, we get supremely anxious, especially when it's a job we really, really want and that can really play into how you come off to the interviewing committee, how you connect with them as a person because sometimes, once again, we come back to human empathy and sometimes we're not seeing that you're supremely anxious. If we're focused on trying to fill a position, even if we are trying to be as empathic as possible, we often miss those cues of someone being a little agitated, a little anxious, their anxiety being up, them feeling on the spot.
It's kind of our jobs as organizations and interviewers to make sure that the interview someone's coming into allows them to at least put their best foot forward and that's setting it up to put their best foot forward but if you go into an interview and you're not able to put your best foot forward, you usually kind of know, you usually know if your anxiety was high and usually it's because you really wanted this job.
Mac Prichard:
Yeah.
Pharoah Bolding:
When you really want a job, you so don't want to bomb and sometimes you get in your own head and then inherently, you bomb.
Mac Prichard:
What's your best tip for managing that anxiety?
Pharoah Bolding:
I'm a supreme believer in, if you have an interview, get up that morning and do the best things you can do for yourself. Listen to that song that gets you hyped, have that breakfast that you enjoy having, if you have to work that day before you go into your interview, try to take some time before your interview to get yourself in the right mindset, if you can find 15 to 30 minutes before you need to walk in for that interview, take it. Like I said, listen to that song, read something, do something that's affirming for you to help you feel powerful, that helps you feel in the right mindset going into an interview.
I think taking care of yourself, knowing that you're going into an interview, taking care of yourself, making sure that no matter what, you're bringing the best parts of yourself in.
Mac Prichard:
Declare you want the job, manage your anxiety before you walk into the room, what other steps can people take to avoid missteps that are going to lead to bombing an interview?
Pharoah Bolding:
Be honest with yourself about the position that you're applying for. Often we get amped about the kind of jobs that we want to do but we may not have the skill set and experience yet to do it and it is a thing. Sure, we'd love somebody to give us an opportunity to grow into a position, but that's not always available. So, if you know you're going into a position where they're looking for 10 particular things and you only have 3 of those things, you may bomb because you really only bring 3 of the things they're looking for.
Mac Prichard:
Should you go into the interview at all if you only have 3 of 10?
Pharoah Bolding:
I don't know if you should apply and I'm not trying to deter anyone from applying for a position but I think that if you really look at a job and you look at what skills you bring to it and you think that you could do it, that's great. But if you know they're looking for a very particular thing, you can tell by the job posting that they're looking for a pretty dynamic set of skills, and you only have 3 of those, it may be in your best interest to maybe even contact the employer and find out, "Okay, I saw this position, this position sounds great, I'd love to have an informational interview to find out the kind of things you're looking for in this kind of role." To see if it's something that you want to apply for.
Mac Prichard:
Know yourself and what you have to offer.
Quickly, Pharoah, what advice do you have for someone, after they have bombed that interview, they made those missteps and it was all well-intentioned but what do they need to do next and what traps should they avoid?
Pharoah Bolding:
I think you have to be willing to sit in the discomfort and own the fact that you bombed it. Don't internalize it but do be cognizant in, "Okay, I bombed this. This is a learning experience. There's something I can get out of bombing this." Feel free, be honest with yourself and ask the employers, if they tell you you didn't get the position and you felt that when you walked out of the interview, that, "Yeah, you're not going to get this position." Ask them, "Well, what kind of feedback do you have for me? What did I do well? What did I not do well?"
It's probably going to be 60/40 that the employers get back to you; sometimes things get busy. But it's worth asking because that's the kind of information that you can learn from and that allows you to not internalize it. If you can see tangible things in yourself that you can tweak, that you can work on, that you can address, if it's your anxieties, if it's the way you say things, the way things come out, those are things you can tweak, those are things you can perfect and work on and knowing yourself, that they are hurdles for you but achievable hurdles. Hurdles that you can jump over.
Not internalizing it and also accepting that it may not be the kind of organization that at the end of the day you're ready for right now.
Mac Prichard:
Okay, well, tell us what's next for you, Pharoah?
Pharoah Bolding:
What's next for me is I'm currently a part of the Portland Business Alliances, emerging professionals of Portland board and we do monthly last Tuesday events throughout town. So, if you go to the Portland Business Alliance E-pop board website, you can find what our next event is and there are some really cool places and they're great networking opportunities for young professionals and emerging professionals who just moved to the city or are just starting to establish their professional career in the city to connect with people from 160 different organizations. It's really cool ???
Mac Prichard:
It sounds like a really great opportunity. I know people can learn more about you and not only your professional work, but your personal projects by visiting pharoahbolding.com.
Now, Pharoah, you shared a lot of great tips with us today but what's the one thing that you want our audience to remember when they think they've bombed a job interview?
Pharoah Bolding:
Don't internalize not getting the position. Because that's the kind of thing that will deter you from applying for other positions. Anytime you do not get a job, and I know it's a completely daunting thing to not get a job, and you're still looking for a job and you're trying to find your next career option, but everything can be a learning opportunity and if you allow it to be a deterrent, it will stop you from finding that legitimate dream job you're looking for.
Mac Prichard:
Here's what stood out for me in my conversation with Pharoah: you're in charge. As a job candidate, HR professionals expect you to ask questions about who will be on an interview panel, how candidates will be notified, what the time table will be for making a decision.
When you ask these questions and you don't get answers, or you get incomplete answers, that's a sign that something might be amiss at that organization and if the interview doesn't go well, it's an indication that maybe it wasn't you. Maybe it was the employer.
I also love Pharoah's point about the importance of behavioral questions and how it's common for companies who are good at hiring to ask those questions.
If you're not ready for behavioral interview questions and are not sure how to answer them, we've got a resource that can help.
Go to macslist.org/questions.
We give you 100 of the most common behavioral interview questions and a four step process for how to answer them.
Go to macslist.org/questions.
Join us next week, our guest expert will be Jennifer Tardy.
She'll talk about a top pet peeve for so many job applicants I meet: employers who don't get back to you.
And Jennifer will tell you what you can do about it.
Until next time, thanks for letting us help you find your dream job.