Fatal Flaws in Job Interviews, with Dan Miller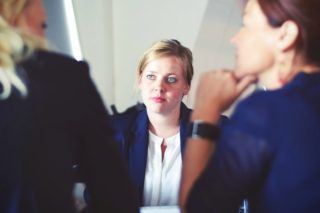 Did you just spill your coffee all down the front of your shirt? Or, did you forget to turn your phone off before the interview? Or maybe you didn't bring a printed copy of your resume? There are an infinite number of interview mistakes you can make.
Fortunately, most interview mistakes can be easily remedied with a clever response or a quick apology. You don't need to be perfect to win your interview.
But according to this week's guest, Dan Miller,  some mistakes are absolute deal-breakers for employers. Number one on this list of cardinal sins: not showing enthusiasm for the job.
Dan shares his tactics for avoiding this interview mistake, as well as other pitfalls every job candidate must avoid. His do's and don'ts include:
Do ask the interviewer about the company at the end of the interview.
Don't ask about the compensation for the job too quickly.
Do bring every ounce of enthusiasm you can muster to the interview.
Don't forget to follow-up immediately after the interview.
This Week's Guest
Dan Miller is President of 48 Days a company that specializes in creative thinking for increased personal and business success. He is the author of the New York Times bestsellers, 48 Days To The Work You Love, No More Dreaded Mondays, and Wisdom Meets Passion. Dan has been a featured guest on CBS's The Early Show, MSNBC's Hardball with Chris Matthews and the Dave Ramsey Show.
Resources from this Episode
Transcript
Mac Prichard:
This is Find Your Dream Job, the podcast that helps you get hired, have the career you want, and make a difference in life. I'm Mac Prichard your host and publisher of Mac's List. I'm joined by my two co-hosts Ben Forstag, our Managing Director, and Jenna Forstrom, our Community Manager. This week we're talking about fatal flaws in job interviews, the kinds of mistakes that can move you from the short-list to runner up. Our show is brought to you by Land Your Dream Job Anywhere, the new book from Mac's List, available February 1. Land Your Dream Job Anywhere shows you how to find meaningful, well-paying work wherever you live. To learn more, visit MacsList.org/anywhere.
It's exciting when an employer asks you to interview for a job. You're now one of perhaps three to five finalists. How you do in the interview helps determine if you get the job – yet hiring managers say candidates make common mistakes again and again in job interviews. This week on Find Your Dream Job we're talking about fatal flaws in job interviews. Our guest expert is Dan Miller. Later in the show he and I discuss epic job interview fails that can knock you out of the running.
Do you want to connect with other job seekers on social media? Ben Forstag has found a website that lets you share ideas and contacts with others looking for work. Ben will tell us more in a moment.
How long should you wait before following up with an employer after an interview? That's our question of the week, and it comes from Rachel Smith. Jenna Forstrom offers her advice in a few minutes.
As always though, let's first check in with the Mac's List team. This week Jenna, Ben, we're talking about job interview mistakes. I'm curious: have either one of you made a mistake in an interview that maybe you want to fess up to and I'm happy to share one or more of my fails. Ben, what did you learn from experience?
Ben Forstag:
Well, I've probably made quite a few mistakes, dozens, hundreds.
Mac Prichard:
I think we all have. I certainly have. Yeah.
Ben Forstag:
Yeah, in job interviews. I've probably had a couple dozen job interviews in total in my life, some which were really great and some which were really, really bad. The one I think that stands out to me is when I was unable to answer the question "why are you interested in this job," which just about everyone asks in a job interview. There have been times when I was sitting across the table from the person and when that question came up the only thing that was in my head is: "I want a paycheck." I couldn't think of any other reason – good reason – why I wanted the job, and it's not surprising that I wasn't offered the job, when I couldn't come up with some kind of truthful answer to that question.
Mac Prichard:
Yeah, I have to confess, too, that there have been times that I've been asked that question and I really wasn't all that interested in the job. I had an answer but I don't think it was a very persuasive one, because I certainly didn't get an offer.
Ben Forstag:
Yeah, and I think employers can tell when you're being sincere versus just saying the words that you think they want to hear. Certainly I always came up with some kind of response but it wasn't heartfelt, and that probably showed.
Mac Prichard:
Jenna, what about you?
Jenna Forstrom:
I think mine is similar to Ben's. I've definitely just applied for jobs and interviewed, just wanting a paycheck, and like, "I can do anything," and being like that jack-of-all-trades and not being specific, which is what we talk about on Mac's List: getting focused into what you want to do and then find jobs that allow you to do that.
I think the other thing that I've made the mistake of, is when you are unemployed and you're job-hunting and you're going about your daily life, an HR person will just call you and say, like, "Hey. You have time to chat?" And saying yes instead of saying … Like, if you're at the grocery store and sitting in your car and you're just not ready and saying, like … having the power and the authority of your own life and just saying, "Now is not a good time. Can we schedule time for later this afternoon or tomorrow?" So that you're mentally in the right space to do an interview. But when you're unemployed you're so desperate for a paycheck. You're like, "Yeah. I can do whatever you want right now."
I think those are my two big mistakes.
Mac Prichard:
I especially like your advice, Jenna, about the second point: that you do have the power if you're an applicant for a job when you get an unexpected call to see if you can schedule another time that is more convenient and gives you the time to prepare. For me, I think one of my biggest mistakes was similar to the one you described, Jenna. In the mid-1980s I was out of work for a long time, about eight months, and I applied for a lot of different kinds of jobs. I would get interviews but I really wasn't passionate about that position and it always came through in the interviews.
I can remember one position, to be Communications Manager. This was in Boston at The Computer Museum and the fellow asked me questions about how I would approach things and even I knew my answers were uninspired, and, not surprisingly, I didn't get a call back. Having clear goals just makes a big, big difference.
Let's turn to Ben, but before we do that, thank you, Jenna and Ben, for sharing your stories. Ben is out there every week searching the Internet, looking in all kinds of nooks and crannies for websites, books, and tools you can use in your job search and your career. Ben, what have you uncovered for our listeners this week?
Ben Forstag:
This week's resource is a website called Jobcase, which is something of a social media site exclusively for job seekers and it's available at www.Jobcase.com. I would compare this to LinkedIn, although LinkedIn is really great for business networking and often I think there's this implicit idea that the people on LinkedIn have jobs and established professions, where, if you don't have a job, certainly LinkedIn is a great tool to connect with professionals but there isn't a networking functionality within LinkedIn for people who are unemployed and looking to network with each other. It's not easy to find other folks who are in your situation there. Jobcase has actually kind of filled that hole there and has created a community for people who are unemployed, going through similar challenges, and looking for work.
It has a couple of the different features, most of which you could probably find on other sites on the Internet. For example it aggregates jobs from places like LinkedIn and Indeed. It has a tool to review organizations, kind of like Glassdoor.com. There are some other tools and whistles there, but I think the real key interesting part of this site for me was that social networking functionality. If you are looking to connect with other folks who are perhaps going through a similar situation with you in your job search, I'd encourage you to check out Jobcase.com. They've got some really nice forums and these forums are also moderated by some kind of guest experts who come in and answer questions with some authority. Nice site.
Mac Prichard:
Great tip, Ben. We hear consistently from job seekers about the value of connecting with others who are looking for work. Often this takes the form of job support groups in the community where people meet face-to-face in a coffee shop or it might be…. there are many faith-based organizations out there that sponsored jobs support groups as well. That kind of connection, we hear again and again, is invaluable whether it comes in-person or online.
Ben Forstag:
Yeah. Definitely. I mean anyone who's gone through any kind of protracted job search experience knows how lonely it can be. Oftentimes you're spending way too much time sitting behind a computer by yourself responding to job listings, sending out resumes and applications that disappear into the universe. I know when I was unemployed I didn't even understand at the time how isolating and lonely I felt in that experience, and so I really encourage job seekers to get out there, whether it's an in-person group at a coffee shop, or your church, or your synagogue, or a virtual community like Jobcase. That really helps connect you to a larger community and people who can support you.
Mac Prichard:
Okay. Well, thank you, Ben and we'll include links to the Jobcase.com website in the show notes. Do you have an idea for Ben? Write him and we may share your suggestion on the show. Ben's address is easy to remember: it's Ben@MacsList.org.
Now let's turn to you, our listeners. Jenna Forstrom is here, our Community Manager, and she joins us to answer one of your questions. Jenna, what have you discovered in the Mac's List mailbag this week?
Jenna Forstrom:
This week's question comes from Rachel Smith and we're going to play it right now.
Rachel Smith:
Hi. My name is Rachel and I had a question about following up after an interview. It's an interesting case because I had applied and then withdrew my application, because it didn't seem like the right fit, and then they reached back out and seemed interested in me again. I went in for a follow-up interview and now I haven't heard back. Thanks. Bye.
Jenna Forstrom:
Hey Rachel. Thank you so much for calling in and asking your question. There are a few things that you can do if you're still interested in the job, which it sounds like maybe the job description has changed and now you're interested again, which is really exciting that they are pursuing you and are interested. I would say off the bat, obviously, send a thank you email and note in the post to whoever you had your most recent interview with. Just reiterate what you liked about the conversation, why you're still interested, and asking, of course, about the next steps, like, "When should I hear back from you?" "Can we schedule a coffee meeting?" "I'd love to see an offer," something along those lines. Give them an action item to respond to.
Second of all, I would also reach out to the person you interviewed with previously a couple months ago. Maybe it was a panel or if it was a one off just say, "Hey. I just want to let you know. I know the conversation kind of ended with me withdrawing my application but your colleague, so-and-so, reached out and I had a follow-up interview and this is what we talked about, and I'm now really, really interested in the position. Do you know, could you put in a good word, or could you follow-up with him for me?"
Finally I would say, whoever initiated the conversation – if you have a friend, or someone else in the organization, or the person who saw it on LinkedIn, are on Facebook – just reach out to them and say, "Hey. I just want to let you know where the conversation's going." This allows you – we talk about this a lot: the hidden market and just touching base with someone that's like low-hanging fruit. It's a light, like, "Hey, just let you know. This is what's happening," but yeah. Those are my tips. Mac and Ben, do you have any more?
Ben Forstag:
I think you kind of hit the big ones, there. I think the key is when you have that interview, one of the questions you ask is "what is the follow-up process," or "what's the timetable in your decision-making?" That way it gives you some framework of knowing, oh, they're going to be interviewing other candidates for the next two weeks and then they're going to be making a decision, so you have a sense of when it would be appropriate to follow up. In general, I think if you are diplomatic and you're polite, it's almost always okay to send a short email saying, "Hey. I'm still interested in the position. Just wanted to know if there's any additional information I could provide to you to help you make that decision." That's the kind of email that is going to generate, hopefully, the response you're looking for with them telling you what their process is, without being overly bossy or demanding.
Mac Prichard:
Yeah. I think you two have laid it out very well. The only two points I would add are: first, just remember that people get distracted and they are doing things at work. As you both said, asking what the process is before you leave the room and what the deadlines are, or the dates that hiring manager has in mind helps you manage your own expectations and gives you a hook for reaching back when you do send that email. That could say something like, "I know you mentioned you might have more information by this date. I haven't heard. No hurry. Just want to check in and see how your process is going, and by the way, I remain very, very interested in the position."
The second thing is very tactical but I think we've talked in earlier shows and interviews about the importance of exchanging business cards with interview panel members, and if it feels right, asking if it's okay to connect on LinkedIn after the conversation. The advantage that you get from walking away with those cards and making those LinkedIn connections is now you have the email address of the people who were in the room and that just makes it easier for you to follow-up with those questions about the process if you haven't heard back.
Ben Forstag:
I think, in that case, you're specifically talking about to where you might have been interviewing with someone other than your point of contact at the company.
Mac Prichard:
Exactly. Thanks for the clarification Ben. Well, thank you, Jenna.
If you have a question for Jenna please email her. Her address is easy to remember. It's Jenna@MacsList.org, or call our listener line. That number is area code 716–JOBTALK. That's 716–562–8255. If we use your question on the show, we'll send you a free copy of Land Your Dream Job Anywhere or a Mac's List coffee mug. It's your choice. These segments by Ben and Jenna are brought to you by Land Your Dream Job Anywhere. That's the new book from Mac's List and it's coming on February 1.
For 15 years at Mac's List we've helped job seekers in Portland, Oregon find meaningful, well-paying, and rewarding jobs that they love. Now we've put all of our best job hunting advice and one new book that can help you no matter where you live. Just like this podcast, our new book offers practical, actionable, and proven tools you can use right away.
In Land Your Dream Job Anywhere you'll learn how to get clear about your career goals, find hidden jobs that never get posted, ace your next job interview, negotiate the salary and benefits you've earned, and take charge of your career for the long run. Land Your Dream Job Anywhere contains advice from many of the most popular guests who've appeared on this podcast. Get extra insights from more than a dozen national career experts like Farai Chideya, Kerry Hannon, and more.
Land Your Dream Job Anywhere arrives on February 1, 2017, but don't wait. Join our pre-launch mailing list and we'll send you the first chapter for free. Visit MacsList.org/anywhere.
Now let's turn to this week's guest expert, Dan Miller.
Dan Miller is President of 48 Days, a company that specializes in creative thinking for increased personal and business success. He's also the author of the New York Times bestsellers, 48 Days to the Work You Love, No More Dreaded Mondays, and Wisdom Meets Passion. Dan's been a guest on CBS's The Early Show, MSNBC's Hardball with Chris Matthews, and The Dave Ramsey Show. He joins us today from Franklin, Tennessee. Dan, thanks for being on the show.
Dan Miller:
Absolutely. My pleasure, Mac.
Mac Prichard:
Yeah. It's a pleasure to have you. Now, our topic today, Dan, is: fatal flaws in job interviews. I know that you work with a lot of people going through a job search and there are some mistakes that people make that can be epic fails, so let's talk about that. What are some of the things that you see that can really jeopardize someone's success in a job interview?
Dan Miller:
Sure, and fortunately the epic fails are things that can be easily fixed, because it's not: not having the right degree, or not having enough work experience, or not having a high enough IQ. Those things would take more time to correct. But it's simple things like a lack of enthusiasm. There's one thing that I see increase a person's response, the response that they're getting. It's having more energy, just more enthusiasm. It doesn't mean you need to change how God has wired you if you're an introverted, or shy person, but, in the interview, make sure you show a lot of energy. Walk briskly when you walk in. Sit up straight. Speak boldly from your diaphragm and just convey a lot of energy. That'll do wonders for you.
Mac Prichard:
I'm actually adjusting my posture as we talk and sitting up a little straighter in my chair.
Dan Miller:
Subliminal message, but yeah.
Mac Prichard:
Yeah. It's coming through loud and clear. What kind of difference can energy make in a job interview, Dan?
Dan Miller:
It shows the interviewer somebody that has energy, that has excitement, that has something to offer, rather than somebody that's just going to be a taker, that's just going to sit around and wait on being told what to do. Energy conveys somebody that's going to have initiative to take the opportunity, to do more than is expected. I mean those are all subtle things but those are the little things that tip the scale in a person's favor in an interview.
Mac Prichard:
I've seen that, myself, in conversations I've had as an employer, and certainly it's a lesson I taken to heart when I've been a job candidate as well. Now, energy's not the only thing that can make a huge difference in a job interview. Why, Dan, do you think that people, when they accept an invitation to come in to talk about a job, why shouldn't they just wing it? Why does preparation matter?
Dan Miller:
Oh my. It really does. If somebody has not taken the time to do a little bit of research and know: who they're talking to, what the company's all about, what the company's mission statement is, what their history is… I mean I'm talking about things that can be gathered in 10 minutes as well. I'm not talking about something that requires days of research, but if somebody hasn't done that, it gives the message this person just is looking for a job. They don't really know about us, don't really care about what we're doing. They're just looking for a paycheck, and that really puts a person in a position of weakness. That's not the kind of person that somebody wants to bring onto their team. So a little bit of research, so you know that the person you're talking to has a dog named Spot, or whatever you have been able to find…. Those little things do wonders to help you.
Mac Prichard:
It's remarkable, when I look at websites for organizations or companies, how many people do have pictures of themselves with their dogs. That's not an outlandish suggestion.
Dan Miller:
It's not at all. It's easy to find that kind of information. I spoke with a CEO just a couple days ago who was interested in my most expensive coaching package. Well, I jumped on, just did a quick search and discovered that his wife's name was Luanne. That made a big, big impression, the fact that I knew his wife's name, having never met him before. It took me five minutes of research to come up with that.
Mac Prichard:
What are some of your other tips for doing this kind of preparation, Dan? What other homework should people do?
Dan Miller:
One of the things that really works to somebody's disadvantage is too quickly asking about 'what's in it for me.' I know that everybody wants to know about benefits, you know vacations and so on, but don't lead off in the second sentence by asking, "How much are you going to pay me?" "How much vacation time do I get?" That should come later and if it's a position that's more than $50-  or $60,000 a year, probably not even in the first interview. It's going to be part of an unfolding process of engaging with somebody. People are too quick to go right to the heart of that and conveying the message, you know, I really am just looking for a paycheck, instead of really defining: 'is this the kind of place that I'd like to be involved? Do I want to work with these people, helping them do what they're doing in this company?'
An interview really means, from the Latin, "to see about each other." It's a process of seeing do I want them? Do they want me? Take your time at getting to the details. Those will come later but you increase your opportunities to increase the compensation dramatically if they've already decided they want you. If you ask about compensation before they get to the point where they know they want you on their team, you weaken your possibility for making that your very best outcome.
Mac Prichard:
We've had other guests on the show to talk about salary negotiations when a job offer is on the table and they've made the same point you're making, which is that you're at your most desirable to an employer when they do want to hire you. That's when you're most likely to get both the salary and the benefits that you want, rather than six or 12 months later after you've joined the team.
Dan Miller:
Absolutely.
Mac Prichard:
Yeah. Now Dan, what about common questions that people can expect in a job interview? What should people expect a prospective employer to ask about and how can they get ready for those?
Dan Miller:
There certainly ought to be no surprise about the common ones: "Tell me a little bit about yourself." "What are three strengths that you have?" "What's a weakness?" "How did you handle a difficult situation in your last job?" I mean those are just real common, ordinary ones, and somebody ought to have a list of 20 questions that are very likely to come up in any interview and be prepared with one to two minute answers on any of those. The ones that are a little surprising are the ones that interviewers are asking today that are more behavioral interviewing. They want to know how somebody thinks, how somebody handles conflict, how they're going to solve a problem. I mean those are things that, often, people who are being interviewed are surprised by and they shouldn't be.
I mean things like "why are manhole covers round?" Or here's one: "If you wake up in the morning and it's totally dark, and you open your drawer and you know that you have 10 pair of black socks and 10 pair of blue socks in there, how many individuals socks do you have to pull out to be absolutely guaranteed you've got a match?" Now, that has nothing to do with the work that you may be asked to do or the company's focus, but it just is an opportunity for them to see how do you think? How do you approach a problem like that? Incidentally, the correct answer is three. If you pull out three socks, no matter what the color you're going to have two that match, so that's a great … and again, it's not a matter of getting the answer correct as much as it is how do you approach?
If it totally flusters the person being interviewed and they totally lose their composure, well, it tells the person a lot about that person being interviewed. They don't handle unexpected situations well. They don't handle stress or the unknown well, and that's just part of a good, a well conducted interview process.
Mac Prichard:
Well, that's a great tip. Speaking as someone who struggled with story problems in math class in grade school, I think I might've gotten a little flustered if I'd been asked that question.
Dan Miller:
It's amazing. I mean we've got some real doozies that people are being asked today and it's just part of the landscape – you'd better be ready.
Mac Prichard:
Yeah. I think whatever the question might be, the ability to think on your feet is always going to serve you well. What questions should the candidate have for the panel, and why is it important to ask those questions, Dan?
Dan Miller:
Yeah. Great question. It is very important to have questions to ask. If at the end of the interview, or there should come a time in the interview when the interviewer says, "You know, do you have any questions?" If the person says, "No. You know, I think we've covered everything," you just put yourself in the camp with about 99% of the other candidates, but if you say, "Yeah. There are a few things I'd like to clarify. 'What changes has this company gone through in the last five years or what do you anticipate in the next three?' 'How are you keeping abreast of the competition in this industry with all the new technology that we have?' 'Is there a training program for this position?' You know, 'what do you like most about being in this company?'"
Those are all legitimate questions that a person being interviewed can ask and those are the kind of things that can set you apart from the competition, that can make the interviewer remember you the next day when they've interviewed six people, and can make you stand out, so absolutely be ready. Have a notebook. Be ready. You don't have to have them memorized. You can write them down but be ready to ask those questions and look for an opportunity to do so.
Mac Prichard:
So, finally, you've asked your questions and you're getting ready to leave – when you walk away from that interview, Dan, what kind of follow-up should people take?
Dan Miller:
You should immediately send a thank you just for the time involved, no matter what the outcome. Even if it's not something that you want to pursue, thank the interviewer, and that can be done in a variety of days. If you have been given access to email, do it like that. If not, a handwritten note carries a lot of weight. People do everything to avoid handwriting these days, thus, a handwritten note gets a lot of attention when it comes in. I have notes that I write people. They're 48 Days branded and got a picture of one of the eagles on our property on the front of it.
I see people posting those on Facebook because it makes such a dramatic impact. You know, "Dan hand-wrote me a note." Same kind of response is true when you write a note to somebody, but then if it is a position that you really want to look for an excuse to have another contact. Another day passes and you might find an article that you think would really be relevant to your conversation. You shoot that over to them. "Hey, I thought you'd enjoy this article," or, "Here's something else I thought about, in terms of what I could offer the company in that position." I mean even to the point of sending chocolates or flowers is not out of line at all and it's those little things done after the fact that, again, can tip the scale and make you more memorable than the other people that were interviewed.
Mac Prichard:
Well, that's excellent advice, Dan. Tell us what's coming up next for you.
Dan Miller:
Well, I continue to just nurture the material that's in 48 Days to the Work You Love. That still has my foundational message in that. We updated it a few months ago to make it current with things that are happening in the workplace so we're now getting ready to rollout the seminar that accompanies that, a 12 session seminar to be done in six sessions where we do two modules each that still keep it within the 48 days, but I'm really excited about that. We've had so much input that helped us create the content for that so we'll be an online version and then an in-person seminar process that people can go through, so I'm excited about that.
What I'm excited about, though, is the fact that, yes, the workplace is changing. Yes, we've just had elections that have a lot of people scratching their head but you know what? When it comes right down to it what happens in the White House doesn't have a whole lot of impact on what happens in my house. I'm responsible and in that way I want to encourage people, you are the President of your own life and future, and you could take advantage of the opportunities out there by having these little things that work in your favor to open you up to new opportunities that others miss.
Mac Prichard:
Well, that's terrific and I know that if people want to learn more about you and the services you offer, they can visit 48Days.com. I know you have some new material related to the start of the new year that's available at 48dDays.com/2017.
Dan Miller:
That's right. There they'll find a free worksheet. It's about 32 pages to walk them through the process of setting goals, identifying 'what will success look like for you in 2017?' 'What do you want that year to bring for you?' So walk through that process and help you identify, and, once you see it on paper, it's amazing how doors start to open to help that become a reality. Yeah, it's 48Days.com/2017 and it'll take them right to that free worksheet.
Mac Prichard:
We'll be sure to include that URL in the show notes. Dan, thanks for joining us today.
Dan Miller:
Absolutely. My pleasure, Mac.
Mac Prichard:
It's been a pleasure having you on the show. Take care.
We're back in the Mac's List studio with Ben and Jenna. Tell me what do you two think were some of the key points that Dan made in my conversation with him?
Ben Forstag:
I liked his emphasis on the little things that show that you've done your research and that you're really interested in the job and the people you're going to be working with. I think he best encapsulated this idea with his reference to when you see someone's got a dog because they've posted their dog in their work bio, acknowledging that and saying, like, "You've got a beautiful weimaraner or Dalmatian, or whatever, because I think that really shows that you've done your homework, that you're interested in these people and you're not just there to get a paycheck.
Jenna Forstrom:
I really liked his point about being prepared for those kooky interview questions and not getting caught off guard, and that those have a purpose and the purpose isn't the right answer. It's how you react to a question to show your problem-solving skills, so how many socks would you need to pull out of a drawer to figure out that you definitely have two black pairs, or what is your favorite mythological creature and why, or what, if you were going to be any Disney prince or princess why would you be that? I think Ben talked about one in a previous podcast: how many cows in California?
Mac Prichard:
I think it was cows in Canada, wasn't it?
Jenna Forstrom:
Oh. California, Canada, same, same.
Mac Prichard:
It's same principle.
Jenna Forstrom:
Don't get thrown off, like I just did, but have an answer.
Mac Prichard:
I have to say, when Dan brought up that question about the socks I was flashing back to Sacred Heart Parochial School and sixth grade math class and just kind of freezing up because I was never good at story problems, but as you say Jenna, the answer – it's not about coming up with the answer, which of course Dan said was three, but how you might approach that problem, and describing it, and seeing how you do, if you become flustered or not.
Jenna Forstrom:
It was really interesting. I was driving to Silverton to go camping, which is a side point, but on Car Talk, which is one of my favorite NPR shows to listen to, on the weekend they were talking about how in an interview a guy had heard a Car Talk riddle on Car Talk and that was the question he got asked in the interview, and so he had the right answer. The guy was like, "You're the only person who's ever done this," and he didn't tell him that he had heard it on Car Talk but he just took it as like, "You're right. I'm a genius. You should hire me." I just burst out laughing in my car because I can only imagine that scenario where you've done all this research and then you get the Disney princess question, or the how many socks and you're like, "Oh, I was listening to Land Your Dream Job and now I know the perfect answer." Everyone gets those questions.
Mac Prichard:
Yes. You just need to be prepared so it's about how you think. Well, thank you both and thank you Dan for being on the show, and to you, our listeners, for joining us for today's episode of Find Your Dream Job. If you like what you hear, please sign up for our free weekly newsletter. In each issue we give you the key points of that week's show. We also include links to all the resources mentioned and you get a transcript of the full episode.
If you subscribe to the newsletter now, we'll send you our job seeker checklist. In one easy-to-use file, we show you all the steps you need to take to find a great job. Get your free newsletter and checklist today. Go to MacsList.org/podcast.
Join us next Wednesday when our special guest will be Allison Esposito. She'll talk about how women can get great jobs in technology. Until next time thanks for letting us help you Find Your Dream Job.