Sell Your Ideas, Not Your Skills, with Larry Smith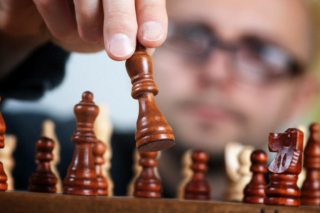 To have a great career, you need passion. But you also need a solid plan.  Specifically, you need to know how your passions and ideas will be marketable in an ever-evolving job market.
This week's guest is professor and author Larry Smith, whose provocative TED talk, "Why You Will Fail to Have a Great Career," has attracted more than six million views. Larry urges his students to explore their passions–but also to think about their ongoing relevance in the job market.
This Week's Guest
Larry Smith is an adjunct associate professor of economics at the University of Waterloo. Over the past thirty years he has offered career guidance to more than a thousand students in alumni. Larry's video, "Why You Will Fail to Have a Great Career,"  has s been viewed by more than six million people. He's also the author of a new book, No Fears, No Excuses: What You Need to Do to Have a Great Career.
Resources from this Episode
Transcript
Mac Prichard:
This is Find Your Dream Job, the podcast that helps you get hired, have the career you want, and make a difference in life. I'm Mac Prichard, your host, and publisher of Mac's List. This week on Find Your Dream Job, we're talking about how to sell your ideas, not your skills.
What does it take to have a great career? Experts say there is no one answer. Yes, fashion matters, but it's not enough. You need to do a number of things and you need to do them right. Above all, you must have a plan. This week we're talking about careers and what you need to do to have a remarkable one.
Ben has found a podcast you'll want to check out that can help you discover your passion and Jenna has a question from a listener who wonders, "How can you know if you will love a job before you actually do it?" And I talk to this week's guest expert, Larry Smith, whose provocative TED Talk, Why You Will Fail to Have a Great Career, has attracted more than six million viewers and counting. Our show is brought to you by our book, "Land Your Dream Job in Portland (and Beyond)." To learn more about the updated edition that we published on February 1st, visit macslist.org/book.
Ben Forstag:
Hey Mac, Ben here. We all know that networking matters and we've certainly talked about this on the podcast a lot. I hear from listeners all the time who really dread networking. Can you explain how the book might help people like that?
Mac Prichard: I, too, used to dread networking. It's a skill, and like any skill you can master it through practice and instruction. We've actually got a chapter in the book devoted to networking. There are a couple of key sections here, how to work the room like a pro, and some of the secrets that we've learned about informational interviews over the years. How to get them and how to use those conversations to uncover hidden jobs, the ones that are never advertised. You can learn how to network, and like any skill you just need to practice it. You need good instruction, and the book will help you get started.
Jenna and Ben, you've both had different jobs over the years. What's the constant theme that runs through your careers?
Jenna Forstrom:
For me, professionally, it would be that I've worked in digital marketing for the last 8+ years, so something that involves the computer and social media. Personally, and on the more fulfilling side, it's always been in hopes of helping others, for personal finance, helping people manage their budgets, working at Nike, inspiring athletes, now working at Mac's List, helping people find their dream jobs.
Ben Forstag:
For me, it's been building partnerships. Working outside my organization and partnering with other individuals and organizations to build partnerships that create value for both organizations. The other one, at least in the jobs that I've enjoyed, have been that they've been fun. I don't mean going out to the amusement park every day fun, it's that going to work day in and day out has generally been a fun thing that I've enjoyed doing and that I've liked my coworkers, I've liked the work, that kind of thing.
Mac Prichard:
For me, it's service to others and finding opportunities that have allowed me to make a difference in the community where I live and work. I've had a lot of different jobs, largely in communications on different subject areas, but those are the two constants that run through my career. The thing that links both Mac's List and our public relations company that I operate is we're really good at building those connections, those partnerships that you talked about, Ben. I do find that when you chat with people, there usually is one constant, some common denominator that runs through people's jobs no matter how varied they might be.
Let's turn to you, Ben. We're ready for the resource of the week, what have you found for us?
Ben Forstag:
I'm going to get a little bit philosophical this week. Our guest this week, Larry Smith, has a TEDx Talk that's available online and I encourage everyone to check it out. I actually watched it twice and it's really good, it's all about finding and pursuing your passion in your career, but I came away from this presentation with one really big unanswered question. That is, how do you actually find your passion? Larry frames passion as a "you know it when you see it" kind of thing, and I just don't know about that. Before you start, how do you know whether something is truly your one true passion? How can you tell whether an activity is something you're passionate about or just something you like, and is there a difference between the two?
These are questions I just don't know, so I spent some time over the weekend digging into the question of how to find your passion, and fortunately I stumbled across a very interesting podcast on the subject.  The show is called the Seanwes Podcast and I want to direct our listeners to Episode 101, which is appropriately titled, How to Find Your Passion. This podcast is produced by a guy named Sean McCabe, who's an entrepreneur, a writer, a teacher, and a blogger, and he focuses on helping people support themselves with work that they enjoy. Sound familiar, Mac?
Mac Prichard:
It does, it sounds very much like the work that the three of us do.
Ben Forstag:
Exactly. This episode I listened to was a deep dive into the question of passion. There were some really tangible insights in this one hour podcast that I think anyone could benefit from. Sean and his co-host dissect the whole passion vs. interest question that I had earlier and they also explore the intersection of passion and sustainability. That is, how you balance your uncorrupted passion with a need to pay a mortgage, take care of a family, and meet other obligations. This latter point is something I think that often gets glossed over, ignored, when we're talking about passion and finding work that meets that passion.
Mac Prichard:
I think that could be a barrier, too, for some people, because they get excited about pursuing their passion and then they have to think about their monthly bills and, I think if you're going to successfully tap into your passion, Ben, you got to think about both at the same time.
Ben Forstag:
Yeah, and it's finding that sweet spot, the intersection of the two. Most importantly, the host provided and really thoroughly discussed strategies for finding passions, and here are some of the questions they presented to think about: What did you like to do as a kid? And they weren't talking specific activities but in terms of categorical interests. Did you like animals?  Did you like sports?  Did you like sitting at home and reading math books? Things like that to think about. What are you about in one sentence? This is one of the ones I talk to job-seekers about a lot. What's your elevator pitch for yourself, because if you can get clear about that, you can often get clear about what you want to be doing in a career.
Other questions they presented: What do you do when you procrastinate? When you've got a project, what other work do you do to avoid doing that other project? What would you like to do regardless of being paid? Look at the overlap of your two primary categories of interest. This gets to that whole interest vs. passion question and what they were trying to point out was if you've got two interests, whatever that overlapping area of those two interests is, that's your categorical passion that you should really focus on.
The last question they present is, "What do you love the act of doing as opposed to the idea of doing?" I thought this one was really powerful because a lot of people might say "I really like the idea of being a world-renowned author," and I think most people would like that idea, but your passion would be you like the act of writing. Not just the idea of being a writer. This was a really excellent podcast, it's really well-produced as well, and I strongly recommend it to anyone who's struggling with the whole passion question. Again, the show is called the Seanwes Podcast, and the episode is 101, How to Find Your Passion, and as always, I'll include a link in the show notes.
Mac Prichard:
Thank you, Ben. If you have an idea for Ben, a book or podcast, or other resource you've seen that you'd like to share with us and our listeners, drop him an email. His email address is info@macslist.org.
Now it's time to hear from you, our listeners.  Jenna Forstrom joins us to answer one of your questions. Jenna, what do you got for us in the mailbag this week?
Jenna Forstrom:
This week, our question was, "Everyone tells me to do what I love for a job, but how am I supposed to know if I like something before I do it? There are so many different jobs out there, I feel like I will be limiting myself by picking one direction too early in life." This is a great question, and I think a lot of younger people allow this fear to hold them back from making a decision, but I think there's a lot of awesome opportunities for young professionals and students to figure out what they do love, even starting in High School, taking college prep classes, when you're in college taking internships.
For example, I interned with Nike the year Adidas announced their acquisition of Reebok, so my internship was a lot about financials and I realized that I did not want to be an accountant or in any type of financial decision-making, investing kind of thing, because it was such a big change to the global market of an industry, so just testing that, finding out what you don't like directs you to what you do like.
You can also take lots of different career opportunities in college and just take informational interviews and as you sit down, ask "What does the day-to-day look like for this job?" If you're a really outdoorsy person and you're stuck behind a computer for eight hours, it's probably not something you want to do, or if you're supposed to be doing presentations and you're an introvert, might not be the best place, so start by knowing what you don't like to do, and then focusing on what you do like to do.  Then there's the other option of expanding what you currently do, so something like having strong writing skills can be applied to multiple different jobs.
Ben Forstag:
The other thing to keep in mind is that you're not locking yourself into one career for the next forty years. You can do something for one year, two years, ten years, twenty years, and then stop, pivot, and do something differently as well. I think a lot of people coming out of college think, "Whatever I pick now is going to define the rest of my life forever," and that's just not the case.
Mac Prichard:
There's an advantage to a job seeker when they get clearer about their choices, there may be three opportunities that they want to explore, too, but when they shorten that list, they make it so much easier for people to say yes to informational interviews or to introductions or to think through the connections and answers to questions. That seems counter-intuitive to many of the job-seekers I talked to whether they're just out of college or in mid-career. They think by keeping open the possibility of saying yes to everything, they'll get more opportunity and actually the opposite is often true.
Thank you, Jenna and Ben. If you have a question for Jenna, please email her.  Her address is jenna@macslist.org. These segments are sponsored by the 2016 edition of "Land Your Dream Job in Portland(and Beyond)." That's our new book and we've made it even better by adding new content and offering it in the formats you want. Now, for the first time, you can download our book in Kindle, Nook, or iPad formats, or you can buy a paperback edition. Our goal is the same whatever the format you choose, we want to give you the tools and tips you need to get meaningful work that makes a difference. For more information, visit Macslist.org/book.
Now let's turn to this week's guest expert, Larry Smith. Larry Smith is an adjunct associate professor of economics at the University of Waterloo. Over the past thirty years he has offered career guidance to more than a thousand students in alumni. Larry's video, Why You Will Fail to Have a Great Career, was posted on TED.com and YouTube, and it's been viewed by more than six million people. He's also the author of a new book, "No Fears, No Excuses: What You Need to Do to Have a Great Career."
Larry, thank you for joining us.
Larry Smith:
My pleasure, Mac.
Mac Prichard:
Larry, why is doing what you love, in other words, following your passion, enough to have a great career?
Larry Smith:
You're stacked with passion, without passion you can't be an innovator, without being an innovator, you can't have a great career, but passion isn't enough, you've got to do a large number of other things, it's a very simple argument, passion is essential for a great career, but it's not enough, it's not sufficient. I want to emphasize to everyone who wants a great career how demanding it is, but that it's achievable.
Mac Prichard:
You need passion, but what are the other things that you've seen people who've had great careers do, Larry, besides tapping into their passion?
Larry Smith:
I've been privileged to watch so many different people pursue careers in so many different industries, so many different technologies. After all this length of time, there's some things that I know really do work. The only trouble is, it's boring advice, which is why a lot of people don't actually end up taking it. For one thing, you've got to learn how to market yourself, you've got to learn how to market your ideas, that is absolutely essential. You've got to understand that you've got to be a marketer, you've got to understand that you've to market new ideas, you have understand that you need to create new ideas, that you need to discipline that passion so that you're actually creating new ideas, not using your passion for a lesser purpose, and then last, and most certainly not least, you need a plan.  A solid, rigorous plan, in order to achieve a great career, all of those things need to be put together with a lot of homework, and just work.
Mac Prichard:
You've got to tap into that passion, be prepared to sell your ideas, you can't rely on credentials alone. Skills change over the years and you got to have a plan. Is that a good summary, Larry?
Larry Smith:
That's correct, and one of the things that I try to get everyone to understand when I'm discussing career with them is, especially a young person, you got to look fifty years forward, that's roughly the working life of someone who's in their twenties today. Too many people plan careers based on one or two years. From my point of view, that's not exactly a plan.
I want people to have fifty-year plans, it's the only sensible time horizon. When I'm giving advice to a young man or women, I have that fifty-year time horizon in mind, fifty years that I will not actually see. At the end of that fifty years, we know that there will only be two skills that will be in demand for sure. Lots of things will change over the next half-century. One thing isn't going to change, we're going to need innovative problem-solvers fifty years from now, we may need them more than we've ever needed them, but we're going to need them for that whole period of time, and the second skill you know you will need fifty years from now is to be a communicator. No sense having great ideas, innovations, if you can't properly express and advocate them. You need to plan a career in light of the fact that you need to have that skill and you can rely on it.
Mac Prichard:
We do have many people in their twenties, millennials in their twenties and thirties who listen to this show, Larry, but we also have a lot of baby-boomers, and I can hear them asking themselves, okay, that's terrific advice if you're in college or at the start of your career having that fifty-year perspective. What do you say to people who are mid-career, or perhaps coming to the end of a traditional career?
Larry Smith:
I'm a baby boomer too, so I'm very sympathetic to my fellow boomers, and I've worked with a lot of people who've had to re-orient to their careers, and in some ways, it's ironic, you want to reorient your career, maybe you've got five years left, maybe you've got ten, to spend ten years happy, to spend ten years fulfilled, still seems to me it's worth the work and the effort to do so, but the same principle applies.
The truth is, this skill, this ability to be an innovative problem-solver will be in-demand from this minute forward, so even if you're going to work for another ten years, it's still same argument, create a plan, so you can use your passion to be an innovator and understand how to market yourself and your ideas. This same argument applies. Maybe there's a little more urgency. A younger person can do a little more experimentation, the older person has to be maniacally focused to make sure that they achieve a great ten years. Isn't it really a challenge to go out in a blaze of glory? That's what I propose to do, that's what I want other people to do.
Mac Prichard:
That's a great way to finish your career, and this is excellent advice. As you say, it's sensible and it's practical. What are the challenges that you see people struggle with when they try to act on this advice?
Larry Smith:
Notwithstanding if this is a time-tested strategy, notwithstanding that I have seen hundreds of examples of it working and if people look around themselves at the men and women they know successful they will actually see these principles do work. The difficulty, is actually following through on this stuff. So many people are their own worst enemies, they create their own obstacles. The things that are slowing them down, they will find between their ears. Sometimes that's being fearful.
I understand fear, I don't want to live in a fearless world, a fearless world would be a dangerous world. I don't want people to get rid of their fears, I want them to manage past them, I want them to understand their fears, worry about the right things, not the wrong things. From my point of view, for example, when having a dialogue with someone about the fact that they are fearful, I respect fear, everyone should, but for example, a key point is what are you afraid of? I try to help people understand that what they really should be afraid of is wasting their talent. That's a bigger fear than making a fool of yourself, that's a bigger fear than disappointing your family and friends. The worst fear is that of wasting your talent. Again, this must be taken respectfully, and I must admit, as I did in the TED video, you really and truly have to stop making excuses.
It's comfortable to stay in the comfort zone, why we call it a comfort zone, but you have to leave it. People make excuses not to leave it, in their heart they know they're unhappy in their work, in their heart they know they're stuck in a dead-end job. They know that they're wasting their talent and then they make excuses not to take action. They will use their family as a defense against taking action, they will use all sorts of reasons not to take action. Face those excuses, recognize them for what they are. They are your attempt to avoid taking action. You have to take action.
Mac Prichard:
When you see people overcome those excuses and overcome those fears, what steps do they take?  Why are they successful?
Larry Smith:
It is easy to say it is because they have courage. From my point of view, that's not … while I respect that many people do have courage in the face of great obstacles, it is because, really, they do this boring thing, they work it through. It's like guerrilla warfare, they take a small step, another step, another step, and another step. The people who I have seen successfully create great careers, stare down their fears and get rid of their excuses, they did it both methodically, they did it step by step, and they had a plan, because otherwise you're just closing your eyes, whistling through the graveyard, that's not a way to try to confront things, because the first loud noise you're gonna hide under a bush.
The man or woman who has a plan, who goes step, step, step, step, step, they gain confidence as they do the "This is a way to do it," without scaring yourself or scaring your family, it is the way to feel yourself forward, it is prudent and realistic, in my view, at least.
Mac Prichard:
You've talked about the importance of ideas in career success in any job and how they matter in the long run more than skills.  What about creativity, Larry, what part does creativity play in a great career?
Larry Smith:
Creativity is essential because it is part of the package of skills which is to be an innovator. The thing that is so important about creativity is when I discuss this with some people, their answer is "I'm not creative," or "I can't be innovative so I guess it will have to be something else." Well, in the first place, they don't understand what creativity is, they assume it means artistic creativity.  Yeah, that's a version of creativity, thinking up a new technology is creative. Creating a new line of code is creative.  First people have to understand what creativity is, most people have a narrow view of creativity, then they immediately say they're not creative.
I have trouble understanding that when someone tells me they're not creative, I ask if they've ever been a child, or did they emerge in the universe in plastic wrap, fully grown?  Then they look at me like I've lost my mind and I insist again, tell me, were you a child or were you not? I'm trying to make the point that almost every child who's healthy is imaginative when they're small. They are imaginative, they are creative, they try things naturally as their natural response, this is to say that if you can do it as a kid, you can do it as an adult. The scale may be rusty, and you may have to work hard, also, to recreate it, but if you can do it when you're six, I don't see why you couldn't do it when you are sixteen, twenty-six, or sixty-six, unless you choose not to recreate this skill. Unfortunately after children have this wildly imaginative and creative childhoods, we send them to school, and then something goes wrong. Just start trying.
One of the most motivating things any person can do is get a small victory. I believe many people fail to go after great careers because they do not know how profoundly satisfying it is. They don't really know how sweet a successful, great career can be. They don't know the feeling that you are maxing your talent out, you are pushing yourself as hard as you can in a creative, innovative way. Until you feel even a glimmer of that satisfaction, you do not know what you're fighting for, and it is a fight. It is difficult. If you start and get a small taste of the satisfaction of victory, and I mean victory of an accomplishment, I don't mean victory of making a few dollars, or getting a promotion. I mean the profound satisfaction from creating something, producing an accomplishment you care about, that will feel so wonderful, you will redouble your efforts to it again. This is the kind of thing that, once you taste it, you will never be satisfied with less. Try to get a little taste.
Mac Prichard:
I think that's a perfect spot to end our conversation. Thank you so much, Larry, your new book, "No Fears, No Excuses: What You Need to Do to Have a Great Career," is being published this month in April. How can people learn more about you, Larry, and about the book and your work?
Larry Smith:
The easiest way is kind of a cliché, I do have a Facebook page, there's an extensive set of reviews and a bio on the Amazon.com website for the title "No Fears, No Excuses: What You Need to Do to Have a Great Career." You can ask Mother Google to find me, I am Larry Smith, I've got a ridiculously common name, but Larry Smith Waterloo will find me.
Mac Prichard:
Terrific, we'll be sure to include links to your Amazon page and your Facebook site as well, in the show notes, so that people can find you there, too. Larry, thank you for joining us, it's been a pleasure.
Larry Smith:
My pleasure as well, thank you very much, Mac, and thank you, everyone else.
Mac Prichard:
We're back in the Mac's List studio with Ben and Jenna. What did you two think, what were some of the most important points you heard Larry make?
Ben Forstag:
Well, I'd like to touch on his point about thinking fifty years into the future.
Mac Prichard:
Taking the long view.
Ben Forstag:
Yeah, and I think some people listening to that might think, "He just said I need to have my entire career planned out for the next fifty years," and I don't think that's what he was saying, I think what he was trying to point out is, there's a couple skills that we know are always going to be valuable, and he said it's innovation and communication, and keeping that in mind, as long as you're going back and tapping those resources in your career, or in your professional development, you're going to find some meaning and some opportunity.  All the intermediary steps you take, whether it's this job or that job, or this sector or that sector, that doesn't matter as much as paying attention to these meta themes that are out there.
Mac Prichard:
Technical skills, their value comes and goes, I'm getting ready to go to the 25th reunion of my graduate school class, and we had a book when we all showed up on the first day where we got to list our most important skills in the fall of 1990, and not one but probably half a dozen people listed as a critical skill, was their knowledge of Lotus 1-2-3, a software product nobody remembers anymore that was a precursor to Excel. Those technical skills don't matter in the long run, it's that ability of innovation and being able to communicate, I think, that makes a big difference. Jenna, what did you think?
Ben Forstag:
I liked his talk to you, I thought his points on being focused were spot on, obviously, but I that also combats what he also talked about when he was speaking about fear management, how not getting caught up in what-if scenarios that are completely impractical but just being focused on that fear is still going to be there no matter where you are in your career, but if you focus on actual fear and not getting side-tracked of, "What if I walk in and my building's burning down and the entire company shut down," that's not a realistic fear, but more practical stuff.
Mac Prichard:
Great, thank you both, and thank you, our listeners, for joining us. If you like what you hear on the show, you can help us by leaving a review and a rating on iTunes, this helps others discover our show and helps us serve you better. One of the reviews we received recently was from Michelle Jorgensen, who writes, "Mac, Cecilia, and Ben's concise, focused, and strategic advice allowed me to address my strengths, goals, and marketability. The podcast provided the tools to actively manage my career. I started Episode 1 on November 25th, 2015, and I studied each episode and implemented the tools, the team, and their expert guests offered. I am hooked, and happy to report that within a month and a half I went from a government position I felt stuck in, to one in the non-profit sector that I'm thriving in. Thank you for all you do."
Thank you, Michelle, that's a very gratifying review, and we really appreciate you being both a listener and sharing with us what happened. Thanks, also, to the scores of other listeners who've left a review. Please take a moment to leave your own comment.  Go to www.macslist.org/iTunes. Thanks for listening, and we'll be back next Wednesday with more tools and tips you can use to find your dream job.