Mac Prichard's Interview on the Non Profit Hour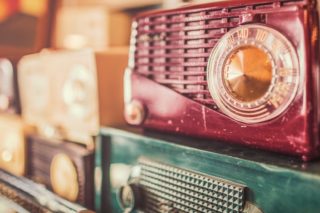 Many job seekers are interested in a nonprofit career as a vehicle for rewarding, socially-impactful work. But landing a nonprofit job isn't easy. Competition is fierce – particularly for the most desirable positions. And the nonprofit sector itself is sometimes quite insular, with the the most plum jobs going to well-connected candidates.
Finding a nonprofit job requires a strategic approach, solid networking, and a clear understanding of what you have to offer social impact organizations.
On February 28, 2016 Mac Prichard, founder and publisher of Mac's List, explored these issues on the Non Profit Hour, a radio program produced by the Portland-based Media Institute for Social Change. Mac discussed the history of Mac's List, the unique challenges of finding rewarding work, and his own experience as a job seeker.
He also shared some of his favorite work-themed music. (Spoiler alert: Mac loves Dolly Parton!)
Transcript
Jenna Forstrom:
This is Find Your Dream Job, the podcast that helps you get hired, have the career you want, and make a difference in life. I'm Jenna Forstrom, the community manager here at Mac's List. Several months ago, Mac Prichard, founder and publisher of Mac's List was interviewed on the Non-Profit Hour, a radio program produced by the Portland-based Media Institute for Social Change. In this 26-minute interview, Mac speaks with host Phil Busse about the history of Mac's List the challenges of finding rewarding work, and about his own experiences as a job seeker. Mac also shares some of his favorite work-themed music. Here it is then, Mac Prichard on Non-Profit Hour with Phil Busse. This show was originally aired on February 28th, 2016.
Phil Busse:
This is Phil Busse. It's the Media Institute for Social Change's Non-Profit Hour. I'm really … We have a very interesting guest today, Mac Prichard, who has both Mac's List and then Prichard Communications, and I want to start talking about Mac's List, which is really a powerhouse and a focal point for staffing nonprofits, and Mac, why don't you start by just telling us how did this come about? Did you see a need and jump into it, or was this a mistake?
Mac Prichard:
It's a 14-year overnight success, Phil. We attract a monthly audience of about 80,000 people, but we began very modestly. I had the good fortune while living in Portland to work in Salem for a number of years in government and politics there, and when I took a position at Portland State, in 2001, I wanted to stay in touch with my old colleagues down in Salem. I didn't know if I'd ever go back, but I wanted to stay on people's radar screen, and the way I did that was I put together a simple list of a few dozen names of people I wanted to remain connected with, and I started forwarding job postings, and that's how it began.
Years went by, and the list grew very slowly and modestly, but over the years I heard from people who wanted to be on the list, and then from employers who asked me to share postings, and when I started … We all get job postings, we all get that email that says, "Hey, if you hear of anybody, please pass this along," and that's how it began. It took off, however, when we turned it into a weekly newsletter, and then that was about seven years ago, and as we've added new platforms, it's grown and grown.
Phil Busse:
I would think that one of the difficulties of, a good problem to have, of growing is once you've gone past your initial circle of friends and once you've stopped really curating the job postings that you were going and it became a place where people could buy a posting, was there a concern that as quantity went up, that quality might go down?
Mac Prichard:
The magic of the list is connection, and it's grown entirely by word of mouth, so we've never advertised, we've never done sales. Candidly, we did try sales calls for a few weeks, and it was a disaster, and it taught us an important lesson, which is an old one that employers know and job seekers learn pretty quickly, I think, and it's this. People hire people they know, or they hire people who are recommended to them by people they trust, and that's the foundation of the list, because people get on the list by word of mouth, so you tell a friend about it, the friend trusts you, they sign up, and they see the information they're getting is valuable. They tell another friend, and so forth, and employers come to the list in the same way, either because they've been job seekers themselves or someone in their organization says, "You should post on this list." It's, to your original question, it's very much a community, and it is self-curated, and it's self-growing.
Phil Busse:
If you could go back to when you … ten plus years ago and give yourself some advice about how to launch Mac's List, what would that be?
Mac Prichard:
Recognize … It's a great question. For a long time, I didn't understand the value of what I was providing, the benefit that people were getting from the list, and I think that's an important lesson not only to someone who's managing an online community to learn, but for job seekers as well, because often when people do their searches they see the competition and they think it's … they don't do as good a job as they might in recognizing the value they offer to employers, so the basic lesson I think would be to recognize that if you're providing something that offers a benefit, it's going to be valuable and people will want it.
Phil Busse:
Can you … I know it's different for each person and each person looking for a job, but are there sort of a top three list of most attractive professional skills?
Mac Prichard:
I think it depends … I think it really depends on the occupation, and I think what employers are looking for from applicants, most fundamentally, what can you do to help that employer, and what employers tell us about interviews that frustrate them is when a job seeker talks about the benefits of the position to them. "This will be great because it will help me pursue my interests in this field. I support your mission. Your office is conveniently located." They don't say that, but … and those are all important reasons that somebody should pursue a job, but you want to lead with the benefits that you offer an organization where you want to work, because ultimately the employer is thinking about the pile of work that is growing, the problems they got to get solved, and if you can understand those problems as a job seeker, and show demonstrate either through experience or through presentations in interviews that you can address and solve those problems, you will move to the front of the line.
Phil Busse:
Mac's List, is it all non-profits?
Mac Prichard:
It's not, Phil. It's private and nonprofit employers, and again, the position's come to us by word of mouth, and so as the list, as the community has grown, the number and the variety of positions has grown. They are for the most part professional jobs. They require usually a college degree or a certain amount of education. They are focused in Oregon. Our biggest market is Portland, which is a reflection of the state's economy, but we do get jobs from all across the state.
Phil Busse:
I think it's interesting. It's a very, even those it's a large group of people that are using your list to find jobs or to market jobs, it's also is a fairly specific group of people, and again, they're not all working in nonprofits, but a lot of these people are not just looking for a paycheck. They're looking for meaningful jobs.
Mac Prichard:
Exactly.
Phil Busse:
That's a different creature than if Intel was searching for somebody.
Mac Prichard:
I think everybody wants to find meaning in their work, whether it's a professional position or one that doesn't require a lot of education, and that meaning can come in many different ways. The community, the workplace can be, just knowing how your work is making a difference in somebody's life, so it's not something that's limited to just the white collar occupations.
Phil Busse:
This is Phil Busse. It's the Media Institute for Social Change's Nonprofit Hour. I am speaking with Mac Prichard, who runs both Mac's List and Prichard Communications. You brought some music in.
Mac Prichard:
I did. The first song I'd like to share is one of my favorites from my grade school days. It's Tennessee Ernie Ford singing "16 Tons," and the reason I'd like to share this is it's a wonderful song, but it's the way work doesn't have to be. It doesn't have to be a trap. It doesn't have to be drudgery. You can avoid that, and I know we'll talk more about how to make that happen.
Phil Busse:
That was "16 Tons." What a great song to listen to during the work day. This is Phil Busse. It's the Nonprofit Hour. I'm speaking with Mac Prichard. We are speaking about one of his services, Mac's List, which is an incredibly robust job posting newsletter as well as other avenues, and I have not really been looking for a job for a number of years. However, I still get the list, and I read it every week, because it is … There's a narrative almost to it, in that I can see what organizations are growing, who's changing, maybe what executive directors are moving on. It's, there's a certain thrill to reading Mac's List. Am I alone in that?
Mac Prichard:
You're not. We know from our work in the community … We have quarterly events for job seekers. We do an annual survey. We get thousands of responses. We know from this, Phil, that more than two thirds of our readers are employed, and they're what recruiters call "passively looking," and I think your interest in tracking positions is a reflection I think that it is a community, and the number of jobs on the typical blog … I'm sorry, the number of jobs on the website at typical times is a few hundred, and that is a large number, but it's also remember that according to the Oregon Employment Department, about 80 thousand jobs are posted online every month, so we have a small fraction of that, and but the interest that you and other readers have in those positions that we do have is a reflection that we've grown organically.
Phil Busse:
I think there's a certain aesthetic to it that is … It is cleaner and flashier than Craigslist but there's still a certain aesthetic to it that follows that there's no pop-up ads, there's no flashing lights. There is a nice simplicity to the look, and I assume that's intentional.
Mac Prichard:
It is. It reflects … We try to create a website that reflects our values at Mac's List and the kind of place that we would want to spend time, my team and I.
Phil Busse:
Mac's List, again, started as a newsletter, sort of as a project for you. It's grown into a big deal. It's a website. There's a book, and you recently started a podcast, Find Your Dream Job.
Mac Prichard:
We have. There's also a blog that has several posts a week, and the reason we provide all this information is because looking at job boards when you are actively looking for work is one important strategy, but it's not the only way to find work.
In fact, there are estimates out there that as many as 80% of jobs are never advertised. They don't appear on Mac's List, monster.com, Craigslist, anywhere, even in old-fashioned newspapers. The reason that is so, you and I were talking about at the start of the show, people fill jobs by word of mouth, not because there's a conspiracy, but it's just a reflection of human nature, that connection. You want to reach out to people you trust or know, so through the blog, through the book, and now through the weekly podcast we provide information about how to look for work outside of job boards, and that often involves networking, volunteering, and most importantly, getting clear about your goals, because if most jobs are filled by word of mouth, 80%, if you're doing, for example, if you're doing a job search, you probably shouldn't be spending 100% of your time looking at job boards, no matter how good they might be. You need to get out in the community and talk to others.
Looking for work is a skill that most schools don't teach. You can go by either great career centers that can offer coaching, but most people get through university or college without learning those skills, and then their first instinct is to look at job boards, but what do they do after they've scanned all the boards, and there's plenty they can do. They need to find out, need to learn often how to do it.
Phil Busse:
Clearly, Mac's List and your work here has given you a lot of insights into what the labor force is and the type of person that's working in Portland. What percentage of that is Portlandia type of person going on with? Is there a personality type that you can say is out there in the job force that feels unique to Portland?
Mac Prichard:
Portland is a wonderful place. I think there are a lot of different personalities out there, and I think you would find them in most cities. I want to step back though and talk about why I feel passionate about helping people learn the skills to find work. It comes in large part from my own personal experience, because I came out of college, I had several great jobs that I basically fell into then, and then in my late twenties I got stuck. I was laid off, and I had a long period of unemployment, and I didn't know what to do other than to pick up the paper every Sunday and look at the ads and send out resumes, and then after I did that on Monday morning, it was a long week.
I share this story because this happened to me not once but twice, but I got out of those holes and I got great jobs, and I've had a very rewarding career that I'm grateful for, but I got out of those holes because I learned how to look for work, how to network, how to do informational interviews, how to stay in touch with my contacts, and so I get very excited about helping other people learn that too, not only so they can find a job, but they can find rewarding, meaningful work, and think about not just the next job, but how they can have a career that can make a difference, and that's what drives us at Mac's List. It's not just a job board, though that's important. We're trying to teach people how they can have great careers.
Phil Busse:
On the other side of the … The other part of the equation is also making a good hire.
Mac Prichard:
Right.
Phil Busse:
How much is Mac's List involved in that? We've been talking about it's a source for people looking for jobs, but it's also a source for people that are hiring and they're looking to hire quality or the right match. How much … What insights do you have in terms of people making bad hires? Are there common mistakes that people make?
Mac Prichard:
There are, and I've been an employer now since 2007, and before that I was a manager in public agencies and nonprofits, and I've made some great hires, I've worked with some very talented people who've had very distinguished careers. I've also made a lot of mistakes along the way, but I think employers know that when they're filling a position, the reason why employers fill jobs by word of mouth is because they know they'll get good results by reaching out to people whose work they know or people they've had direct experience with, so I imagine your listeners are thinking, "Okay, if I've never worked with anyone, how am I going to get a job with that organization?" And it doesn't have to be that strong a connection.
Often if you've had a … if you know somebody because you served on a committee together, or you've attended the same social events, or you've been involved in a professional organization, or you move in the same professional circles, or you've met through an informational interview, that can make a huge differences, and if there's a pile of a hundred resumes for a position, if you've got a connection that it allows you to demonstrate that you've got the skills to do the job and there's some kind of relationship there, that's a huge advantage, and you can do that in a thoughtful, strategic way.
Phil Busse:
What about making the hire? Do see Mac's List as just the matchmaker and then your job is done, or what responsibilities do you feel that Mac's List has to that continued relationship between the boss and the employee?
Mac Prichard:
Again, helping people learn the skills they need not only to not only find great work but also manage their career is I think the difference it makes for employers is they're going to attract employees who know what they want, and when people are clear about their goals, when the applicant knows where she or he wants to be and the employer is clear about what they're looking for, that's going to lead to a productive, rewarding relationship for both parties, and so we help job seekers identify where they want to be by providing information about goal setting, informational interviews, and strategies and tactics that can help them get clearer about where they want to be.
I don't know if you've ever had this experience, Phil. I've talked to people who have. I haven't personally, but people will tell me, they'll start a job and it … they took it because they just, they needed a job, and they realize it's not a good fit, and if it, and often they leave, and that is not a good situation for either the employee or the employer, because you're investing a lot when you sign up with an organization, and if it's not a good fit, you have to start all over again, and that can be tough.
Phil Busse:
This is Phil Busse for the Nonprofit Hour. I am speaking to Mac Prichard with Mac's List as well as with Prichard Communication, and we're talking about hiring and staffing of nonprofits as well as other organizations around Portland. You have another musical suggestion?
Mac Prichard:
I do, Dolly Parton, in "9 to 5."
Phil Busse:
Do you know, Mac, did that come before or after or simultaneously with the movie?
Mac Prichard:
I'm so ancient, Phil, I actually saw that movie in first release, and the song came out at the same time as the movie, and I don't know if you've seen it …
Phil Busse:
I know the gist of it. I was a kid, and I don't think I was allowed quite to go see that movie.
Mac Prichard:
It's about three women. They're played by Lily Tomlin, Jane Fonda, and Dolly Parton, and they're in an office, and there's a terrible boss, who's incompetent, played by Dabney Coleman, and they make him look good, but they're so frustrated by his poor leadership that, it's a comedy, they kidnap him, and they take over the office, and they make the place hum, and they introduce all these ideas that make employees more productive, like flex time, job sharing, so it's a comedy, but it's a comedy with a hopeful message.
Phil Busse:
There are so many quality movies about bad bosses, are there not? I think that is indicative of how some people are suffering nine to five. Mac, when you started this, or let me phrase it differently. How surprised are you that Mac's List has become an institution?
Mac Prichard:
I'm gratified by the audience that comes and what I've tried to do in my career is provide services that make a difference, that help people, and I do that through … I know we'll talk about Prichard Communications later, but through public relations work to support social change, and Mac's List really reflects a fundamental value for me, which is to choose work that makes a difference in my community or on issues that I care about, and so being of service to others is important to me personally, and it's a huge value at Mac's List, is what drives what we do.
Phil Busse:
Mac, thank you so much for talking to us today about Mac's List. This is Phil Busse, and it's been the Nonprofit Hour for Social Change, and just as a wrap up for this part, just as a wrap up, where can people, how can people get, if they're not already on Mac's List, how do they sign up?
Mac Prichard:
Visit our website. We have a newsletter that comes out every Tuesday with over a hundred jobs. It's free, and you can find a sign-up box at the website. There's a Thursday newsletter that contains the three to four blog posts that we publish every week, and that's free as well, and we've just launched a weekly podcast. We add a new episode every Wednesday morning. This in fact is our launch week. We're very proud and humbled that we're trending at number 6 at the iTunes career chart in the U.S.
Phil Busse:
Congratulations for that, and thank you for all the great that you've done and all the jobs that you've helped become a matchmaker for.
Mac Prichard:
Thank you, Phil. It's a pleasure to be here.
Jenna Forstrom:
Thank you for listening to this bonus episode of Find Your Dream Job. To learn more about the Media Institute for Social Change and the Nonprofit Hour Radio Show, visit www.mediamakingchange.org\nph, and if like our show, please take a moment and leave us a review and rating on iTunes. We really appreciate your support. Thanks for listening.