9 Ways to Jump-Start Your Career While in Graduate School, with Liz Herrera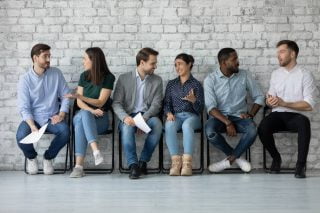 If you are currently a graduate student, you might be waiting until graduation to look for your next position. But that's a mistake on several levels, says Find Your Dream Job guest Liz Hererra. If you spend time at the beginning of your education figuring out where you hope to end up, you can avoid months of frustration. Liz recommends assessing your strengths, building a strong network, and taking advantage of internships to build momentum in your job search during graduate school. 
About Our Guest:
Liz Herrera is a professional career coach. Liz is also a director of career development and major exploration at the University of Illinois at Chicago.
Resources in This Episode:
Transcript
Find Your Dream Job, Episode 274:
9 Ways to Jump-Start Your Career While in Graduate School, with Liz Herrera
Airdate: December 16, 2020
Mac Prichard:
This is Find Your Dream Job, the podcast that helps you get hired, have the career you want, and make a difference in life.
I'm your host, Mac Prichard. I'm also the founder of Mac's List. It's a job board in the Pacific Northwest that helps you find a fulfilling career.
Every Wednesday, I talk to a different expert about the tools you need to get the work you want.
Find Your Dream Job is brought to you by Top Resume. Top Resume has helped more than 400,000 professionals land more interviews and get hired faster.
Get a free review of your resume today.
Go to macslist.org/topresume.
When you're out of work, you might think about going to graduate school.
Our guest today says you don't want to put your career on hold if you do enroll in a graduate program.
Instead, you need to think about your job search throughout your graduate education.
Liz Herrera is here to talk about nine ways to jump-start your career while in graduate school.
Liz is a professional career coach. She's also a director of career development and major exploration at the University of Illinois at Chicago.
Liz joins us from Chicago, Illinois.
Well, let's get started, Liz. You've got nine tips for graduate school students and how they can make a difference in their career, but before we go through your list, why do you recommend students think about job hunting at all throughout graduate school?
Liz Herrera:
Yes, absolutely, I think that a lot of times, students wait until the last minute, when they're ready to graduate, to start the job hunt. And as you know, the job search process does take some time and there's a lot of organization, and you need to be very thoughtful about that process. So, starting early is extremely important to really get ahead and be competitive once you are ready to enter the job market.
Mac Prichard:
Liz, shouldn't students focus on studies, not careers, before graduation?
Liz Herrera:
That's a great question. I think that definitely, focusing on academics is very important but you really want to distinguish yourself from your competition, right? So, while you are training and developing and receiving an education, when you graduate you want to also show employers that you not only have the academic training but that you have the skillset and experience, because that is really going to speak volumes, so trying to find ways to acquire a skillset outside of the classroom is extremely important.
Mac Prichard:
You've worked in career service centers for a number of years now; what do you see happen, Liz, to graduate students who don't think about their careers and job hunting until commencement or even afterwards?
Liz Herrera:
Yes, in my experience, frustration or…I used to work with a lot of graduate students and the ones that waited until the last minute, some of them didn't even have a resume and they're pretty much starting from scratch. So, you know, trying to figure out where they want to go, what types of jobs they want to focus on, creating their professional package. Now, I will say that I always told my students, "It's okay. We'll work on this." But the students that focused that energy at the beginning had a much easier time executing that job search because they were able to use their grad school time to focus on that and they felt more prepared when putting themselves out there for the job search.
Mac Prichard:
So, you're not doomed if you wait until graduation day but you're going to have a much more productive and easier search if you start much sooner, is that it, Liz?
Liz Herrera:
That is correct, absolutely.
Mac Prichard:
Now, we're going to go through your list but before we do that, we're focusing on graduate schools, but does your advice also apply to community college students or anyone in school, Liz?
Liz Herrera:
Absolutely. I think that anyone, that is, any type of education that you're pursuing, if you're getting an associate's degree, a bachelor's degree, a doctoral degree, I think all of these will apply for sure.
Mac Prichard:
Well, let's go through your list, you've got nine tips here, and the first is to assess and track your skills, strengths, and contributions. Why is this important, Liz?
Liz Herrera:
I think a lot of times people forget that they have acquired skills over time, and while they are in graduate school, specifically that's what we're talking about, you're going to be learning different techniques and tools in the different classes. And it's important to really capture what those things are. Even though it's academic training, you're building a skillset that will later on come in handy. I always encourage students to keep a journal; so whenever they are, maybe after a course, there's something that they've learned, maybe there's some practical experiences. I know a lot of these courses require more of a practical hands-on, working in teams, working on a project, maybe doing a case study, or working in a community.
Those things are essential and there are a lot of skills that you can acquire through those experiences and it's important to keep track of that because trust me, you will forget, so it's a good habit to form to keep track of the new skills.
Mac Prichard:
That surprises me. Do you find that students who don't do this kind of self-assessment just don't have as good a grasp of their strengths as they who do?
Liz Herrera:
In my experience, yes. I would say that I have worked with individuals who were having a conversation and as we're preparing for, let's say, a job interview or updating their resume, we have to really dig deep and think about, "Okay, what did you learn when you were in this class?" Or even speaking the language, the terminology of their industry, and I had students that did have to do a journal, say for their class, and those students were better equipped to articulate and communicate some of those skills because they had already written it down somewhere. They had archived it; they had captured it in some way, and it just triggered their memory like, "Oh that's right, I took that class, I did that, I do have that skill."
I think a lot of times students undermine or undervalue a certain skill or a new ability because they don't think of it. It's kind of, "Oh, it's in the back of my mind. I took that class and I'm ready for the next class and I don't really identify as, you know, these…" they're being equipped with something that they're going to be, essentially, implementing in their field.
Mac Prichard:
What should a student do with this information?
Liz Herrera:
Consistently update their resume. I think a lot of people wait, again, until the last minute to update them and they forget this information. And so, I want to say, the majority of universities and colleges have some type of career services office, and I would say, visit that office early on. We love when students take advantage of the services that are available to them, and so, even after the first semester, meeting with an advisor. I know I would always tell my students, "Come see me right away." And those students that worked with me early on, we were able to talk about their classroom experiences, maybe their volunteer experience, and anything that they were getting involved with, and really trying to capture what they'd experienced and putting it on paper.
I always recommend people creating a master resume, and I always tell my students, "This is for your eyes only." So it could be multiple pages in length. This should be something that's for you to track and document the different types of skills or courses, experiences that you are acquiring throughout your program because you most likely will need to refer back to that as you start packaging in yourself for different opportunities.
Mac Prichard:
Number two on your list of nine career tips for graduate students is to optimize LinkedIn. How do you recommend, Liz, that a graduate student optimize a  LinkedIn account?
Liz Herrera:
Yes, LinkedIn is very multi-faceted, and I know that a lot of students will say, "Well, I'm not on the hunt yet. I just started school. Why should I even be on LinkedIn?" I think definitely establishing an online presence, making sure that you have a personal brand, that you have a digital footprint. So, this is essentially your marketing tool, and a lot of times students feel that they don't have a lot of experience to include just yet but I don't believe that.
After a conversation, I find that students do have experiences, even if they're not directly related. Employers do like to see that you've had some type of professional exposure, some type of experience, so adding projects, volunteer work, student involvement, your work history, having a summary of what are maybe your career aspirations? That's going to be extremely important. And also really getting a vantage point of where you want to go.
Joining professional groups, getting involved, and just maybe being an observer at the beginning, seeing what's out there, what kind of specific areas are specializations you may want to consider, following companies. There is no harm in following a company, even if you are not on the job hunt, again, just to see who's out there, what's out there, and gaining that visibility. And of course, you can follow influencers, industry leaders, and it's good to stay abreast of current trends, again, in areas that you are thinking about pursuing. So, LinkedIn is definitely very versatile.
One area, of course, is self-promotion, the personal brand, but also it's a great tool or platform to explore.  See what's out there, look at opportunities, and really, it's a wonderful professional landscape.
Mac Prichard:
I'm glad you brought up the value of LinkedIn as a research tool because I think many students think of LinkedIn as something that they'll get to a few months before graduation. But it's not just a calling card and an advertisement for yourself, it's also a way of learning along the way.
Number three on your list, Liz, is to conduct informational interviews. Why do you recommend graduate students do informational interviews?
Liz Herrera:
For so many reasons. It's very beneficial. So, one, trying to figure out, are you going to be a good fit for an organization? Organizational culture is gonna be extremely important, so why not talk to individuals that are already working in organizations that you are considering? So being prepared with some intentional questions to learn a little bit about an organization. Another reason is connecting with professionals and learning about their career trajectory.
They can provide advice on how to tap into that particular field. Maybe even if you're studying the same thing, there might be certain specialties that may have a different entry point, or they might get advice on what they should be doing while in grad school.
That was one of the popular questions when we would invite alumni to talk about their career path. They would always say, "I wish that I knew this information while I was in grad school." So, really tapping into alumni for informational interviews is key because you can get so much information about that person's career trajectory but also insight into that specific field or industry.
Mac Prichard:
Your fourth tip on your list of nine for graduate students is to serve as a volunteer. How can volunteering during your graduate education help you with your career?
Liz Herrera:
Gaining skills, gaining exposure, but also, identifying your interests. Even though you're in grad school, you're still exploring, and if you are looking to work in corporate or the community, in government, regardless of what type of area or industry, it's good to volunteer to really get a sense of, what do you want to focus on? What you like, what you don't like, but also gaining skills that you can add to your resume. And when you're interviewing for a position and you're able to talk to an employer that you were in school but you were also volunteering for a particular cause or something that aligns to your career goals, that can speak volumes.
I think volunteering can really be beneficial in so many ways. From building your professional package but also to learn about yourself and to see what you like, what you don't like, and building connections, networking.
Mac Prichard:
Terrific, we're going to take a break, Liz. When we come back, I want to talk about your fifth tip, which is one of my favorite strategies, using university job search databases.
Stay with us. When we return Liz Herrera will continue to share her advice about nine ways you can follow to jump-start your career while in graduate school.
If it's time to update your resume, the professional writers at Top Resume can help.
Go to macslist.org/topresume.
Top Resume will review your resume for free.
Go to maclist.org/topresume.
You'll get practical ideas you can use right away to make your resume better.
And you can hire Top Resume to do your resume for you, too.
Go to macslist.org/topresume.
Now, let's get back to the show.
We're back in the Mac's List studio. I'm talking with Liz Herrera.
She's a professional career coach. Liz is also a director of career development and major exploration at the University of Illinois at Chicago.
Now, Liz, you were taking us, in the first segment, through a list of nine ways that you recommend graduate students follow to jump-start a career while they're still in graduate school, and number five on your list, as I mentioned before the break, it's one of my favorites, it's to use the university job search database. Tell us more about this.
Liz Herrera:
Absolutely, I think a lot of times students, especially grad students, they don't take advantage of a lot of the resources available to them, and one great resource for many of the universities that they offer are the job search databases. These are typically exclusively available to university students or college students. And employers are recruiting and they typically focus on the career centers because they want recent grads, and I think a lot of times students don't believe that but it's true. Employers, they want to recruit recent grads, they want to recruit from campuses, so they rely on these job search engines that are specifically for university students.
I'll give you an example, at UYC we use Handshake, and we just acquired this tool and it's fabulous. I love it because students not only get to connect with employers, they also get to connect with other students and employers are also doing a lot of panels and virtual job fairs. So, there are a lot of benefits to using the university job search database and I feel that a lot of students don't tap into that resource. So, definitely take advantage of that or ask your career center to see what that looks like, and I'm also going to plug in that a lot of times these tools are also available to alumni, so something to consider and also to find out.
Mac Prichard:
I'm glad that you made that point about employers often advertising just on a particular university's job board because we run a job board at Mac's List and that certainly has been our experience, that you'll see jobs in university job search databases that you might not see on many other sites or perhaps only on that site, so while you can't rely on job boards alone, it is a valuable resource.
Number six on your list is to, you recommend that people build experience with an internship. Why are internships so important, especially for graduate students?
Liz Herrera:
Yes, it's definitely an opportunity to work in…it's more commitment -ocused, rather than, you know, volunteer work is great, and I encourage it but if there's an opportunity to actually do an internship that allows someone to actually work longer with an employer, really build, again, that skillset, gain that experience, get hands-on experience to what it would be like to maybe work in that organization, and I would say that a lot of times when students have internships and they impress an employer, I have seen employers create positions for someone because they have already trained them in the work and they were impressed with their performance or they may have opportunities for other positions within the organization and they are referred to maybe colleagues within the company because they have experienced working with them.
Internships can really be valuable while you are in grad school because that can be a great place to start when you are on the job hunt. And another thing that I wanted to mention is that a lot of graduate programs already have some sort of internship or preceptorship component to the program, and I always told my students this, because many of my students were required to do an internship, "Don't undervalue it and don't think of it as, 'Oh, this is just another thing I have to get done and I just need to finish grad school.' Maximize that experience, leverage that network."
You have access to these professionals and cultivating that builds relationships, adding them to your LinkedIn network, because that can really come in handy when you are ready for your job hunt. So, be intentional and strategic about that internship experience, for sure.
Mac Prichard:
Do you recommend graduate students consider doing more than one internship?
Liz Herrera:
Well, yes, the more the better. I would say, I also want to be mindful that, depending on people's situation, right? So, some people may be going to grad school and working full-time, or they may have a full course load, and of course, you want to be realistic in your time and managing your time but if you are in a situation where you can do multiple internships, absolutely, that's definitely going to add more value, you have more experiences to include on your resume, to talk about during a job interview, and it expands your network in various areas.
Mac Prichard:
Number seven on your list, Liz, is to build meaningful relationships, and you've touched on this a number of times but what kind of relationships are we talking about and with whom?
Liz Herrera:
Definitely relationships with everyone. So, I think a lot of times, people think like, "Oh, the highest level person you can think of." While they're important, your peers, even your peers. One of my first jobs, after grad school, was because of a colleague that I went to school with that referred me to a position. So, never undervalue those relationships. It's even people that you went to school with, but also, mentors, definitely looking into mentors within your program or in the internship, connecting with faculty. That's going to be extremely important because a lot of faculty, they have connections to people in the industry and I will tell you that employers, a lot of times, will contact faculty if they are trying to share a job opportunity, so definitely making connections with faculty. Or if you're getting your master's degree and you're thinking about getting your doctoral degree, again, those relationships with your faculty are going to be extremely key.
Especially if you're doing research. So, I would say mentors, faculty, professionals in the field, it's important to cultivate, and that way, you don't feel at the end like, "Oh, now I have to connect with everyone and I'm going to feel disingenuous." That way you keep cultivating…relationships are important, right? It's human to human and so you want it to be authentic and it takes time to build that trust, so when you start early you just feel like you have more of that bond and connection and it's easier to reach out to someone because you've already met with them, you've talked with them, and you've established that connection.
Mac Prichard:
How do you recommend maintaining relationships, not only with faculty but with the others that you meet in graduate school after graduation?
Liz Herrera:
There are a lot of different ways. In my experience, people reaching out and saying, "Hey, let's grab a cup of coffee." Or, "Let's catch up." Or even updates, like for me personally, I love updates. So, when a student reaches out and says, "Liz, you taught me about salary negotiation, or you taught me about that, and I used that tool or that strategy." And I just love hearing from people I've talked to. They're not bothering me, they're not bugging me. I love that, so when you connect with your mentors or your colleagues, or even faculty or other professionals just to give them an update, that is great. Or even connecting with them to find out how they're doing. You know, "I thought of you today. How's your day? How's your week?"
It can be as simple as that, and then you stay on that person's radar and you're visible and, again, you want to be authentic and genuine but I think there's still a way to stay connected, and even if it's six months, that's okay, too. We're busy, things happen, but don't be afraid to reach out to your connections, even just to check in, say hello, I think that can be a good thing.
Mac Prichard:
Number eight on your list of nine tips for graduate students who are thinking about their career is to join professional organizations, and you touched on this in the first segment. Why are you a big fan of graduate students getting involved in professional groups?
Liz Herrera:
Absolutely, so the nice thing is, professional associations typically cost money, and when you're in your field, you are paying all of this money to be a member. Now when you are a student, a lot of times they are either free or you get a discount, and you get to connect with so many professionals, already practicing in the field. You gain access to conferences, networking events, so why not want to tap into professionals early on that are practitioners that are already doing stuff in the field that you can learn from? And this is a great way to maybe identify mentors, learn about trends in the field, and really immerse yourself in your field of study and your industry. So, professional associations can be a great way to get your foot in the door and to, again, absorb as much information as you can.
Mac Prichard:
Every student's time is limited; how do you recommend a student choose, if they're considering two or three leading professional groups in their field?
Liz Herrera:
No, that's a great point. I would say, there's a season for everything and I've definitely worked with students who want to do it all, and while that's admirable, I think it's okay to take it one day at a time. So, for instance, if you're interested in one particular area…so I had students that were interested in global health, for instance, and there was a particular group that was focused on that. Maybe you join a group in that area, get information, get connected, and maybe the following year, you join something different. So, you will find your niche, you will find where you feel like you fit but it's exploratory and if it's just joining one, honestly, I think that is enough, to begin with, and it's a good habit to practice as a professional, and I recommend that to be a lifelong experience.
No matter how many years of experience you have, when you're in your profession, to at least be a part of one professional organization, as, again, it helps you stay on trend and learning new best practices. So, I wouldn't get super overwhelmed about making the right choice; choose what speaks to you at that given moment and that aligns to your interests at that time. You can always change and explore others but one at a time is fine, for sure.
Mac Prichard:
The last item on your list of nine is to customize your professional branding tool kit. What do you mean by professional branding tool kit, Liz, and how is that going to help you find a job after graduate school?
Liz Herrera:
Right, so everything needs to be tailored. Everything. So, when I say professional branding tool kit, I'm referring to the cover letter, the resume, CV, even when you're going into an interview. Whenever you're connecting with an employer, they want to know why you want to work for them, why you want to work for that particular organization, why you are in this particular field or industry. So, you really have to be able to articulate that and it has to be specific. You don't want to be all over the place while you have so many interests and you want to go into so many different areas. When you are focused on a job application or a specific position, you really want to carefully think about the relevant experiences that speak to that particular position, so really thinking about how you are presenting your brand to employers.
Also, LinkedIn right, so if you have specific research interests, or specific areas that you want to work on, little by little adding that to your profile because you will start to attract employers and companies into your LinkedIn profile and they're going to see the things that you're involved in and that you have been thinking about this career path for a while, through the professional organizations, through your student involvement, through your community work, through your volunteerism, through your internships. So, you're starting to tell a story and so everything should always be very specific and intentional to your targeted audience.
Mac Prichard:
I've so enjoyed our conversation. Now, tell us, Liz, what's next for you?
Liz Herrera:
Yes, so I have just recently launched a career podcast, so it's "Liz Career Coaching Podcast" and I talk about all different types of topics that students usually reach out to me for or clients. So, again, I just started that and am so excited for people to take a listen.
Mac Prichard:
Well, congratulations on the launch of your show.
Liz Herrera:
Thank you.
Mac Prichard:
I know people can learn more about your podcast and your coaching services by visiting your website, that's lizcareercoaching.net.
Now, Liz, given all the great advice you've shared today, what's the one thing you want a listener to remember about your nine ways to jump-start your career while in graduate school?
Liz Herrera:
Don't be afraid to connect with people, build meaningful connections, establish your network, keep the momentum going, and just, the best of luck in graduate school.
Mac Prichard:
Make sure you never miss an episode of Find Your Dream Job.
Subscribe to our free podcast newsletter.
You'll get information about our guests, free job search articles, and transcripts of every show.
Go to macslist.org/shownotes.
Next week, our guest will be Andy Foote. He's a writer and coach who teaches LinkedIn strategies.
Andy also hosts the podcast, Foote-Notes. It's an interview show with interesting people on LinkedIn.
One of the most effective ways to get an employer's attention is to post content on LinkedIn.
But to do this well, says Andy, you need to study what works, learn from those who do it best, and give yourself time.
Andy and I will talk about how you can create LinkedIn content that will help you land your next job. I hope you'll join us.
Until next time, thanks for letting us help you find your dream job.