The 3 Biggest Obstacles to Your Dream Career, with Anna Runyan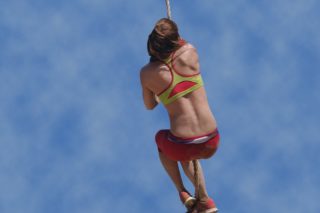 Do you have a vision of where you want to go with your career? What's keeping you from achieving this dream? What obstacles do you need to overcome to make the life you want?
This week's guest, Anna Runyan, says there are three main obstacles that can keep you from your dream job.
Time: We're all so busy that it sometimes feels like there's no time to look for something better.
Fear: Many of us are paralyzed by the worry "what if it doesn't work out?"
Direction: Not knowing what you want makes it impossible to develop a plan.
Anna shares her advice for overcoming obstacles and taking affirmative steps to realize your dream job.
This Week's Guest
Anna Runyan is the founder of Classy Career Girl, named by Forbes as one of the 35 most influential career sites of 2014.  She helps women design and launch their dream careers, businesses, and lives. Previously, Anna worked for Booz Allen Hamilton and was a professor of management at DeVry University. Anna's new online community is Love Your Career Formula.
Resources from this Episode
Transcript
Mac Prichard:
This is Find Your Dream Job, the podcast that helps you get hired, have the career you want, and make a difference in life. I'm Mac Prichard, your host and publisher of Mac's List. I'm joined by my co-hosts, Ben Forstag, our Managing Director, and Jenna Forstrom, our Community Manager. This week we're talking about the three biggest obstacles to your dream career and how you can overcome them. Our show is brought to you by Land Your Dream Job Anywhere, the new book from Mac's List, coming on February 1. Land Your Dream Job Anywhere shows you how to find meaningful, well-paying work wherever you live. For more information visit MacsList.org/anywhere.
Job-hunting is like exercise: we often know exactly what we need to do but we have a hard time getting started. Our guest expert this week Anna Runyan. She says three common barriers prevent most people from getting the career they want. Later in the show Anna and I talk about these obstacles and how you can overcome them.
We're recording this show in November and with the new year right around the corner you may be thinking about your own career plans in 2017. If you are, Ben Forstag says you need to read the Harvard Business Review. He'll tell us why in a moment.
Every part of the world has its own business culture. How should you dress for a job interview in the Pacific Northwest, for example? That's our question this week. It comes from listener Julie Williams. Stay tuned for Jenna Forstrom's answer.
First, as always, let's check in with the Mac's List team. Now, have you two ever been stuck in your career or maybe in a job facing barriers that just might have seemed insurmountable and how did you move ahead?
Ben Forstag:
Plenty of times for me. I feel like I've probably had two or three kind of distinct careers in my life so far and in each one I felt a little bit trapped, that I wasn't 100% happy but I didn't know how to take that next step to something different because it felt like all I was qualified to do was what I was doing right then. The other form of kind of inertia that I think's out there is that, when you have a job, it's tough to leave that job and go do something else because being unhappy where you're at sometimes feels easier and better than going and exploring something new.
I think, for me, what's really helped has been when I've had these abrupt stops from work – whether because I was moving, or I got married, or in one case because I'd literally quit my job – that spurred me to action. There have been several times in my life, and I shared one of these on the podcast before, where I was not really happy in a job I had and I'd reached this moment of crisis, and then they'd pay me off a little bit more, and then I'd be bought off and be happy for a couple more months. The cycle kept going on and on for a year. It wasn't until I finally moved, because I got married and moved to Oregon, that I was able to break free of that cycle and that need to go find a new job then, when I didn't have anything to fall back on, really helped me and that spurred me to action.
Mac Prichard:
Yeah, so it allowed you to hit the reset button and helped you get rid of that inertia that was holding you back.
Ben Forstag:
Yeah. Sometimes crises are opportunities.
Mac Prichard:
Yeah. Now Jenna, what about you? What are some barriers that you might have encountered during your job search or in your career, and how did you overcome them?
Jenna Forstrom:
Good question. One of the barriers that I ran into pretty early in my career, I was at a company here in Portland and I, for whatever reason, upper management, my manager, ended up leaving the company and I had a solid nine months where I had an on-paper manager, but I didn't have a manager – I didn't have a mentor, I didn't have anyone to talk to. When you're 22, 23 that's kind of the key time when you're trying to get involved with an organization and grow roots, not having someone to go to in those moments was really, really tough. Then because of that I started looking for opportunities outside of the organization I was with at the time.
The first time I met with my new manager was actually when I was putting in my two weeks to go somewhere else. That was a very interesting meet and greet but yeah, that was probably the only time I really felt stuck where I was like, "I don't know how to get out of this but I know I want a mentor and I know I want a manager, and I don't have one." That was an interesting time for me but it worked out.
Mac Prichard:
Yeah. It sounds like you didn't know when a new manager might come in, three months, six months, maybe even a year or more, and that's why you started looking outside the organization.
Jenna Forstrom:
Yeah. It was the proverbial 'soon,' which is a 'who knows when' kind of answer.
Mac Prichard:
I once had the misfortune in a job in Boston, we didn't have great offices and new space got leased across the street, and we were always going to move over there 'any day now.' I think a year and a half went by and then they lost the space and we were still stuck in our not-so-great offices, so, I've heard 'soon' before, and can sympathize.
For me, Ben and Jenna, I think an example that comes to mind when I think about being stuck in a job, I worked in state government in Oregon for seven years and I enjoyed my experience but it was a hard commute from Portland to Salem. My last opportunity, again, I had a great experience inside the organization but I wanted to stop spending two and a half hours a day on the highway, so I tried very hard to find a position in Portland and nothing seemed to be working. I actually started looking at jobs and had interviews in Washington DC, and I even interviewed for a fellowship in the UK, which would've taken me a long way both from Salem and Oregon. In the end the way I overcame that barrier and found a position at Portland State was through persistence, and I think the practice I had with those out-of-state interviews served me well, too.
We'll talk more about barriers to careers and ways you, our listeners, can overcome them. But first let's turn to Ben Forstag, who's out there every week searching the Internet on your behalf – poking around the nooks and crannies and looking for websites, books, and tools you can use in your job search and your career. So Ben, what have you found for our listeners this week?
Ben Forstag:
Mac, you're going to like this week's resource because you're a Harvard man.
Mac Prichard:
I know, but not the Business School – the Kennedy School of Government.
Ben Forstag:
But a Harvard man, nonetheless, so this week's resource is actually the Harvard Business Review. It's available as a print edition or on their website: HBR.org.
Mac Prichard:
I know we had an editor of the Business Review on the show earlier this year, Jeff Weiss, talking about negotiation.
Ben Forstag:
Yeah. He published one of their guides to negotiation. This is a traditional magazine but they also come out with special segments, and Jeff was the writer for one of those.
Mac Prichard:
Yeah, so if you have a chance listeners, go back and check it out, because Jeff takes you through the process of negotiation that can serve you not only in conversations about salary, but promotions, or getting a job offer confirmed, or even making a business deal.
Ben Forstag:
Yeah. HBR.org is the website and it's a great resource, and you don't need a subscription to read up to four articles a day. You don't have free access to everything but if you're strategic about which articles you open up, you can get a lot of good information there. I'll admit it's a little bit business-y because it is a business publication, and it's a little bit academic because they pull out a lot of research and stuff. For folks like me that's fantastic, for other people it might come across a little bit dry, but there's lots of interesting and useful articles there, particularly in the career planning section.
Here are a couple of articles I found that I thought were really interesting. One was called How to Play to Your Strengths. This was both in looking for jobs and doing well in your job, and How to Get Ready for Your Next Assignment – to get promoted, get feedback from your critics. This was a really interesting one about you should talk to people who are most critical about you about how you can do better, and another article called Networking With People You Can't Meet in Person, which is a topic that we get asked about here a lot at Mac's List.
These are all really good articles. The writers are really accomplished in their fields and I think it's a great place to go through and look for more information, whether you're interested in a career in business or career in any field. I think you'd get a lot of valuable information from this site.
Mac Prichard:
Good. I like your last point Ben because I can imagine people are wondering, "Well, isn't this for people who work in corporations? I'm at a nonprofit, or I'm in a public agency. Is this really relevant to my career and the work I do?"
Ben Forstag:
Yeah. It's called Harvard Business Review but when they say "business," and I put that business in quotes, I think really what they're talking about really is organizational management and almost every organization, any company or nonprofit that has more than one person is an organization, right? I think you can take the lessons you get from the business field, or this business publication, and apply them to success in any organization.
Mac Prichard:
Good. Well, thanks for that and it sounds like a great resource. We'll be sure to include a link in the show notes. Now let's turn to you, our listeners, and Jenna Forstrom, our Community Manager is here. She joins us to answer one of your questions. Jenna, what's in the Mac's List mailbag this week?
Jenna Forstrom:
This week's question comes from Julie Williams and she asks:
Julie Williams:
Hi. I'm Julie Williams and I live in Southeast Portland. I'm always curious, what is appropriate attire to wear to an interview here in the Pacific Northwest?
Jenna Forstrom:
Mac and Ben, you might have noticed there was some background noise while we were interviewing Julie, so shout out for Julie for doing this for us and asking a question, but she was at a recent networking event that Mac's List put on with University of Oregon School of Journalism. We were talking about opportunities in career change communications and that was a really big event. It happened right after the recent election, so that was an interesting night. It was a really lively crowd of people, very interested in how they can become change communicators, both within big organizations and small organizations and nonprofits.
Mac Prichard:
Jenna, I think that there's a link to a recording of that event on the Mac's List Facebook page, isn't there?
Jenna Forstrom:
Yes, and we will include that link in the show notes.
Mac Prichard:
Okay. Terrific.
Jenna Forstrom:
Getting back to Julie's question, very important. For our podcast listeners that don't live in Oregon I will warn you that we are a very quirky group of people and I have gone to a formal fundraising events where I've seen women in ball gowns talking next to men in what I call the "Canadian tuxedo," which is denim jeans and a denim top. The idea of formal is a wide interpretation in Oregon so I loved her question about what do you wear to an interview in Portland.
We have a whole bonus podcast all about this with Cecilia, the former Community Manager here at Mac's List, but honestly like I tell people, go check out the website of the company you're interviewing with. Get a feel for their culture and how they are. Do they seem business-formal, business-casual, and super-casual? I always warn people, my friends that interview at Nike, "Don't wear anything other than Nike." So if you show up to an interview and you're wearing Adidas sneakers, that's like an instant "no." It's called 'no brand x' – is kind of like the communication we talked about. So get to know the company and then always just go one degree above that. If there's any doubt, you just want to make sure you're on the more formal side of the clothing options here in Portland.
Mac and Ben, I have some questions for you. One, have you ever made a faux pas clothing-wise, aside from dressing like one another – which happens on the daily – and then two, do you have any other tips for Julie?
Mac Prichard:
Ben, do you want to lead off on the faux pas?
Ben Forstag:
I am a paragon of proper fashion and etiquette. I'm going to address the second point first, though. Yes, Portland is a quirky place and in the three years since I've moved here, I've gone from wearing slacks and a button up shirt every day to wearing jeans and sneakers everyday. There's certainly a laid-back atmosphere here but my personal opinion when it comes to interviewing is: you can never be too overdressed, right? Short of showing up in a tuxedo, I would really urge anyone to show up in a professional suit or sportcoat with a tie, a shirt, slacks, and nice shoes. The time to dress like the employees is when you've gotten that job offer, and that's when I say it's safe to wear the hoodie and jeans and so forth. Until then, I don't think you're going to turn anyone off if you show up dressed professionally. Again, I wouldn't show up in a top hat and spats and a long-tailed coat, but a conservative outfit I think it's always best when you're interviewing at an organization.
Mac Prichard:
I love the reference to spats. I am imagining many people have no idea what you're talking about.
Jenna Forstrom:
I have no idea what you're talking about.
Mac Prichard:
I'm a proud possessor of a photograph of my grandfather McClure in the 1930s and he has spats on. It's a cover that goes over your shoe.
Jenna Forstrom:
Like waders?
Mac Prichard:
No.
Jenna Forstrom:
Or like formal?
Mac Prichard:
Typically men would wear wingtip shoes in the 1920s and '30s and then spats would be a cloth covering that would go over the shoe and under the sole, and it would add just some style to the leather.
Jenna Forstrom:
Okay.
Mac Prichard:
Anyway, that's not why we're here, to talk about fashion tips from the 1930s. To answer your questions, which I think are terrific, Jenna, I'm sure I've made fashion faux pas'. None come immediately to mind. I did learn quickly when I came to Oregon 25 years ago, in the 1990s, that it was a much less formal place than the East Coast, where I'd lived for nine years. I arrived with a closet full of suits and, over time, gradually ditched them all for business casual uniform that people wear here. I think that has served me well.
I do agree with you both about the importance of dressing it up one notch when you go on an interview, so figure out what the culture is. I think for most places, even in Oregon, for men wearing a jacket and a tie or for women wearing business attire on that first formal job interview is a must-do.
Jenna Forstrom:
Awesome. Thanks guys, and thanks, Julie for calling in.
Mac Prichard:
Well, thank you Julie, and thank you, Jenna and Ben, for sharing your advice about dressing for job interviews in the Pacific Northwest. If you've got a question for Jenna please email her. Her address is Jenna@MacsList.org, or call our listener line. That number is area code 716-562-8225. That's 716–JOBTALK. If we use your question on the show, we'll send you a copy of Land Your Dream Job Anywhere or a Mac's List coffee mug. It's your choice.
Now, these segments by Jenna and Ben are brought to you by Land Your Dream Job Anywhere. That's the new book from Mac's List and it's coming on February 1. For 15 years at Mac's List we've helped job seekers in Portland, Oregon find meaningful, well-paying, and rewarding jobs that they love. Now we put all of our best job hunting advice in one new book that can help you no matter where you live. Just like this podcast, our new book offers practical, actionable, and proven tools you can use right away. You'll learn how to get clear about your career goals, find hidden jobs that never get posted, ace your next job interview, negotiate the salary and benefits you've earned, and take charge of your career for the long run.
Our new book contains advice from many of the most popular guests who've appeared on this podcast so you'll get extra insights from more than a dozen national career experts like Farai Chideya, Kerry Hannon, and more. Land Your Dream Job Anywhere arrives on February 1, 2017, but don't wait! Join our pre-launch mailing list now and we'll send you the first chapter free. Visit MacsList.org/anywhere.
Now let's turn to this week's guest expert, Anna Runyan.
Anna Runyan is the founder of Classy Career Girl, named by Forbes as one of the 35 Most Influential Career Sites of 2014. She helps women design and launch their dream careers, businesses, and lives. Previously, Anna worked for Booz Allen Hamilton and was a professor of management at DeVry University. Anna joins us today from San Diego, California. Anna, thanks for being on the show.
Anna Runyan:
Yeah. Thanks for having me. I'm excited.
Mac Prichard:
Yeah, it's a pleasure to have you on the program. Now, today we're talking about obstacles to dream careers, and, in your work – you've worked with thousands of people over the years – you say you see the same three obstacles to a dream career come up again and again. You say those are: time, fear, and direction. Let's talk about those barriers and why they exist, and most importantly, what people can do to overcome them. Anna, let's start with time. Why is this important and why is it a barrier?
Anna Runyan:
Yeah. This is so important because a lot of times job searchers just jump right into resumes and LinkedIn and all that stuff. It's really, really important that you start at square one, that we make sure that we cover these three obstacles that we're going to talk about today. I'm excited to dive into this with you.
Yes, so time. How many times have you said or heard someone say there's just not enough time in the day? There's more to do than time allows. A lot of you listening are probably job searching in the evenings or early mornings. You have a day job so there's a lot of ways that time can really get in your way.
A couple of the things that I like to teach our clients in Love Your Career Formula is to first focus on what are those job searching tasks that you can batch, like put together? Maybe that's when you're on LinkedIn, like maybe you can batch together all the time that you would normally do 15 minutes here or 15 minutes here, well, devote like an hour per week where you're checking your messages and you're in there communicating with people, and thinking of ways where you can add your job searching tasks together. That's going to really save you a lot of time.
Mac Prichard:
What about, you mentioned doing that once a week, do you think job hunting is something people need to do every day? How do you manage batching and not do it in such a way that you avoid missing deadlines?
Anna Runyan:
Yeah, so I'm all about baby steps in an imperfect action, so if you have five minutes here, 10 minutes here, I'm not like a strict, like you have to do something every single day. Obviously, that's going to benefit you and help you but a lot of the women that I do work with, they do have day jobs. They do have families and so it's really about something is better than nothing, you know? If you can get 15 minutes, 30 minutes a week, obviously, the more you put in the more you're going to get out, but I don't want anyone to make time the excuse at all, but I would definitely try and block out your calendar.
This is something I do myself every week, is I have planning time. I plan out my week, what my priorities are. I would recommend that you take your job-searching time and add that into your calendar and block it off, and guard it. This is like your priority. This is very, very important. I know a lot of times people are scheduling things on our calendar and we feel like our calendar is just running out of control. I think it's very, very important before the week starts to look at your calendar, block out time in your day, like maybe Mondays is your LinkedIn day and so you have an hour when your daughter goes to bed between seven and eight and that's when you do LinkedIn every week. Maybe every Tuesday you try to go to a networking event. Maybe every Wednesday at lunch you have some extra time, so every Wednesday you schedule an informational interview.
I like to kind of put certain days of the week – I do this myself: I do blogs a certain day; I do my social media certain days. I think that just kind of helps me get in the mindset so that when Tuesday's here, I know what I need to do. Same with LinkedIn – Fridays are my LinkedIn days. That's when I go into LinkedIn; I check all my messages that pile up throughout the week and I start connecting, and talking with people, and publish a post. I try and publish a post every Friday, too. That just helps me focus. During the week, when it's really busy, I'm not worried about all the LinkedIn messages coming in because I know, on Friday, I'll get to those at that one point of time. Does that makes sense?
Mac Prichard:
Absolutely. Use your calendar as a tool to plan your time and pick out even small amounts of times, but on a regular basis that you block out on your calendar, and assign those blocks of time to specific tasks that are priorities for you in your search. It sounds like great advice.
Anna Runyan:
Exactly.
Mac Prichard:
Terrific.
Anna Runyan:
Yeah, and the other important thing too is to know what's going to get you the best result for your job search too, so it's kind of talk about practicing the Pareto principle, where 20% of your input creates 80% of your results. As a job searcher, you want to think about – or if you're starting a business too, whatever you're doing – you have to think about: what 20% of your input is going to create 80% of your results. When you're job searching – we all know this but hopefully everyone listening does too – networking is the number one way to get hired to now, so putting less emphasis on the online job search, or even the resume stuff. I recommend putting all of your effort, as much as possible, into networking, and trying to get referrals, and talking to people, and meeting people and so when you're planning out your week, like we were just talking about, making sure that you're putting an emphasis on networking.
Mac Prichard:
Yeah, when you were rattling off your list of possible tasks I didn't hear: spend every day looking at job boards and applying for jobs.
Anna Runyan:
No.
Mac Prichard:
At Mac's List, we run a job board so we're very proud of it and the listings we have. We know it's valuable to employers who use it, but I like what you're saying about doing other things as well.
Anna Runyan:
Yeah. I love the strategy of going to a job board, finding a company, finding a job that you really want to work with, so reviewing your website, but then reaching out to people who might work there too, you know? How can you go about this in multiple ways? You can apply to the job but then how can you reach out to someone on LinkedIn? How can you contact them? How can you learn more about the company? Can you follow the company on LinkedIn?
I think a lot of people start, but they don't add the networking to their tasks, too, and it's kind of a big picture of their job search.
Mac Prichard:
Okay, so the first barrier that we've been talking about is time. The second one is fear. Let's talk about the specific fears you see Anna in the people you work with when it comes to job hunting.
Anna Runyan:
Yeah. Fear is a big one. The most important one that I see as regarding fear is the fear of being the imposter, fear of not knowing how to do something so that they don't even apply to the job because they don't think that they're qualified for the job. That's just something to be aware of. If you've been thinking that way or if you think like, "Oh gosh. I could never interview for that job," or, "I would never be called for that job," or, "I could never have that job." You have to be very aware of how you're thinking. You have to get around a supportive community that's going to help you and support you.
I know I have a Mastermind group that's like, "You can do it, Anna," you know like cheering me on. That's really the type of support network that you need to have as well, and just being aware of the thoughts that you're telling yourself. I'm a huge fan of affirmations, repeating positive thoughts in the morning, at night. Job searching can be tough. This is not easy at all and that's why really just being around positive people, surrounding yourself with positive stuff in your mind all the time, listening to great podcasts, just like this one, is going to really help you change your mindset and really see that you can do this.
I think a lot of informational interviews, talking to experts in the fields that you want to go into, you're going to ask them, "How could I have a position like you? How did you get to your position?" and starting to break down what are those steps that you need to take, instead of just letting the fear control you. I think that's really important.
Mac Prichard:
You mentioned reaching out to other people or perhaps being part of a Mastermind group. What are some other groups or communities that you see job seekers use to help them change that mindset and overcome those doubts and fears?
Anna Runyan:
I think Facebook groups are really a positive place to hang out. I know we have one that it's all about supporting and helping each other. I know there's networking events in every city that are beneficial. You have to find the right one. From my perspective I think – I'm an introvert – so for me, it's always been the one-on-one is what I have tried to do as much as possible because that's kind of what fits me better. I like to sit down with one person and kind of hear their story and learn from them. I think that's important too, kind of figure out what do you like doing the best? Do you like going to that networking event? Do you like meeting with people one-on-one?
I'm in San Diego. I could list off plenty of San Diego places too but I think utilizing the online world, the Facebook groups, there's LinkedIn groups, there are so many forums. If you Google a forum for the type of career, the industry that you're going into, that's a great idea as well.
Mac Prichard:
Well, I want to move on to the third barrier in a moment but just quickly Anna, I love your suggestion that particularly for introverts, but I think it applies to all personality types, reaching out to others one-on-one. I see people struggle with that. What's your best tip, Anna, for if you know you want to reach out to someone and have a conversation, how do you see people do that successfully? What's your best tip for making that happen?
Anna Runyan:
Yeah. It all comes from my experience doing this. Back in 2011, I did a networking challenge where I met with four people I did know, and four people I did not know every month of the year and I was blogging about it. I learned personally doing informational interviews and reaching out to people, the hardest part was exactly what you're talking about, getting over that fear of sending that email, but almost everyone I contacted emailed me back, responded me back with an email with an informational interview. You have to know first of all what's the worst thing that can happen if you send that email, if you go after your goals? What's the best thing that can happen? Then really, is it worth it to go in?
Of course it's worth it. So first of all getting past that fear barrier, but then also I mean practically it's a simple message, either an email on LinkedIn, sending a short little paragraph saying that "your experience in your career and what you've done today, where you are at right now, would really benefit me with my goals and where I want to be, and I really admire…" This is where you show you've done some research on who they are and their career, and tell them that. Tell them why you want to talk to them. Ask for 15 minutes of their time. Most people have 15 minutes and most people really do want to help other people.
I get these messages too and I say yes because they're very well-crafted. Usually they've been following my advice when they've asked me, so they're very well … I mean it's complimenting them, you know? It's complementing their careers, making them want to give back, and mentor, and help other people. Most people want to do that. You're really just asking for 15 minutes of their time.
Mac Prichard:
Yeah, and I certainly have had that experience myself when I've been out there looking for work and finding that people do want to help and they do want to say yes, and there are challenges to make it easy for them to do that. Well, let's move on to barrier number three and that is direction. Tell us about direction. Why do people struggle with this? Why is this so important in a job search?
Anna Runyan:
Yeah, so this is one of the things that many times people just kind of jump into the resume, and LinkedIn, and interviewing stuff, without really uncovering what that ideal career fit is for them. That's like number one. This is really my passion, what I love helping people with: that very beginning part of really figuring out what is that ideal career fit for them. Because it's going to make the resume so much easier, the interview so much easier, it's going to make networking so much easier, and then eventually, it's going to make your career so much more successful when you start at the very beginning and really determine what that ideal career fit is for you.
It all kind of goes back to looking at your previous career experiences, like the job you're in right now. What do you really, really love doing and what do you not like doing, so that you can create a list of things that you really enjoy doing. That's one thing I did. I was in finance and I realized the times I was loving my job were the times where I was teaching and mentoring others about finance. It wasn't actually when I was doing my job of finance. That kind of got me started along this journey, this path, of trying to do more teaching and training. Whatever the topic is, I enjoy doing that. That's kind of like the first thing is looking at your previous career experiences.
Mac Prichard:
Well, terrific. What is the next natural step after you reflect on what you've done and what you enjoy doing best? How do you get clear about that direction?
Anna Runyan:
The other thing I like doing with my clients is really determining what your ideal workday is, like from the time you wake up in the morning to the time you go to bed, really mapping that out, so really brainstorming. Like, if you could have any amazing day what would that look like? Write that down. Start visualizing it. Start creating kind of like a vision board around that ideal workday and think about how do you want to get to work? What type of commute do you want? What type of company do you want to work for? Do you want to work for a really low-key and relaxed company where you can wear jeans to work or do you want to work for a really more formal company where you wear a suit to work everyday?
Really starting to imagine that, do you want to go out for lunch every day? Do you want to eat at your desk? What do you do after your day? That's huge because then you know where you're going and when you do those informational interviews we were talking about you can start to see if your ideal workday matches the ideal workday of the person you're doing the interview with. You can start asking them questions about what their company is like, what their job is like, and see if it matches up with your ideal workday.
This is another thing I did. I thought I wanted to be a lawyer when I was in college so I did an informational interview with a lawyer and I realized during that informational interview that I didn't really want to be a lawyer. Instead of me going to law school and taking the LSATs, all that stuff, the informational interview just kind of made me realize this wasn't the right path for me.
Mac Prichard:
That's excellent advice. Well, Anna tell us what's next for you? What's coming up for you and your company?
Anna Runyan:
Yeah, so we're really excited. We are working hard on Love Your Career Formula, which is our membership site for job searchers going from really figuring out what your ideal career fit is and then moving into the job-searcher phase, which is figuring out your resume, your LinkedIn, and then transitioning into becoming a leader in your company as well. That's called Love Your Career Formula. It's at LoveYourCareerFormula.com and that's what we're working really hard on right now.
Mac Prichard:
Well, terrific. We'll include a link to that in the show notes and I know listeners can also find you at ClassyCareerGirl.com.
Anna Runyan:
Yes.
Mac Prichard:
All right. Anna, thanks for joining us on the show today.
Anna Runyan:
You're welcome. Thanks for having me.
Mac Prichard:
You're welcome. Take care.
We're back in the Mac's List studio with Jenna and Ben. Let's talk about my conversation with Anna. What were some key points the two of you heard Anna make?
Ben Forstag:
I liked Anna's point about getting clear about your goals before you jump into the job search, because it's going to make everything else easier – which is so true. I know at certain points in my previous job searches I've caught myself really struggling to complete an application and not quite sure why it was so hard to do this application or write a cover letter until it kind of dawned on me: this is hard because I don't really want this job. I'm struggling to find words to express why I want a job that I don't really want.
There's no need to put yourself through that kind of distress, and I think she's absolutely right that everything gets easier the clearer you are about your goals up front, and so spending the time, putting aside the resumes, looking at job boards, the networking, everything until you, yourself, have got a clear vision of where you want to go, or a couple of visions of where you might go.
Mac Prichard:
Yeah. That's an excellent point. I think, often -and I certainly have had this experience – people will look at a posting, and they'll say, "Oh, I could do that." You probably could with enough effort and training, if it's not a job you've done before, but I think the question we need to ask ourselves when we're out there hunting for our next opportunity is: do I want to do it? If the answer is yes, I think your job, as you say, Ben, gets a lot easier when you're searching for the next opportunity.
Jenna, what are your thoughts?
Jenna Forstrom:
I really liked what she talked about batching. I know we've talked about that on previous podcasts with-
Mac Prichard:
I know you're a big fan of batching.
Jenna Forstrom:
Yeah, but I think it's just a really good way to set yourself up for success in the week, so Monday getting a cup of coffee, get your kids to school. Sit down and look at your calendar so that, if a hiring manager or someone from HR reaches out, you can say, "Oh, I can interview Tuesday mornings or Thursday afternoon." You look prepared and well thought out, and then as you're cleaning up your social media profiles you're just kind of chunking away at that to-do list and you're feeling successful. Because I think that's another thing – when you're at home, unemployed, you're just kind of wallowing. But if you can say, like, "Oh, I went and updated my LinkedIn profile and it looks stellar now – check that off the box; I am moving forward," or, "Oh, I'm going to this networking event and the next day I'm sending Thank you cards out." It just gets you on a positivity track that's really important when you're job hunting.
Ben Forstag:
I also really liked her point about taking the time to think about what you're going to do, to think about your schedule ahead. I know on Friday afternoons when I have time to do that and think about the week ahead, everything else seems to get easier the next week and I certainly don't stress about it over the weekend. It's when I am too busy or feel like I'm too busy doing things and I don't have enough time to think about what I'm doing, that's when I get into trouble. That's true everywhere in my life but I can see that being particularly true for people going through a job search.
Mac Prichard:
Yeah. You can get overwhelmed, I think, by all the tasks that you could possibly do in a search or any project. Coincidentally, this weekend I started reading a book by Anne Lamott about writing. It's called Bird by Bird and the title's inspired by an experience she had with her family when she was a girl. Her brother had three months to work on a report about birds and he had a stack of books. He didn't begin until the day before and he was very anxious. His father or dad said to her brother, "Just take it bird by bird." I think it's good advice.
Ben Forstag:
I love Anne Lamott. Her best quote is "Perfection is the voice of the oppressor."
Mac Prichard:
Good advice for writers and job seekers.
Well, thank you both, and thank you to Anna for joining us – and thank you, our listeners, for tuning into today's episode of Find Your Dream Job. If you like what you hear, please sign up for our free weekly newsletter. In each issue we give you the key points of that week's show. We also include links to all the resources mentioned, and you get a transcript of the full episode. If you subscribe to the newsletter now, we'll send you our job seeker checklist. In one easy to use file, we show you all the steps you need to take to find a great job. Get your free newsletter and checklist today. Go to MacsList.org/podcast.
Join us next Wednesday when our special guest will be Jeff Glade. He'll talk about the best ways to make connections and grow relationships when you network. Until next time thanks for letting us help you find your dream job.