The Best Informational Interview Questions to Ask & Why They Work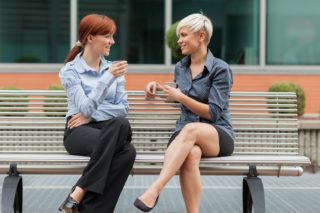 If you're looking for a new job, informational interviews are one of the most effective ways you can get started. There's no better way to learn about a new company or industry, meet key influencers, make professional connections, and discover hidden job opportunities. When you have the chance to speak with someone one-on-one about their career, it's important to do your research and determine the right questions in advance.
The questions you ask in an informational interview should vary based on what you're trying to learn from the meeting. If you're meeting with someone who has your dream job, you'll want to ask more specific questions about their career path. But if your interviewee is working at a company where you'd love to work, you should ask more questions about the organization and how they've succeeded there. For this guide, I've organized great questions for you to choose from based on who you're meeting with and your goals for the informational interview. Here are the best informational interview questions to ask, and why they work.
The Best Informational Interview Questions For Every Situation
Company: You Want a Job at The Company Where They Work
Ask these questions to get a sense of what it's like to work at the company, and how your interviewee has found success there. You'll also want to ask how they got their foot in the door there! Try these three questions:
What does a typical work day look like for you?
Why it works: By asking this question, you can learn more about a person's day-to-day roles and responsibilities. You can also ask follow-up questions to determine whether the person works more independently or as part of a collaborative team, and get a sense of your prospective company's work culture and office environment.  
What aspects of your job do you find the most rewarding and the most challenging?
Learn more about the positive and negative aspects of a role. Every job has its stressors but you should tune into whether these are challenges you'd like to take on. Also, take note of how your skills could help the company tackle these existing hurdles.
Can you speak to the work-life balance you experience in your job?
It's important to gauge the type of schedule you would hold in a role and how it would impact your life outside of work. Is the person you're speaking with able to pursue hobbies and interests? Are they able to carve out enough time for family and friends? This revealing question allows you to get a sense of their employer's expectations and if working for this organization comes with a healthy work-life balance.
Industry: You Want to Work in Their Field
If you want to learn more about the industry your interviewee is working in, get specific. These are great questions to ask folks when you're considering a career change.
Is there anything you wish you had known when you started out in this field?
This question offers an invaluable way to glean wisdom from a seasoned professional and learn applicable tips for your own job search. The advice you receive could be just what you need to hear for the next step in your career, or reveal misconceptions and unknown variables you may not have considered yet as you research this new field.
What are some current issues and trends you're seeing in your industry, and where do you see the industry heading?
Even if you frequently keep tabs on the latest trends, this question allows you to gain behind-the-scenes insights by hearing directly from someone in the field. This could also help you to anticipate an employer's future needs and adapt your resume to reflect industry trends.
Are there industry resources or associations you recommend checking out?
By asking for recommendations, you can narrow down your options and home in on opportunities that will be the best fit. This question can help you identify which organizations and associations you should join and how to best invest your time so you can make valuable networking connections.
Location: You Want to Get the Lay of the Land in a New City
Are you new in town? Then you're doing the right thing by conducting informational interviews. Use these meetings to get the lay of the land and add to your list of job search leads.
What are your favorite networking events in this city?
When you're new to a city, there's nothing like receiving tips from locals. The person you're speaking with likely keeps a pulse on networking events in your field. Take into consideration your preferred networking style and what type of events are the best fit for you.
What organizations or volunteer opportunities do you recommend researching?
Along with networking opportunities, your interview subject will have local insights into professional organizations and volunteer opportunities. This can help you to focus your outreach efforts.
What professional advice would you give to someone new to the city?
Each city and each industry has different professional norms. When you're able to understand the idiosyncrasies of your new city, you'll be able to adapt your job search efforts and networking strategies.
General: You're Exploring (And That's OK!)
You don't need to be laser focused to find success in an informational interview! Here are some great general questions to get the conversation flowing.
Can you tell me about your career path and what led you to your current role? 
People love to share their career journeys, and this question will set the tone for an engaging conversation. It's fascinating to learn about someone's career story and the different decisions that contributed to where they are today.
What do you think are the most effective strategies for seeking a role in your field?
What worked for one field may not be as effective in another industry. By speaking with an industry professional, you can tailor your job search strategies so that you are well positioned to navigate any new industry or field.
What else should I know to make an informed decision about choosing a career in this field?
By asking for additional advice, you'll give your interview subject the chance to share anything you didn't already cover. This may spark an idea or remind them of a resource they wanted to share. 
The Two Best Questions to Ask at the End of the Informational Interview
Save the best for last with these two questions:
Who else should I talk to?

What can I do for you?
Job seekers often forget to ask two of the most important informational interview questions. By asking for other connections, you can continue to expand your network and conduct more informational interviews. When you take a sincere interest in helping others, you demonstrate professional courtesy and problem-solving skills. Giving back to professional colleagues and assisting them in any way you can will help you to develop strong connections, find mentors, and unlock hidden career opportunities. 
Before going into your next informational interview, use this list of questions as a guide to navigating your conversation. Whether you have 20 minutes or an hour with your interview subject, cater your questions so that you can make the most of your time together. Remember that no matter what stage of career you are in, you have something to offer. Be sure to put your best foot forward by asking to stay in touch after your meeting and following up with a thank you note.