What It's Like to Work for Portland Nonprofit Outside In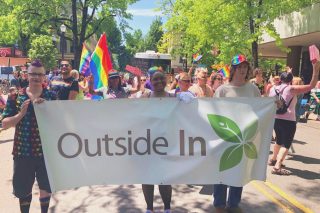 It's easy to search job boards like Mac's List to get a sense of who's hiring here in Portland. But how do you find out what it's really like to work for these organizations? We're diving deeper with some of our local employer partners to give you real, honest information straight from their hiring team. So you can apply with a clear picture of what they do, what they looks for in applicants, and what your career might look like if you get hired.
Do you want to work in the healthcare and social services space and help local people who need life-changing health, housing, and education services? Meet a local nonprofit organization working on the front lines to break the cycle of chronic homelessness. Meet Outside In.
Meet Outside In, a Portland nonprofit serving some of our most at-risk citizens
Outside In is a health care and social services agency striving to provide safe, affirming, trauma-informed spaces for people to receive holistic, judgment-free care and be treated with the dignity and respect they deserve.
Outside In offers services at nine locations across the Portland Metro Region. Their health clinics serve patients ages 13 to the elderly and provides comprehensive primary care, complimentary alternative medicine, behavioral health, and substance use treatment. Many people in the community don't know that Outside In serves patients in a wide age range and that they serve as the medical home of over 5,700 patients per year.
Outside In is also a charter member of the Multnomah County Homeless Youth Continuum, and they deliver broad services to young adults experiencing homelessness, including:
Transitional housing.

A drop-in center serving three meals a day six days a week.

An education and employment resource center for young adults to pursue their GED, college path, or job training and job placement opportunities.

Mental health and substance use treatment.
Over the last 51 years, Outside In has served those that live in the struggle of being invisible, disadvantaged, disregarded, forgotten, oppressed, harassed, profiled, victimized, and discriminated. The organization's staff is dedicated to honoring the beauty in every person they encounter and the potential of their humanity. Their work is relationship based, strength based, and participant centered. They are deeply committed to social justice, access to care for all, and for building community one human encounter at a time.
The long term vision of the organization is for Outside In to be a center for excellence in integrated care for individuals and communities who are marginalized. This is a commitment larger than access to health care, or mental health, or substance use treatment, or housing, or case management, or education, or job placement. This is a commitment to the whole person at the center of care surrounded by care providers, supports, and their ability to choose what is most meaningful to self.
What's it like to work at Outside In?
Outside In strives to create an inclusive, welcoming, and judgement-free work environment. According to their HR team, "We believe our people are our greatest asset." Outside In recognizes that their employees have unique experiences rooted in and affected by race, culture, gender and gender identity, age, belief systems, social class and income, sexual orientation, physical ability and other aspects of individual identity. They acknowledge the beauty, strength, and opportunities that come from such diversity as well as the destructive and pervasive consequences that come from prejudice and oppression. They are deeply committed to dismantling overt and covert oppression, building personal and institutional diversity, and fostering inclusiveness.
Learn more about what it's like to work at Outside In. 
Benefits for employees of Outside In
Benefits at Outside In include: 
Medical & Dental Insurance  

403(b) retirement plan

Long term disability insurance

18 days of PTO in the first year

9 holidays each year

Employee Assistance Program

Employee Discount Program
Who should apply for jobs at Outside In? 
Strong candidates for Outside In positions are passionate about helping underserved, low income, and homeless populations. They seek to employ team members from diverse backgrounds and those who reflect the organization's values, including:
Compassion for clients, coworkers, and ourselves.

Courage to do this work, mirroring the strength of clients.

 

Responsiveness to our community and advances in healthcare.

Acceptance of challenges, and the need to reduce harm and suffering.

 

Service to those who have experienced inequities and struggled to find help.

Persistence in Outside In's enduring vision for positive growth and change.