Behind the Remote Work Trend: Finding Remote Jobs in Portland and Seattle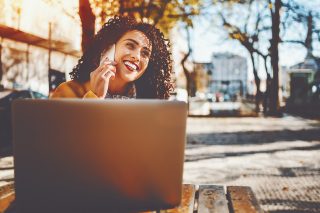 Whether you've dreamed of having the freedom to work from your kitchen table or you've always wanted to start your day in a coworking space, there's good news. Remote work is on the rise, continuing to become the norm for modern professionals with more than 43 percent of U.S. workers already working remotely to some degree. The Pacific Northwest has become a prime spot for job seekers  to pursue remote job opportunities in a variety of fields and industries. If you're looking for a career where you can work remotely for a company based in Seattle or Portland, get started by examining the history of remote work in our region, determining how to identify remote jobs, and exploring a few local employers who are hiring now. 
Why is remote work trending?
In the Pacific Northwest, 7.7 percent of Portland area residents and 6.3 percent of Seattle area residents work from home. That makes Portland No. 4 and Seattle No. 14 for the largest population of home workers in major metro areas, according to census data. Remote jobs are popular in Portland and Seattle for a number of reasons. Along with their large numbers of self-employed residents, the cities are home to robust creative and technology industries. And as one regional economist says, you can't rule out the Pacific Northwest lifestyle appeal.
Why PNW employers want remote workers
It's a win-win, creating more flexibility for employees and lowering cost for employers.
With so many technological advances in the past decade and a growing movement to make workplaces more inclusive, many employers are embracing remote work policies. When you pair remote-working tools such as video conferencing with a hardworking team of employees, offering remote work options makes sense. That's especially true with remote work trending in the Pacific Northwest and the next generation advocating for more flexible working policies. It's mutually beneficial for employers to save overhead office costs while giving employees the freedom to create their own schedules. 
The rise of traffic and commute times reduces productivity.
For those living in the Pacific Northwest, it's no surprise that Seattle and Portland have some of the worst traffic rates in the country. In a recent traffic report, Seattle was listed as the fifth-worst U.S. city, with Portland as the 15th. With increasingly longer commutes in the Emerald and Rose cities, employees face long workdays and feel the impacts on their productivity. Research indicates that working from home boosts productivity, minimizing interruptions and helping employees to maximize their days. If you can do 80 percent or more of your daily tasks from a phone or computer, working remotely is a logical alternative to a traditional office environment.
With more companies moving here, commercial office space rent has gone up in price.
Portland and Seattle are home to dynamic creative and tech industries, and with these booming scenes come an influx of companies choosing to relocate or open up shop here. Growing demand for space has driven up costs and made commercial real estate more competitive. On top of this, 2019 legislative changes to commercial real estate have spurred companies to seek alternative office options in an effort to save money. 
How to find and secure remote work
Tailor your elevator pitch
If you're ready to find remote job opportunities, it's important to start tapping into your professional network. Start by crafting an updated elevator pitch that highlights your background and skills. Then, use this pitch to communicate the types of remote work you're looking for and the value you can bring to a remote-based employer in Portland or Seattle. Your network will be able to keep you apprised of remote opportunities that match your skills and interests. In order to jump-start your remote career, consider taking on projects that will demonstrate your skills and ability to deliver work that's done remotely.
Serve an employer's needs
Despite research that indicates how telecommuting increases productivity, some employers are still reluctant to implement remote or flexible schedules. You can alleviate an employer or potential employer's fears by anticipating their needs. Regardless of your field, being tech savvy in areas such as web design and social media management is an advantage. Consider enrolling in online courses to expand your arsenal of skills. Taking the time to invest in professional development will put you in a more competitive position both in terms of your skillset and your ability to operate out of a virtual office. Along with tech skills, think about honing your expertise in a particular field to make yourself a more competitive candidate.
Ask about remote and flexible schedule options
While you may work in a conventional office environment right now, don't forget that you can approach your current employer about the possibility of remote work. It may feel intimidating to initiate this conversation, but it could lead to a schedule that better suits your life. By demonstrating your time management and workflow efficiency, you can build up trust in an employer to request a work-from-home trial run. If you can prove yourself as a self-starter, make a plan, and pitch your vision, you can make your dreams of a more flexible work schedule a reality.
Employers with Remote Jobs
Ready to start making the switch to remote work? Researching Pacific Northwest employers with remote work opportunities is one of the first steps you can take to begin transitioning into a remote career. Read up on these local employers with remote opportunities.
10Up
As a location independent team, 10Up provides web design and development consulting services. The team makes finely crafted websites and tools for content creators, doing its part to create a better web for clients such as Microsoft, Time, ESPN, and Adobe.
AuthO
With a global team operating throughout the world, AuthO provides authorization and authentication technology for mobile and web applications. The company works with thousands of customers in more than 70 countries, securing millions of logins each day. 
Automattic
Passionate about making the web a better place, Automattic is a global, remote-based team that includes employees throughout Oregon and Washington. Automattic is the developer of tools such as WordPress.com, WooCommerce, Jetpack, Simplenote, Longreads, VaultPress, Akismet, Gravatar, Crowdsignal, Cloudup, and more.
Ookla
Ookla is the team behind Speedtest®, a global leader in internet performance testing. Ookla believes the more information people have about their internet performance, the better they can advocate for speed and service improvements.
Xealth
Xealth enables healthcare teams to order digital content and services as easily as they do medications today. Patients can then access these digital health prescriptions from the provider's portal so that they can actively manage their health.