10 Reasons You Want to Work and Live in Portland, Oregon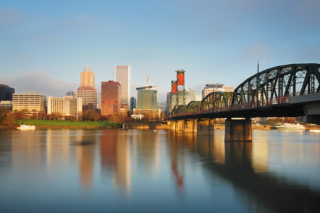 For all its job search hassle, Portland is worth the extra work.
From the coast to the mountains, the opportunities for fun before, during, and after work are endless.
I want you to stay motivated in your job search, so here are 10 reasons I believe you want to work and live in Portland (in case you need convincing).
Community
Let's get down to it. At the end of the day, it's all about connecting with others and building relationships that make you feel alive. I've found that Portland has a generous community built on the hearts of kind people who want to help you. Consider The Oregon Public House, the world's first nonprofit pub that donates 100% of all profits to local nonprofits.
Cycling
Thanks, in part, to The Street Trust, Portland is one of America's most bikeable cities. Bike to work, to happy hour, or heck, bike the whole city in an afternoon! Join the bike commuters on Hawthorne between 8am – 9am and you'll feel a part of something special.
Happy Hours
Traditional and late night happy hours make Portland an ideal place for cheap beer and grub. It's delicious, too! Downtown, you must go to Bailey's Taproom and order Mexican food from Santeria across the street. On the east side, hit up  The Gold Dust Meridian or the Captured by Porches beer cart on SE 28th Avenue.
Culture
From Portland Story Theater to Soul Night at The Good Foot, whatever your interest, Portland has an outlet. Geek out to trivia at the WayPost or join in the Naked Bike Ride. Just get out there and participate! It's so much fun.
Creative Minds
Portland attracts innovative thinkers like Julie Keefe, Portland's creative laureate who was recently selected by Fast Company for its 100 Most Creative People in Business List.
Dog Friendly
Your pup is sure to be content in this town! In Portland, employers like Wieden+Kennedy, allow you to bring your dog to work. Bars and restaurants like the Lucky Lab Brewery encourage dining with your dog on the patio.
Casual Dress
Forget the suit and tie, Portlanders prefer to dress casual, but with style. Vintage is encouraged, second-hand is cool, hats are appropriate, and tattoos in the workplace are common.
Food Carts
The Whole Bowl, Spoons, Veli Thai, Honkin' Huge Burritos, and The Mobile Scoop Shop are just a few of my favorites. With so many food cart pods, you may never have to visit the same food cart twice.
Coffee Breaks
Portlanders like their coffee and are loyal to our coffee shops. Downtown, I'm a Spella loyalist and Courier Coffee is where to go in the Pearl District. It's a great excuse to stretch your legs and laugh a little with good people.
People Know Your Name
Portland is the only metropolitan city I know, where people truly know your name. After four years here, I rarely walk down the street without seeing a familiar face.
I know the job search in Portland can be tough, but hang in there because it's worth it!