Find Your Career Advocates: Chris Ling's Job Search Success Story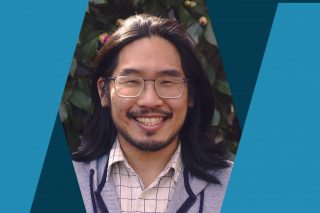 In 2017, Chris Ling left his law career behind to pursue a career as a software engineer and develop his coding skills. Last month, Chris landed a new job working remotely for a San Francisco-based startup. Throughout his five month job search, Chris relied on his network, recruiting websites, and working with local tech recruiters. In the end, the tactic that had the biggest impact on his job search was connecting with professional colleagues who could serve as advocates for his skills and vouch for his credentials. Check out the rest of this success story for Chris's tips on networking, building relationships, and learning new skills.
What do you do for a career? Who do you work for?
I'm a software engineer with a primary focus on back-end issues related to the ingestion, transformation, and visualization of large amounts of data for stakeholders. I also have my hand in some level of infrastructure and DevOps stuff as a necessary part of fulfilling the above responsibilities.
I just started working remotely for Flux as a data engineer at the end of February 2019. It's a San Francisco-based startup with teams in SF, NYC, and PDX, and it focuses on applying data science and new tech to redefine how individuals' unique expertise is understood, conveyed, and matched to work opportunities within a company or organization.
Before that, I was a software engineer for a little over a year and a half at Vacasa, a Portland-based startup in the vacation rental management industry. I worked on pipelines and visualization tools to facilitate data science and analysis related to setting vacation rates for Vacasa owners, using historical vacation market data.
How long did it take you to find this job?
I had been pretty selectively looking for new opportunities while at my previous position, so with that as context, probably around four to five months of targeted applications.
How did you find your job? What resources did you use? What tool or tactic helped the most?
Like most of the positions for which I applied, I heard about this position through a colleague in the industry who knew I was looking for new opportunities. In terms of my job search in general, I used a combination of resources:  colleagues/referrals, recruiting platforms (LinkedIn, AngelList, Mac's List, etc.), and a couple of recruiters who reached out to me on LinkedIn.
I'd say the most effective tools or tactics in my job search were (1) having developed a network of people who knew me and could vouch for my professional skills, both as an engineer and in my prior career as a lawyer and diversity professional; (2) going through the sometimes painful process of honing my engineering skills through short-form and long-form coding exercises (LeetCode, books); and (3) self-reflection about specific things I've learned and where I could improve from projects I've worked on in the past.
What was the most difficult part of your job search? How did you overcome this challenge?
I actually transitioned very recently into software engineering in 2017, leaving a career in the law to attend a Portland coding bootcamp, the Tech Academy. While bootcamps are a great way for people from non-traditional backgrounds to enter the software industry, the practical focus of those programs meant that I didn't have a formal, academic background in computer science.
I ended up applying to at least one company where the interview criteria was heavily focused on having a strong, solid background in computer science topics around algorithms and data structures, so I spent a solid two months building those skills into muscle memory, which meant hours upon hours of coding challenges, white-boarding exercises, and mock interviews. The intensity of that schedule was definitely the most difficult part of my job search, but a great benefit from going through that gauntlet was that it helped commit better coding habits into muscle memory, and made other interviews seem less daunting by comparison.
What is the single best piece of advice you would offer other job-seekers?
Build organic relationships with people in your industry and nurture them, regardless of whether you are looking for a new job at the moment. Your peers will play an outsized role in getting your foot in the door for great opportunities, and the more that a colleague can get to know you over time, the better they can advocate for you, directly or indirectly, when you're exploring the job market.
Meet-ups and events you're interested in are a great way to start those relationships, but I personally love just asking someone to a coffee or lunch to get to know them on a more focused, intimate level.
I'm particularly an advocate of building relationships by volunteering your time within your professional community. I currently perform short mock interviews and longer one-on-one career advising sessions with coding bootcamp graduates. I think these sessions provide new graduates a constructive environment where they can hone their interview skills and ask honest questions about the transition into a new industry. It also gives me the opportunity to view interview questions through the lens of an employer to more effectively understand and appreciate the interview process as a whole.
Why do you love your job?
I'm still in the on-boarding stage of my new position, but what attracted me to the job and what I think is validated by my short time here is a culture of trust, curiosity, and a desire to work on challenging problems. I work well with a small group of smart, thoughtful, and empathetic people, and I think I've been fortunate enough in the last few jobs that I've had the chance to work with people who embody those exact traits.