Asking is Powerful: Brit Bennett's Job Search Success Story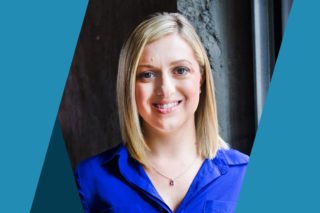 Everyone's job search story is different, but each individual story can inspire and empower others who are on their own unique path. Brit Bennett struggled to connect with employers when she was only applying for jobs online. When she started to network, her job search took off. Here's Brit's story. 
What do you do for a career? Who do you work for?
I work for Ivey Marketing, a retail marketing agency that specializes in branded environments, high-volume product photography, and partnership marketing. We are unique from other agencies in town in that we specialize in both the design and the make of our branded environments (most agencies do one in-house and then outsource the other). We also have an enormous photography studio that is so big you can literally drive huge trucks through it.
How long did it take you to find this job?
Three months.
How did you find your job? What resources did you use? What tool or tactic helped the most?
I found my job through a staffing agency. Once the recruiter sent me the job description, I started researching the company and realized I knew the COO through AMA PDX, where he was a volunteer speaker and I was a volunteer blogger. I shared a blog post I had written about him with the recruiter and the connection helped me stand out from other applicants.
What was the most difficult part of your job search? How did you overcome this challenge?
The most difficult part of my job search was overcoming my fear of asking for help. I applied to a bunch of job postings I found online, didn't hear back, got discouraged, got depressed, and started to withdraw. I didn't want to go out and network because I was ashamed I was unemployed and I was embarrassed I didn't have business cards to hand out.
It wasn't until I had an amazing coaching session with a local speaker, author and coach. She gave me some great advice that really helped turn me around. She told me that I don't always have to be perfectly polished and put together, that it was ok to be honest, to make myself vulnerable, and to ask for help. She told me that my professional contacts would likely be flattered and responsive if I approached them in this way. And she was right. It was scary at first but once I got out from behind my computer and really put myself out there in-person, I started getting job leads in response.
What is the single best piece of advice you would offer other job-seekers?
Leverage your network! My best friend, Amarena Grace,  works in staffing so she critiques resumes and work history for a living. She let me run all my potential job prospects by her and then advised me on how accepting each potential position could possibly affect my future career path.
My friend Glenn Scott also works in staffing and is a rolodex of knowledge. He knows arguably every agency in town so I did a lot of checking-in with him as well. Glenn was able to tell me about the personalities of the different people working at the different agencies I was considering. This helped me determine if I would be a good cultural fit or not.
Why do you love your job?
I love my job because marketing is something I am passionate about and it feels fulfilling to spend my day doing work that I enjoy. The people make a huge difference as well. Tim Hawkins, our CEO at Ivey, is so friendly and approachable. His door is always open and I am comfortable engaging in open and honest dialogue with him. I also have an amazingly supportive boss, Jennifer Sandberg. Jennifer is smart, funny, and helping me grow professionally and become a better marketer. Everyone at Ivey is intelligent, hard-working, and kind. The lack of ego here is so refreshing: just a group of good people that love retail marketing, making clients happy, and getting stuff done.
Learn more about Brit and connect with her on LinkedIn.