Crafting a Unique Resume, with Alex Konopka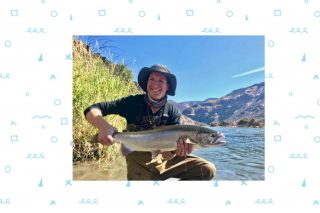 When you're looking for your next job, patience is often in short supply. You may be tempted to send out as many resumes as possible. But going for quantity over quality won't serve you well in your job search. On this bonus episode of Find Your Dream Job, Alex Konopka and I talk about how crafting a unique resume allowed him to focus on his skills and abilities, even for jobs he wasn't 100 percent qualified for. Alex also shares why preparation before your interview is key to getting a callback or job offer. Learn more about Alex's career history below in this installment of our Success Stories series.
Transcript
Find Your Dream Job, Bonus Episode 23:
Finding the Opportunities That Are Right For You, with Alex Konopka
Airdate: November 11, 2019
Mac Prichard:
This is Find Your Dream Job, the podcast that helps you get hired, have the career you want, and make a difference in life.
I'm your host, Mac Prichard. I'm also the founder of Mac's List. It's a job board in the Pacific Northwest that helps professionals find fulfilling careers.
One of the best ways to get good at job hunting is to talk to people who do it well.
That's why once a month, I interview a Mac's List reader who found a job they love.
Our guest today is Alex Konopka. He's the manager of vegetation management at Portland General Electric (PGE).
Alex Konopka believes in the power of persistence. Positions at the company where he works now open up very rarely.
In a story you can find on the Mac's List website, Alex said he used the time before an opportunity opened up to improve his skills and build relationships with managers inside Portland General Electric.
Alex, welcome to the show.
Alex Konopka:
Yeah, thanks, Mac.
Mac Prichard:
You're the manager of vegetation management at PGE. Why do you love your job?
Alex Konopka:
I love my job, there's tremendous variety, I get to see new parts of the state every single day. I get to interact with dozens of people every day: tree crews, internal customers, external customers. There's autonomy, so much variety, utilities placing a ton of trust in me, and ultimately, we get to help keep the lights on for our customers.
Mac Prichard:
All right, and let's talk about your search, Alex. What was the biggest challenge you faced?
Alex Konopka:
Yeah, patience, Mac. Just in waiting for the opportunity to present itself. I mentioned in the article that coming out of school, taking a very low paying job, and having student debt, and a growing family, all of that external stuff that's piling on stress into an already stressful situation when you're looking for a new job.
You can act out of desperation, applying for anything that has the title of anything above where you're at, right, just trying to get a better paycheck. And I think patience was the hardest thing because of our situation we were in as a family, trying to improve our quality of life, and just feeling a real burden to make a quick change.
Mac Prichard:
How long was that wait?
Alex Konopka:
Several years from start to end, from initially beginning my job search and saying, you know, "I've finally had enough of where I'm at. I really need to start searching." To getting extremely serious about setting quotas for myself for applying for jobs, getting better at tailoring my resume, and ultimately going through multiple interview rounds to land an entry-level position at the utility.
Mac Prichard:
What did you do while you were waiting to find that job at Portland General Electric? I assume you were employed.
Alex Konopka:
Yeah, correct. I was in the landscape design and construction management field, so I did…my degree's in landscape architecture and I did landscape design and project management for several small landscape design-build companies in the area.
Mac Prichard:
You knew that you wanted to move out of that into a new field. What was your goal, Alex?
Alex Konopka:
Honestly, Mac, I was looking for any upward mobility and in that specific kind of niche market of landscape architecture, there are very limited options, and so to kind of branch out into either the municipal space or utilities, parks and rec department, state employment with state parks, things like that, ODOT. I was really looking at a lot of different places to try to spread my wings.
Mac Prichard:
But that's a very specific list that you just read off. There were five or six, they were very clear fields or employers that you had in mind.
Alex Konopka:
Yeah, a very clear field. The skills translated very well in a very small sector of the employment industry.
Mac Prichard:
Okay, so it doesn't sound like you were applying everywhere, were you, Alex?
Alex Konopka:
Well, everywhere that had those kinds of jobs available, certainly. Whether I thought I was overqualified or underqualified, I was just shooting the system trying to get my name out there.
Mac Prichard:
But had you identified a kind of a shortlist of dream employers that you…where you wanted to be?
Alex Konopka:
Not necessarily. I was hoping to work throughout the state, obviously knowing that the metro area has the biggest pull in terms of economy and job availability. But I started my career in Salem, graduating from the University of Idaho, so mobility wasn't a question. I wanted to stay in the Pacific Northwest but at the time, in 2011 when I got out of school, you know, the economy was fairly depressed and trying to find work was basically, you're targeting bigger economies to try to get your foot in the door.
Mac Prichard:
Okay, so you were willing to relocate and you also mentioned, Alex, that you went through multiple interviews, you revised your resume…how did those experiences affect your job search strategy? Did they help you become more focused as you went through that?
Alex Konopka:
Yeah, correct. It was through learning more about the positions in the interviews themselves and learning about how I can see myself fitting into this world, that I could see where my skills would really shine, certain job interviews where I felt like, "Oh boy, halfway through, I feel like I'm really stretching my skill set to get here."
And, "If I landed the job, great, but I also don't know if I'd enjoy it or if I'm even qualified to do that."
And so kind of really targeting and honing "What am I really good at?" And what could I see myself excelling at in this specific industry when I didn't know what was available. I knew employers out there but I didn't know, what are the job specifics?
I, for example, like, I didn't even know that vegetation management existed at PGE, so I was kind of like, "First off, what is that? Okay, secondly, that's all about me, so how do I get myself into that role now?"
Mac Prichard:
Tell us more about why PGE was appealing; because you wanted to work in landscape architecture and design, and I don't know a lot about that field but I have to admit that a large public utility isn't the first employer that comes to mind when I think about landscape architects.
Alex Konopka:
Yeah, you and me both.
Mac Prichard:
You've had a different experience; tell us how you discovered that opportunity and how you made those connections.
Alex Konopka:
Sure, so just cruising the internet and looking on Indeed, or whatever was popular at the time and seeing this pop-up and was like, "Wow, at a utility?"
And you know, we paid our bill to PGE, and I knew that they had a reputable name and a solid reputation as being a top employer in the region, and as I dug into the job description, I'm sure you know, but a lot of position descriptions are kind of overly vague to begin with so I was still kind of left with all these questions and it was a big mystery still. You know, but again, trying to excel my station in life to take care of the family I was like, "I need to apply and see what this is about and see if I'm qualified."
Mac Prichard:
I want to stop there because sometimes people look at positions and they think, "I don't have all the qualifications. I'm not going to apply." Why did you…kudos to you for being so candid about not having 100% of the qualifications for this position. Why did you go ahead and apply anyway, Alex?
Alex Konopka:
Sure, I'm a firm believer that hard work can take you a lot of places and I also have experienced through my career at PGE that there are so many people out there that likely didn't feel they were qualified to get to the positions that they have and ultimately are excelling.
For our customers, for the company, you know, and at the time, it's just a matter of believing in yourself, that a lot of your skills are transferable. And I talked in the article about resumes and such and not speaking to specific skills but leveraging that into growth mindsets and what value are you extracting out of your present circumstance that you can leverage in any sector of employment, to build integrity, character, trust, autonomy, speed, efficiency, ownership, accountability, those kinds of larger traits that people look for that you really build out of specific experiences regardless of industry.
I really tried to mental floss, so to speak, to stretch beyond my limits and really challenge what I thought my skill sets were and apply broader strengths to ultimately getting the position that I had.
Mac Prichard:
Did you get questions about your qualifications when you did have an interview? And how did you handle them?
Alex Konopka:
You know, I didn't. As I went through the interview and we discussed my academic experience, and my work history, and just responding to scenario-based questions and technical-based questions, I found out that I had a lot of the skills that the company was looking for at the time. From a technical aspect but then, more importantly, from a work ethic standpoint.
What did I gain out of going through all these seemingly menial experiences in the past? And ultimately now, sitting for this interview, "Oh wow, I just responded to this pretty heavy question with a very relevant example that shows so many character traits that employers are seeking from their perspective employees. Wow, I actually do belong here. Now that I know that I can fit and I know what the job is about."
Mac Prichard:
Do you remember, Alex, if you did anything special in preparing your application materials to address your lack of some qualifications?
Alex Konopka:
Yeah, for sure, I think that that was part of the big learning curve, was one resume does not rule them all and that's probably why I ended up kind of burning out from applying for so many jobs, thinking, "Man, I'm stuck where I'm at."
Because, you know, I thought I had this great polished resume, a copy and paste mission statement, a generic cover letter, you know, just change a couple of things here and there and just boom, boom, boom, boom, boom.
Mac Prichard:
A lot of quantity, huh?
Alex Konopka:
Oh yeah, definite quantity, questionable quality, right?
Mac Prichard:
Yeah, you mentioned at the start of our conversation that you'd actually set a quota for yourself for applications, right?
Alex Konopka:
Yeah, well, because you're getting close to burnout and you're like, "Man, do I just stop applying?" And if you stop applying, you ain't going anywhere. So, that was kind of like, "Okay, I really have to get on this."
But that was the thing that I learned, as these jobs were coming through and maybe you were getting a call back from the hiring manager, maybe you're getting an interview, it's like, there's a lot of excitement there. And if you think about how many people are in the job market, and how many resumes and interview packets are being seen and distributed, it can be quite shocking.
And honestly, like I spoke about in the article, it's quality, tailored to the specific job and leveraging those seemingly menial past experiences into huge dividends on these resumes, and tailoring it for the job, and discussing more about the company in between the lines of your responses.
That ultimately, I felt like, especially towards the end of my job search and when I narrowed in with PGE and got several interviews, I felt I had a very compelling resume and a very aesthetic resume as well, because, I had mentioned, that craftsmanship is key.
Everybody appreciates that. And if you're a hiring manager, seeing dozens of these, and they all are on white paper, with the same font size, and it's just the name that's changed, it's so easy to get blind to those.
Mac Prichard:
You changed the content though; you said you wrote a unique resume for PGE.
Alex Konopka:
Yeah, it was almost more of a narrative.
Mac Prichard:
Okay.
Alex Konopka:
Yeah, and for each of these descriptions, rather than like a bullet list of things I did or accomplished, or, "look at me patting myself on the back," it was this broader narrative of more self-developmental based goals and qualities.
Mac Prichard:
Did you find during your search when you sent out fewer, more customized resumes, that you got a better response?
Alex Konopka:
Oh yes, certainly. Prior to interviewing with PGE, I had a number of interviews with other parks and rec departments, locally and through the state, and just getting hits off of those custom-tailored resumes, where it did take a lot of time on the front end to tailor those. And it was time I didn't necessarily want to spend after working all day, family, dog, dinner, getting the house ready and stuff like that, like, you don't want to do that. And it's easy to take the low road and shoot the system with subpar material. But it wasn't until I really dialed that in and committed to the process to make each one a stand-alone piece that I could be proud of, that I actually started getting calls back. Because people notice that.
Mac Prichard:
What's your biggest tip, Alex, for customizing both your resume and your cover letter when someone is seeing a job they really want and it's late at night, it's tempting to bring out the generic cover letter and resume, but you have to customize it. What's your best advice for how to do that?
Alex Konopka:
Sure, everybody values craftsmanship, on any level, whether it's beautiful woodworking art or a resume or a cover letter. Everybody values craftsmanship and if there's little tweaks, integrate some design theory into it, what's going to be pleasing to the eye?
What's going to catch and flow through the resume? How is this going to be read? Is it reading in a logical way as you move through time, as you move through different levels of responsibility? Are you leaving the reader with a sense that this person has grown or are you just listing responsibilities?
And an interesting tip: in community college, one of my friends, on their cover letter of an essay, they actually put this small picture of themselves in the upper right-hand corner and it just said the name of the report but it was just a little picture and I was like, "What's up with that, man?"
And he was like, "Oh, I always do that because everyone loves a personal touch." And I was like, that is so interesting and sure enough, that's what I started doing on my resumes. Just sending my name and address block there's a small picture of myself in some personal protective equipment, with the company logo on it and smiling, so that people can connect a name and experience, a story with a face because after all, we're all people.
Mac Prichard:
What didn't work in your job search, Alex?
Alex Konopka:
Yeah, certainly just trying to apply for quantity over quality. I think I burnt myself out unnecessarily and was probably my own detriment in not getting job offers or interviews quick enough. Because in my desperation, I was just so generic in what I was putting out there, thinking, "I'll get picked up because I know I've been working hard at my current employer, and I know I can do a great job, and let me just get these out there. Get 'em out. Get 'em out. Get 'em out."
That was the biggest failure in my search was being overly broad with what I wanted and not spending the time upfront to research where I could best fit and then really targeting my resume, my interview responses and prep to that specific opportunity.
Mac Prichard:
What's your number one job hunting tip?
Alex Konopka:
When you're preparing for the interview, plan out ahead of time, craft your responses, prepare questions, articulate your responses, bring in notes. Not only do people value craftsmanship but when you're setting that time aside for the interview, it's respecting everybody's time to show that you're prepared, that you're articulate, that you know stuff about the company, that you can speak to your own skillset, and you have valid questions for the interview panel. Prepare, prepare, prepare.
Mac Prichard:
Alex, thanks for sharing your story. You can learn more about Alex's story and his job search, visit macslist.org/stories.
And check out the Mac's List website for dozens of other success stories.
On the second Friday of every month, we add a new interview with a Mac's List reader who has found a dream job. Again, go to macslist.org/stories.
In the meantime, thank you for listening to today's bonus episode of Find Your Dream Job.