Adapt & Thrive After a Career Break, with Leslie Yeargers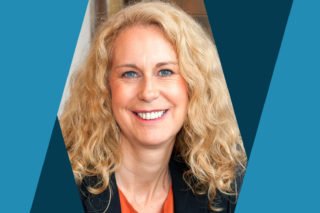 Career experts talk a lot about career changers and encore careers, but what does it actually look like for an experienced professional to break back into the job market after a years-long career break? Leslie Yeargers will show you how she made it happen for herself, from strategic volunteering to customizing your application for each and every job application.
On this bonus episode of Find Your Dream Job, Leslie shares her job search story, lessons learned, and tells us exactly what she did to land a job she still loves after more than two years. Plus, you can read more first-hand job search advice from Leslie in her essay for our Success Stories series.
Transcript
Find Your Dream Job, BONUS Episode 2:
JSSS, with Leslie Yeargers
Airdate: April 9, 2018
Mac Prichard:                  
This is Find Your Dream Job, the podcast that helps you get hired, find the career you want, and make a difference in life. I'm Mac Prichard, founder and publisher of Mac's List.
To get your dream job you need clear goals, great skills, and a good network. You also have to know how to look for work. One of the best ways to get good at job hunting is to talk to people who do it well. That's why once a month on our show, I interview a Mac's List reader who found a job they love. Our guest shares how they did it and offers their best job search tips.
Our guest today is Leslie Yeargers, Career Intake Counselor with Vicki Lind and Associates, a career transition and job search services company here in Portland, Oregon.
Many of us will leave the workplace for a time during our careers. We may want to start a family. Or perhaps we want to go to graduate school. Whatever the reason, restarting a career after a break can be tricky.
Leslie recently returned to the job market after spending 15 years at home raising her children. She needed to show employers how volunteer work during those years gave her valuable experience and skills. Her goal: Find a well-paying and meaningful part-time position.
In an article you can find on the Mac's List website, Leslie says she used a custom cover letter and resume for every position. This let her highlight how community involvement improved her strengths and capabilities. And Leslie offers this simple advice for every job seeker: do your research and tailor your application materials for every job.
Leslie, welcome to the show!
Leslie Yeargers:
Hi! Thank you for having me.
Mac Prichard:
It's a pleasure to have you, and as I mentioned, you're an Intake Counselor at Vicki Lind and Associates, a company here in Portland; Leslie, why do you love your job?
Leslie Yeargers:
Well, I really love my job because I like interacting with the people that I talk to. I talk to some really interesting folks. When they call and ask about our services, they have some pretty fascinating stories. And it's kind of like a puzzle for me, I like matching them to just the right associate at Vicki Lind and Associates. We have five career services professionals now, and each one has a slightly different niche, background and area of expertise, and so, listening to their stories, I can match them to the right person to get started.
Mac Prichard:
Yeah, I've had the good fortune to meet some of your teammates: Vicki, and Janet, and Kristen – you've got some cool people over there, who know what they're doing.
Leslie Yeargers:
Yes, we do.
Mac Prichard:
Well, let's talk about you and your job search. What made the biggest difference in your success?
Leslie Yeargers:
I think what made the biggest difference was actually my cover letter, of all things.
Mac Prichard:
Really? Tell us more!
Leslie Yeargers:
When I found the job posting, it met all my qualifications, or criteria, for a part-time job with reasonable pay – I only had two at the time, you know to get back into the job market.
Mac Prichard:
Those are pretty good criteria.
Leslie Yeargers:
Yeah. And I found it on Mac's List, and immediately went on the internet and looked her up – looked up Vicki Lind – and found her website. I spent about an hour to two hours just really reading it, and researching it, and taking note of the items on her website that struck me as particularly interesting and meaningful for me. When I wrote my cover letter, I included those things, and talked about how I felt I would be a good fit for her business, highlighting that she loves to work with women over 50 and people who have been stay-at-home parents. That's what spoke to me, so I made sure that I mentioned that.
The feedback that she gave me was that, out of the number of resumes they had received, there were two things I had done right on my cover letter. That was what got my foot in the door. One was, I bothered to find out who she was. I mean, it was pretty obvious, because it was in the job description, but I addressed it to Ms Lind, and I included information about the website, which told her that I'd done my research.
Mac Prichard:
So you showed her that, you didn't just say that you had done it, but you included examples in your cover letter. Did you tailor your resume as well?
Leslie Yeargers:
Well, my resume is another story… Kind of a funny one, actually, and it's not something I would recommend anybody do.
Mac Prichard:
Okay.
Leslie Yeargers:
So this is a 'what-not-to-do:' I – Vicki has actually taught me, and Tiffany, our resume writer, has taught me a great deal about writing a quality resume.
But when I applied, I made the mistake of just putting together a strictly skills-based resume, with a very abbreviated – I mean, the work history was nothing but one-lines of title, job, and dates. And that was because I'd been out of the workforce for so long and all of my experience, or most of my experience that was relevant, had been through volunteering. And so I did the skills-based, strictly skills-based resume, with, you know, 15 bullet points of skills under different categories. So I had maybe 3 or 4 categories and a ton of bullet points, very little explanatory text, no professional profile or anything like that, and that resume went into a lot of voids when I was applying for jobs, and I now know why.
Mac Prichard:
Why was that, Leslie? How did it end up in the black-hole?
Leslie Yeargers:
Well, because I did just the strictly skills-based resume, and what I've learned by going to various networking events for job-searchers, and also talking with Vicki and talking with Tiffany, is that: those don't really work very well. Most of the HR people that I've encountered at these networking events have said, you know, if you've had a break in your work history and career, the best thing to do is to do a hybrid kind of resume, where you can have a relevant skills section, and you can categorize your skills but mix in a little bit of explanatory text with maybe no more than 6 – at the very most, 7 – bullets of highlights for each section, and even that is kind of pushing it, I think. And then also in the work history section, put in some explanation about what you did; don't just put one line of 'I was a technical writer at Microsoft from 1987-1995,' or whatever. Even though that's old and outdated anyway, but that's kind of what I did, and they were saying, no, we kind of want to know what you did at those jobs.
Mac Prichard:
So, take the best of both worlds: the skills resume format and what's called the chronological format.
Leslie Yeargers:
Right, exactly. And I am wishing I had added a volunteer section to that, in addition to work experience; I could have treated volunteer work as if it were actual paid work on my resume and just given it the title of 'Volunteer Experience,' and then treat it just like I would any other job description.
Mac Prichard:
So, a lot of our listeners, Leslie, are like you, they've taken a break from the workforce and they want to get back. They might be mid-career, perhaps in their 40's or 50's; what challenges did you face when you were in that situation, and how did you overcome them?
Leslie Yeargers:
I think the biggest challenge was overcoming my fear that I wasn't going to find a job. And doing things to kind of boost my confidence. My story is kind of funny, when I went back into the job market – I have a Masters in Counseling degree that I thought I would dust off and try to become licensed, because I never jumped through those hoops after I got my Masters in my early 30's. So I went back to school and figured that's what I needed to do. I researched what I needed to do to go into the career that I thought I wanted to go back into. I went back to school, got the credits I needed, and then I needed to find the externship to build hours.
Of course, I was looking for something that would pay reasonably well, and I was also applying to, kind of contradictory to that goal, I was applying to any jobs that looked like they would be applicable – even $11.00 an hour Residential Counselor jobs that were just way under-paid for the kind of work a person in that role does. You know, given the amount of effort I would be putting into those jobs, and still having a family of my own to take care of, that would have been a lot, for $11.00 an hour.
So, I applied to a couple full-time positions that were salaried, as well, and got a couple interviews, and ended up researching some of those jobs on Glassdoor and realizing, well, maybe I don't want these… I mean, there was one that I got [an interview for] that was a 24/7 on-call, 55-hour-per-week position.
Mac Prichard:
Sounds very demanding.
Leslie Yeargers:
Yeah. And I got a second phone call from the headquarters in Tennessee, and I just told her, well, I'm not interested anymore.
And, also, it's just hard to find externships in marriage and family counseling.
Mac Prichard:
So, it was challenging to find externships, and when you did find positions, they didn't pay particularly well…. So, what happened next?
Leslie Yeargers:
Right, right.
So then I thought, well maybe what I need to do is beef up my game.
Mac Prichard:
OK.
Leslie Yeargers:
I started doing a little more networking, and speaking with my old professors here at Portland State – I had a couple professors – and I put together my references ahead of time of professors who I had worked with through online school at Capella University. And I just started networking a little bit, they had given me some names of people to contact that they knew of, or places to go and ask for informational interviews, so I did some of that.
While I was in the throes of this – and I only gave myself a couple months, 2-3 months, and for this I think it takes at least 6 months to really be successful, but while I was in the throes of this whole process, a friend of mine said, 'hey, they're hiring a part-time receptionist at RE/MAX, where i work, are you interested?' And I said, you know what, I just want a job. At this point, I've been out of the job market for 15 years, I just want a job.
Mac Prichard:
Did you get that position?
Leslie Yeargers:
I did get that position.
Mac Prichard:
How did it go?
Leslie Yeargers:
It went pretty well! I enjoyed it. I was just [working] Mondays and Tuesdays and Sunday mornings. I went in and answered phones and did office work as needed, and supported the realtors if they had some projects that needed doing, like mailings, or just whatever they needed, and I took minutes for meetings. I did a lot of just basic office work, and I liked the people a lot, it was a good environment, but I never felt like my skills were fully utilized.
Mac Prichard:
Did the job help you break back into the working world? Were there any benefits to it?
Leslie Yeargers:
It did. And that was a huge benefit. I recommend that to anyone trying t break back into the working world.
Mac Prichard:
A starter job to get your feet wet?
Leslie Yeargers:
Yeah. And I developed some good office skills, which I hadn't had before. And I learned a lot about real estate. And I went ahead and got my real estate license, thinking that maybe I would become an assistant.
I knew I didn't really want to sell real estate but – so I left RE/MAX because I got asked by a real estate team over at Living Room if I wanted to become an assistant for them. and we tried that for three months and it didn't work out very well. It was sort of a mutual thing…
Mac Prichard:
So you were experimenting…
Leslie Yeargers:
Yeah. I was experimenting.
And, yeah. It didn't work out. I had some things in my family and he needed someone who had a lot more experience in real estate than I did. And he also needed someone whose technology was at the same, on the same par as his: he was a Mac user, I was a Windows user. You know, there were some differences there.
Mac Prichard:
Well, then, did that bring you to Vicki Lind?
Leslie Yeargers:
Well, ok, so then I left that job and found myself unemployed, and, again, found myself going 'oh no, now what? Here I am again, where I was two-and-a-half years ago, what am I gonna do?'
So I thought, ok, I'm going to do some strategic volunteering, because the counseling is still interesting to me.
Mac Prichard:
What kind of volunteering opportunities did you look for?
Leslie Yeargers:
I became a CASA and I went and did the CASA training.
Mac Prichard:
And these are Court Appointed Special Advocates, aren't they?
Leslie Yeargers:
Yes, for children who are in the foster care system. Or who are wards of DHS.
Mac Prichard:
The Department of Human Services
Leslie Yeargers:
Yes. So, I did that. – I'm still doing that.
Mac Prichard:
So, you did the volunteer work, you had these first experiences back in the workplace; where did your journey take you?
Leslie Yeargers:
Well, as I was doing the CASA training, I was also still looking for jobs, and then I found Vicki's posting on your list.
Mac Prichard:
And then you sat down and wrote that cover letter?
Leslie Yeargers:
I sat down and I wrote that cover letter and submitted my resume and was one of two or three people that she invited in for an interview. So, I went in for my interview and… that went so-so.
Vicki and I laugh about it today because she asked me the question of: if you – you know, she uses a lot of technology, and she's got a good set up going, but uses tools that I wasn't familiar with, and she said, "when you're not familiar with technology or you have a technological problem you have to solve, what do you do?" And I said, 'Well, I have resources at my disposal to learn about that – my husband is one of them, so I might ask him," and she said that was completely the wrong answer.
Mac Prichard:
But she invited you back..
Leslie Yeargers:
Well, she didn't, though. That's what's so funny, is I didn't get the job initially. She gave it to someone else.
That person lasted… a week? And then didn't want to come back. And I think it was one of those situations, where, you know, a perfect storm occurred: her Comcast went out, there was – I don't know what all the issues were, but I know her Comcast went out. And that was stressful on that day. And so, her current assistant at the time, who was leaving, was trying to train this poor person and Comcast goes down, and this other thing happens and it's a big kerfuffle there, and [the new person] decided she just didn't want to stay.
So, they call me back, and they say, will you come in for a working interview at Vicki's house. So I said, Sure! I still don't have a job, why not? You know? So I went back in and had a working interview and they offered me the job. And I took it!
Mac Prichard:
And you've been there for.. how long?
Leslie Yeargers:
Two years. It'll be two years in April.
Mac Prichard:
Congratulations!
Leslie Yeargers:
Thank you!
And my role has expanded, and Vicki is such a fantastic mentor, and is really about growing people, so she has trained me in job search coaching, and resume coaching, and interview coaching, and I do that now, too.
Mac Prichard:
Oh, terrific.
Leslie Yeargers
As well as, I'm her Intake Counselor and Operations Coordinator. So I still do her technical stuff and we work on projects together, newsletters and reviewing resumes and cover letters together, and you know, we do this and that.
Mac Prichard:
What a wonderful job.
Well, what I love about your story is that you took risks, you tried different things when you got back into the workplace, and when things didn't work out, you didn't let it stop you, you tried something else.
Leslie Yeargers:
Exactly.
Mac Prichard:
And I like the fact that you're volunteering in the community – that had to help grow your network, but also give you energy and purpose while you continued your search.
And, kudos to you, Leslie, for going back when you got that second call, and not thinking, ;oh, well, they had their chance and it's time for me to move on.'
Leslie Yeargers:
Oh, no.
No, I kind of believe that that was meant to happen in a way, because I think Vicki and I are a good team, and I think it's worked out really well for both of us.
Mac Prichard:
Good. Well, it certainly sounds that way.
Well, Leslie, thanks for sharing your story. And I know people can learn more about you and your work and your job search journey by visiting our website at macslist.org/success-stories. And please check out the website for dozens of other job search success stories – every Friday we add a new interview to the website with a Mac's List reader who's found their dream job.
And thank you, our listeners, for downloading today's episode of Find Your Dream Job.