Questions to Ask Before You Apply for a Job, with Amanda Augustine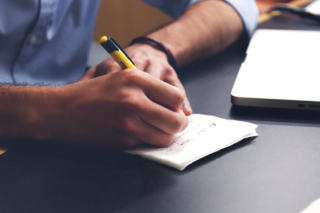 Successful job searches require a lot of time and effort. Before you spend time researching an organization, customizing your resume, and writing a cover letter, you need to know if you actually want the job being offered.
Far too often, job seekers waste a lot of time applying for positions that they're not really interested in or that don't fit with their long term goals.This is a huge mistake, says this week's guest, Amanda Augustine. She advises job seekers to pick one goal for their job search, and then make sure all their job search energy is focused behind that that goal.
Amanda shares the questions you should be asking yourself before you start completing another job application.
This Week's Guest
Amanda Augustine is the career advice expert for TopResume. She gives job search and career guidance to professionals who want better careers, and to find the right job, sooner.  Amanda blogs regularly about career advancement on the TopResume website and also contributes to The Huffington Post. Her blog post, 7 Important Questions Every Job Seeker Should Ask Themselves inspired today's podcast episode.
Resources from this Episode
Transcript
Mac Prichard:
Hi. This is Mac from Mac's List. Before we start the show I want to let you know about my new book, Land Your Dream Job Anywhere, available on Amazon on February 1, 2017. I've been helping job seekers find meaningful, well-paying work since 2001 and now I've put all my best advice into one easy-to-use guide. My book shows you how to make your resume stand out in a stack of applications, where you can find the hidden jobs that never get posted, and what you need to do to ace your next job interview. Get the first chapter now for free. Visit MacsList.org/anywhere.
This is Find Your Dream Job, the podcast that helps you get hired, have the career you want, and make a difference in life. I'm Mac Prichard, your host and publisher of Mac's List. I'm joined by my co-hosts, Ben Forstag, our managing director, and Jenna Forstrom, our community manager. This week we're talking about the seven questions you should ask yourself before you apply for a job.
Our show is brought to you by Land Your Dream Job Anywhere, the new book from Mac's List. It's coming on February 1. Land Your Dream Job Anywhere shows you how to find meaningful, well-paying work wherever you live. For more information visit MacsList.org/anywhere.
Do you answer every job ad you see? Of course not. Every application takes time and effort, and every rejection creates disappointment, but what's the best way to decide when to pursue a job, and when do you say no? Our guest expert this week is Amanda Augustine. She says you need to ask yourself seven questions before you apply for a job. Amanda and I talk later in the show.
Now admit it, some days you spend more time on Facebook than on your job search. We all get distracted by social media and the Internet. Ben Forstag has found an app that can help. He tells us about it in a moment.
Should you work right after college graduation or go straight to graduate school? That's our question of the week and it comes from Thomas Ewing in Portland, Oregon. Jenna Forstrom shares her advice in a few minutes.
As always, let's first check in with the Mac's List team, with Jenna and Ben. Now, tell me, you two, was there a time when you applied everywhere when you were job hunting, and if you did, when did you stop using that strategy, and why?
Ben Forstag:
Yes. I think everyone has done this at some point in their career.
Mac Prichard:
I'll fess up to this too. Yeah.
Ben Forstag:
Yeah. You know, I'll admit it wasn't that long ago when I was doing this kind of thing during my last stint of unemployment. It lasted about five months and I'd say the first two months I spent just bombarding the Internet with applications. Actually, I started by being very selective and only applying to things that I thought really fit my needs, and when I didn't get traction there, instead of doing something differently, I just doubled down and started applying to everything.
What finally kind of woke me up and opened my eyes was just, like, I was getting no response and I realized I could keep doing this and expect a different result, which is what they call insanity, or I could try something else. Fortunately, I took some time off from the search, did some research, found another way to look for work and embraced that instead.
Mac Prichard:
How about you, Jenna?
Jenna Forstrom: 
When I was unemployed, I did the same thing as Ben; I started applying, got more and more anxious as the weeks went on and started applying for more and more jobs. I think my breaking point was I was filling out a job-form application on, like, Monster or Indeed and it was asking for my high school GPA and I was like, "I have six years of professional experience after graduating from college, why am I applying to something where my high school GPA matters?" Maybe proving that I went to college, definitely, but high school GPA… it just felt so, like middle school-ish, which is not – I mean, it wasn't middle school, but like so young to worry about if you're applying for a job like at Subway.
I was just like nope; I do not want this job if they want need to know what I graduated in high school. I am not embarrassed by my high school GPA. It just seemed so irrelevant to what I was doing as an adult that I was like, nope. I don't want this job. Then I started to refocus on what I really want. I went like, focused for the first couple of weeks of unemployment, panicked, went very spray and pray as we say here, very wide, and then after that moment started getting back to being more focused, but yeah, that's my experience.
Mac Prichard:
As you talk about your high school GPA I'm recalling when I was in grade school or middle school. There was always an authority figure, usually a vice principal in middle school, who said, "Well, you're adding to your permanent record here and it's going to follow you around for the rest of your life."
Jenna Forstrom:
Yeah, which is a lie. Same with learning cursive – I hated learning cursive and I can't take the last time I ever wrote anything in cursive.
Mac Prichard:
Yeah, well, grades matter but I don't think they matter when you're applying for work. Yeah.
Jenna Forstrom:   
Yeah. Definitely not.
Mac Prichard:
Yeah, later in life. For me I went through a long period of unemployment in my mid-20s and I had an interest. I had a background and fundraising and writing and publication relations, and I applied for jobs in all three of those areas, and I often got interviews but I never could close the deal and I never got an offer. I see now, and I eventually learned, that I was unclear about my goals and what I wanted to do and I think I was always, like, number three or four in a field of five. Once I got more focused about what I wanted to accomplish and got clear about what my goal was I got a job pretty fast, but in the meantime every day during that period I checked, in those years it was the newspaper, and I measured success by the number of resumes I sent out, not by the number of job offers I got.
I sent out a lot of resumes but until I got clear about my goal, I got zero job offers.
Ben Forstag: 
It's amazing how many job seekers I talk to who use that same yardstick for measuring their success in their job search, how many resumes I sent out today. I think once you start turning your job search into a numbers game you've kind of lost, right? Don't focus on the volume of resumes and applications you're sending out. Focus instead on the quality of the focus jobs you're applying to.
Mac Prichard:
Yeah. It's an important lesson to learn and I learned it the hard way, and I had to keep relearning it because sometimes when you're short on cash and you've got to pay your bills you think, well gosh, I've gotta find something. At that time, when that happens – what's worked for me, and I've seen work for others – is taking part-time work and continuing to look for a permanent position, but in a focused way.
We'll talk more about when and why you should apply for jobs in our conversation with Amanda later in the show but first, Ben, let's turn to you. You're out there every week poking around the Internet and you're looking for books, websites, and tools our listeners can use in their job search and in managing their careers, so what have you uncovered for us this week?
Ben Forstag:  
We're recording this show the Monday after Thanksgiving and the tryptophan is slowly leaking out of our bodies, and we're waking up from our slumber and our weekend of heavy eating, so I thought it would be appropriate to share a resource this week called Cold Turkey.
Mac Prichard:
Okay, so the stupor is lifting a little bit.
Ben Forstag: 
It is, and I admit when I first found this resource I didn't think about the timing of when I would talk about it, but it is very appropriate. So Cold Turkey is a piece of productivity software that basically keeps you from being distracted by email, web browsing, and other diversions on your computer. If you're anything like me, it's very easy to go jump on Facebook or Twitter, or go look at baseball blogs, or whatever your diversion is online whenever you encounter any difficulty in work.
For me, like when I'm writing, the moment I stumble over a word or can't think of the next sentence, I jump over to another browser and start kind of diverting myself. Cold Turkey basically allows you to block specific websites or parts of websites for a specified amount of time. Once you have set this block up there's nothing you can do to get access to those sites. It doesn't matter if you restart your computer. There's no secret password you can enter; you're pretty much blocked out of these sites for up to eight hours at a time.
It's what they would call a commitment device. If you can't control your own behavior this makes you committed to doing so because you don't have any other option.
Mac Prichard:
Can you share with us, Ben: are you using this yourself?
Ben Forstag: 
I actually don't use this that often because part of my job involves going to places like Facebook and Twitter on a regular basis. My wife does. She's a writer for a living and so for her it's very important to block out specific periods of time where there's no other distraction. So she sets up shop in a Starbucks, turns this on for four hours, and those four hours are all about writing.
One of the nice features about Cold Turkey is you can ask a schedule certain blocks of time on your calendar and so the system will automatically turn on and block Facebook or block whatever other sites that you tell it to block for a certain amount of time each day if that's how you want it, or a certain period of time each week. It's a nice little tool and I think if you're someone who struggles about staying focused on what you're doing this could be a real resource for you.
One way I think job seekers could use this would be: you know, it's really tempting just to spend your time looking at job listings all day, right? I've been there and I know, like, you want to be the first person to see the job that comes out because that maybe gives you the inside edge. I wouldn't tell anyone to ever block Mac's List from their list of viewable websites, but [using Cold Turkey] might be a good way to get you to focus on things that matter more in your job search, whether that's improving your resume, or writing a great cover letter, or doing some networking either online or in person.
Mac Prichard:
Well good. I think it's we have so many ways to get distracted today so I think this is a terrific tool.
Ben Forstag: 
Yeah, and again it's called Cold Turkey and it's available at GetColdTurkey.com, and we'll have the URL on the show notes.
Mac Prichard:
Thank you, Ben. If you have a suggestion for Ben, please write him and we may share your idea on the show. Ben's address is an easy one: it's Ben@MacsList.org. Now let's turn to you, our listeners. Jenna Forstrom, our community manager, is here to answer one of your questions. Jenna, what's in the Mac's List mailbag this week?
Jenna Forstrom:   
This week's question comes from Thomas Ewing, who Jessica and I met at the Portland State Career Fair [in the Fall], and he asks:
Thomas Ewing:
Hello. My name is Thomas and I'm a graduate from Portland State University and here's my question: I recently graduated with a Bachelor of Arts in health sciences, community health education, physical exercise, and a minor in Spanish. I'm also thinking about going to grad school as a physical therapist so the question is: should I cash out my chips, so to speak, and get a job right now or should I pursue grad school in the future?
Jenna Forstrom: 
Thank you, Thomas, for that question and I think, to summarize: you're deciding between going to grad school, or getting a job. I think this is a bigger question of getting focused and finding out what you want your career and your life's work to be, because you kind of seem pretty scattered all over the place with a couple majors, a couple minors, a couple focuses. I would really just encourage you or other people that are considering grad school to listen to a couple podcasts that we have on this – one of them is how to transition from college to career with Satya Byock.
The other thing to do would be to sit down and focus. Think about your finances, your ultimate career goals, your desire to continue schooling, because I think some people just feel like their opportunities will get better if they continue their educational track. Sometimes those people aren't really interested in going to school forever and ever and ever, but, if you love learning, maybe that is what you want to end up doing.
But ultimately, no one can tell you whether to go to grad school or not. It's got to be your decision and if you are going to do it, just own it and commit to a track and finish up. Mac and Ben, do you have any other ideas?
Ben Forstag:    
I'm going to give the simple answer. No.
Jenna Forstrom:  
Why is that?
Ben Forstag: 
Unless you're really gunning for a very focused career where you absolutely need a graduate school education, I'm thinking like academic tracks or other highly specialized career, I really think it's best to take some time off in terms of formal education after college and go out and get a job and try things out. When I think of the things that I was interested in and the directions I wanted to go out of undergraduate school, they're very different from where I am right now in my life and that's because as I went out and tried things I discovered that I wasn't really interested in politics. I wanted be do something else.
I think if I had gone into grad school right after my undergraduate degree I would have spent a lot of money and gotten a lot of training in something that I ultimately didn't really want to be doing. I just think, in general, it's best to take a couple years off. I think this even plays out when you talk to graduate schools – a lot of times they really value students having some outside experience rather than jumping right from undergrad into grad school.
Mac Prichard:
I think Thomas should reach out to the people who are doing the kind of work he wants to be doing in the next year or two after he finishes at Portland State. I know he has several different interests, so talk to people in each of those fields and ask them about the value of a graduate education, how it can help someone in that world, and when is a good time to get it? Go to the experts. Go to the source and learn from their life experience, and I think he'll get good insights.
I can't speak to these different sectors and whether a graduate degree would help or hurt him or when he should do that, but I would begin by having conversations with people who are in those fields and learn from their experience.
Jenna Forstrom:
Mac, can I ask you a question?
Mac Prichard:
Sure.
Jenna Forstrom: 
How many years between you finishing college and you going back to get your masters?
Mac Prichard:
10. I was at a point in my career where I was doing political communications and government work where I was beginning to compete with people with master's degrees who typically got them between the ages of 30 and 40. Then I spent a lot of time talking to graduates of the school I wanted to attend to find out how that degree had helped them and how they got in and what sorts of candidates that the school looked for before I applied.
Jenna Forstrom:  
Nice. Thanks for sharing.
Mac Prichard:
Yeah.
Jenna Forstrom:
And thank you, Thomas, for your question.
Mac Prichard:
Yes. Thank you, Thomas. We really appreciate it and let us know how it goes. We'd love to hear from you. Thank you, too, Jenna, and if you have a question for Jenna, please email her. Her address is Jenna@MacsList.org or call our listener line. That number is area code 716-562-8225. That's 716-JOBTALK. If we use your question on the show, we'll send you a copy of Land Your Dream Job Anywhere or a Mac's List coffee mug. It's your choice.
Most people struggle with job hunting. The reason is simple. Most of us learn the nuts and bolts of looking for work by trial and error. That's why I produce this podcast, to help you master the skills you need to find a great job. It's also why I wrote my new book, Land Your Dream Job Anywhere, coming out February 1. For 15 years at Mac's List I've helped people in Portland, Oregon find meaningful, well-paying, and rewarding jobs that they love. Now I've put all of my job hunting secrets in one book that can help you no matter where you live. You'll learn how to get clear about your career goals, find hidden jobs that never get posted, and ace your next job interview.
Land Your Dream Job Anywhere arrives on February 1, 2017, but you don't need to wait. Join our pre-publication list and I'll send you the first chapter for free now. Visit MacsList.org/anywhere. Now let's turn to this week's guest expert Amanda Augustine.
Amanda Augustine is the career advice expert for TopResume. She gives job search and career guidance to professionals who want better careers and to find the right job sooner. Amanda blogs regularly about career advancement on the TopResume website and also contributes to the Huffington Post. She joins us today from New York City. Amanda, thanks for being on the show.
Amanda Augustine: 
Thank you so much for having me, Mac.
Mac Prichard:
Yeah. It's a pleasure to have you. Now, this week, Amanda, we're talking about the questions that people should ask before they apply for a job and why is it, you know, many job seekers will look at a job board or a newspaper advertisement and they'll say to themselves, "I could do that," and then they fire off an application. Why might that not be a good idea Amanda?
Amanda Augustine: 
When you think about it, Mac, to really put together a good job application, to customize it properly, it takes a lot of time and a lot of effort. You're much better off spending that time and sending the right application to the right positions as opposed to sending out a bunch of applications to all these different positions. It's much better to run a targeted search because, frankly, you're going to have better results. You want to pick one goal and really look at that and make sure that all your application materials, as well as your personal brand, are all targeted towards that one goal. You're going to have a lot more success much more quickly.
Mac Prichard:
Now, I can imagine some of our listeners saying, "Amanda, well that sounds great and I agree with you. I should have one goal but gosh, I've got bills to pay and I need to get the rent paid off by the end of the month." What do you say to those folks who say, "Gosh, I've just got to apply because I've got to turn something up fast?"
Amanda Augustine: 
I completely understand that sometimes you can't hold out for the dream job because it's going to take a while to get to that dream job and you do need to pay the mortgage or the rent. What I would say is that even if you're considering a part-time job or a freelance opportunity, or something that you're going to do in the short term just to pay the bills, look for the ones that make the most sense given your long term goals.
Even if you have to work retail, look for the organizations or the companies that are in the same industry that you want to go into, or look for the ones that are going to allow you to use skills that you know are transferable to the ultimate job you want. Consider those short-term positions to be stepping stones towards a more permanent long-term job goal of yours.
The other thing is, I understand you want to apply to everything but you're just spinning your wheels. The sooner you have a targeted job search, the sooner you're typically going to get the right type of job. I'd just be a bit more strategic about even those part-time or short time gigs.
Mac Prichard:
Okay. Let's go back to career goals, Amanda. How much do they matter when you're weighing an application, looking at a job board, or Monster.com, or a local niche site? Why does having a goal make a big difference when you're deciding whether to apply or not for a position?
Amanda Augustine: 
When you think about it, your job goals are the foundation of your job search. The ideal situation is that you have a job goal and then you're evaluating your online presence, your resume, your cover letter, your LinkedIn profile, all those materials that are considered part of this personal marketing plan of yours, and you want them all tailored or somehow positioned towards that specific goal.
When you become a job seeker, you instantly become a salesperson, a marketer, and you are selling the most important product or service you will ever sell in your entire life: your experience and your talents. When you think about that, you want to make sure that all these materials are all positioned towards one specific goal and are highlighting your best assets, what you have to sell to a prospective employer.
When you create a goal, there's one thing that you can put all this behind. You want to think about: am I tailoring this resume so that when I apply to those types of positions it's going to get picked up? When I'm tweaking my LinkedIn profile, am I making sure that recruiters and employers in the industries or the companies that I'm interested in will actually find me? There really is a strategy to it.
I'd also just put it out there that when you come up with a job goal you spin your wheels a lot less. If you're applying to everything, all of your activities are separated. They're not all behind one specific goal. When you have a specific goal and all of your efforts are around that goal, you tend to make more progress and sooner.
Mac Prichard:
Now, what about qualifications, Amanda? We're often asked at Mac's List – we talk to a lot of job seekers – if people should apply when they're perhaps overqualified or underqualified for a job. What are your thoughts about that?
Amanda Augustine:   
I always say that "almost only counts in horseshoes, unfortunately." Before you apply to any job, make sure it's worth your time. Think of it that way. Is this application really worth my time? Am I going to get a return on my investment when I apply to this job? Carefully review the job description, and specifically the requirements that they are looking for. I hate to say this, and I know a lot of people wince when they hear this, but being overqualified for the position is just as challenging as being under-qualified for a position, and there are a few reasons.
One, if they're looking for two to three years of experience and you have 15, you're also being screened out just as the person with no experience. The reason being, you typically put an amount of years of experience on a role because that's the salary you can pay. I can speak from experience; I'm trying to hire someone and I need two to three years of experience for this specific copywriting role and I'm getting people with four or five times that amount of experience, and the role that I'm hiring for is an entry-level role because there's not going to be a lot of strategy involved and because, frankly, I can only pay what someone a couple years out of school is worth. It's an insult for me to interview those people because – or it's an insult to them – because I won't be able to pay them what they're worth and I won't be able to give them a job that really utilizes their talents.
Keep that in mind. You want to make sure that whatever the must-haves are, that's what you also have. Job descriptions tend to be a laundry list of anything and everything that the hiring manager is hoping for, and it's rare to find a person who's going to have absolutely every single one of those qualifications, but look at the must-haves and make sure you have those requirements, and do keep in mind how many years of experience they're looking for because it is a sign to you, as well, if you would enjoy the job.
Mac Prichard:
What would you say, Amanda, to a writer who has that 10 or 15 years of experience and is willing to take a pay cut and just wants a chance, because I've met those folks and I know you have too, who say, "Gosh if I could just get a front of the hiring manager and I'll make it work." What would you say when they're thinking about putting together an application about whether it would make sense to do that or not?
Amanda Augustine:
Great question, Mac. Two things I'd recommend: One, utilize the cover letter. Some people say they're outdated. Our research is showing that 50% of recruiters consider them a must-have, 50% don't. You don't know who you're dealing with. I personally, as a hiring manager and a recruiter, I want to see what that cover letter says, so if you're talking about how you're looking for the right fit or you're at a stage in your career where you prefer this type of role with this type of experience, you're letting me know that you already understand what this role's really looking for and that's actually something that you're interested in. I would reiterate those same sentiments in your profile on LinkedIn. Put it in the summary. What are you looking for?
One other thought, leverage your network. Network, network, network. If you know somebody at that company, make sure you're utilizing them. If you know a company you really want to work for, start finding out where people [who work there] are hanging out. What's their local watering hole or perhaps what associations are they a part of that makes sense for you to also join? Look for opportunities to meet those people, because you can get over those obstacles that a traditional application is going to hold you back on if you can make a connection with someone at the company and they're willing to vouch for you and advocate on your behalf.
Mac Prichard:
Now, let's talk about that for a moment because I know you have cited research that says knowing someone at a company can, when you apply, particularly for a posted job, can make a huge difference. Tell us more about that and why people should ask themselves if they know someone inside the firm before they send an application?
Amanda Augustine: 
Sure. There have been multiple studies, the most notable one is by Career Crossroads, which found that you're 10 times more likely to land the job when your application is accompanied by a referral from an employee. There are three main methods to find jobs out there: online job listings, leveraging your personal and professional network, and outreach to recruiters. Those are the three main ways. They work best when you're using them all together and in conjunction so when you're about to submit the application, first check your network and see, do you know anyone who knows somebody who works at that company, or do you know someone who previously worked at that company who could introduce you, because if you can, put that person's name in your application, and a lot of times the online applications, they actually have a spot for that.
They'll ask: do you know anyone who works here? That's the opportunity to name drop, or better yet, see if that person is willing to take a copy of your resume and pass it along to the hiring manager or the recruiter who's in charge of that position, because then you're bypassing that electronic gatekeeper, or the big black hole that everyone's scared about, and allowed to get on to the hiring manager so that you have a better shot at getting that job, or at least getting an interview, so to your point, you can make your case in person or on the phone.
Mac Prichard:
You talked a moment ago, Amanda, about the customizing cover letters. Why do you encourage people to customize both cover letters for every application -and resumes as well? How does that give an applicant an advantage?
Amanda Augustine: 
The vast majority of applications these days go through this electronic gatekeeper. It's a piece of software known as an applicant tracking system and for most people it's their worst nightmare. It makes the application process a lot longer and a lot more frustrating. Any time you've had to upload your resume and confirm a bunch of information or create a separate login in order to get into someone's system and answer a bunch of questions, you're probably going through an applicant tracking system.
These systems are designed to screen resumes, basically rank those resumes, identify your top skills, and send that information over to a recruiter or a hiring manager to let them know which applicants are bubbling to the top of the service, which should go to the top of the pile. If your resume is not formatted to get past that initial electronic screen it doesn't matter what's on your resume because a human's never reading it. It's really important that you're thinking about how are you formatting this resume? Are you including the right keywords to ensure that it passes through that initial set of gatekeepers and on to a human being who has a much better understanding of what you've done in your history and what value you bring to the table?
Mac Prichard:
Now, one of the questions I know you encourage applicants to ask before they send in that resume is to think about the company culture. Why is that an important factor, Amanda, and how do you recommend people research it?
Amanda Augustine:     
Oh, such a good question. You can have the best skill set in the world but if you join a company where you don't jive with the company culture, it's not the right work environment for you, you know it pretty quickly after you join a company. Within the first month or so, you'll know if it's the right fit for you. If that fit isn't there, it doesn't matter how great your skill set is, chances are you're not going to last there because either you're going to be miserable or they're going to realize it's not the right fit.
This has everything to do with what are the company values to what the work environment is like. Dress code, of course, is a part of that but it's not the main thing. It's really about how are they communicating? What is the mission behind the work? What's the environment like? Is everybody sitting in cubicles or is it completely open? Does everybody have their own personal offices?
There are a few things I recommend doing. One, take a step back and think about all the places you've worked in the past. Where have you done your best work? What environments have you thrived in? Where have you really enjoyed your time? Part of that will probably be the work that you were actually doing, what you got to work on, but the other part will be who were you working with? Was it a collaborative environment? Did they value someone who takes initiative or did they value teamwork? Did you get to work off your own machines? Was there the ability to telecommute?
Figure out where you've worked the best in the past and what you're looking for going forward, and then you want to start looking at these different job opportunities and evaluating them to determine if those things exist there. You can do that by going to sites such as Career Bliss, Glassdoor. Also check out the company's 'about us' [tab on their] site, you know the employment section, their social media channels, or better yet, delve into your network and find out if you know anybody who currently works there or previously worked there, and reach out to them and say, "I'm considering this position. I'd love to learn a little bit more about the company. Would you mind giving me 10 minutes of your time over the phone?"
That's a great way to gather insight that you may not find elsewhere and that will give you also some insight into their hiring process, so if the job is a good fit, the company is a good fit for you, you'll know perhaps what you need to do to your application to modify it slightly so that has a better chance of making it to the hiring manager.
Mac Prichard:
Finally, Amanda, tell us about the difference an applicant's online profile can make. What kind of questions should people ask about their online profile and why does that matter to employers?
Amanda Augustine: 
There was a study done by Jobvite, which they do every year, and the stat has remained fairly consistent, that 90% of employers are going to search for you online and they're going to evaluate your online presence and your social media profiles before they invite you for an interview. These days a great, well-constructed, professionally written resume is not enough; you also need to have an online presence that is telling a consistent story.
Just keep in mind: whatever you're saying on paper also needs to match what employers are going to see about you online and when they speak to you face-to-face. Make sure you looked at the LinkedIn profile, or even your personal social media accounts, and make sure that the ones that you want for personal use are hidden away, the security settings are increased, but the ones that you're purposely exposing so that recruiters will find it them, such as the LinkedIn profile, make sure they are telling a very consistent story about your job goals, your career history, and the skills you're marketing, because those are the ones you want to use in your next role.
Mac Prichard:
Well, terrific advice, Amanda. Now, tell us: what's next for you?
Amanda Augustine:     
Well, I've been working at a company called TopResume for a little over a year now. We're the largest resume writing and CV writing service in the world. We do resumes, CVs, as well as LinkedIn profiles. If you would like to hear more about what questions you should be asking yourself before you submit that application or you need resume help in general, you can look us up at TopResume.com and click on the career advice button in order to both receive a free resume critique as well as receive more information and career advice.
Mac Prichard:
Great. We'll be sure to include that URL in the show notes and there is a blog post you've written about the key questions you should ask before sending out that application, and we'll include that as well. Amanda, thanks for being on the show today.
Amanda Augustine:
Thank you so much, Mac. It was great.
Mac Prichard:
It's been a pleasure. Take care.
We're back in the Mac's List studio with Jenna and Ben. Now tell me, you two, what are some key points that you heard Amanda make in my conversation with her?
Ben Forstag:
I mean, my favorite part was when she said a job search was essentially a sales job, which resonates with something my dad used to tell me all the time. He was a salesman. He sold all kinds of things but he once said that every job is a sales job because you're either selling a product, or a service, or an idea, or most of the time you're selling yourself, so that really resonated with me.
I think the overarching theme she talked about was that you want to be selective because at the end of the day it's going to save you a whole lot of frustration. We talk to a lot of job seekers who are rightfully upset and dispirited by the whole job search process because, as we know, it sucks, right? The number one frustration I hear from job seekers is that they spend all this time working on a resume and an application, and they send it off and then it just disappears into a black hole and they never get any response, not even a rejection notice.
One of the things I tell them is: if you get focused and you start applying to fewer jobs, one of the benefits of this is that you get much less frustration, right? You're not putting yourself in the situation where the number one response you get is nothing or rejection.
My one piece that I would add to what she said is when you're applying for a job I would think about one question, which is why do I want this job? If the answer to that is I need a paycheck, or I just need to check off a box that said I applied to a job today, maybe you should consider not applying for it, because if you have a real clear idea in your head of why you want this job, that's going to help everything else along the way from crafting a customized resume, to writing the cover letter, to even having that interview, if you're fortunate enough to get the interview.
At the end of the day, the clearer you are about the question of why this job and why you, why you're the right person, the better you're going to be.
Mac Prichard:
I liked your point about being strategic and focused because I certainly know from sales work I do from my other company, Prichard Communications – and this is true whatever role you have or wherever you might work – time is probably your most valuable asset. When you say yes to one thing, you're saying no to something else, so when you say yes to applying for every job that you're remotely qualified for, you're saying no to other things, perhaps spending as much time as you might on goal setting, or networking, or informational interviews and other techniques that can help you find and get hidden jobs.
What were your thoughts, Jenna?
Jenna Forstrom:      
I thought she had a really interesting comment about years of experience as equal to salary ranges. I had never thought of that but I think, as everyone else here at Mac's List, we always hear the argument, "I'm underqualified," or "I'm overqualified" and that it's just a crummy situation to be in, but it was really interesting for her to say that out loud: if something was zero to three levels, the zero to three years of experience is kind of going to be lower than your expectation, and then 15-plus years of experience is going to be higher than your expectation, depending.
I'm focusing this around a millennial because that's what I am, but just looking at it from the flipside it's like, okay, so if you want to take that job you'd be making less money or more money, so how do you pitch yourself if you're still going to apply for that job, and just kind of wrapping your head around that, and that, I mean it opens up, right? If you're looking for your dream job, chances are you have to get really narrow and really, really focused to go after that very, very specific job that meets the years of experience, and your salary, and your passions, and 10 other things, but to just focus down and find that.
Ben Forstag:   
I'm going to just jump in here, and I think that speaks to the point I was making earlier about knowing why you're applying for the job because I think even if you're overqualified, if you're really clear about why this is the job you want, you can start addressing those barriers that the hiring manager might have in your cover letter, or in your networking or otherwise. I think, I mean she's absolutely right. The reason that employers don't want to talk to overqualified candidates is because at the end of the day they don't want to pay them what they think that person wants, but if you can come in with a convincing argument about, "I'm not going to come and ask you for more money. I want this job not because I need a paycheck but because I'm really interested in X, Y, Z and I'm super passionate about your company," or "I've always wanted to work with you," whatever it is, I think it's so much easier for a hiring manager to sit down at a table and have a good conversation that might wind up with a job offer.
Jenna Forstrom:   
To continue on what Amanda was talking about was, like, if you are focused down and include all that stuff, and have a solid cover letter, solid social media presence, everything is all dialed in for that one dream role, it's easy to talk to a hiring manager. It would be like, "Okay. I might have 15 or 20 years of experience and I'm changing careers but, like, go read my blog. Go check out my cover letter. Go check out my resume. It's all focused on this career pivot so I'm not expecting a salary that comes with 15 years of experience. I'm expecting a salary that comes with five years of experience," and make it easy. We talk about this all the time. Make it easy for a hiring manager to say yes, and network of course. Always network.
Mac Prichard:
Always network. Yeah, and it can make sense to take a pay cut. I certainly had that experience when I went to the governor's office in Oregon back in the 1990s. I took an almost 20% pay cut to get my first position there and I never, and I had three different jobs, and it wasn't until I left that I got back to my old salary level, but because I had existing relationships with people on the staff they knew that it was important to me to work in that office and do that work, and that I could afford the financial sacrifice and I wasn't going to come back to them in three or six months and say, "Gosh, I really need this salary."
To me, that was like going to graduate school for three years and having a great experience, but you have to, to your point Jenna, you have to have those relationships. You've got to be clear about what you offer.
Well, thank you both and thank you, Amanda, for joining us this week. It was a great conversation. We'll be sure to also include in the show notes the blog post that Amanda wrote that inspired this conversation, which lays out specific questions she encourages every job seeker to ask before they hit send on an application.
Thank you all, too, for listening to today's episode of Find Your Dream Job. If you like what you hear, please sign up for our free weekly newsletter. In every issue we give you the key points of that week's show. We also include links to all the resources mentioned and you get a transcript of the full episode.
If you subscribe to the newsletter now we'll send you our job seeker checklist. In one easy to use file we show you all the steps you need to take to find a great job. Join us next Wednesday when our special guest will be David Mariano. He'll explain how to get the most out of your first job. Until next time, thanks for letting us help you find your dream job.