How to Make Your Job Virtual, with Melissa Mathews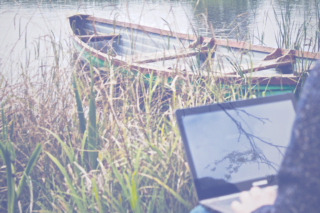 Do you dream of having a virtual job?  A professional gig you can do anywhere, anytime–even from home in your pajamas?
It might be possible to convert your existing position into a virtual job. You just need to know how to negotiate this transition with your employer.
Most employers will want to know what's in it for them before allowing an employee to work from home full-time. One way to address these concerns is to make a list of the objections you think they will have, and then build a mini business case around each issue. Showing an employer a value proposition is your quickest way to a yes.
According to this week's guest, Melissa Mathews, employers want you to show them:
How your productivity will be increased
How you plan to hold yourself accountable
How your creativity may be sparked
The absence of workplace distractions
Logistical cost savings
This Week's Guest
Melissa Mathews is the founder and president of The Mathews Group, a strategic communications agency built on an entirely virtual, flex-work model. Melissa believes that if you hire great people and give them the freedom they need to live and work, they'll exceed your expectations.
Resources from this Episode
Transcript
Mac Prichard:
This is Find Your Dream Job, the podcast that helps you get hired, have the career you want, and make a difference in life. I'm Mac Prichard your host and publisher of Mac's List. I'm joined by my co-host Ben Forstag, our Managing Director, and Jenna Forstrom, our Community Manager. This week we're talking about how to create a virtual job, one that lets you work at home or anywhere in the world. Our show is brought to you by Hack the Hidden Job Market, our new online course that launches November 1st. As many as 8 out of 10 job openings never get advertised. Is your dream job one of them? Learn how to uncover hidden jobs and how to get noticed by the hiring managers who fill them. Visits macslist.org/course.
Lots of office workers today telecommute according to a Gallup survey. The typical American works at home 2 days a month. In earlier podcasts we've talked about how you can create an online business. People who do this get to stay home every day or work anywhere in the world, but what if you're not ready to start your own shop? This week's guest expert Melissa Mathews says self-employment isn't your only option. Melissa shares how you might persuade your employer to make your current full time job virtual so you never have to go to an office again. Email makes virtual work possible, but what do you when you want to email someone about your job search and don't have an address? You can search online or you can make an educated guess, but that can mean several attempts before your message gets through. Ben has found an online tool that helps you deliver your email on the first try. He'll tell us more later in the show. Finally, have you ever walked out of an interview knowing you could have done better? In our question of the week, listener Eric Stashin wonders what you can do next. Jenna gives her advice.
First, let's check in with the Mac's List team. Jenna, Ben, I'm curious, have either one of you had a virtual job?
Ben Forstag:
Every Friday, Mac.
Mac Prichard:
Does that count, working at home 1 day a week?
Ben Forstag:
I guess not, but we do take Fridays from home here at Mac's List. I think we've shared this in the past. For me I actually find it really challenging to work from home and have that remote experience. I'm not sure I'd want to have a full time remote job.
Mac Prichard:
What about your Jenna? Again, I think the way Melissa is going to talk about virtual work it's not telecommuting one day or several days a week but actually working remotely 100% of the time.
Jenna Forstrom:
A few years ago I was doing a freelance job with a company that was based out of San Francisco and commuted from my bedroom to my living room every morning, which was a very tough commute, but I loved it.
Mac Prichard:
What did you like best about it, Jenna?
Jenna Forstrom:
That I didn't have a commute. That was the main thing. I had gone from freelancing out at Nike, so I had a 45 minute commute one way to a 3 minute stop and get coffee in my kitchen commute. Plus I got to hang out a lot more with my dog.
Mac Prichard:
I know, that's one of the highlights of Fridays for you, working at home here at Mac's List. That Bullet time. Let's move on and every week, Ben is out there searching the internet, looking for tools you all can use in your job search and your career. Now Ben, what have you found for us this week?
Ben Forstag:
This week I want to share a simple online tool that has completely revolutionized my ability to connect with people by email. On a day to day basis I'm always trying to find people to connect with, to talk to them about Mac's List, about what we do, maybe to ask them to be on our podcast, in our book, and I use LinkedIn a lot. The problem with LinkedIn though is if you're not already a connection with someone you don't see their contact information and you don't know how to reach out to them. A lot of times what I've had to do is try to reverse engineer their email address. I find out what their website is and if their website is companyx.com I know that their email's probably something@companyx.com and then I try some combination of their first name, their last name, their first initial and last name. It can get pretty complicated and if you don't know what you're doing you can spend a lot of time sending emails that aren't actually getting through to anyone. I'm sure you've had a similar experience, Mac.
Mac Prichard:
I have, Ben, and I know for job seekers this can be a challenge too because someone may say, "Oh you should get in touch with Mary at this company," and they don't know the email address but it's a valuable contact. If you can't, again, as you said, find it on LinkedIn, you can spend a lot of time going down rabbit holes looking for the right address.
Ben Forstag:
Exactly. I'll share the tool in just a moment but my thinking was for people who are in the middle of a job search this would be particularly valuable when you're trying to find that hiring manager, if you're trying to skip around the HR process and don't want to send it off to the generic info@ email. If you can find the Hiring Manager's name but can't find their email address readily, this tool might help you figure out what their email address is.
  Let me tell you about the tool. It's called Verify Email Address.io. It's a weird name, and it's available at tools.verifyemailaddress.io, but it's really simple. All you have to do is this. You type in what you think the email address might be and it does a little scan and it tells you whether this is a valid email address or not. If you're not sure if it's first initial last name @companyx.com or just the first name @companyx.com, you type it in there and this tool will tell you whether that's a valid email address. It basically quickly sends a little ping off to the company's server, email server, and they ping back saying, "Yep, this email address works." I've done this a lot in the last few weeks as I've reached out to people that I wasn't already a connection with on LinkedIn and it's worked each and every time I've used it. It's a great little tool, it saves me so much time on a day to day basis. I love it. Can't recommend it highly enough. Again, it's available at tools.verifyemailaddress.io, and as always I will have a link the show notes.
Mac Prichard:
Great, and that's a free tool, right Ben?
Ben Forstag:
Completely free.
Mac Prichard:
Okay, good, that sounds like a wonderful tool, especially for job seekers, but for anyone wherever they are in their career. If you have a suggestion for Ben, he's always looking for great tools. Please write him, his address is info@macslist.org.
Ben Forstag:
You can verify that on the email tool I just shared with you.
Mac Prichard:
Now let's turn to you, our listeners. Jenna's here to answer one of your questions. Take it away Jenna. Now it's no longer a mail bag, we actually have people calling in questions, don't we?
Jenna Forstrom:
Yes we do. This week's question comes from Eric Stashin. It's a follow-up question to a previous podcast that we did with Deena Pierott. Just to refresh everyone's memory we interviewed her and we were talking about what to do after the interview, like what's the follow-up, and so Eric's question is about, "If you have an interview and you're perfect for the job, but you didn't bring your A game to the actual interview, is there any way to remedy and make a good second impression?" We're going to play the clip now.
Eric Stashin:
Hi, I listened to the What To Do After A Job Interview podcast, and what a great resource, thanks for doing that. Here's a question that I had that wasn't addressed. Let's say you interviewed for a job you're imminently qualified for but for whatever reason in the interview you didn't really bring your A game or you think of something you really wanted to say after the interview is over. Is there anything you can or could do in follow-up, either a personal note or email that would help boost your chances for the job interview? That's my question, thanks.
Jenna Forstrom:
Eric, that is a great question, and a couple of things that you could do to make a great second impression with the Hiring Manager or the HR team or your future boss would be to send a follow-up email with a thank you note and additional clarifying points. If you referenced a book and you said it had a different author or you were talking about a New York Times article in the interview and it's actually a Forbes article, you can just send all that information to them in an email form. It shows that you have really good follow-up skills, that you're organized. You can also include relevant work, including a link to your online portfolio or some other really cool stuff or other previous work samples. You can send that all in the email.
  Another thing you can do is go on LinkedIn and see if you have any shared connections. Say I'm interviewing for a job at Mac's List and I'm LinkedIn connect to Mac but I interviewed with Ben, I could reach out to Mac and say, "Hey Mac, I just had a great interview with Ben but I really want to drive home that I'm really good with skill XYZ, would you mind letting him know," and just asking for that reference and referral. Mac would reach out to Ben and say, "Oh, I've worked with Jenna in the past, these are her really awesome skill sets," so it just adds another layer of authenticity and trust to that interview.
  Mac and Ben, do you guys have anything else you want to add?
Ben Forstag:
First and foremost I would never acknowledge in your follow-up that you had a bad interview because there's no reason to. If the person who was interviewing you thought it was a bad interview they don't need to be reminded of it, and maybe you did much better than you thought and they thought it was a great interview. Don't put it out there that you thought you had a bad experience. I think there's probably an opportunity where you could address the person and say, "Oh, upon reflecting on that question, I've been thinking about it a little bit and here's some additional thoughts that I have." I think that thoughtfulness is something that employers might appreciate and certainly might help you improve your chances.
  The other thought that I would throw out there is that I think sometimes job seekers look at job descriptions and say, "I'm completely qualified for this job, I'm eminently qualified, of course I should get it," but as we've talked about several times on the podcast, getting the job is often not about your qualifications, it's about your cultural fit within the organization. For better or worse that interview is often where people make that quick assumption or that quick determination about your cultural fit. It might be hard to backtrack away from that first impression and clarify things later on, but it's certainly worth a try.
Mac Prichard: I like your idea, Jenna, of reaching out to people inside the organization or people who have worked with persons on the interview panel in the past because that is a great way of delivering a message about your strengths and from a source that they're much much likely to trust. The only additional idea's really just building on your first point which is if you are a finalist and they've asked you for references, you might reach out to your references. You would do this anyway to alert them that they might get a call and coach them about the job and what the employer's looking for so the references can be prepared. You might flag for them that there were some issues that you thought should be addressed and it would be helpful if they could touch on those points.
Jenna Forstrom:
Great, thanks guys.
Mac Prichard:
Thank you Jenna and thank you Eric for the question. If you have a question for Jenna you could email her. Her address is jenna@macslist.org and now you can also call her and you can reach and leave a recording at area code 716-JOB-TALK. That's area code 716-J-O-B-T-A-L-K. The segments with Ben and Jenna are sponsored by Hack the Hidden Job Market, the new online course from Mac's List. As many as 80% of jobs never get posted. Instead, employers fill most openings by word of mouth. Our new course shows you how this hidden job market works. We'll teach you how to find plum gigs that never surface on a job board, how to stand out online in a crowd of applicants, and how to connect with the insiders who can help your career. In each of the course is 12 modules. You'll get the tools and tips you need to get meaningful work, work that you can love, work that makes a difference. Hack the Hidden Job Market launches on November 1st. Don't wait though, get updates and lock in the lowest price now. Go to macslist.org/course.
  Now let's turn to this week's guest expert Melissa Mathews. Melissa Mathews is the founder and president of The Mathews Group. It's a strategic communications agency built on an entirely virtual flex work model. The Mathews Group team works from home offices, coffee shops, house barns, and soccer sidelines across international time zones. Melissa believes that if you hire great people and give them the freedom they need, they will exceed your expectations. Melissa, thanks for joining us on the show.
Melissa Mathews:
Thanks for having me. I'm pleased to speak with you today.
Mac Prichard:
Great. It's a pleasure to have you here. Let's start with a question I know is on our listener's minds because I think many people love the idea of working at home full time for an employer and not having to be self-employed, but why are employers going to say yes to people who want to turn their existing job into a virtual job?
Melissa Mathews:
That's a great question because I think people are very eager and willing to come up with a list of reasons why a virtual work arrangement would work for them but I think in order to be successful, especially if you're trying to bring a virtual arrangement to a company or an organization that's not done it before is to make the business case, is to look at any questions that your boss might have about what your availability's going to be or how you're going to be held accountable and look at it from their point of view and to make the value proposition clearer to them. For example, if you are somebody who's taking care of an elderly parent, you wouldn't want to say, "I want to do this because I'm taking care of my elderly parent," you would want to say, "I think I can be more productive for the company by working from home and maybe I'll have to take less time off," and that sort of thing. I think it's really important to build the business case. There's a ton of research and a growing body of research on virtual arrangements and some of the non-traditional arrangements and you can really put together a really nice case for your boss.
Mac Prichard:
When people are thinking about making that case, what are some of the most common objections that managers are likely to make, Melissa? What's the top 3 reasons a manager might say no?
Melissa Mathews:
I think that the biggest issues are around accountability. How will I know that you're working when you say you're working? What if I need to see you in my office? Will you come in to the office? Are you still available to travel if that's part of your job? I think making sure that you've thought through those questions, and when I was negotiating my first flex job or my first virtual job, I actually opened up a Word document and I started brainstorming all the questions and objections that I knew my boss was going to have, and then I typed up answers for them. When I actually went into the meeting I brought that piece of paper with me and the first question that he asked was the first question on my list and I actually handed over the document to him. I said, "I knew you were going to have all these concerns so here are your answers." That actually broke the ice and I was successful.
  You know your job and you know your boss and you know the kinds of concerns they have but I think accountability is really something that they're going to look for and I think something that everybody needs to be prepared to make some commitments toward. "You'll know I'm online between these hours and these hours," or whatever it is that's going to allay their concerns.
Mac Prichard:
Let's put ourselves in the shoes of a manager and, thinking about the benefits to them, what are common benefits to employers who say yes to allowing their workers to make their jobs virtual ones?
Melissa Mathews:
One of the biggest is productivity. When you just even think about the time that you spend commuting and even dressing for work every day, if you can turn that time into productive time on your assignments, then I think that's a huge piece of it. Some of the other things, if you're in a creative profession, a lot of people are more creative in their own environment, whether that's at home or some place else. The final one I would say is that you limit your workplace distractions. Anybody who works in an office knows that people stop by your desk all day long and there's lunches out and there's water cooler talk and so a lot of people can just focus better away from that environment.
Mac Prichard:
What about costs, Melissa? Will employers have to spend more when an employee wants to make their job a virtual one?
Melissa Mathews:
I think cost is a lot of the benefit that people are seeing. If you have a number of employees working virtually at least part of the time then you can save on office space and electricity and copier ink and all the rest of those things. I really think that the cost is something, if you can quantify that somehow or even point out the benefits there, that that's a good argument to make for a virtual arrangement.
Mac Prichard:
Let's say your boss says yes and you get the okay to make your job virtual. What do you have to do when you're working at home full time to be successful?
Melissa Mathews:
I think there's a period of soul searching that has to happen and a lot of honesty with yourself and looking at your own work style. We always say that you have to be a very disciplined person, you have to be very self-motivated, and you have to be okay with being alone if that's a good position for you. I think that's the main question that you have to ask yourself. If you're working from home and if that's the plan, are you going to be distracted by that unfolded basket of laundry or the dishwasher that needs to be emptied and asking those questions of yourself. I will say that we often say that virtual work is very appealing to parents or people who are dealing with elder care issues, but it's not a substitute for that. We even write it into our employment contracts that a virtual arrangement is not a substitute for child care. You don't want to get caught up in those traps of thinking you can do it all.
Mac Prichard:
You need to be focused, you need to be disciplined. What are some of the other challenges that people should expect to address when they go virtual?
Melissa Mathews:
I mentioned loneliness, that can be an issue for some people who are very social. Finding ways to connect with your co-workers. Technology is a big piece of that, obviously, feeling like you can get on the phone and call somebody or IMing and chatting over the course of the day. We love to do video chats because you really do feel like you're there with people. It enhances collaboration if you're working as part of a team. Making the effort, making a little bit more of an effort to have that human connection, even if you're working solo at home or at a flex space is really important.
Mac Prichard:
Your firm has people working across multiple time zones. How do you manage that?
Melissa Mathews:
We see it as a benefit. When we look at the service that we provide to our clients, and we've got folks on the west coast and, I don't know if you've mentioned but I actually work from the Middle East. My husband's a diplomat and we're currently in the Middle East. When we cover all those time zones as a small agency, we feel like that's an additional benefit to our clients because they have our responsiveness over the course of those hours. I have some really specific tricks in terms of I have my phone set on one time zone and I have my computer set on another time zone so I'm never goofing up a meeting or something along those lines. I think it works. We have very clearly defined hours that everybody is available and able to work, but when you look at the collective that we stretch across that many hours of a given 24 hour period, we actually think it works best for our clients.
Mac Prichard:
We talked earlier about cost to employers and the potential for savings. What about financial issues for virtual employees? Can people expect to receive benefits or are there any financial consequences to working virtually?
Melissa Mathews:
There can be. I think a lot depends on whether you're an actual employee or if you're a contractor and what your commitments are in terms of taxes. It is absolutely something that you have to think about. Your employer may have some additional considerations if you're located in a different state and what kind of jurisdiction you're in from an employment perspective. It is something to think about early and often and to consult a financial advisor for any peculiarities there. For folks who are working overseas there can be some tax benefits, but those are really unique to every situation. It is absolutely something you have to think about early.
Mac Prichard:
What online resources do you recommend, Melissa, for people who would like to learn more about how to do this?
Melissa Mathews:
There's been an explosion, just as there has in virtual arrangements. There's been an explosion in writing about it. Harvard Business Review writes about it from time to time, and they're a great source in their blogs. Fast Company and Mashable and those kinds of publications are doing a lot of writing about it from every facet. If you just Google, it's out there and it's tons of resources and tons of connections. For folks in the communications space in LinkedIn we started a group of virtual agency folks and a place to connect, and people who are interested in that kind of work should check it out on Virtual Agency Realities.
Mac Prichard:
For people who may not be able to get their boss to say, "Okay, you can make your job virtual," but they want to do this, they want to look for virtual jobs, are there online job boards or other resources that people can look at?
Melissa Mathews:
There are. FlexJobs is one that is very much prominent in this space and they also have a number of helpful blogs and helpful hints, so that's one that I like. If you look and see their jobs, they are cutting across a range of professions and industries, and at every level. You can really get fairly senior jobs that are virtual if you look around. That's one and I think there are some others that are emerging because as the numbers grow and grow of folks who are interested in this kind of work, I think you're going to see a lot more along those lines.
Mac Prichard:
Great. Anything else you'd like to add, Melissa?
Melissa Mathews:
Only that I think this is something that has been enabled by technology and it's only getting bigger and better, and I think that the companies who are willing to take a risk and look at some of these virtual arrangements are going to see more benefits than problems. I really expect this to grow and get bigger and more exciting, and I know I feel very lucky to be able to do it.
Mac Prichard:
Thank you, and I know this topic is of great interest to our listeners. If you'd like to learn more about Melissa and her work, visit her website, it's www.mathews-group.com, and Mathews is spelled with 1 T. Melissa, thank you for being on the show today.
Melissa Mathews:
Thanks so much, I appreciated it.
Mac Prichard:
Take care. We're back in the Mac's List studio with Ben and Jenna. Tell me you two, what were the most important points you heard Melissa make?
Ben Forstag:
I think there are 2 things that I'd want to point out. The first 1 is that I think if you want to get a remote working arrangement you really have to show your employer what the business case is for it. It can't be all about what you want, it's got to be how this is make sense for the employer. I know one of the reasons that a lot of employers are embracing this is because it gives them access to a huge array of new talent. It used to be the only people who you could hire to work for you are the folks who live within 50 miles of your office because they had to come in every day. Now you can recruit from anyone, anywhere in the world because they can do this remotely. It really is just like any profession, any career can be done remotely now, even healthcare, which is crazy.
  The other point I bring out here is one I learned from personal experience, which is virtual arrangements are not a substitute for childcare. My wife and I thought, "Oh, if one of us works from home 1 day a week we can watch our son while we're working from home," and that absolutely does not happen. Very quickly I learned when you try to do both things at the same time you do neither 1 very well. My wife who works from home every day has the odd experience of she actually has to hire someone to come and watch her son while she's working in the other room. That's just the way that has to be because you can't work for your employer and work for your child at the same time.
Jenna Forstrom:
Unless your child's a dog, in which case it works out awesome, because when they're annoying you can put them out in the backyard, which you can't do with a real child.
Ben Forstag:
Touche.
Jenna Forstrom:
I liked your point about how you can be lonely, because, again, as the extrovert of the group here at Mac's List, when I do freelance work from home I do realize how lonely I get. 5:00 rolls around and I'm counting down the minutes for my roommates to get home to talk to me face to face, because if I don't have anyone to meet with I get really depressed, I'm talking to my dog like a crazy old lady and treating him like a cat, but really I'm just lonely. Just that idea of building in social interactions. When I was freelancing and working from my house I was always making sure that I was going to crossfit 3 times a week and working out with a different group of people and going to networking events to maintain my professional relationships and those kinds of activities. That was really key.
Mac Prichard:
I liked her point about thinking about what's in it for the employer as you make the case for why it's a good thing for you to make your job a virtual one. We touched on this a little bit about the cost to employers. My wife has actually worked at home for 20 plus years now and she's been self-employed but she first struck out on her own when her employer at the time made her job virtual. The reason they did it was in part to keep great talent but also to control healthcare costs. She became a contractor and healthcare and her take home pay actually went up but the employer saved on healthcare because she was no longer receiving health insurance. It wasn't an issue because we were married and I was covered by my employer. Understanding the dollars and cents of the move and being able to … If it's beneficial to both parties, both the worker and the employer, can really make a difference in most conversations I think.
  Thank you both and thank you all for listening to today's episode of Find Your Dream Job. If you like what you hear, please sign up for our weekly newsletter. In each issue we give you the key points of that week's show. We also include links to all the resources mentioned, and you get a transcript of the full episode. If you subscribe to the newsletter now we'll send you our job seeker checklist in 1 easy to use file. We show you all the steps you need to follow-up to find a great job. Get your free newsletter and checklist today. Go to macslist.org/podcast.
  Join us next Wednesday when our special guest will be Vanessa Van Edwards. She'll tell you how to use body language to ace a job interview. Until next time, thanks for letting us help you find your dream job.