How to Get the Most Out of Your Day, with Matt Kepnes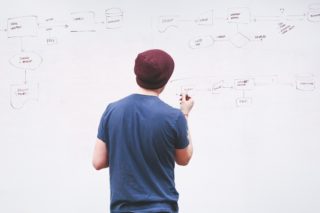 If you are unemployed you may find yourself with an abundance of unstructured time on your hands. But this isn't an excuse to slack. You want to maximize productivity of your time and energy–particularly with the effort you're putting into your job search.
This week's guest, Matt Kepnes (AKA: Nomadic Matt), shares his tips and processes for accomplishing large and small tasks, even if you are on the road.
Creating artificial constructs within your day can help you get stuff done. One particularly helpful construct is batching–reserving set amounts of time for specific tasks. For example, if you batching all email correspondence into a set one-hour window, you clear up the rest of your day for other tasks.
Distractions can kill productivity. Social media sites, phone calls, and unplanned interruptions are things we all get distracted by. To reduce the level of distractions during your work time Matt recommends job seekers:
Create routines. Familiarity lowers the chance of interferences.
Use the self-control apps to block distracting websites during your work hours.
Schedule projects in advance and then follow the daily schedule.
Go to a coffee shop with wifi to get away from distractions when working from home.
This Week's Guest
Matthew Kepnes runs the award winning budget travel site, Nomadic Matt, and wrote the New York Times bestseller, How to Travel the World on $50 a Day. After a trip to Thailand in 2005, Matt decided to quit his job, finish his MBA and head off into the world. His original trip was supposed to last a year. Over ten years later, he is still out roaming around and teaching others how to do the same.
Resources from this Episode
Transcript
Mac Prichard:
This is 'Find Your Dream Job,' the podcast that helps you get hired, have the career you want, and make a difference in life. I'm Mac Prichard, your host, and publisher of Mac's List. I'm joined by my co-host, Ben Forstag, our managing director, and Jenna Forstrom, our community manager. This week, we're talking about how to get the most out of your day when you do a job search. Our show is brought to you by Hack the Hidden Job Market, the new online course for Mac's List that starts November 1st. As many as 8 out of 10 job openings never get advertised. Is your dream job one of them? Learn how to uncover hidden jobs, and get noticed by the hiring managers who fill them. Visit MacsList.org/Course.
Making the most of your day always matters, and especially when job hunting. Looking for a new gig takes time and effort. All your other responsibilities don't magically go away when you're looking for work. This week's guest expert, Matt Kepnes, knows all about juggling priorities and schedules. He's a travel writer, and he lives on the road full time as he travels the world. Later in the show, I'll talk with Matt about his personal productivity hacks, and how you could use them in your job search.
We all know the surest way to move a resume to the reject pile is to make a spelling or a grammar error. In a moment, Ben Forstag will share an online to catch common writing flubs. This week, our listener question comes from Kelly Garrett. He wonders how best to present and market his soft skills in his job search. Jenna Forstrom has her advice.
First, as always, let's check in with the Mac's List team. Ben, Jenna, I'm curious, our topic this week is how to make the most of your day during a job search. How do you two organize your day to get the most done when you've looked for work?
Ben Forstag:
I guess wake up early would be my …
Mac Prichard:
Make the day longer.
Ben Forstag:
Make the day longer.
Mac Prichard:
I think we're talking about productivity here.
Ben Forstag:
Well, so it does fit in here. I'm a morning person, and I really feel like I get more done between when I wake up and 10 am, than I do the rest of the day. For me, it's important to wake up on the earlier side. I find even on weekends, I'm waking up at 6 in the morning, usually, to start getting stuff done. Now, the caveat here is that I've got 2 small children, so I don't even need to set an alarm clock anymore. I'm up at 5:30 or 6:00 anyway, but that's my secret. Longer days and cramming as much work into the morning as I can.
Mac Prichard:
Okay, so the early bird gets the worm, and the job.
Ben Forstag:
Yes.
Mac Prichard:
All right. How about you, Jenna? What have you done to increase your productivity when you've looked for work?
Jenna Forstrom:
I've had 2 stints of unemployment. Both times, to avoid the, what I call psychosis of Monster, and Indeed, and Mac's List, when you're just applying for any job and just the 'spray and pray,' is what Ben says. To avoid that, I set a timer and I spend an hour job hunting a day, and that's it. That's part of a bigger plan of spending time volunteering, time working out, time on homeowner … so home improvement projects while unemployed takes up a lot of time, and each of those, I try to book out an hour of time. I just set a timer, so if it's … I'm applying for jobs for an hour, or I have a phone interview, or I'm going in person, that's my hour of job hunting. It's more of a holistic approach to keeping sane while unemployed.
Mac Prichard:
It's an hour a day, 7 days a week? Or just 5 days?
Jenna Forstrom:
No, Monday through Friday.
Mac Prichard:
Okay.
Jenna Forstrom:
Yup.
Mac Prichard:
Yeah. Well for me, I found having structure and regular commitments makes a big difference. I haven't worked with a timer like you, Jenna, but I have set aside specific blocks of time in my calendar. Then also, I've had volunteer commitments, and regular gigs, so I'm not sitting at home by myself … Which I have done, and I can tell you, as I'm sure many listeners realize, it's not the best use of your time when you're looking for work.
Jenna Forstrom:
Yeah. I think Marsha said something about spending … When if you get laid off, or if you've lost a job, spending a week being sorry and then moving on to that. We did a bonus episode, we'll include it in the show notes.
Mac Prichard:
With Marsha Warner, I think.
Jenna Forstrom:
Yeah, it was really interesting to just be like own, sitting at home in a dark corner, and being upset, and then moving on.
Mac Prichard:
Yeah. Yeah, I think some acknowledgement of that grief is good, but then that's when … Then, as you say, you got to move on. Well thank you both. Now, let's turn to Ben, because every week, he's out there searching the internet, poking around in the nooks and crannies and looking for tools, books, and websites you can use in your job search. Ben, what have you found for our listeners this week?
Ben Forstag:
I'm going to start with just saying a truth here. You know what one of the worst things ever when you're applying for jobs is?
Mac Prichard:
The worst?
Ben Forstag:
Well, I mean the worst is not getting the job, but I mean amongst the worst. It's like when you spend hours working on a cover letter, or a resume, and you've sent it off. You've already pressed the 'send' button.
Mac Prichard:
You discover the typo.
Ben Forstag:
Then you discover the typo, like you misspelled your name, or you've got a word in there 3 times in a row. It doesn't matter how many times you've read it, or had someone read it, you're always going to miss these things. That's the worst, because you can't take that back. My resource this week is an online I found called Grammarly, which is a plug-in that you could put into your browser. You can also download a software version, but most of the time, this just kind of sits in your browser and it finds up to 250 different types of errors: typos, repetitive words, times when cases don't match, or verb tenses don't match. These are errors that typically, even Microsoft Word doesn't find.
Here's the best part. It works not just when you're typing a document in word, but whether you're on Facebook, or Gmail, or anywhere else where there might not have a real comprehensive spell check and grammar check. This tool sits there and autocorrects things, or makes suggestions. It also does this cool thing where it reads the context of what you're writing, and then suggests better synonyms. Instead of using the word 'huge,' or 'big,' it will come in and say "OH! Maybe you want to use this word instead." It's really cool. Here's the best part, the baseline package is completely free if you download it and use it on your Chrome browser … and as an aside, everyone should be using Chrome as their browser right now.
I really suggest you check it out. It's called Grammarly, and it's available at Grammarly.com. It's awesome. It's free. It's going to save you from that heartbreaking moment when you've just pressed 'send' on an email and realized you made an awful typo in the first line.
Mac Prichard:
That's a great tip, and it's not fair, but it is a fact that when people are sorting through those 50, 75, 100 resumes to get it down to the 5 or 10 people they're going to invite in for an interview, they look for typos. The job at that point is to reduce that pile of 100, or 75, or 50, to 5 or 10, and any spelling or grammar errors are just an easy way to do that.
Ben Forstag:
Yeah.
Mac Prichard:
Well, great. Well, Ben always enjoys hearing from listeners, as do all of us. If you've got a suggestion for him, please write Ben. His email address is Ben@MacsList.org, and we would love to feature one of your ideas on the show. Now let's turn to you, our listeners, and Jenna Forstrom, our community manager is here. She joins us to answer one of your questions. Jenna, what do you got in the mailbag this week?
Jenna Forstrom:
Today's question comes from Kelly.
Kelly:
Hi, my name is Kelly. I am responding or replying to your email with my question for seeking for employment. I find myself at the age of 55, as being kind of a generalist. I've done a lot of different things in my working career. I've worked for a long time at very small credit unions, less than 10 employees. I've sold worker's comp insurance for a lot of years. I've even owned a small franchise, which was a housekeeping franchise. So I find myself with no real meaningful title. What leaves me in the situation of trying to sell and trying to market soft skills. For instance, my core competencies are developing a rapport, and conceptualizing, perceiving feelings in situations. My strengths finder 2.0 challenge are creating harmony, consistency, empathy, context, and delivering it.
I'm having a difficult time networking when that's what I have to lead with. Employers are looking for specific people to do specific things, and I find myself trying to market soft skills. Any help that you could provide, I would sure appreciate. Just how I could make the words flow to help me meet people, and apply for jobs. Thank you.
Jenna Forstrom:
Thanks Kelly for calling in. I think this is a time when having a solid cover letter and customized resume comes into play, because using a cover letter to really show off your emotional intelligence is really key. That being said, being a strong networker definitely helps. If you could speak to ways that you have previously helped your employees. You worked at a credit union, so maybe did you solve a big customer service hiccup? Or, had the opportunity with your franchise to grow over the course of a couple of years. Or, in selling insurance comp, meeting with potential clients when you're selling insurance, hearing what their needs are, and offering customized packages, and presentation skills are all things that employers are looking for.
Just talking about how you facilitated and managed key relationships, have resulted in X amount of money. Just talk about how your soft skills have equated into tangible results that are numbers and solid, are the key things when you're selling soft skills. Then just obviously being very friendly and personable, which you kind of sound like you are. Keep it up. Mac and Ben, do you guys have any tips for Kelly?
Ben Forstag:
Well, a couple things I'd say. First, Kelly seems … The root of his question seems to be concerned that he doesn't have the job titles in his past, and that employers are looking for those job titles when they're hiring. I don't think that your past job titles matter that much if you're able to frame what you were doing around skills and accomplishments. I would say looking back through your history, working for the credit unions, or running a franchise, clearly there's some hard skills that you had to have, be pretty good at there. Money management, customer relations, all these things. You can take a step above job title and start talking about actual responsibilities, and actual achievements you made in each piece.
I think the other thing to tell Kelly, and maybe this is a bit of solace as well, is that so much of networking and so much of the hiring process is built around culture fit and whether this is something that you want to work with … You can see yourself working with, that's going to fit into your culture, that's going to fit into the workflow you have in your organization. I think some of the soft skills that Kelly has identified, things like empathy, those certainly are going to help you in solving that culture fit puzzle. You need to have those skills there, but also, if you are someone who's generally a good person, engaging to others, that's going to help you make that relationship with the interviewer when you have the meeting.
Mac Prichard:
I agree with you, Ben, that I think Kelly has the background, and the titles don't matter that much. It's all about describing the experience and the accomplishments, and what he's done in those different positions. As he described his background, he's done some interesting things. He might benefit from working with a resume coach, and if budget is an issue, one way to get good resume writing advice is to turn to your career … The career services office at your college where you may have graduated. There are also volunteer groups out there that can help. You can find them in almost any community.
Even if he has to invest a few hundred dollars in working with a resume coach, I think it will help him because it sounds like he's struggling with structuring and describing his experience, and his accomplishments. A good resume writer can help you with that. I would also say his soft skills are a huge asset, and the best way to tap into that asset is to use those skills to get in front of people through networking and through conversations, but lead with your accomplishments and your hard skills. Walk into the room with a resume that summarizes those in a matter-of-fact way. If it's difficult for Kelly to get that down on paper, again, I think a coach could be of great help here.
Ben Forstag:
I would just add, don't market yourself as a generalist, because generalists have a hard time landing any job.
Mac Prichard:
Yeah, excellent advice. You got to focus on what your niches are. You can have 2 or 3 niches, but you can't be all things to all people.
Ben Forstag:
Yeah, you want to look for the big themes behind what you've done and your accomplishments, and market yourself around those themes, but not generalist.
Mac Prichard:
Okay, well thank you, Jenna, for that question. Thank you, Kelly, for calling in. We really appreciate it. If you've got a question for Jenna and the team, please email her. Her address is Jenna@MacsList.org, or call the listener line. That number is area code 716-JOB-TALK, at 716-J-O-B-T-A-L-K. The segments with Jenna and Ben are sponsored by Hack the Hidden Job Market, the new online course from Mac's List. As many as 80% of all jobs never get posted. Instead, employers fill these openings by word of mouth. Our new course shows you how this hidden job market works. We'll teach you how to find plum gigs that never appear on a job board, how to stand out online in a crowd of applicants, and how to connect with insiders who can help your career.
In each of the course's 12 modules, you get the tools and tips you need to get the work you want. Meaningful work, work that makes a difference, work that you can love. Hack the Hidden Job Market' launches November 1st, but don't wait! Get updates and lock in the early bird price now. Go to MacsList.org/Course. Now, let's turn to this week's guest expert, Matt Kepnes.
Matt Kepnes runs the award winning budget travel site 'Nomadic Matt.' He wrote the New York Times' Best Seller, 'How to Travel the World on $50 a Day.' After a trip to Thailand in 2005, Matt decided to quit his job, finish him MBA, and head off into the world. His original trip was supposed to last a year. Over 10 years later, he's still out roaming the world and teaching others how to do the same. Matt, thanks for joining us today.
Matt Kepnes:
Thanks for having me.
Mac Prichard:
Yeah.
Matt Kepnes:
Great to be here.
Mac Prichard:
Well, you're a travel writer. A fellow with no permanent address. You work on the road without an office or a boss, and you've got lots of unstructured time, Matt. You're also a prolific writer. You've got a successful small business. What have those experiences taught you about how to be productive personally?
Matt Kepnes:
When I started this journey, I would always travel and work at the same time. As I've grown my business more and more, I've found that really harder to do, because of the demands of the business grow, and then I can't go travel. One thing is always suffering. I've learned the value of batching. A lot of online entrepreneurs talk about batching, doing just one task all at once at a certain time. They do all their emails Friday morning, and then they don't look at it again.
I like to batch everything. I only work on certain days when I travel. I don't work weekends. I try to create artificial constructs around my day, because then it forces me to get all the work done at that certain time. If you're working online, it's very easy to just work a little bit, go on Facebook, work a little more, because you get the whole day. I feel if you restrict yourself, you're forcing yourself to get a task done, then you're much more productive.
Mac Prichard:
Our listeners are people who are either people who are looking for work, or thinking about their career, and particularly those who are between jobs have a lot of unstructured time like you. You mentioned batching, Matt. What are some other tips that you have for people who have unstructured time, and want to get the most out of their day?
Matt Kepnes:
I think it's also really important to create a schedule. I don't mean a to-do list, I always have a to-do list. I think, maybe that's just me, but I feel like a lot of people I talk to … When you create a to-do list, you do the easiest things first, and then you push off the longer, harder stuff. Then, your list just gives you anxiety, because all that's left is the difficult stuff, and then, you find smaller tasks to do.
I write a weekly schedule every week. Every Sunday, I map out my week. "Okay, on Monday morning, I'm going to do this. On Tuesday, I'm going to do that." I'm very specific about it. You get things done, because you just look, "I only have to do this day. This is my day. I just have to get through this." It focuses you a lot more, because then you're not trying to just do the easy stuff, because you only have to do that day. I know people who take this to another extreme, and they say, "From 8 to 10, I do this. 10 to 12, I do this." I don't go that far, but I try to be very specific and create a schedule for myself. I think that's really important. Not to create a to-do list, but to create a weekly schedule.
Mac Prichard:
I'm curious, Matt. I imagine when you lay out that schedule on Sunday, during the course of the week, you might get an email from someone who has a short deadline. They'd like an article from you, and they're willing to pay you a good sum. I'm thinking about our listeners, too, who might midway through a week, get a call saying "Can you come in for an interview tomorrow?" You know that to make that most of that opportunity, you got to do some preparation and research. How do you recommend people, Matt, handle those unexpected projects that just come via phone call or an email, whether it's a job interview, or in your case, perhaps a writing project?
Matt Kepnes:
I always put in time. It's never one … I'm never back-to-back-to-back. There's always some flexibility within that schedule, in case a project does happen to come up, or a lunch runs late, or a phone call runs late, or … Like I was, before this, a doctor's appointment runs late. There's always some flexibility in my day, because I work on the assumption I'm never going to be as productive as I think I'm going to be. It's never "Oh, I have these 6 things to do." It's never things that are going to be huge projects. It's just enough, because I know that something's going to come up.
Mac Prichard:
Okay, so as part of the planning process, identify blocks of time that allow for that wiggle room, or those unexpected opportunities, or projects.
Matt Kepnes:
Correct.
Mac Prichard:
What about distractions, Matt? I imagine, especially when you're traveling, there are just so many things you could do if you're in a new city and you're stepping out, or if you're a job seeker, too, there's … Some people get distracted by housework, or cable television. How do you manage distractions, and don't let them take you away from what it is you want to get done in the day?
Matt Kepnes:
Well, I use a app from my Macintosh called … I can't believe I called it a Macintosh. That's a throwback, my Mac.
Mac Prichard:
It's okay, we remember Macintoshes.
Matt Kepnes:
Yeah. It's called 'Self Control,' and it blocks out websites that are very distracting. For me, I find Facebook and YouTube very distracting. I just block all these sites, and then it focuses me on the task. Once this is up, you just can't visit these websites. I think it's really to just fall down a rabbit hole of one place to another site, to another site. Again, this goes back to creating those barriers that you work in, forcing you to be productive. For me, I am a very unproductive person without any constraint, so by creating those constraints, I increase my productivity because I reduce my distraction.
Mac Prichard:
Okay, so put those constraints into place, and then it becomes a non-issue. You mentioned barriers, Matt. What are some of the other … the biggest barriers you see to productivity during the day, and getting the most out of your day? How do you see people overcome them?
Matt Kepnes:
For me, the biggest issue is I'm always on the road. I'm traveling all the time, so it's difficult for me to create a routine. I just flew into a new city, I want to focus on that, so I can be easily swayed from getting out of work. I think that trying to force yourself to be as productive and efficient with your time, that's really important. It's also trying to create a routine. For me, what that means is I go to Starbucks a lot. I know it's such a cliché to be working on your online business from your Mac at a Starbucks, but a Starbucks is the same everywhere. If you step into a Starbucks in the US, and you step into a Starbucks in South Africa, they look and feel the same.
What happens is when you work, and you develop a routine, your mind creates … gets productive on it's own, because Pavlov's dog, it knows. When you step into the office, it's now work time. When you're somewhere else, it's gym time, or it's reading time. When you're always on the road like I am, you don't … You mind doesn't create that routine. For me, I've trained myself to know when I step into a Starbucks, it's like my office. I get all the same mental triggers and cues that your office would have, like a corporate 9 to 5. I create that familiarity and that routine, and then I go "Okay, well I'm in a Starbucks. This is work time." For me, often when I'm on the road, trying to have some of that familiar anchor keeps me productive.
Mac Prichard:
Okay, so if you're a job seeker, it's helpful to create those routines both at home and have a place that is where you do work, whether it's in your home or you go to a coffee shop. I got to say, too, Matt, as you were speaking, I was reminded of a friend of mine who was a consultant who traveled almost every week. He always stayed at Marriott Courtyards, because the room was the same wherever he was, no matter what state it was. It gave him that sense of familiarity, and that made for a restful night of sleep. So I think there's something to what you say there.
Matt Kepnes:
Right, right. What you said, whether you work at home, I think it's very important to leave your home. At least at some point. I usually work half the day at home, and then I'd go somewhere else. When you're in your home, you're just so comfortable and cozy, because it's your home. You end up less productive, because maybe you end up going to do laundry or something. Work and home should be a little bit separate.
Mac Prichard:
Okay. Well, this is all great advice. Thanks for these tips, Matt, about personal productivity and getting the most out of your day. Now, tell our listeners, what's next for you? What do you have coming up?
Matt Kepnes:
I'm flying to Iceland and Scotland. I leave tomorrow, which … Well, for most listeners, I might actually have already been back by this time, but yeah, I'm heading to Europe for a little bit. Then, going back to Austin for the remainder of 2016, before I figure out what to do in early 2017.
Mac Prichard:
Okay, great. Well, I know you're joining us today from the Boston area. Thanks for making the time. If listeners would like to learn more about Matt and his work, and his books, you can find out more by visiting his website. It is NomadicMatt.com. Matt, thanks for being on the show today.
Matt Kepnes:
Thanks for having me, glad to talk productivity.
Mac Prichard:
Yeah. It's been a pleasure. … Okay, we're back in the Mac's List studio with Jenna and Ben. Now, tell me, you two, what were some of the key points you heard Matt make about productivity and getting the most out of your day?
Ben Forstag:
Anyone who's listened to this show long enough has probably heard me about how I don't like working from home on Fridays, and how I find it really stressful.
Mac Prichard:
It's kind of a refrain for you, Ben.
Ben Forstag:
Yeah, I just keep going back to it.
Mac Prichard:
Yeah.
Ben Forstag:
I'm like, … I just want to come to office.
Mac Prichard:
Yeah. We got to ask, does your wife, Erin, listen to the show anymore?
Ben Forstag:
Yes, she … Not anymore. She's heard enough kvetching in real life. I really like Matt's point about getting out of the house as part of your work routine. If you're working from home, or if you're not working, I think there's a lot of value of getting out of the house and going someplace different to spend your hour, if you're Jenna, or your 2 hours, or however long you're going to spend looking at jobs. Go do it at Starbucks. The WiFi is free there, you probably have a laptop. I find, actually, when I go up to Starbucks and get a cup of coffee, I end up being so much more productive, mostly because I'm embarrassed to pull up the Facebook or the YouTube, or all that other stuff. I don't want other people to see me doing that, so I'm all work, all the time. That was the part I liked.
Mac Prichard:
What about you, Jenna?
Jenna Forstrom:
I really liked his comment about scheduling out his week, and that helps him stay productive and not just focusing on the current to-do list. I do agree, I think everyone reverts back to maybe their college days, where they know they have a final, and that's when they decide to clean their bedroom, or their dorm room, right? It's like you just want to avoid that big, scary project, or assignment, or whatever that thing is. Instead of looking at it as a to-do list, but like "On Monday, I'm going to accomplish this. On Tuesday, I'm going to accomplish that." I think that really is helpful when you're job hunting, so you look at your entire week. "On Tuesday, I have an interview. On Thursday, I'm going to a networking event. Wednesday's going to be nice out, so I'm taking my dog on a hike in the gorge. Just being sure that you schedule things out, that get you out of your house and out into networking, and being with other people, and spending your time productively. Definitely, it was a good point that he made.
Mac Prichard:
I like the point he made about one of the traps of the to-do list is that we equate the number of check-marks with productivity. In other words, we give this … Answer this email, or do this easy task, or that easy task, and we've got five check-marks, but the one thing that is keeping us up at night, whether it's a job application or that final that you talked about during college years, somehow just doesn't get done. It keeps getting pushed to the next day. Managing that, I think is key.
Ben Forstag:
That's the wickedness of email right there, which is it's a proxy to-do list.
Mac Prichard:
Yeah.
Ben Forstag:
People who are obsessed with getting to 'inbox zero.'
Mac Prichard:
Right.
Ben Forstag:
It's sometimes like that's the least productive thing you could be doing with your day, and you're missing out on all the other big projects you should be working on.
Mac Prichard:
Yeah, and you've got to think about that. Those job applications, or those informational interviews, and those networking events that matter, and not worry about the email that … the 5 emails that came in this morning, because you need to look at them and make a decision, but chances are, they can … They're not as important as those big goals that you've identified.
Great. Well, thank you both and thank you, Matt, for joining us as our guest expert this week. Thank you, our listeners, for downloading this week's episode of 'Find Your Dream Job.' If you like what you hear, please sign up for our free weekly newsletter. In each issue, we give you the key points of that week's show. We also include links to all the resources mentioned, and you get a transcript of the full episode. If you subscribe to the newsletter now, we'll send you our job seeker checklist in one easy to use file. We show all the steps you need to take to find a great job. Get your free newsletter and checklist today. Go to MacsList.org/Podcast. Join us next Wednesday when our special guest will be Caroline Dowd-Higgins. She'll tell you how you can find your true voice in a job interview.  Until next time, thanks for letting us help you find your dream job.