Find the Right Recruiting Agency: 8 Things You Should Know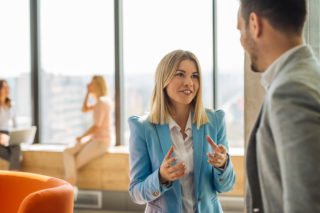 Many professionals work with a staffing agency at some point in their careers.  Some even prefer to work through agencies, as it provides them a wider variety of job experience than staying with one or two companies throughout a career.  However, if you're new to the process it's easy to get overwhelmed by the variety of services and work placements, as well as the jargon many recruiters and staffing agencies use. Although you don't need to be an expert, there are a few things you should know to help differentiate between agencies and find someone who will serve your individual needs.
First, Learn How Recruiting Works
Before you can decide which agency is right for you, get to know the industry vocabulary. I put together a glossary of recruiting terms, jargon, and insider language so you know what's up when talking to recruiters.
Generally, recruiting is defined by the different types of jobs that agencies help recruit for. Recruiting agencies typically fill more direct-hire, full-time, in-house positions, while staffing agencies handle more temporary placements. But there's a lot of overlap, too. That's why it's so important to understand the style and culture of each agency you encounter in your search.
For example, Cinder, the staffing company where I work, provides recruiting support for direct-hire, temp-to-hire, and temporary staffing positions.  We consider ourselves both a Staffing and Recruiting agency, and we emphasize not just our recruiting capabilities, but also the work we do for our temp and temp-to-hire clients and employees in order to offer excellent benefits and post-hire support to both the employee and the client. This article is going to focus on temp and temp-to-hire positions. There's another article on Mac's List that further clarifies the distinctions between temp, temp-to-hire, and direct-hire.
Now that you understand the ecosystem, you're ready to find an agency that will serve your needs. Here are 8 things to think about plus some questions you can ask to make sure you find an agency that aligns with your goals.
1. Your Goals & Needs
What to know:
Before you pick an agency, you need to know what you're looking for in your career. If you want to try a position for a while before committing, seek "temp-to-hire" or "contract to hire" roles that match your skill set. If temporary positions don't interest you, and you're just looking for help finding your next long-term position, look for agencies that provide "direct hire" or "headhunting services." If you own your own company and don't need benefits, search for 1099 contractor positions.
What to ask:
Ask yourself: What kind of position am I looking for?
Does this agency have 'temp-to-hire' and/or direct placement positions for my skill set?
Does this agency offer subcontracting or 1099 positions?
2. Your Likely Longevity in the Position
What to know:
It's also crucial to understand the details regarding your role at the client company, employment timelines, and the potential of eventually being hired by the client company if you get placed in a temporary role.
What to ask:
How long is the typical placement?
What percentage of temporary workers are hired by the client and what is the typical timeframe?
What type of services does the agency provide for this client?
What is the work environment like and what should I know about the client?
3. How Recruiters Specialize
What to know:
Staffing agencies often focus on specific industries (healthcare, tech, construction, and many more). It's important to pay attention to this if you are in a highly specialized field. For example, if you are a certified healthcare worker, (nurses, doctors, etc) your agency will likely need to provide unique insurance and dynamic scheduling options.  If they are new to a given industry, make sure you feel comfortable with the recruiter and the agency's reputation.  Also keep in mind that different agencies have different customers, so developing relationships with more than one agency can help you find your next position even faster.
What to ask:
What industries does the agency typically recruit for?
What companies have they worked with in [industry x]?
Have they worked with other candidates of my skill set / profession?
4. Interview and Screening Process
What to know:
It's important to understand how a recruiter approaches the screening process for new candidates. Find out more about the number and style of interviews, pre-employment screens, and any sort of formalized testing that you will need to complete before the client company selects a candidate.
What to ask:
How many interviews should I expect?  What form will they take?
If relevant to your candidacy, ask if they test for marijuana.
What sort of criminal, financial, or driving history would disqualify me?
5. Your Pay and Associated Costs
What to know:
Working with an agency should cost you absolutely nothing! Typical agencies charge all their costs to the client company.  Costs are agreed to before they start screening candidates and the client typically specifies the bill rate range they are willing to pay.  Temporary positions bill at set rate or a predetermined markup rate above your pay rate.  Keep in mind that for many agencies, the exact amount they will charge the client is usually confidential.  While agencies are likely to share what they are able to pay you for the position, they are unlikely to answer specific questions about the bill rate.
Regardless of how you find your next position, it's important for you as the job seeker to know what your minimum acceptable pay rate is, and stick to it! No agency wants to intentionally pay you less than you need to make.  At the same time, there is a maximum they can pay you in a given position and if that is below your minimum acceptable pay rate, you will be unhappy if you accept it.
What to ask:
Are there any costs that I should know about?
How long do I have to wait for my first paycheck?
What does this position pay?
6. Your Benefits in Temporary Positions (W2 employees)
What to know:
Most agencies will hire you as a W2 employee and provide some benefits. In addition to basics like healthcare, 401k, and paid time off, there are a lot of lesser-known benefits to consider. For example, Cinder offers all employees public transportation subsidies, education reimbursement, flex-spending accounts, and various insurance options. While not the same as money in your pocket, some of these benefits can be significant assets for you and your family, so be sure to research and compare.
What to ask:
What are the healthcare options? What are my costs?
What are the policies for paid time off, vacation, sick-time, and holiday pay?
What other benefits do they offer?
7. Your Relationship with the Agency
What to know:
Some agencies are hands-off after your first day, others check in regularly.  While you may not need someone emailing you every day, it is important to feel connected to the agency in case you need assistance. Will their door be open when you need them?
What to ask:
How many other workers does the agency have placed at the client company?
How often does the agency typically interact with those workers?
Is there an agency representative onsite at the client?
How are HR issues handled by the agency?
8.  Staffing Agency Culture
What to know:
Remember that with temp and temp-to-hire positions, although you are assigned to work for other companies, ultimately the agency will be your employer. Agencies have their own culture and employee support models. Find out more about their company culture! Look at their website, check out sites like Glassdoor for reviews, and don't be afraid to ask around! People you know may have worked for agencies and may be able to make recommendations.
What to ask:
Do they provide any fun activities you can join?
Do they give recognition awards?
What community involvement opportunities do they offer?
Although you'll likely be answering a lot of questions from your recruiter, asking them some questions of your own is crucial to forming a positive relationship that will set you up for lasting success. If you find a good match, you might stay with them longer than you would think! (Some of our employees have been with Cinder for more than 5 years, so it can really pay off to find the right fit).
Though these questions form a strong foundation for your search, it's impossible to cover everything. I'll be posting more articles for Mac's List about agencies in the coming months, so I encourage you to submit any questions you have about agencies, and I'll do my best to answer them.