How to Explain Your Career Transition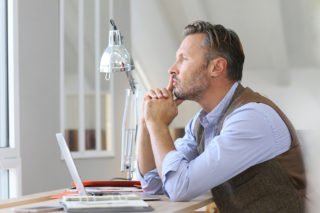 One of the constant challenges of job hunting is persuading an interviewer that you are the right person for the position. This task can be even more difficult when you're trying to transition into a new career.  How do you make the most of the transferrable experience you have to instill confidence in a prospective employer? And how do you separate yourself from applicants with direct industry experience?
When you are trying to change the direction of your career, you will need to repackage your existing skill set. Let's look at what successful career changers do to be competitive in the job market.
Know your value
If you don't believe in the value you offer a new employer, the employer likely won't either. Finding yourself in the middle of a career change (whether welcome or not) can make even the most confident among us feel insecure. If you're not sure what your worth is in the marketplace, it's time do some digging and find out.
Research potential career paths to find out whether your target industry is growing, declining, or stagnant. Seek out informational interviews to help you understand the skills required in the new field. Gather details and become familiar with the industry before you go after an official job interview – where you stand amidst the competition.
Package your skills
Your past work experience might not translate directly to what you want to do next. If that's the case, you can't rely on your resume alone to sell you. Think creatively about how your experience is relevant for the job you seek.
Let's say you've held jobs in sales and customer service, but now you want to work in fundraising and development. Do you have savvy interpersonal skills honed from all types of customer relation interactions? Your target employer will value the way you can put people at ease and cultivate relationships with prospective donors.
Look critically at your work history, and break it down into a list of transferable skills:
Break down each work experience into a list of activities you completed.
Then list the skills you used to accomplish each work activity.
Now think about how you can apply those skills in your new career.
Highlight your strengths
When you apply for roles in a new field, it's especially important to tailor your message to the needs of the employer. Use your transferable skills list to craft your story of skill and adaptability. You might want to move away from a traditional resume and go skills-first with a skills-based resume.
If you've worked in a number of different and seemingly unrelated positions, look for common themes that run throughout. For example, if you've managed a coffee shop, run a yoga studio, then worked in human resources, your experience might appear haphazard. But when you emphasize your operations, managerial, and budgeting prowess, you'll appeal to a wider variety of employers.
Show, don't tell
When you do land an interview, come prepared to demonstrate your value. Look for tangible evidence that you can show your interviewer your ability to tackle the new job duties. If you're seeking a position in corporate communications but don't have a complete portfolio of your own work, look for samples of things you've contributed to, like a company report, an email campaign, or simply professional business communications.
If you don't yet have materials to support  a specific skill, perhaps you can make some? Create a social media campaign, an online video tutorial, or a proof of concept for a new product – putting in the work will also display your ingenuity.
Seize the initiative
Don't wait for the interviewer to ask you why you want to make a change (unless it's literally the first question of the conversation). Get out in front of the topic. Be the first to initiate a dialogue about what has you wanting to switch careers and why you're excited about this opportunity.
Enthusiasm is infectious, and you want the employer to share yours. If you appear nervous about your career change and try to deflect attention from the issue, it may give the interviewer pause. So speak assertively and project confidence.
Be adaptable
No matter how artfully you package yourself, there are bound to be gaps between the employers' requirements and your experience.This doesn't have to be a deal breaker. If a real or perceived gap comes up, acknowledge it frankly without "over-apologizing." Then reassure the interviewer that you are a resourceful quick learner by mentioning instances of past learning or adapting to changed circumstances.
What's your story?
No one said changing careers would be easy. But today's workers transition roles all the time. The hurdle is in persuading your next employer that the unique kaleidoscope of your experience adds up to a win for the company.
Most importantly, you need to create the story of you. What is your professional narrative? For whom will it provide value? And how will you be successful if you're hired? These are the questions you need to be able to express – both to yourself and to interviewers. Whether you've held one job or ten, tell a compelling tale of who you are and how you will be of service. Employers will find themselves drawn to your vision and want to make you part of their story.