4 Steps to Work-Life Balance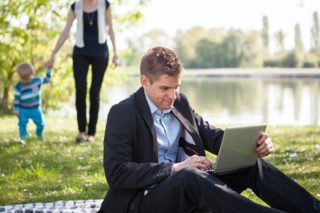 A review of  Careerealism: The Smart Approach to a Satisfying Career, by J.T. O'Donnell
When you meet someone new—whether it's at a party, a work function, or anywhere else—one of the first questions you'll probably ask them is what they do for a living.
It's a question, the answer to which can shape how you view the person. That's because in the United States we're conditioned to judge each other based on our occupations.
So says J.T. O'Donnell, author of  Careerealism: The Smart Approach to a Satisfying Career.  That's because we are a culture culture that prioritizes our work lives over nearly everything else.
"No other society in the world puts as much value on a person's chosen profession," says O'Donnell, a New England-based career counselor. "We've become a culture obsessed with careers."
Professional success and personal happiness
In spite of importance we place on our jobs, says O'Donnell, most people are unhappy with their lives at the office. She cites a Yahoo HotJobs survey that found seven out of 10 Americans are unhappy with their work.
We all know that career success doesn't always translate into happiness at home. In her coaching practice, O'Donnell has met "hundreds of professionally successful people who are failing miserably in life."
"When did 'success' become synonymous with 'professional success' in America?" asks O'Donnell. She thinks it's time to stop teaching that "it's okay to fail in life, as along as you are successful professionally."
Four steps to work-life balance
O'Donnell's goal in Careerealism is to help individuals create a definition of career success that allows them to live a satisfying life as well. O'Donnell outlines a detailed and practical four-part process to work-life balance:
Step 1: Identify strengths and challenges
Assess satisfaction not only in your job, but also in other key areas, such as relationships with spouses, family, and friends, or mental or physical life. Also identify your core values, skills and passions, and understand your preferred learning and work styles.
Step 2: Set and explore goals
Be clear about what you want. Establish goals that are attainable, measurable and positive. Use assessment tools to determine your work traits and matching jobs. Rank occupations to best match your strengths, needs, and goals.
Step 3: Take responsibility
To make goals happen you need to own your actions. Many job seekers have little understanding of how to look for work and a fear of failure. O'Donnell offers tips about resume writing, networking, and other resources. And there are suggestions for managing the anxiety job hunting can bring.
Step 4: Work it daily
It's easy to let goals slide, especially something as big (and scary) as finding a dream job. O'Donnell supplies a set of charts for summarizing action steps identified in her process and checking it daily. She says taking even a small step or two every day gets you ever closer to your goals.
Careerealism includes detailed descriptions of the four steps in O'Donnell's process and useful charts to create a practical plan for finding a career that brings professional success without sacrificing personal satisfaction. Anyone with questions about how to choose a career or change professions will find the answers here.
—
I'm always looking for new books about job-hunting and career management. If there was a book that was particularly helpful to you, please let me know at mac@macslist.org.