5 Organizations Professional Women in Portland Can Use to Connect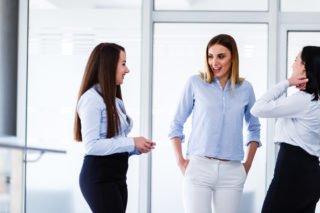 It's no secret that women face many unique challenges in the workplace. Connecting with other women and female-identifying professionals can be key to overcoming these challenges. Finding a group of women to support you and your professional growth can go a long way towards boosting your career satisfaction.
If you're interested in connecting with other women professionals, Portland is the place to be. It's time to get together, share opportunities to strengthen the community of professional women in Portland, and find inspiration for your own career. Here are five organizations you should know about that provide opportunities and foster connections for professional women in Portland.
Center for Women's Leadership
The Center for Women's Leadership (CWL) is the only organization of its kind in the Northwest. With a mission to increase women and girls' leadership, CWL hosts leadership trainings, supports research on women's leadership, develops and shares curricula on the achievements of Oregon women leaders, and supports Oregon's women leaders through a speakers series and informational digital archive.
Women's Foundation of Oregon
With values to be bold, compassionate, inclusive, determined, optimistic, and accountable, the Women's Foundation is striving to make Oregon a place where every woman and girl can thrive.
PDX Women In Tech
PDX Women In Tech is a nonprofit community organization dedicated to serving women working in the technology industry here in Portland. Their events are a great way to meet smart, driven professional women working for cutting edge organizations. And PDXWIT is growing, adding scholarship programs and more to encourage women and girls to pursue tech careers.
Women's Business Center – Mercy Corps NW
Mercy Corps Northwest hosts the only Women's Business Center (WBC) in Oregon, funded by the U.S. Small Business Administration. The WBC provides education, financing, and resources to help entrepreneurs succeed, with extra consideration for specific challenges and issues for women entrepreneurs.
Hub Dot
At the core of Hub Dot is the mission to revolutionize the way women network. It's about removing labels. Through "Dot Alchemy," Hub Dot lightens the pressure or awkwardness of networking, giving women the opportunity to connect based on discussing "What's your story?" rather than "What do you do?" This group of women loves to support each other through sharing personal stories and connecting in an authentic and fun environment.
More Networking Opportunities for Portland Women
This list is just a sampling of the networking opportunities for women in Portland, and we'll work to keep it updated as more groups sprout up! Here are even more resources to check out: