Dwell In Your Strengths: Michael Rose's Career Change Story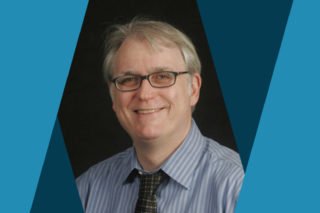 Everyone has obstacles in their job search, but you can choose to dwell in your strengths. Michael Rose was changing careers and dealing with an employment gap, but he focused on engaging with his broad network and showcasing his storytelling skills through volunteer work. In the end, he landed a job he loves. Here's how he did it.
What do you do for a career? Who do you work for?
I am the primary editor and copywriter for promotional and educational materials produced by the Salem Area Mass Transit District, also known as Cherriots. I collaborate on projects to promote bus ridership and build the Cherriots brand. I write press releases, guest opinions, brochures, internal newsletter articles, fact sheets and the transit district's annual report. I also write promotional digital content for social media and Cherriots.org. My duties include editing the writing of others to ensure clarity, accuracy and adherence to Associated Press style guidelines.
How long did it take you to find this job?
It took me 18 months to find a full-time job, although I did some freelance work during my job search.
How did you find your job? What resources did you use? What tool or tactic helped the most?
I applied for an advertised position as a social media specialist at Cherriots. But the hiring manager, someone I knew from my days as a newspaper reporter in Salem,  thought I was a better fit for another position. She encouraged me to apply for the marketing specialist job and I was hired.
Probably the most valuable resources in my job search were the professional contacts I established during my reporting career. Former co-workers and news sources trusted me and knew my abilities. This goodwill was a big asset for making a career transition.
What was the most difficult part of your job search? How did you overcome this challenge?
My resume was getting stale. I knew the gap in my resume would be an obstacle to restarting my career.
I needed to demonstrate to employers that I was keeping my skills sharp. I did some freelance writing, including writing the cover story for an economic development group's quarterly magazine. I also joined KMUZ, a nonprofit radio station in Salem, as a volunteer program host. I continue to produce a morning radio show, where I interview newsmakers and interesting people in Polk County.
What is the single best piece of advice you would offer other job-seekers?
Get a set of high-quality business cards and start meeting old friends for coffee. I've maintained a large network on social media for years, but social media can't replace a face-to-face contact with someone who knows you well and wants to help.
Why do you love your job?
I am using the writing skills I honed as a newspaper reporter and my work is appreciated. I like working for an organization that is providing an important public service. Cherriots also places an emphasis on transparency, which is an essential value for me.