How to Pick the Right Interview Outfit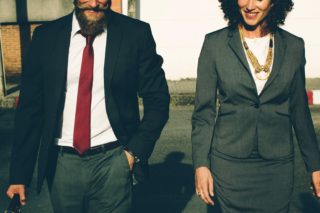 You've done your research and you understand the company culture as best as you can. Here's your first test: pick an interview outfit that proves it!
Interview attire for informal organizations
If the company culture seems laid back, as many Portland agencies are, wear something that shows you understand and appreciate this.  But don't over—or under—do it! The other employees might be in jeans and cotton tees, but this is still an interview.
Dark, formal jeans are acceptable as long as they are paired with the right top. For ladies, I suggest a silk button up or a shirt with an appropriate neckline and a blazer on top. For men, a button up polo (make sure it is ironed!) with or without a blazer on top will do the trick!
Interview outfits for more traditional organizations
If the company culture seems formal, go all out to show you recognize—and will fit into—this atmosphere.
As a woman, you can't go wrong with a pantsuit or the timeless skirt and blazer combo. Dresses are acceptable, too, as long as you're paying attention to the neckline and the hemline. Keep it at the collarbone and just below the knee. Make sure the fabric gives you a polished and put together look—no cotton and for goodness sakes, no flannel, unless you're interviewing at ADX Portland, of course!
For men, get yourselves into a business suit—whether you rent or buy one. If you end up getting the job, you can count on buying at least one suit to meet the dress code, anyway, so why not find one that fits well and gives you confidence before the interview. If your budget, or your comfort, refuses to play by this rule, then I suggest black slacks, your nicest long-sleeve button up, and a tie.
Pro-tip: Shoes are important!
General rule for shoes: Regardless of a formal or informal office culture, avoid wearing overly casual open-toe shoes to any interview. Flip-flops will make a bad impression, but peep-toe heels are acceptable, especially in spring and summer!
Make sure your shoes are clean and presentable. While many Portland agencies will accept you wearing Vans or Converse, they had better not be scuffed up or have holes—and don't even bring Birkenstocks with socks into the conversation!
The outfit you wear to your interview should make you feel confident, polished and comfortable. Don't choose something that doesn't feel like "you" or makes you feel like you're dressing up for an acting role. Portland employers tend to be more lenient with dress code, and the most important thing is to demonstrate that you care enough to dress to impress!