Hire Local College Grads: Contact Info for University Career Centers in Oregon and SW Washington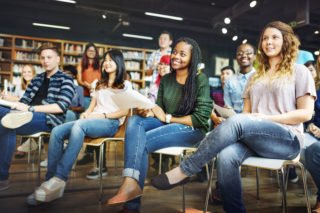 Countless local businesses are looking to recruit energetic professionals with cutting edge skills. At the same time, the Pacific Northwest is full of award-wining colleges and universities that churn out smart, qualified new graduates. So employers have a demand, and regional schools have the supply! If you're not already using university career centers to source talent for your organization, it's time to plug in to a wonderful resource to help recruit great local talent.
Whether you're looking for qualified entry-level candidates or well-established professionals with the latest certifications, university career centers are a great resource for finding candidates with the skills you need. And it gets better: most colleges and universities have career centers designed to connect you with their new graduates. Most of us think of career centers as resources for students and alumni to advance their job search.
But career center staff do more than teach 20-somethings how to write resumes. Career centers actively build relationships with local employers who are hiring. Larger schools may even have an "Employer Services" department, whose entire role is to build a pipeline streaming vetted, newly certified talent to organizations that are hiring.
If this sounds good to you, it's time to learn more about the higher education institutions in Oregon and Southwest Washington, so that you can connect and start to network with this huge pool of talent. First, find out some of the ways you can get started working with a college or university career center.
How university career centers support regional recruiters
There are three major ways that university career centers can help your business recruit recent college grads:
1. Networking with current students and alumni
Most colleges have an online community or listserv to connect students and alumni with career opportunities. Generally, employers are welcome to participate in these groups. (You're the ones with the jobs, after all!)
There is a huge number of colleges and universities in the area where you can engage student talent. Fortunately, many career centers have moved to a shared networking system called Handshake. With Handshake, you register once and are connected to dozens of local institutions in our region and hundreds more around the country. This is a great place to start!
2. Posting job openings
If you're actively hiring for a specific role, you can generally post your job with a college or university for free by contacting the university career center or employer services department. There are sometimes strict standards about the kinds of jobs you can share, though, so make sure you know the rules before you post.
Again, Handshake is a useful tool, as it allows you to post a single job and share it with multiple schools in the region.
3. Job fairs and campus recruiting
Universities often arrange in-person job fairs to help students connect with employers. These often require employers to pay for a tabling space, but it can be well worth it if you're hiring for multiple roles. Plus, some schools allow employers to independently recruit on campus. Get in touch with your local college or university career center and ask about informational sessions and on-site interviews with students.
To discover the recruiting opportunities available at a college, your best bet is to get to know the school's career center or employer services department directly. So don't be afraid to pick up the phone. Career center staff are often searching for employers just like you to connect with their students, so they'll be happy to hear from you.
Hiring in the Northwest? Connect with University Career Centers in Oregon and SW Washington
As I mentioned, there are a LOT of colleges and universities in Oregon and Southwest Washington. To make things simple for you, we've compiled a list of career centers and contact information for every college and university in Oregon and Southwest Washington! When available, we've also included the name and email address of the specific staff member responsible for employer outreach. Also, if you're a local higher ed institution and you're not on this list, or you need to update your information below, let us know! We'll work to keep this list up-to-date so that Northwest employers and career centers can easily connect. Happy hiring!
Portland Metro Colleges & Universities with Career Centers

Clackamas Community College  (Oregon City, OR)
careercenter@clackamas.edu
503-594-6001
George Fox University (Newberg, OR)
idea@georgefox.edu
503-554-2330
Lewis and Clark College  (Portland, OR)
Contact: Amanda Wheaton, Employer Relations Coordinator
wheaton@lclark.edu
503-768-7114
Linfield College (McMinnville, OR)
Contact: Donna Montoya,  Assistant Director, Career Development
dmontoya@linfield.edu
503-883-2443
Mt. Hood Community College (Gresham, OR)
mhcareer@mhcc.edu
503-491-7432
Multnomah University (Portland, OR)
careerservices@multnomah.edu
National University of Natural Medicine (Portland, OR)
Contact: Tafflyn Williams-Thomas
twilliamsthomas@nunm.edu
03-552-1625
Oregon College of Oriental Medicine (Portland, OR)
Oregon Health & Science University (Portland, OR)
Pacific Northwest College of Art (Portland, OR)
Contact: Ashley Robinson, Director BridgeLab Career Services
arobinson@pnca.edu
503-821-8937
Pacific University Oregon (Forest Grove, OR)
503-352-2877
careerdc@pacificu.edu
Portland Community College (Portland, OR)
971-722-7769
Portland State University (Portland, OR)
Contact: Greg Flores, Associate Director of Career Services
gflores@pdx.edu
503-725-4971
Reed College (Portland, OR)
503-788-6698
University of Portland (Portland, OR)
Contact: Julia Mayfield, Employer Relations & Alumni Outreach Manager
mayfield@up.edu
University of Western States (Portland, OR)
Warner Pacific University (Portland, OR)
Contact: Rod Johnson, Director of Academic Success
rjohanson@warnerpacific.edu
503-517-1010
---
Southwest Washington

Clark College (Vancouver, WA)
Contact: Scott Clemans, Employer Relations Specialist
sclemans@clark.edu
360-992-2964
Washington State University Vancouver (Vancouver, WA)
van.career@wsu.edu
360-546-9155
---
Willamette Valley
Chemeketa Community College (Salem, OR)
503-399-5026
Corban University (Salem, OR)
Contact: Daren Milionis, Director of Student Support
dmilionis@corban.edu
503-375-7012
Lane Community College (Eugene, OR)
coundept@lanecc.edu
541-463-3600
Linn-Benton Community College (Albany, OR)
Northwest Christian University (Eugene, OR)
careercenter@nwcu.edu
541-684-7211
Oregon State University (Corvallis, OR)
Contact: Rachel Finch, Director – External Relations
rachel.finch@oregonstate.edu
541-737-4085
University of Oregon (Eugene, OR)
career@uoregon.edu
541-346-3235
Western Oregon University (Monmouth, OR)
slcd@wou.edu
503-838-8432
Willamette University (Salem, OR)
career-development@willamette.edu
503-370-6413
---
Oregon Coast

Clatsop Community College (Astoria, OR)
Oregon Coast Community College (Newport, OR)
541-867-6200 x 611
Southwestern Oregon Community College (Coos Bay, OR)
Tillamook Bay Community College (Tillamook, OR)
---
Southern Oregon

Klamath Community College (Klamath Falls, OR)
KCCCareerCenter@klamathcc.edu
541-880-2251
Oregon Institute of Technology (Klamath Falls, OR)
Contact: Sarah Moore, Assistant Director of Career Services
541-885-1023
Rogue Community College (Grants Pass, OR)
Southern Oregon University (Ashland, OR)
Contact: Max Brooks, Office of Career Preparation
brooksm@sou.edu
541-552-6131
Umpqua Community College (Roseburg, OR)
Contact: Ben Horvath, Student Job Placement Consultant
541-440-7797
---
Eastern and Central Oregon
Central Oregon Community College (Bend, OR)
Contact: Tracy Dula, Career Services Coordinator
tdula@cocc.edu
541-383-7580
Columbia Gorge Community College (The Dalles, OR)
Contact: Ryan Brusco, Academic Advisor
rbrusco@cgcc.edu
541-506-6066
Eastern Oregon University (La Grande, OR)
careers-group@eou.edu
541-962-3711
Treasure Valley Community College (Ontario, OR)
541-881-8822