The Hiring Strategy That's Not About Hiring: How to Nurture Internal Talent and Shrink Turnover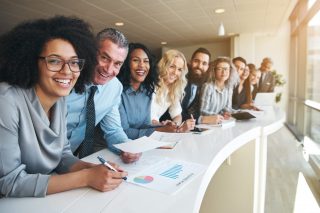 In a survey conducted by Pew Research, 63% of employees said they quit a job in 2021 because of a lack of advancement opportunities. Meanwhile, 71% of CEOs noted the labor shortage would be their most significant business challenge. Upskilling is a way to strengthen your employees' capabilities in their current roles and advance their career paths. It's also a way for you as an employer to reduce turnover.
Turnover can hurt your company's growth and bottom line. It leaves you in the difficult position of having to find a new employee in a short amount of time. Turnover also hurts productivity, drains resources, creates additional expenses, and costs you valuable time. 
Developing your employees and hiring from within is an important way to boost employee morale and help them see that they have a future of upward mobility with your organization. When a company fosters a culture of internal advancement, employees are more productive, innovative, loyal, and dedicated. It can also contribute to a more vibrant company culture because people want to work for a company that values development.
Here are a few ways to help your current employees grow to avoid turnover. Use these ideas to create a collaborative, creative environment that nurtures internal talent.
Create avenues for career development.
Invest in training programs

and career development opportunities to grow and advance internal employees. These can be

free online courses

, company-led workshops, expert-led breakout sessions, or other training methods – as long as you have a clear strategy for employees to learn new skills. Whatever your strategy, budget for training and development, and encourage your employees to participate in the opportunities offered.

Outline detailed development plans

with clear objectives and milestones for each employee that are frequently examined and adjusted (if necessary) on a regular basis by mentors and supervisors. Formally evaluate not only employees' current capabilities but also their growth potential. Look beyond employees' educational credentials and focus on their curiosity and desire to learn new things. Reward them with more opportunities and invest in their skills.

Assign stretch projects.

Assigning new responsibilities or an entirely new project is a good way of assessing talent and pushing an employee's potential. 

A stretch assignment

can often help to demonstrate hidden talent and an individual's capacity to shoulder new levels of responsibility.
Set up mentorship programs.
Develop mentorship programs

where senior members of the company mentor and coach entry-level employees in person or virtually. Empower mentors to monitor their mentees' needs and provide resources and support to help them develop. Offer

formal mentoring

to all employees, but

be intentional

about giving underrepresented groups access to information and key relationships that will make them successful.

Try informational interviews

. Let employees interview another member of the organization to learn more about their role and see if they are interested in

succeeding that person one day

. If it's feasible with your office setup, let them shadow the other employee for the day. Setting up

succession plans

in advance is key. And be prepared to follow through with the succession plan when the time comes.

Provide cross-functional experiences.

Allow employees to work on projects with other team members or outside their usual task responsibilities. This lets them see whether they want to create a different career path within your organization.
Foster a collaborative, creative environment.
Encourage employee feedback

and clear and open communication. Ask employees which new career development ideas and opportunities they are interested in. Ensure employees know it's a company priority to see them grow professionally.

Ask employees frequently

what you can do to help them grow and succeed. Regularly communicate with them (both formally and informally) so you know how engaged they are in their jobs.

Make your employees feel like their voice matters

and create an

open, transparent environment

where feedback and honesty are celebrated. Honesty builds trust and connection with your staff and encourages your team to reciprocate.
Hire from within.
Research from the World Economic Forum (WEF) finds that half of all employees worldwide need to upskill or reskill by 2025 to embrace new responsibilities driven by automation and new technologies. 
During the past couple of years, there has been a 15% increase in the number of organizations investing in upskilling and reskilling programs to build a future-ready workforce.
Take the time to make internal employees feel valued, grow their talents, and spark their ambition. Then you can create a strong and vibrant internal pool of talent that will serve your organization for years to come.
Hire employees with potential and who are teachable. Look beyond the job you are hiring them for and consider positions they might be well-suited for with some additional support.