The Future of Work is Hybrid: Here's How to Ease the Transition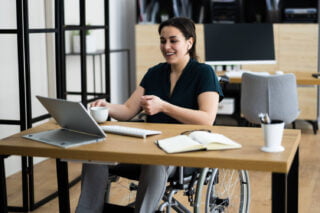 After more than a year of remote work, many employers are planning hybrid work models. Business leaders tout this combination of in-office and remote work as a safe and flexible way for teams to transition into post-COVID work life. It's a setup that allows employees to collaborate and build relationships with their colleagues while maintaining a flexible schedule.
A Harvard Business School survey of 1,500 professionals who worked remotely during the pandemic found that 81 percent of respondents would prefer not to go back to the office at all or to have a hybrid schedule of working from home 2-3 days a week moving forward. While there's no consensus between employers and employees on the optimal number of workdays spent at home versus in the office, a PwC survey of executives and office workers makes clear the office is here to stay – but in a changed role.
Moving toward hybrid work requires thoughtful planning and communication to ease transitions and make this set-up equitable for employees. If you're preparing to roll out a hybrid work model, here are some important considerations to set everyone up for success.
Create a Safe Office Environment
After a year filled with stress and trauma, employees need an environment where they can experience physical and psychological safety. Start by ensuring everyone is vaccinated before returning to the office and creating a safety plan for the office reopening. Rearrange office furniture to allow for social distancing, update cleaning and sanitizing procedures, and require masks in indoor office spaces.
To build trust and camaraderie, involve employees in the reopening process. Give them plenty of notice on reopening dates so they have time to prepare and adapt their schedules. 
If you've relinquished your office and are exploring coworking spaces, thoroughly research their COVID protocols. It's imperative to know how many other people will occupy the area and what precautions they're taking.
Define Your Office's Purpose
Whether you're returning to your pre-COVID office or renting a coworking space, determine what makes your office space valuable to employees. What can employees expect to accomplish working at the office versus at home in a hybrid model? Most likely, they'll come into the office to collaborate on projects, meet clients, or participate in team-building activities.
Have a road map for why employees come into the office and reconfigure your space to meet these needs. For example, detail what necessitates an in-person meeting and map out which days make sense for teams to share office time. 
From here, you can develop a scheduling system for when desks are occupied and when they need to be sanitized. You can also empower employees with the tools and training to navigate the new hybrid model.
Consider Employees' Circumstances
Depending on their role and life circumstances, employees will have different reactions to a hybrid work model. An employee early in their career living in an apartment may welcome the socialization and spaciousness of returning to the office. Meanwhile, a seasoned employee living in the suburbs with a family may worry about adding back a commute and falling out of sync with rhythms at home.
Employees will need different levels of support and communication in the shift to a hybrid work model. Roy Maurer of the Society for Human Resource Management suggests working through a list of questions to create arrangements that work for each employee's role and life circumstances.
Role-specific questions
Why does a specific employee need to perform their work in the office?

To what extent does an employee need to collaborate with others?

How often does an employee need to exchange information rapidly?

Which employees are innovating rather than performing more transactional activities?
Personal aspects to consider
How is someone feeling about working from home versus in the office?

Is that person feeling disconnected or overwhelmed?

Are employees clear about their responsibilities and the organization's strategy?
Keep Equity Top of Mind
Whether employees continue to work remotely or return to the office more frequently, employers should strive to treat employees equitably with the same opportunities and resources. To start, ensure all employees have reliable internet and comfortable office furniture. Then, implement fair performance measurements and professional development opportunities. 
"Businesses cannot hope to design a successful hybrid model without considering equity for all," HR Executive Sarah Grimstead writes for Fast Company. "However, with fairness as a core component, hybridity can be a lasting solution that boosts employee happiness and drives business growth."
Grimstead suggests business leaders ask themselves the questions below to lay the foundation for a solid hybrid policy. Answering these questions will help you ensure the system does not leave any employees behind.
Will remote staffers' positive contributions go unnoticed?

Do all workers have access to the resources, tools, and support needed to be successful?

How can you ensure in-person employees don't get preferential treatment?

Will remote workers have the same access to leadership?

How can you mitigate in-person workers unfairly benefitting from the casual interactions that can only happen in the office?
Help Ease the Transition
Even with in-person office time, maintaining robust and empathetic communication will help employees feel connected. While hybrid work allows team building to happen organically in the office, continue to incorporate virtual team building into everyone's schedule. This empowers all employees to feel included and supported, regardless of their schedule. Email, Slack, and video check-ins will continue to give employees a space to share their accomplishments and challenges.
The Harvard Business School survey responses highlight how many employees strengthened their relationships during COVID and developed healthy habits. As employees adapt to hybrid work, the survey suggests offering perks that will support these habits. 
One easy step is to encourage outdoor meetings and breaks for fresh air. As safety precautions lift, consider fitness discounts for health clubs or yoga studios. You can also offer healthy snacks or meals onsite.  The more you can support employees' mental health and work-life balance, the happier and more sustainable your team will be as they adjust to a hybrid work model.