Small Business Hiring: Solutions for Building A Better Team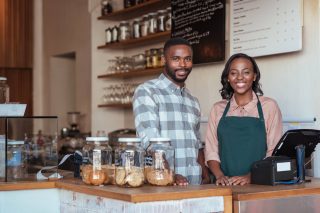 If you're a small business owner, you know that every hiring decision is incredibly high stakes. Once you've got the budget to hire, you've got to find the best possible person to do the job, because every new hire can make or break your business's productivity and goals. That's why small business owners need to do the work to ensure your hiring process is working to serve your goals. Make sure you hire a cohesive, talented team of professionals that will help grow your business from the ground up.
And cultivating a small business team doesn't stop after the hiring process ends. Hiring the right employees is important, but it's not enough. For your small business to succeed, you'll need to do the work long-term to shape and support those employees to become a winning team.
Here are the most effective ways for small business owners to hone their recruiting strategy. Try these suggestions, and start building a better team with every new hire.
Step 1: Make a Hiring Plan.
Define your vision: Explain to each candidate your future plans, the culture you're building, and how you're planning to make a mark in your industry. Notice which candidates seem particularly excited by your goals for the future.
Identify the similar traits that make current employees successful:

As your company expands, you're likely to notice certain common patterns in employees who are a good fit for the company and successful in their given role. Try to look for these key traits that make employees successful as you screen for potential candidates.

Network strategically: Ask trusted members of your network to refer anyone who would make a great fit for the position to apply. 

Talk to everyone who comes recommended by someone you respect and trust, even if the timing is not right. It's important to build rapport with people you want to hire when the time is right.
Step 2: Create a Positive Candidate Experience.
Be transparent about current challenges: Don't sugar coat – tell the truth about the state of your business. This is a good opportunity to see how candidates react and offer to be a part of the solution.
Replicate a typical task during the interview process:

Schedule time for candidates to simulate a "typical day" exercise, allowing you to assess their strengths in action and get a glimpse into the working dynamic among team members. If time doesn't allow for that, try a mini-preview exercise by asking candidates to prepare something in advance of the in-person interview or assigning a "homework" project afterward.

Get the team involved:

Involve multiple people in the decision process, from screening candidates and conducting interviews to being involved in post-interview decisions and conversations. It's important to get several perspectives about the candidates from your existing team. Meeting other staff members is also a great way for your candidate to gather more information about the job.  They've have what they need to make a confident decision when you offer them a job! 
Step 3: Make The Right Hire.
Observe candidates' communication styles:

Observe how well candidates express themselves in emails and their timeliness in follow-up. Although individual communication styles within an organization can vary widely, it is important that a candidate's style of communication is a fit for your business.

Hire on skills, fit, and mindset:

One of the most important aspects of your business is your culture, and you should consistently look for team members who maintain and build on your workplace culture. Hire people who add new and needed skills and mindsets to your team, and push them to discuss ideas openly. When you have a team that respects each other, everyone will be happier and more productive.
Once you have hired the right people for your organization, the real work begins. A lot of small business owners who are pressed for time simply turn new employees loose on important projects and hope for the best. But if you don't guide, inspire, and praise your team members, you run the risk that they will lose interest and motivation.
Step 4: Build a Better Onboarding Process.
Set clear expectations:

Make sure each new hire understands their role and what their goals should be for their first 3 months, 6 months, and 12 months into the position. Challenge your employees and help them to push themselves. Make sure each person on your team has individual goals and knows how they relate to the company's overall objectives. Give feedback freely so employees know where they stand.

Understand the strengths of each individual:

As an employer, it's important to recognize that your new employees will have come from a variety of backgrounds with different personalities and ideas about how to do their jobs. Enable each employee to channel their strengths and shine in a way that benefits your business.

Get your employees on board:

Plant the seeds of your vision and culture in your workers' minds so they grow and flourish. Get them excited about being part of the team and the environment. Mentor your new hires and partner them with someone senior on the team.

Let your team know you value them: Take an interest in your staff and learn about their lives outside the office. Focus on their professional growth and development. Help to enhance your employees' skill sets. Know their career goals and help them achieve them. Invest in your employees and give them the support and tools they need to be successful. Celebrate your team's successes and acknowledge individual contributions.
Building a dynamite small business team is just as important (and maybe more difficult!) than creating the business product or service itself.
If I can distill all these tips into one overarching theme, it would be: communicate more!  You need to communicate with candidates openly and honestly about your company's vision, culture, and challenges. Then take notice how they communicate back to you about what they're hearing. Once you've made the hires, you need to communicate constantly with your employees – about how the company is doing, about how they are doing, and about how the team is doing. It's the foundation for a healthy team and a successful business!