Interview Answers Crash Course (Free)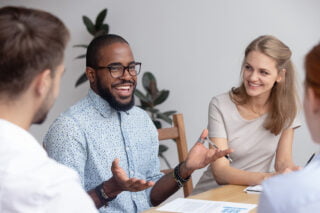 Don't walk into the interview unprepared.
Did you just get invited to interview for your dream job? Congratulations!
Now it's time to prepare!
That's why we've created Interview Answers Crash Course―a free, short and to-the-point primer on how to answer the most common interview questions. In less than 20 minutes you learn simple strategies for answering the toughest interview questions with ease.
In this course, you'll find:
5 video lessons, focusing on the most common and most difficult types of interview questions. You'll learn the hidden rationale behind each question, explain what the employer wants to hear, and share a winning strategy for crafting an answer.
Worksheets, guidebooks, and other resources. I'll teach you the basics. But to master these skills you've got to practice. That's why I've included supplemental resources in every lesson, giving you the tools you need to become the best possible interviewee.
Personal help from me and the Mac's List Team. If there's something you need extra help with, you can ask me questions in the comments section of each video. I respond within a day, and others who may have the same question can read our discussion!