6 Tips For Tackling the Transition from College to Career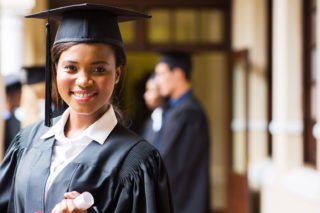 Few college students jump straight from college into their dream job. Sure… every school has the programming wiz who gets an offer from Google in his sophomore year, or the business savant who immediately gets a six-figure job with an investment bank. But for most of us, the transition from college to career is a marathon, not a sprint.
The transition from college into a career is a difficult time in many people's lives. And, unfortunately, it is a struggle most young adults are left to figure out on their own. But there are ways to thrive and grow during this transition–even if you're entering the job market under less-than-ideal circumstances.
In her contribution to Land Your Dream Job in Portland (and Beyond) Satya Byock, psychotherapist and owner of Quarter Life Counseling, offers several suggestions for managing this period of personal and professional uncertainty.
1. Acknowledge that you're in a transition
Be truthful to yourself and others about your situation and its challenges. People are going to ask you what you're doing now that college is over. You can acknowledge that you don't have all the answers. As Byock notes: "If you're lost at sea and someone asks where you're going, it's only foolishness that I would announce: 'I don't quite know!'" Embracing uncertainty during your post-college transition reduces stress of unrealized (often unrealistic) expectations. It creates a non-judgmental mental space for you to explore your options.
2. Create an accountability group
Most young people experience some lull between college and full-time work. You probably have friends who are in the same situation as you. These people are a valuable network for support, information sharing, and professional growth. Get together regularly to talk about your career ambitions and the steps you are taking to get there. Focus on small, immediate goals that support your job search: conducting informational interviews, editing your resume, writing blog posts, etcetera. Hold each other accountable for completing these tasks and staying on-track with your job searches.
3. Keep a journal
Sometimes you don't have clear professional ambitions and need time to figure out what you want to do. Keeping a journal can help organize your thoughts and guide you in the right direction. Find time each week to write down your thoughts and dreams. Try to be honest with yourself. Over time, you'll find recurring themes and interests that may influence your thinking about a career.
The time after college also gives you an opportunity to strengthen your marketability. Learning doesn't end with school, so take this time to address any weaknesses in your professional portfolio. This leads us to the final three tips:
4. Master the "hard skills"
Some skills are always in demand, no matter the particular job, employer, or industry. Everyone is looking for good writers and public speakers; most employers see the value of graphic design, coding, and advanced Excel experience. You can learn these tangible and fungible skills, often through very affordable (or even free) professional education classes. Master one or more hard skill and you will benefit in nearly any work environment.
5. Work on your "soft skills"
Hard skills are taught; soft skills are personality-driven and honed through experience. Nonetheless, potential employers value soft skills, such as relationship building, teamwork, industriousness, flexibility, attentive listening, and an ability to learn. Which of these skills do you bring to the table? While you can't attend a certificate course on soft skills, you can improve in all these areas through focus and practice.
6. Stay current
The needs of the job market and employers change. As such, so does "critical skill set" for prospective employees. Each year, trend forecasters survey employers to find the traits they are most looking for in an employee. (It is often a mix of hard and soft skills.) Review these reports and adapt, so that you are relevant to the needs of the marketplace.