Hiring Decisions: Should I Use a Recruiter or Staffing Agency to Hire New Employees?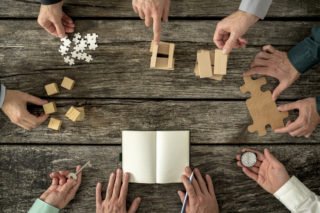 Finding the right person to join your team is no easy task. The costs in time, effort, and money are significant, no matter the size of your company. As you're assessing your hiring needs, you may be considering working with a staffing or recruiting agency. While there's plenty of advice out there to help job seekers pick the right agency, it can be difficult for employers to decide whether it's worth it for them to use an external partner.
Many businesses partner with staffing companies, even large organizations with existing internal HR and recruiting teams. Although there are many arrangements that fall into the category of "staffing," the core idea is that by using an agency to help you hire, you are benefitting from their expertise, specialization, and ability to provide you a flexible service that will meet your needs.
To help you decide how to hire a new employee, here are some explanations about the different options and tips on when to use each option.
Before you get started, there are a lot of industry terms in the recruiting and staffing world. If you are not familiar, refer to this glossary of recruiting terms that we've been building.
Hire on your own
To hire on your own, you'll need existing internal resources that can commit the necessary time and skills to filling your open positions. Depending on the size of your company, this could be you, your HR team, or the hiring manager. Can your internal team handle the search, screening, offer process, onboarding, and post-hire support that's necessary for the number of candidates you need? If so, hiring on your own can be the most straightforward way to find your new talent.
Use this approach when:
You're hiring folks with skill sets that you're familiar with and know how to find.
Your existing employees understand your needs and culture enough to help you recruit and evaluate these applicants.
Keep in mind:
Recruiting Service: Direct Hire
In theory, hiring on your own is a good way to save money. In practice, discovering the best talent, establishing a consistent process, and finding the time to do it all can be a huge headache for companies without internal recruiting and HR teams. Recruiters are skilled professionals. Their expertise in finding talent means that you can expect better candidates, delivered faster, pre-screened and ready to interview. While not every candidate from an agency will be an exact match for your positions, the success rate should be high.
Use this approach when:
You need a permanent new employee with unique skill sets that are hard to find through traditional job postings.
You want to increase diversity within your candidate pool.
It's necessary to find more and better candidates than you can generate on your own.
Keep in mind:
If the skill sets you need are different from the skill sets of your current employees, candidates may be hard to evaluate. You will need a plan to screen for these skills (or ask the agency to screen for you).
When working with a staffing or recruiting agency, most direct hire fees are flat, agreed to beforehand, and invoiced upon placement. Establish clarity on the fees before you start accepting candidates.
Agencies typically guarantee at least a partial refund in the first 60-90 days if a candidate does not work out, but you should confirm their policy beforehand.
Staffing Service: Managed Services (or "Outsourcing" or "Statement of Work")
Some agencies provide "managed services" to do work outside your core business – for example, janitorial services, security services, IT services and web development services. Services like these can be short-term or they can last for years. It all depends on your organization's needs.
Use this approach when:
You'll need new staff who work outside the scope of your core business to support long-term growth.
You want to provide stability to workers that serve in supporting roles without having to add them to your permanent payroll.
You need extra help in roles that can be clearly defined and differentiated from your main products or services.
You need consistent help from people who know your business even if they aren't employees.
You need supplemental HR services, benefits, and screening / offer process support.
You want a streamlined, ongoing hiring process that requires little of your input.
Keep in mind:
Workers providing services over an extended period of time will expect an increase in pay, even if they aren't your direct employees. Plan ahead for COLA increases to allow for pay raises.
Clarity around responsibilities of a managed services team is critical to a successful engagement. Make sure both companies understand what work is being outsourced and how success will be measured.
Most managed services do not require a set duration of time for the employees' contracts, but all contracts should include an end date to allow for review and adjustments.
Staffing Service: Temp-to-hire
It is always challenging to evaluate someone's technical skills and cultural fit in a relatively brief and highly-charged interview process. Temp-to-hire services can help alleviate this problem by allowing you to work with a candidate for a few months to confirm they match your needs. Sometimes referred to as the "try before you buy" method of recruiting, this is also a great way to give a potential candidate regular pay and benefits (through an agency) while giving them time to evaluate your company. The potential of permanent employment makes temp-to-hire positions more attractive than standard temporary positions, therefore providing you with a broader mix of candidates.
Use this approach when:
You have growth goals that go beyond your current recruiting and support capabilities.
You want to develop a pipeline of talent for a growing team or a high-turnover position.
You want to ensure culture fit before making a hiring decision.
You want to spread out the cost of an agency fee over time.
Keep in mind:
Temp-to-hire implies that it is possible (even likely) that candidates who perform well will be hired as regular employees. If something changes that prevents you from being able to hire as intended, make sure to communicate this to the staffing vendor so they can inform their employees.
Temp-to-hire staff are not your employees. All performance feedback, compensation discussions, and other HR concerns need to come through the vendor until you convert the worker to an employee.
Understand the fees before your first placement. In most cases, the total extra cost of the temp-to-hire should be comparable to the cost of a direct hire.
Staffing Service: Temporary Staffing
Temporary staff can give you great flexibility to increase your workforce for seasonal peaks, provide coverage for planned absences, or help with well-defined projects that require unique skill sets. When you need temporary staff, it's almost always best to work with an agency to find candidates and fill these positions.  Most temp placement fees are billed as a markup on the employee's hourly rate.
Use this approach when:
You have short-term needs or limited-scope projects such as leave coverage or seasonal work.
External factors prevent you from direct hire options.
You have clear needs and want a streamlined hiring process.
Keep in mind:
Treat your temp employees with just as much respect and consideration as you would your own – this will help them feel included, be more productive, and reflect well on you as a destination for talent. This is true for temp-to-hire and managed services as well.
Temp positions should have a set duration. While the duration can be extended, it should not be arbitrary.
Remember – all HR feedback goes to the supplying vendor, not directly to the employees!
Working with staffing or recruiting agencies is not for everyone, and it's not necessary for every situation. But there are often many benefits to getting outside help with your hiring. Recruiting new employees is like any other skilled profession: anyone can do it, but sometimes it helps to work with a professional.
The variety of recruiting service options offer a lot of flexibility to get the right workforce for your needs. At Cinder, roughly half of our positions are managed services, a quarter are temp-to-hire, and a quarter are temp staffing (with a few direct hires sprinkled in for good measure). We find that some candidates will only consider direct hire or temp-to-hire, but we also find that the client's work culture is just as important as the position type in the eyes of many candidates.
One final tip: Recruiting and staffing agencies can be a valuable resource, but remember that any agency you work with is only as good as the information you provide them. When you work with an agency, be sure to provide clear job descriptions, let them know as your needs change, and provide timely feedback on candidates in order to build the best possible partnership.