Eliminate Manual Hiring Processes: The Value of an Applicant Tracking System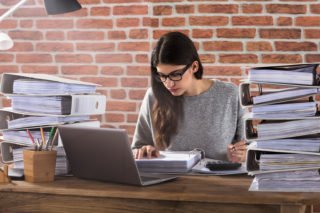 Hiring is a critical task in any organization. You simply can't succeed without the right employees.
But the actual process of hiring—sourcing talent, reviewing applications, moving candidates though the interview process—can be a huge challenge. (I know… hiring a new employee for my small businesses can feel like a full-time job!)
One way to streamline the hiring process is by using an applicant tracking system (ATS) to manage candidates. Even small organizations can benefit greatly from these simple systems that automate key parts of talent acquisition.
However, there are hundreds of ATS products currently available. Each system has its strengths and weaknesses and the particular features offered by each vendor can range from "mission critical" to "worthless."
How do you find the ATS that best fits your needs and addresses your hiring pain points?
I recently teamed up with HiringThing to present a informative webinar for employers about how ATS systems can improve efficiency and reduce the headaches of hiring. We discussed the value of adding an ATS to your hiring process and critical factors to look for when selecting an ATS provider.
If you're just getting into the market for an ATS – or if you're just looking for a faster, easier way to hire – get started by watching this 35-minute webinar.