Back to the Basics: How to Write a Job Listing that Converts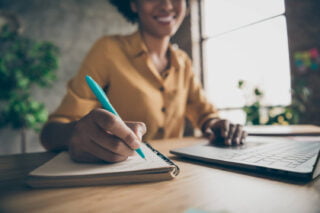 Most prospective candidates learn about your business first through a job description. If your job listings don't tell your company's story in a compelling way, you're missing a huge opportunity to connect with potential applicants. Give candidates a reason to click "Apply now!" In this guide, we'll walk you through how to write a job listing that converts.
Consider your job descriptions as an introduction to your brand
To reach the people you want to hire, you must create a compelling narrative that showcases what makes your open job positions rewarding and what it's like to work for your organization. Use the same voice to describe the job as you use in the language that permeates your website, blog posts, articles, social media posts, and every other communication created by your organization.
Revamp your job descriptions to meet candidates where they are
Job seekers have become more discerning about finding opportunities that align with their values and allow them flexibility. Give candidates a holistic view of the job and illustrate the employee value proposition. Postings should indicate whether a role is remote indefinitely, a hybrid model, or requires in-person office time. 
Appeal to employees' emotions
Let the human element of your workforce shine through by painting a picture of your company. What does the day-to-day work environment look like? What kind of benefits are you offering that are above and beyond what other employers offer? Where are you in your equity journey, and where do you aspire to be in the future? Shout out your employees' accomplishments and create employee testimonials.
Prioritize accessibility
The application process should be easy and frictionless. Think simple, engaging, and skimmable when you write your job posting, with bold headings and bullet points. Be inclusive when it comes to years of experience and education required to widen the candidate pool. Shifting your language to "preferred," "a plus," "bonus," or "nice to have" can help a larger pool of candidates imagine themselves in the role.
Look at your job descriptions from the candidate's point of view.
Employers should answer two key questions: why should people want to work for the company, and how does the company add value to the community, industry, or employees' lives? When done strategically and thoughtfully, storytelling is a way for organizations to attract, engage, and retain talent who will thrive in their workplaces. 
So take a good look around – at your benefits, your culture, your employees, and your community involvement. The makings of a great story are right in front of you, now it's up to you to tell it to your candidates! 
1. Use a title that people can easily understand. 
Remember: when candidates browse job postings, they usually only see the job title. They have to click the link to get the details. If a job seeker doesn't understand the job title, they are likely to skip past your listing. Use titles in your job posts that outsiders can easily understand. Either pick commonly known job titles or emphasize the responsibilities within the job.
2. Include a salary range. 
The biggest barrier that keeps candidates from applying for a job is a lack of salary information. Job seekers look for transparency when applying for jobs. Employers who don't post a salary are viewed with skepticism and distrust.
3. Talk about other benefits.
If you're limited in the amount of money you can offer candidates, then you have to find other ways to attract the best employees. One way you can do this is by playing up your other employee benefits like healthcare, retirement, and vacation time. You can also highlight perks like flex scheduling, remote work, summer Fridays, or even the ability to bring your dog to the office. Whenever possible, try to attach a monetary value to your benefits package. 
4. Share your company's culture and brand.
Professionals are looking for employment opportunities that jive with their own values, passions, and lifestyle needs. Don't be afraid to talk about your office culture and organizational values, as this can be a real magnet for the right kind of candidates.
5. Post early in the week.
To connect with the most possible candidates, you need to post your jobs when people are most engaged. Don't post your jobs on Friday evening. By Monday they'll be last week's news! Instead, post jobs early in the work week. This schedule better aligns with how candidates look for jobs. You'll get the most possible views from engaged candidates.
6. Avoid gendered keywords.
Unconscious gender bias has a way of sneaking into job descriptions. One way this plays out is in the words we use to describe jobs. The words you choose impact the types of people who will want to apply. One study showed that gender-neutral job descriptions generated 42% more applications. 
7. Prioritize job requirements.
Job descriptions are often a wish list of requirements that your ideal candidate might have. You don't need to lower the qualifications posted in your job description. But you should prioritize your requirements. Think critically about what the true mandatory, must-have requirements are, and label them as such.
8. Give detailed application instructions.
Make it easy for people to submit the application materials you want. Sometimes simple employer errors slip in, like having a typo in the email address or URL where candidates are to send their applications. The other thing you need to be crystal clear on is what you expect in terms of application materials. If you really want a cover letter, writing sample, or references, make sure you say so.
9. Communicate with applicants.
How you treat candidates in the hiring process is one way that you can project your values. Even a little communication goes a long way toward this goal. Set up an auto-responder to confirm that you have received a candidate's application. Let people know when they've been eliminated from the process.
10. Track candidate sources.
Whether you're posting on a single site or on multiple job boards, you need to know whether you're getting the results you want. You can't know if a job posting is working for you unless you're tracking performance. That's why it is so important to know the source for your applicants, the people you interview, and the candidate you hire. 
If you do these 10 things, you'll make the most of your investment in a job post and are more likely to find the right candidate for your open jobs. If you have any additional questions about optimizing your job posts, feel free to contact Mac's List at any time. We're here to help you succeed in finding the right candidates for your company!